eSport
Văn hóa xe
7 points to turn Rolls-Royce Boat Tail into a unique 4-wheel super product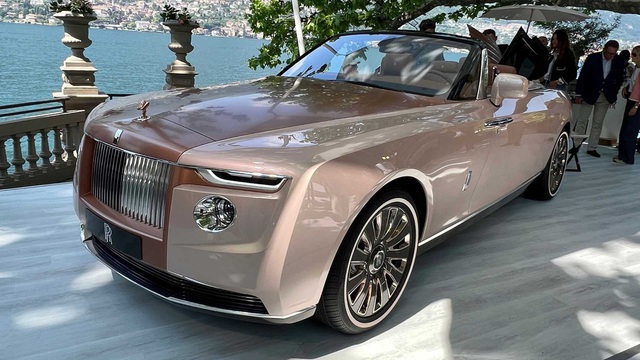 Rolls-Royce Boat Tail No. 2 pearl color mixed with wine has many unique details – Photo: Rolls-Royce
Rolls-Royce is one of the rare car manufacturers that can make individual cars, with the recent highlight of which is the Boat Tail.
In this article is Rolls-Royce Boat Tail No. 2, based on Sweptail launched in 2017, made at the request of a pearl "tycoon", akin to the beautiful blue Boat Tail that Beyonce and Jay -Z (supposedly) bought for $ 28 million, but also owns differences that belong only to the car owner.
This time, the selling price was not disclosed. But the Sweptail is a machine that cost 12.8 million USD from 5 years ago, from which it is easy to imagine the Boat Tail No. 2 should be at least above this price.
Here are 7 details that show why the car can climb to such an outrageous price:
Grille "not pure Rolls-Royce"
Rolls-Royce's stainless steel Pantheon grille is one of the most iconic details in the automotive industry. But the grille on the Boat Tail is made from a single block of aluminum, meticulously crafted by craftsmen, with the top and bottom painted in cognac, giving a feeling that dissolves into the hood and bumpers. , only shiny aluminum spokes are left to attract the eye.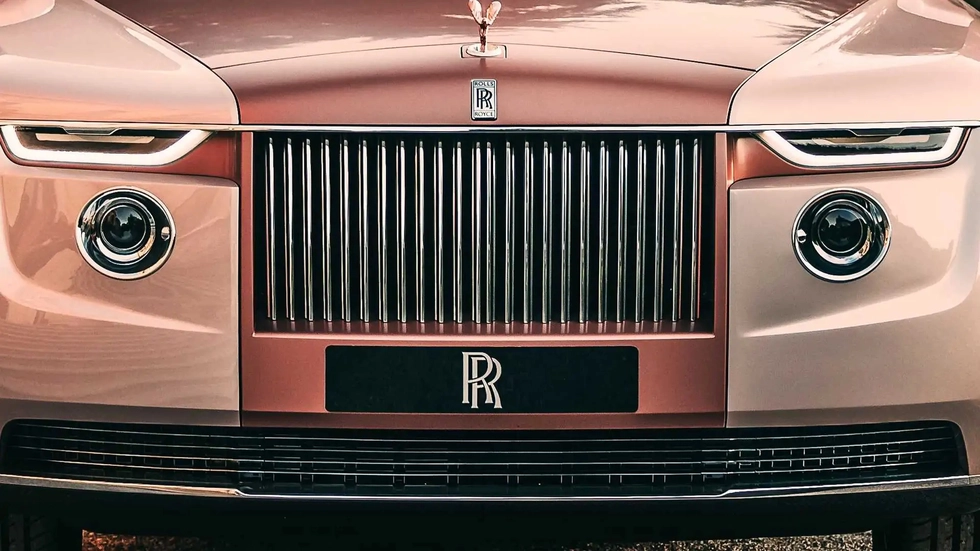 Exquisite grille design – Photo: Rolls-Royce
Details are made from pearls
As a special product for the "boss" of pearls, the exterior paint is inspired by 4 special pearl shells provided by the customer. Not only that, but he also brought in mother-of-pearl, a natural component of pearls, to cover the gauges and unique clocks that stand out on the dashboard, creating a cognac color that blends with the pearl case color. special luster.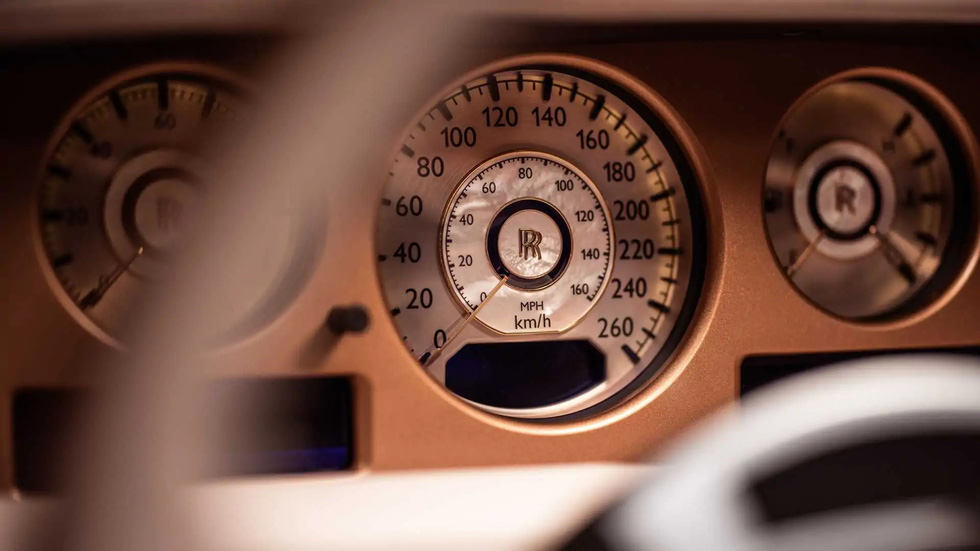 Some details are made from pearls – Photo: Rolls-Royce
Unique tires
The classic "pattern" of large spokes is considered quite outdated, but when placed in a white tire wall, it becomes extremely fashionable.
Not only that, the 21-inch Goodyears tires look simple, but behind the scenes there is a whole lot of art. Special wheels are plated with rose gold (an alloy of gold and copper), coated with paint and then laser engraved to create contrast.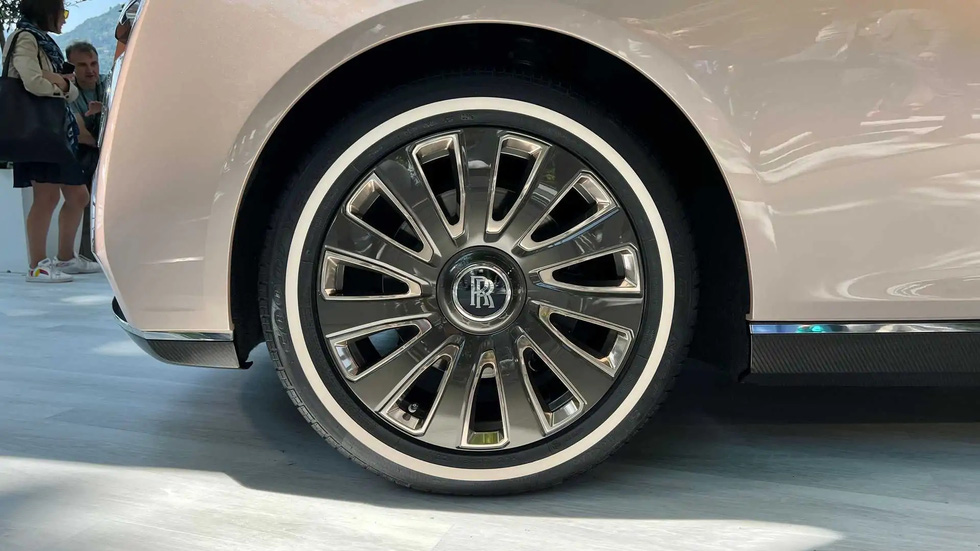 The special wheel-making process has appeared on a previous car, but Rolls-Royce did not disclose which model it was – Photo: Rolls-Royce
Not everything is plated with rose gold
It's easy to apply rose gold all over the Rolls-Royce Boat Tail. But the "tycoon" does not like to show off such a "rich upstart". The owner has chosen to "stick" chrome for a few details such as door handles, column A. In the area of ​​​​the wood panel on the trunk lid, walnut wood with rose gold stripes like the grille.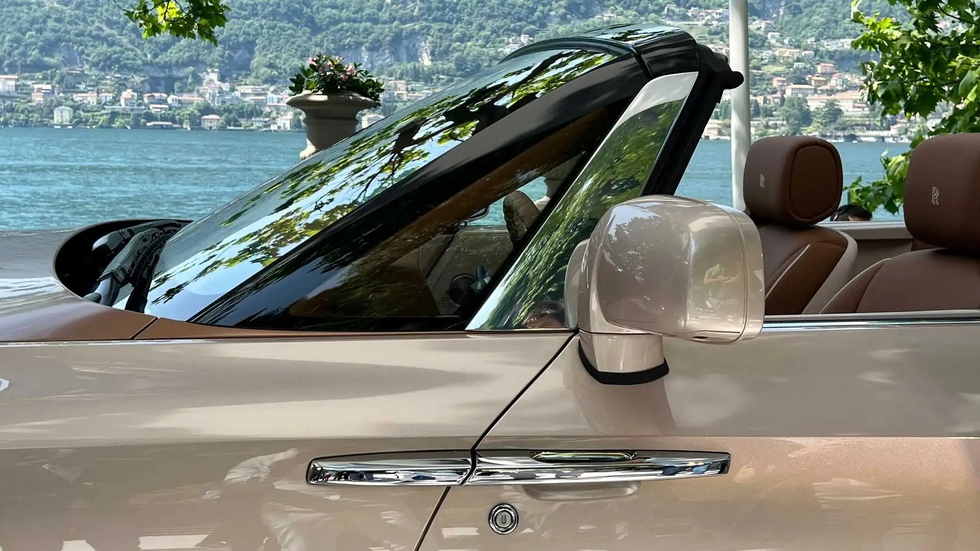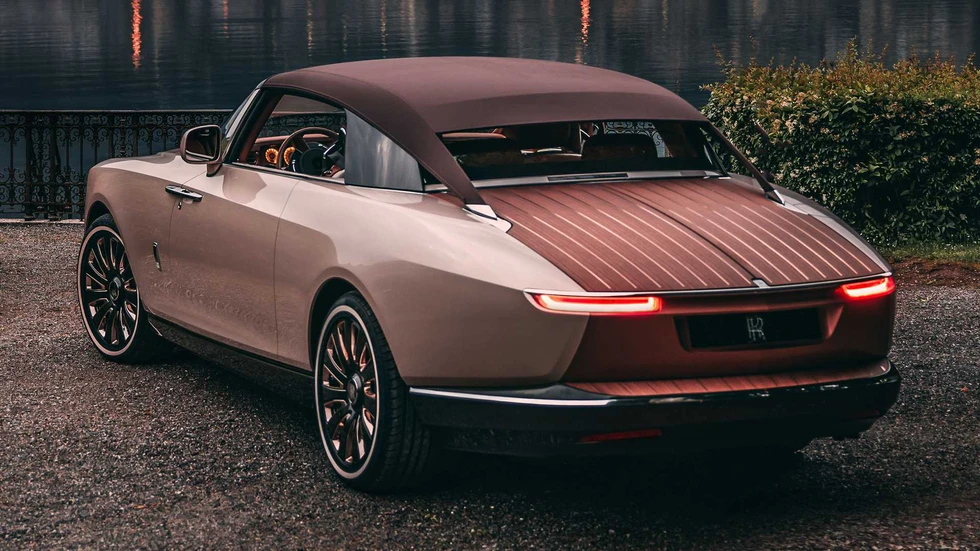 Rose gold plating is used sparingly – Photo: Rolls-Royce
Hidden party compartment
Behind the passenger compartment is the Hosting Suite – picnic storage area. The wooden shield can be opened up into a unique butterfly shape. Inside contains a set of cups, plates, silver knives, and a specially designed champagne cooler. The parasol is popped out of a chrome-plated metal shell labeled Parasol.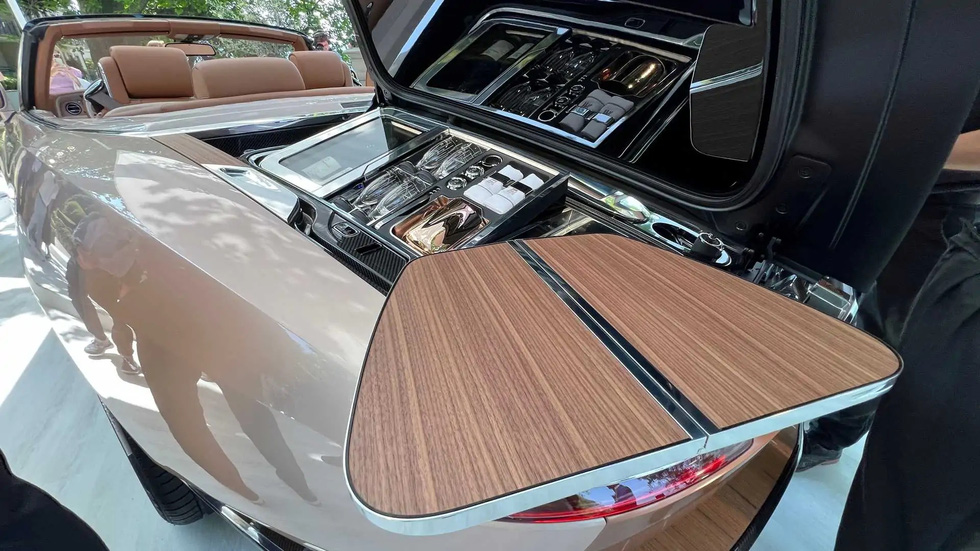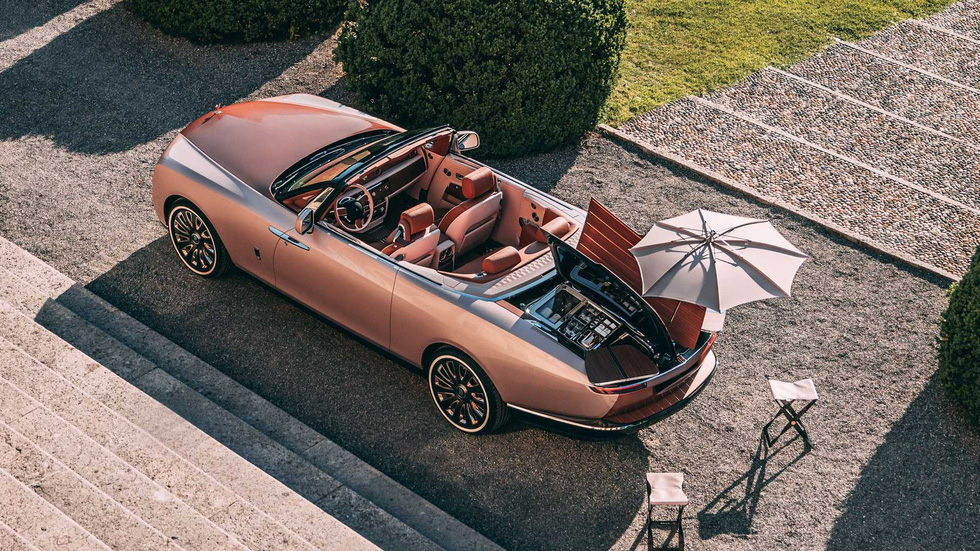 Rolls-Royce Boat Tail also brings a luxurious picnic party – Photo: Rolls-Royce
"Speaker" 3D
Nearly all Boat Tail materials, whether paint, leather or wood, can be found on any other luxury vehicle. But what makes the Rolls-Royce Boat Tail special is that the junction between the bodywork and the cabin is a 3D printed composite strip that forms a graphic model similar to the speaker.
According to Alex Innes, head of personalization at Rolls-Royce, the aim was to create a cavity that circulates the air at high speed while avoiding vibrations that could come from the speakers hidden below.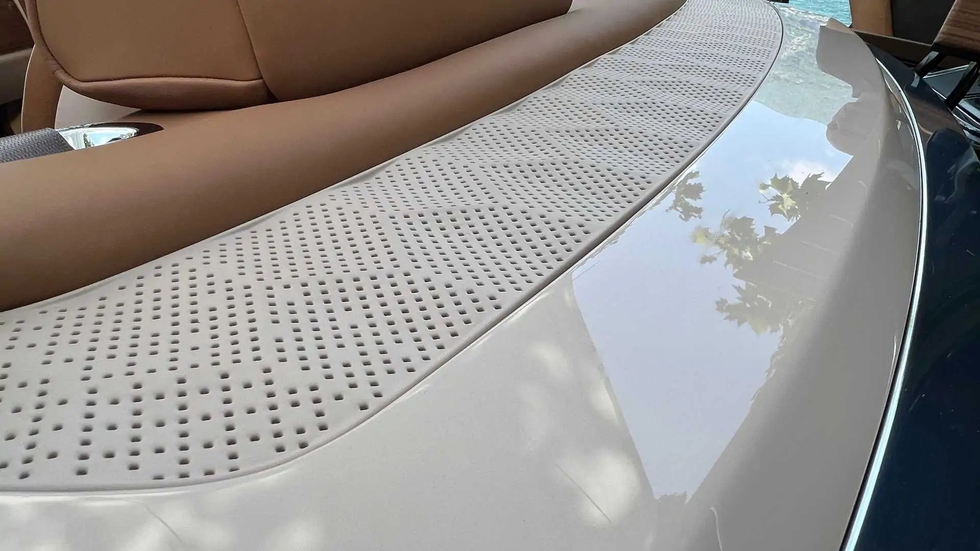 Unique 3D details – Photo: Rolls-Royce
Paint "change color"
The unique finish of the Rolls-Royce Boat Tail allows the body panels to reflect the surrounding colors more. According to Alex Innes, head of personalization at Rolls-Royce: "I can confirm just a few weeks ago when we saw the car with the customer in the UK, the color scheme was white. By the way Somehow, the car has transformed according to its surroundings. The car tells the customer's story carefully, subtly but deeply."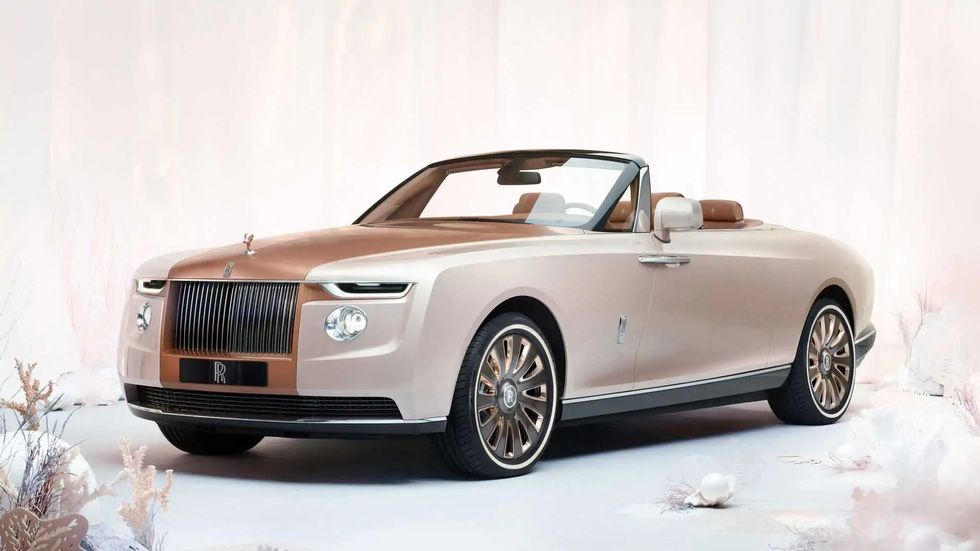 Paint Rolls-Royce Boat Tail can subtly "change color" – Photo: Rolls-Royce
You are reading the article
7 points to turn Rolls-Royce Boat Tail into a unique 4-wheel super product

at
Blogtuan.info
– Source:
autopro.com.vn
– Read the original article
here