Giới trẻ
Experts advise students to control themselves when they are 'addicted to games'
Online games are increasingly popular and have great appeal to teenagers. Many children are even 'addicted to games', causing many serious consequences for their health and psychological development. So how to get rid of online game addiction?
Sharing his true story, Hoang M.D. – A student of class 8A5 at Trung Vuong Secondary School (Hanoi) said: "I used to love playing games, but I don't like it often but I am addicted, playing with unlimited time. After that, I had many times to leave home, drop out of school to play games with the team (group – PV) and each time my parents had to go looking.
That's why I missed a year of school. Then I realized that the game is really not as difficult to quit as I thought and I was determined to go back to school."
Sharing at the seminar "Connecting and sharing" organized by the Department of Education and Training of Hoan Kiem District (Hanoi), Assoc. Prof. Dr. Tran Thanh Nam (Hanoi National University) said: "An 8th grade student once told me Me, she plays the game because this game is much more attractive than other games and the important thing is that when she went to play the game she met the whole team in class, she was very happy and happy.
On the game, he can confide all problems, say what the team understands, but when he talks to his parents, he can't say it.
I say this to show adults that children play games sometimes because they find people who think the same way so they can say what they think."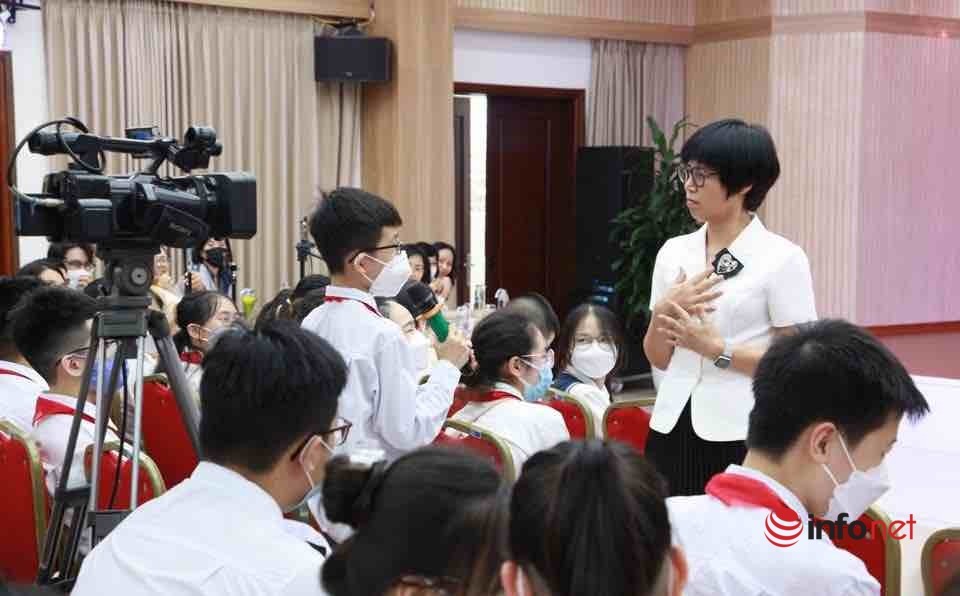 Students share their true stories at the talk "Connect and share".
Returning to the story of Hoang M.D., Assoc. Prof. Dr. Tran Thanh Nam said: "Games are not something terrible and cannot be quit even when addicted, because we have a method to balance the game. and present life.
Even if we are addicted to games, we should not separate ourselves from past mistakes because success is in the future.
M.D and other game addicts have had failures along the way, but let's see past failures as new lessons, that's the way to overcome difficulties.
Let's not think that it is negative to be related to games because if you have a passion for technology, related to games, there are also careers in the future that will help promote their strengths. But most of all, you have to set goals.
What kind of game do you choose, and how long is the time limit? Maybe I'm very interested in playing games, but I have to ask this interesting question how this exciting career can develop future career orientation.
To form capacity, to become a citizen of the 21st century, to be stable and successful is not only game skills but also soft skills. Soft skills will not be formed by sitting in front of a computer screen, but we have to go out in life to experience, learn and strive."
According to Assoc. Prof. Dr. Tran Thanh Nam, the way the children realize that they are not playing the right game, play too many games and go back to school means that they have tried their best, forged quality and balanced skills. time spent on games and other activities. It is also a way to overcome temptation with the game world.
Many students think that they play games for about 30 minutes a day just for entertainment after a stressful study period, but their parents do not understand, constantly banning and scolding. In this regard, Assoc. Prof. Dr. Tran Thanh Nam advised: "Tell your parents that video games are not bad, the problem is how we play them.
Children have the right to play video games, but the right to choose games and limit time is left to their parents to decide. In this way, they also feel that they are entertained after studying and are respected.
Of course, gaming must be based on principles such as health issues and content must be appropriate. Parents also do not need to completely isolate their children from games because using online learning technology is the trend of the future. We do not ban children but can use the application to manage their game play.
With students, every day, set a goal, discuss with your parents about the goal, and achieve it, your parents reward you. Then every time you think of a game, think of your parents' reward.
After a certain period of time, the children complete many goals of study, housework, sports… then they can play games. Each game only plays 1 game for about 15 minutes and sets an alarm, when the alarm goes off, it stops automatically.
You can suggest to your parents that you have reached your agreed goal and want your parents to spend more time with you.
Finally, every day, write down words of gratitude to your life and the people around you to see how meaningful life is."
Hoang Thanh
You are reading the article
Experts advise students to control themselves when they are 'addicted to games'

at
Blogtuan.info
– Source:
infonet.vietnamnet.vn
– Read the original article
here