Life Style
Xã Hội
From a porter to a SEA Games champion and a life-changing Olympic bronze
9 years late Olympic bronze medal changed my life
At the 2012 London Olympics, athlete Tran Le Quoc Toan competed in the 56kg weight category and ranked 4th with a total of 284 kg, 2 kg less than the bronze medalist Valentin Hristov. At that time, Quoc Toan was very shocked, because just 8 months ago, he left more than 20 kg from Hristov.
The crossroads of Quoc Toan's life were sad because he received the Olympic bronze medal 9 years late
However, in July 2021, the International Olympic Committee announced the removal of medals at the 2012 Olympics with a number of cyclists and weightlifters, and the person standing above Quoc Toan, Valentin Hristov, was also on this list. .
According to the announcement of the International Olympic Committee, the test sample at the 2012 London Olympics of the Azerbaijani athlete was positive for a banned substance. And so, Tran Le Quoc Toan was promoted from fourth to third, thereby winning the 2012 London Olympic bronze medal after 9 years.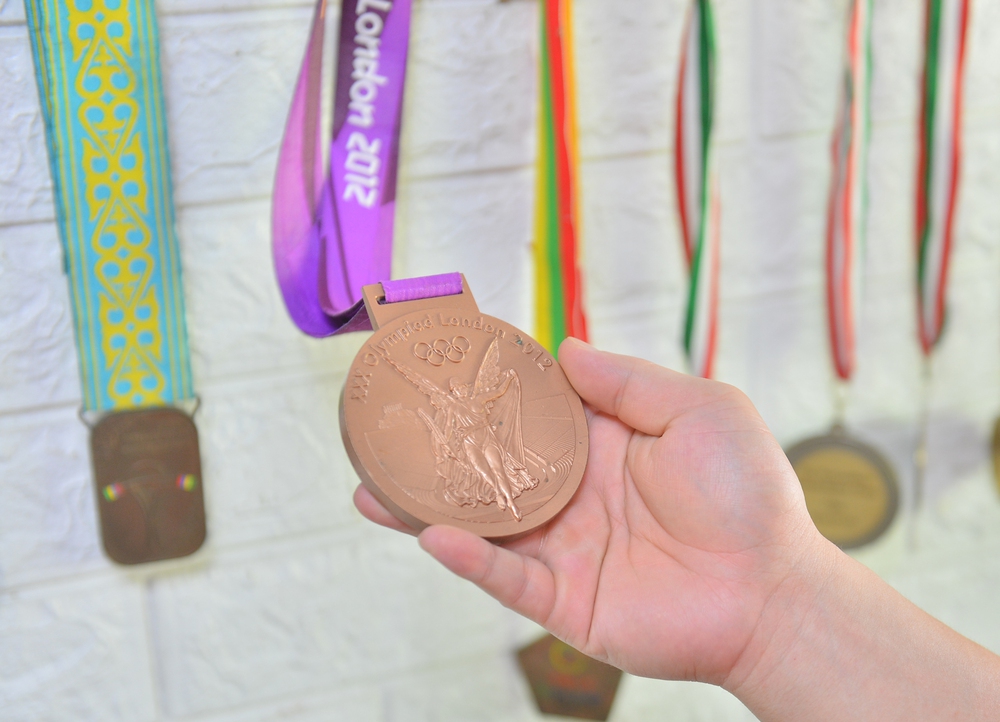 The Olympic bronze medal of Tran Le Quoc Toan after 9 years
Thus, Tran Le Quoc Toan also became the athlete to win the only medal for the Vietnamese sports delegation at the 2012 London Olympics. This is also the 2nd medal in the history of participating in the Olympic Games of Vietnam. weightlifting Vietnam (formerly the silver medal of athlete Hoang Anh Tuan), and is the 5th medal of Vietnamese sports at the Olympics.
Few people know that this prestigious medal changed Toan's life and if it weren't for the two words "if only", now, his life would probably be different. Quoc Toan said, he still remembers clearly when he competed with Valentin Hristov.
"At that time, I tried my best and had time to practice with athlete Hristov. I was surprised that his achievement exceeded that of training with him. I realized that I was not prepared professionally. The subject as well as the tactics are not good, leading to the desired results.
After 9 years of receiving this medal, it is now just a memory of the past. If only I received a medal right at the competition, my feelings, the coaching staff and the whole Vietnamese sports team would be different because we are so thirsty for medals in this arena.
I will also have more spirit and motivation to strive. At that time, my career could have taken a brighter new direction.", Mr. Quoc Toan remember.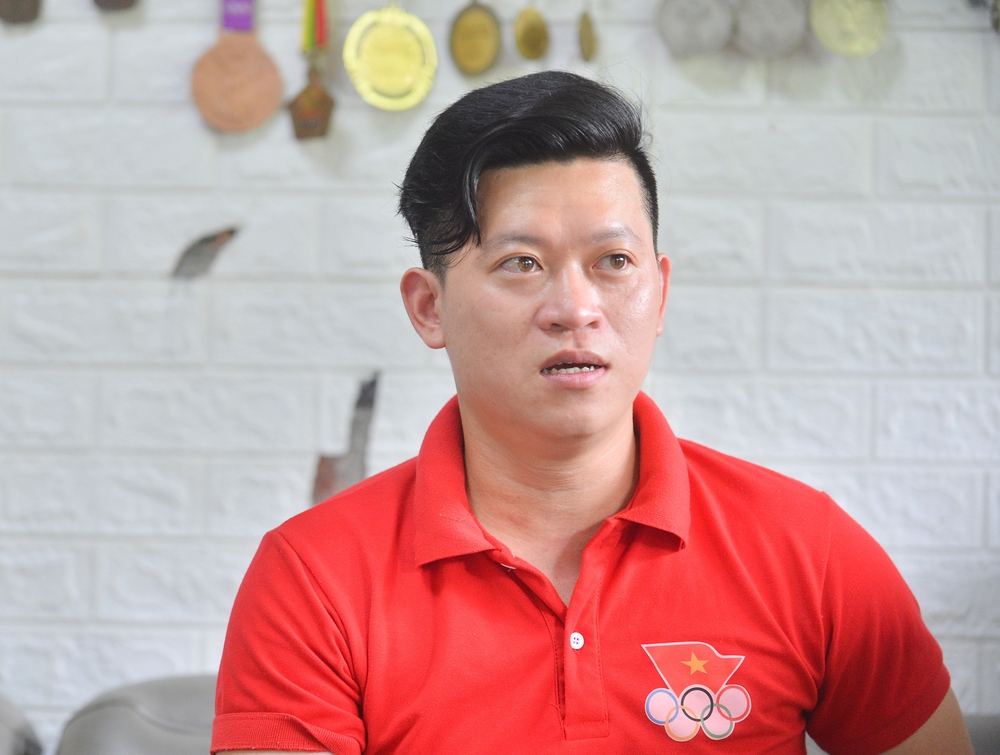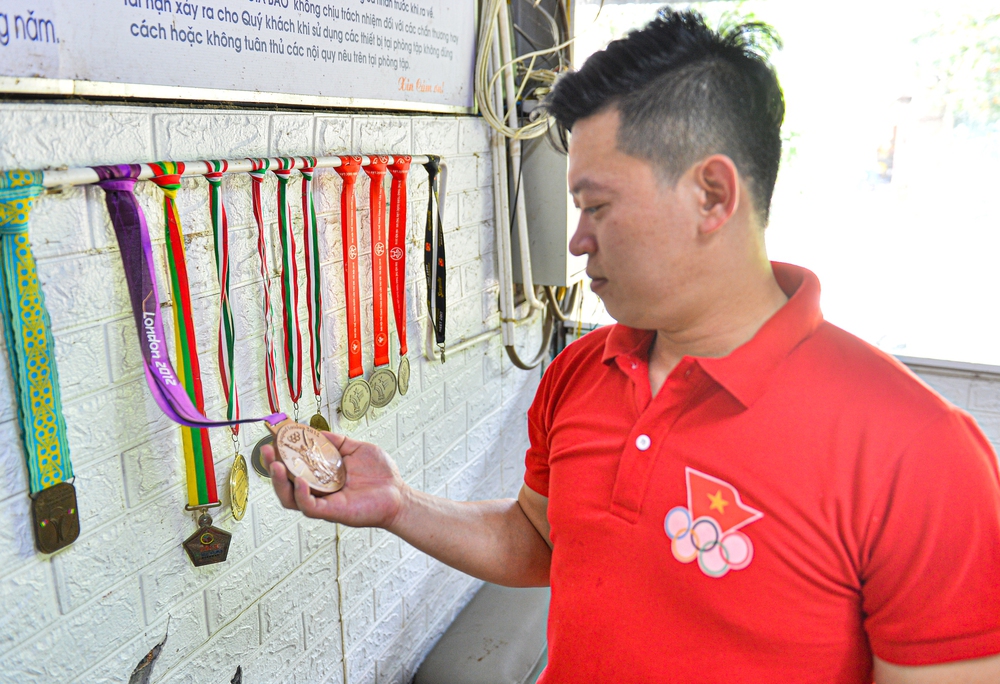 The 2012 Olympic bronze medal is tinged with time, which makes me still regret it when I watch it again
The lack of achievements at that time made Toan disappointed in himself. After that, his performance went down More serious injuries, torn knee cartilage…
"The year 2014 was the peak period when I was injured after the Olympics. I was injured longer than the training time, sometimes when I went to practice, I always brought medicine to drink." Quoc Toan said.
In times of stalemate, Quoc Toan always received encouragement from his family, relatives and coach, so he tried to practice to recover from his injury. By year In 2015, the injury gradually subsided, Toan returned to the top competition and won gold, silver and bronze medals at the Asian Championships, 2 gold and 1 bronze at the world championship, many awards in Southeast Asia, he also won medals.
From a porter to a SEA Games champion
When asked if he regretted spending his youth on sports, Quoc Toan affirmed that he did not because sport had given him too many things.
Quoc Toan said, Mr started his career in weightlifting at the age of 14. Before that, the family situation was difficult, the father died early, the mother alone raised 5 brothers. Quoc Toan is the third child in the family.
In order to help his mother and family, he left school early to work as a loader. It is after hard working days that is the stepping stone for Quoc Toan's health and charm with weightlifting.
Coming to weightlifting, he enthusiastically practiced and competed in many big and small tournaments in the country. Winning medals and good achievements made him more rewarded, thereby helping him and his family to make ends meet.
In 2009, Toan surpassed senior Hoang Anh Tuan (who won silver in weightlifting at the 2008 Olympics) to dominate the 56 kg content for the first time, with a total achievement of 258 kg.
A year later, at the 2nd National Sports Festival, he defeated his senior with a total achievement of 261 kg, thereby winning the right to attend the 2011 SEA Games.
In this tournament, he humbly set a goal to win bronze but surprisingly, Toan exceeded all expectations with a gold medal in the 56kg weight class. This opponent is the one that senior Hoang Anh Tuan has never surpassed.
"The coach always told me that 'this guy's body hurts everything but his head doesn't hurt'. I was determined to practice and successfully perform the move. I always thought of the highest achievement. It doesn't matter if I have a medal or not, how to achieve that achievement.
During the conquest, I have to achieve something to show everyone my efforts and what I can do. I want to let everyone know that if I don't fail like previous years, I will be more successful." Quoc Toan shared before each tournament.
In addition to achievements, economics, and sports, Quoc Toan also brings a person who will accompany him his whole life. Quoc Toan said, once he went to a competition in Hai Duong, he met a female weightlifting athlete Do Thi Thu Hoai and hit "love thunder". However, because he was too young, he did not dare to confess, but only secretly loved and missed.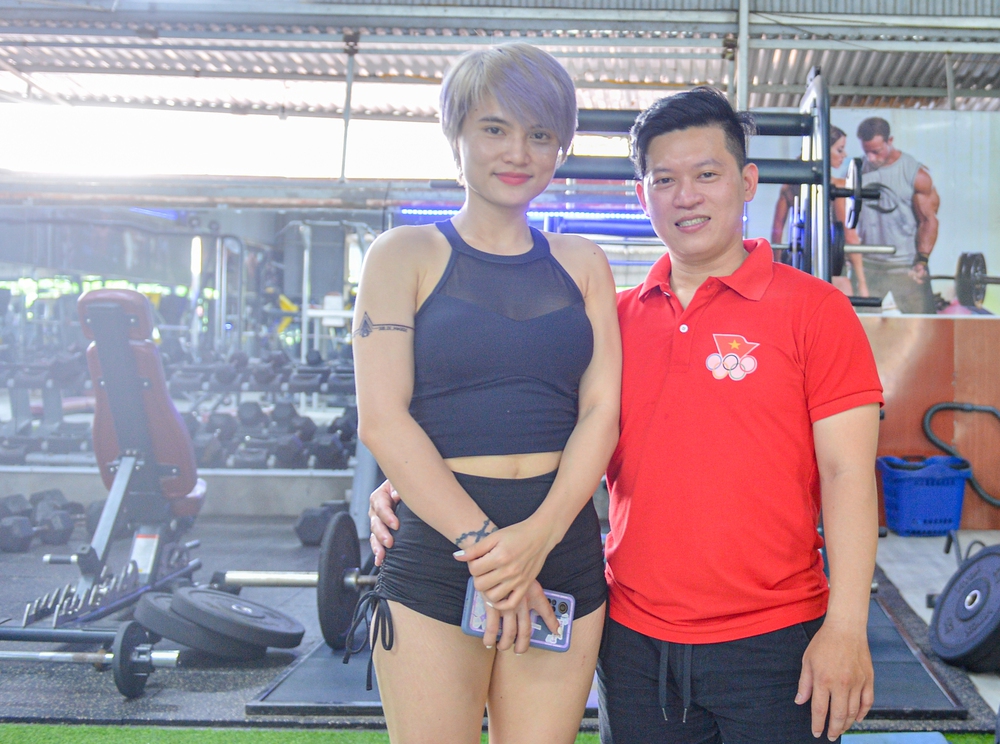 The couple elected Quoc Toan
A few years later, also during a training session, Quoc Toan met that athlete again, both of them were grown up now. Later, they fell in love and became husband and wife.
"My wife lives in Dong Anh, Hanoi and I live in Da Nang, when I got married, I moved to Hanoi to live and practice here. I was very lucky to have met her, my wife was always my companion and supporter. supported all my decisions, especially when I was constantly injured," Quoc Toan said.
Quoc Toan and his wife open a gym
Until now, although he no longer competes at the top, Quoc Toan is able to do the job he loves, which is training for children in Da Nang City to help his teacher.
In addition, he and his wife also opened a gym with the desire to have good health for everyone, and at the same time, they want to share their training experiences to help students not make the same year-long injury mistakes as: I used to have.
Do Quoc Toan is one of the 8 best athletes in modern sports history to participate in the torch relay ceremony for the 31st SEA Games taking place on the evening of May 12. The congress has the presence of 11 Southeast Asian sports delegations, organizing 40 competitions with 526 contents.
https://kenh14.vn/nga-re-cuoc-doi-cua-do-cu-tran-quoc-toan-tung-buon-tui-vi-nhan-huy-chuong-dong-olympic-muon-9- male-202020513052412025.chn
You are reading the article
From a porter to a SEA Games champion and a life-changing Olympic bronze

at
Blogtuan.info
– Source:
Kenh14.Vn
– Read the original article
here