Thị trường
From discarded tree trunks to cows, pigs, and chickens, the boy "revived" into a billion-dollar item
Dried banana fibers, after being cleaned, are braided into large and small ropes and dyed in all colors. From those banana fibers woven into bags, baskets, baskets, lanes, trays, carpets, slippers… Even the shredded fibers are used to press into paper, lanterns, etc.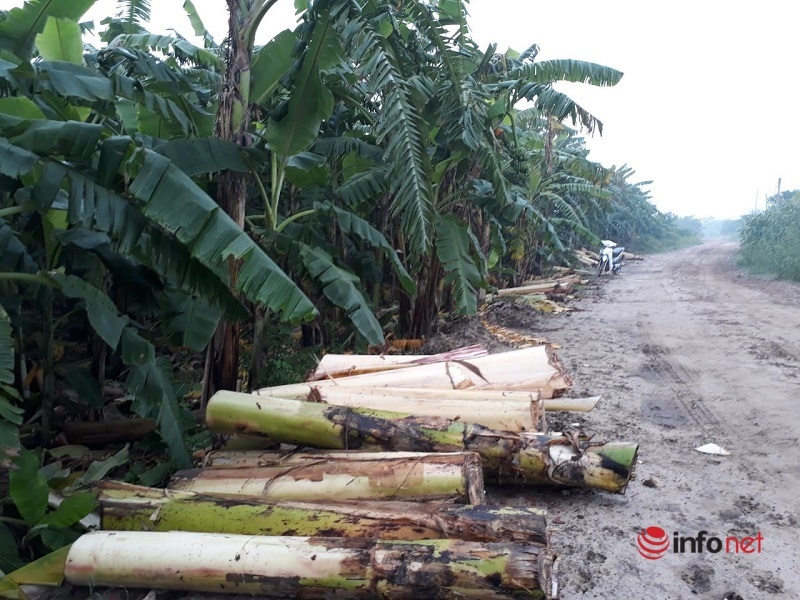 Discarded banana trunks are "revived" into billions of dollars. Musa Pacta's photo.
The first round of the "Global Social Enterprise" poll, lasting from April 27 to May 22, 2022, was initiated by the University of Montreal Canada and Professor Muhammad Yunus (2006 Nobel Peace Prize winner) The show ended after selecting 3 candidates to enter the next round. The results of the poll show the community's interest in the product and the field in which the business operates.
Notably, a Vietnamese enterprise surpassed nearly 100 foreign enterprises to take second place with 24% of the votes.
This Vietnamese enterprise is Musa Pacta One Member Limited Liability Company (Musa Pacta Company), which is the first enterprise in Vietnam to manufacture and trade banana fiber and banana fiber products. The company's activities contribute to the treatment of agricultural waste (postharvest banana stems), create jobs and create a new industry and new product for the country.
Musa Pacta Company was established in 2019 by Mr. Bui Khanh Dung (born in 1976) as Director. Stemming from the fact that millions of banana trees each year are discarded after harvesting, while the trunk of a banana tree can bring potential economic value when it is possible to make banana fiber, banana silk, and then from In order to create handicraft products, paper, … bring higher value, Mr. Bui Khanh Dung is determined to "revive" the banana tree trunk and has succeeded in owning a patent for useful product solutions. fiber from the banana stem.
From raw banana fiber products, it is possible to produce a variety of products such as handicrafts, paper of all kinds such as money printing paper, wrapping paper, to high-grade materials used in the automobile and yacht industries.
In the world, banana fiber is also used to produce sanitary napkins, tea bags, cloth, etc. Notably, the second generation Mercedes-Benz A designed a spare tire covered with a synthetic material. , polypropylene, thermoplastic encapsulated banana fibers, with high tensile strength and resistance to rot.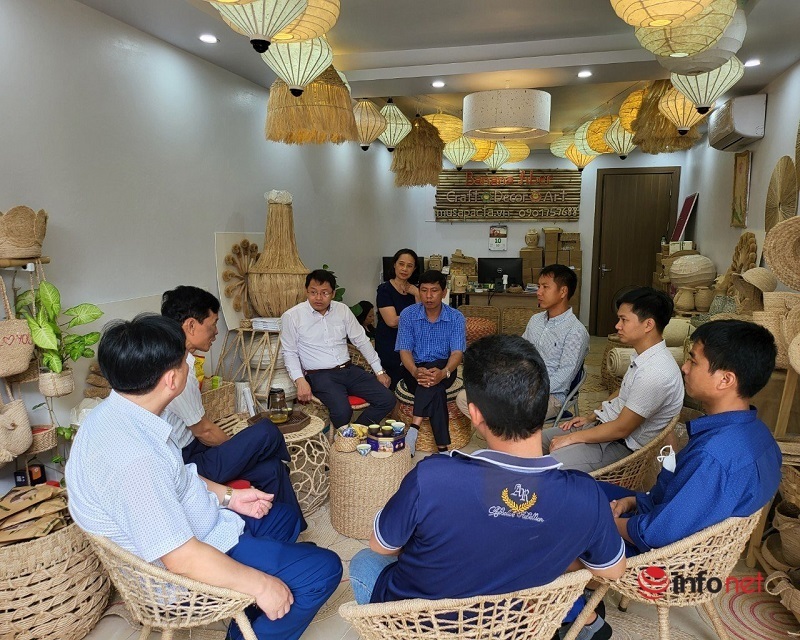 Mr. Bui Khanh Dung (white shirt, wearing glasses) receives partners at the company's office. Surrounded by a variety of products made from bananas: tables and chairs, bags, lanterns, baskets, potted plants,…
Initially establishing the company, Mr. Dung cooperated with Khai Thai cooperative (Phu Xuyen district, Hanoi) to process banana stems, then produce the first products. Up to now, Musa Pacta has not invested in banana growing area but has chosen to cooperate with cooperatives in many localities with large banana growing material areas.
After the banana stem is collected, halved, peeled and put into the fiber press. Banana fibers are sorted and put on a rig, dried, then bundled and fed to a spinning machine. The inner core of the banana body is the part where the softest and most flexible fibers can be obtained, and the outermost layer gives the hardest and thickest fiber.
Dried banana fibers, after being plucked clean, are plaited into large and small ropes and dyed in all colors. An average ton of banana trunks yields 10 – 15 kg of dried banana fiber, currently purchasing from 50,000 – 80,000 VND/kg, depending on the quality.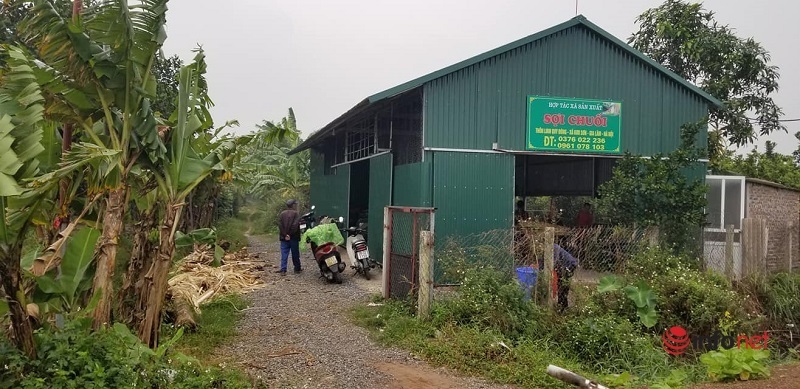 A banana fiber processing facility of the company right in the raw material area of ​​Gia Lam district, Hanoi. Musa Pacta's photo.
From those banana fibers woven into bags, baskets, baskets, lanes, trays, carpets, slippers … with many unique designs. Even the scraps of yarn are still used to press into paper, make lanterns, or impressive painting paper.
The special thing is, the banana stem juice after going through the process of squeezing the fibers is also soaked with bananas and biological enzymes for about 3 months to make an organic biological product, suitable for watering ornamental plants and vegetables. tubers.
Mr. Dung said that products such as lamps made of banana fiber on the world market are selling for 200-300 USD, even 600-800 USD. Musa Pacta Company was established at the right time when the world started to see the Covid-19 pandemic, so it was difficult to sell products to the world.
However, up to now, the company has had no difficulty in bringing its products to foreign countries. The company's handicrafts and household products are positively received by the market because of their highly appreciated quality and designs.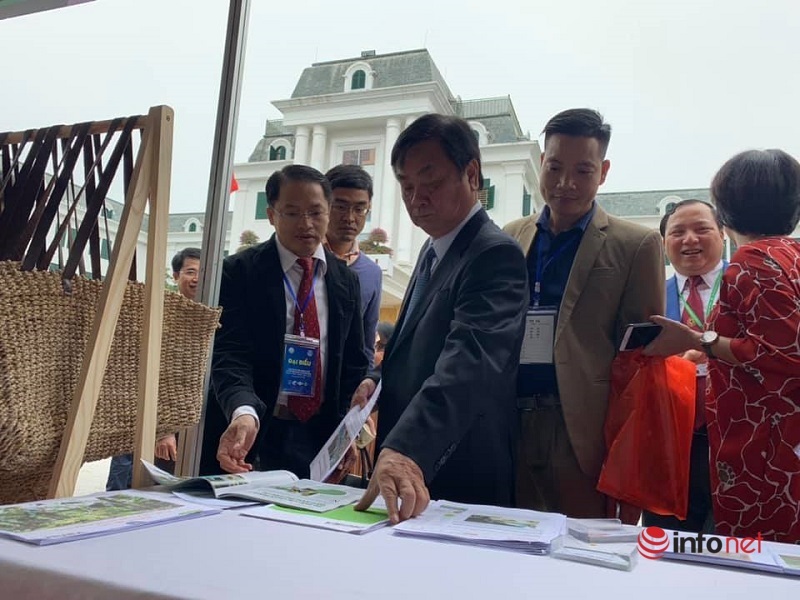 Mr. Bui Khanh Dung (left) introduces products to Minister of Agriculture and Rural Development Le Minh Hoan at an exhibition. Musa Pacta's photo.
Recently, Musa Pacta had a meeting with Uong Bi city (Quang Ninh province) on the proposal to implement the project "Vietnamese banana ecological conservation park – Musa Park". The project aims to protect the environment, reduce greenhouse gas emissions, develop sustainable tourism, develop organic agriculture, and circular agriculture.
Mr. Bui Khanh Dung said, the project "Vietnam Banana Ecological Conservation Park – Musa Park" has a scale of more than 300 banana species, an area of ​​​​9-20ha, a total investment of 400 billion VND, divided into 2 phases, in which phase 1 can be implemented right in 2022.
Before that, at the end of 2021, the Company also signed a cooperation agreement with the People's Committee of Bat Xat district (Lao Cai) on the construction of a banana fiber factory and the Banana Ecological Conservation Park – Musa Park. Once completed, the project will contribute to creating jobs for hundreds of local workers.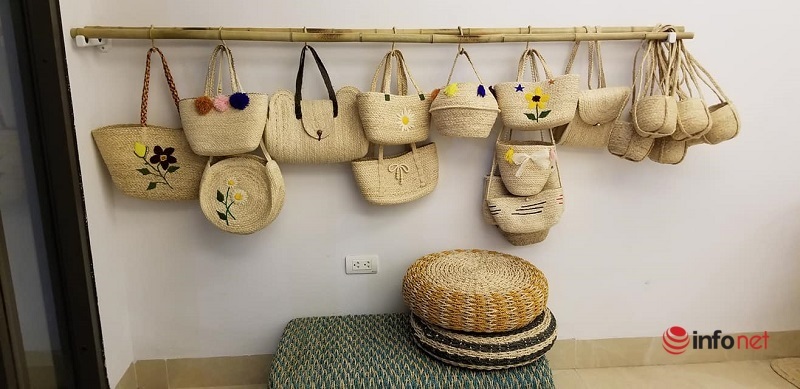 Some products are made from banana stems. Musa Pacta's photo.
The benefits of banana fiber
Banana trees only bear fruit once in a lifetime and the rest of the tree is thrown away as agricultural waste. So every year, billions of tons of banana stems are thrown away. This waste, when used to produce banana fiber and make banana fiber products such as handicrafts, paper, yarn, and textiles, not only brings a billion-dollar manufacturing industry but It also helps to make more rational use of safe and friendly products as well as significantly reduce agricultural waste.
Banana farmers will now have an additional source of income to improve their lives as well as develop production. Instead of just selling bananas like before, they now have an additional source of income from banana stems to make banana fibers. This helps the livelihoods not only of small-scale farmers, including large farms.
Petroleum-based fibers such as nylon, polyester and acrylic or even natural fibers such as cotton require a large amount of non-renewable chemicals and resources to produce them, which causes many irreparable damage to the planet outweighs any benefit. Banana fiber fabric reduces pressure on environmental resources and requires very little water to produce, thereby promoting sustainable living.
Banana fiber is completely biodegradable. A number of companies are turning to banana fabric to make a variety of useful and human-attached products from tampons to women's coats, from shoes to curtains, from sheets. From paper money to fillers in car tires, from insulation and fireproof materials in ships and boats to bulkheads used in civil construction.
Banana fiber fabric is an ideal vegan alternative to silk, an animal protein product. Banana fiber fabric has a luster, glittering in the light like the nature of silk. They are also soft, smooth and moreover they are very less prone to dust. Those who are vegan or love the softness and shine of silk but want to use a non-animal woven fabric, banana fiber fabric is a perfect choice.
Banana fiber can be used to make a wide variety of products due to its versatile nature. The outer shell creates thick and strong fibers that can be used to make ropes, handicrafts and rugs while the soft inner shell is used to make paper and clothing. Shredded fibers become useful materials for the construction industry, manufacturing equipment from car tires to toys for children.
Banana fiber is one of the strongest natural fibers in the world. Therefore, paper made from banana fiber is tough, much more durable than ordinary paper. It is widely used from paper used for banking to packaging paper that can hold up to 25 kg of cement and other heavy objects. In fact, banana fiber has high strength, so many automakers use it to enhance the durability of the materials on the car.
Banana fiber is fire resistant, water resistant and tear resistant, it is considered one of the most durable natural fibers. Banana fibers are composed of thick-walled cellular tissues bonded by natural glue. In a study, it was found that paper made from banana fibers can last up to 100 years and can be folded up to 3,000 times. This feature makes it suitable for making paper currency as can be seen with Japanese Yen bills.
Clothing made from this fabric is soft, supple and exceptionally breathable. It absorbs moisture, keeping you cool on hot summer days, as opposed to synthetic fibers that are uncomfortable and sweaty. Because of that, hot countries like India, Arabia, Dubai, etc. have become countries that use a lot of this fabric as well as it becomes a high-value garment in summer fashion.
Tuan Nguyen
You are reading the article
From discarded tree trunks to cows, pigs, and chickens, the boy "revived" into a billion-dollar item

at
Blogtuan.info
– Source:
infonet.vietnamnet.vn
– Read the original article
here