Giải trí
Koi fish king and Ha Thanh Xuan visit their father in a coma for half a year, the reason why his mother cried at the wedding
WATCH VIDEO: Thang Ngo asserts that Ha Thanh Xuan is not a "small tam".
After reopening his personal Facebook, "King of Koi fish" Thang Ngo seems to "ignore" the comments and criticisms of netizens. The businessman continuously posted photos with his newlywed wife, singer Ha Thanh Xuan, with "winged" words for her.
A few hours ago, Thang Ngo attracted attention when he posted a photo in the hospital to visit his biological father. According to the businessman, his biological father fell into a coma for half a year, so he could not attend his son's wedding. "Dad has been in a coma for half a year but still hasn't collapsed, so that the two children can get married smoothly. At our wedding, when MC Nguyen Cao Ky Duyen mentioned my father, my mother cried, I cried, my wife cried… I thank you very much." "King of Koi fish" written on personal page.
Thang Ngo revealed that his biological father had been in a coma for half a year, unable to attend his son's second wedding.
Many people believe that Thang Ngo posted this photo to confirm that the rumor that his parents did not support his second wedding is not true. The reason "King of Koi" has the above move is because of the timing scandal The private life of the businessman broke out, many people noticed that at the wedding of Thang Ngo and Ha Thanh Xuan, the groom's biological mother bowed her head and cried, one hand bandaged. Netizens also noticed that his biological father was not present at the ceremony.
Specifically, when stepping on the wedding stage, instead of having a welcoming attitude towards the future daughter-in-law, the biological mother "King of Koi fish" cried while walking. Meanwhile, the bride's parents kept their polite faces beside them. The groom's mother did not show a single smile during the ceremony, nor did she look at the face of her son, daughter-in-law, in-laws, guests…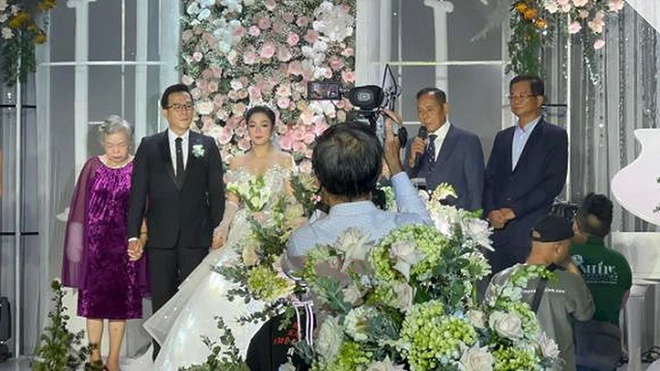 The biological mother of "King of Koi fish" had an unusual expression at her son's wedding: always looking down and crying.
Seeing his mother cry, Thang Ngo just held her hand tightly and said nothing. Particularly, daughter-in-law Ha Thanh Xuan did not come next to her mother-in-law to hug and comfort her, only looking over with a somewhat embarrassed expression. Witnessing this scene, many people came to the conclusion: the wedding of "King of Koi" and Ha Thanh Xuan was not supported by the groom's family. However, the latest share of businessman Thang Ngo has partly answered the above questions.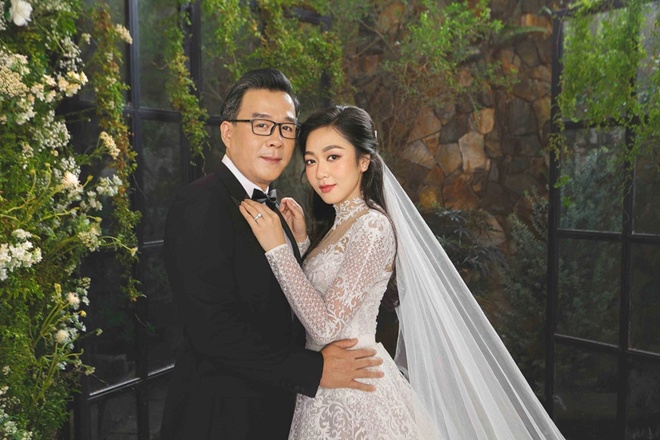 The new post of "King of Koi" received mixed comments from netizens.
Below the post, many netizens left notable comments: "Photo of an old man in a coma that some people "scratched" Ha Thanh Xuan. They got married after Mr. Koi fish divorce is legal. As for the family, no one knows better than the wife. The ex-wife didn't say but the online saint said no", "So that's why she cried", "To be honest, if I say that Ha Thanh Xuan was greedy for wealth and married Thang Ngo, I don't think so. Maybe she's richer than him, and beautiful. Emotions are difficult to explain. When I was on television, I saw Mr. Thang holding his wife, still looking awkward, eyes not touching. I think between them in terms of work, they seem to cooperate and support each other, but their love is more like sisterhood."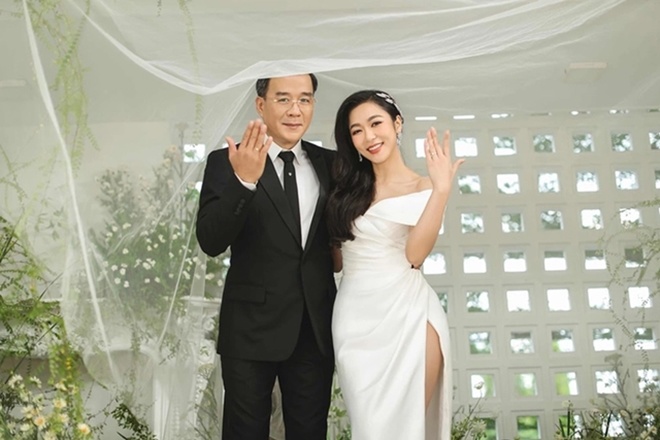 Since the wedding caused a stir in early May 2022, "King of Koi" and Ha Thanh Xuan have been very interested in social networks.
After the wedding of businessman Thang Ngo and female singer Ha Thanh Xuan took place, social networks were flooded with information "Vietnam Koi King" abandoned his wife and children when he became famous to go to a young love 13 years younger. The couple is suspected of having an "out-of-the-way" relationship before getting married. The overseas singer was born in 1988, so it was rumored that he was a "small tam" who entered Thang Ngo's family. Meanwhile, "King of Koi fish" is criticized as "rich to change friends, to change wife", betraying his wife.
Strongly criticized by public opinion, Thang Ngo initially chose to remain silent. However, after witnessing Ha Thanh Xuan being severely insulted, he was forced to speak up many times. In his share, "King of Koi fish" confirmed that the time he met Ha Thanh Xuan was when he was divorced. However, the male businessman's explanations do not seem to have convinced the majority of netizens.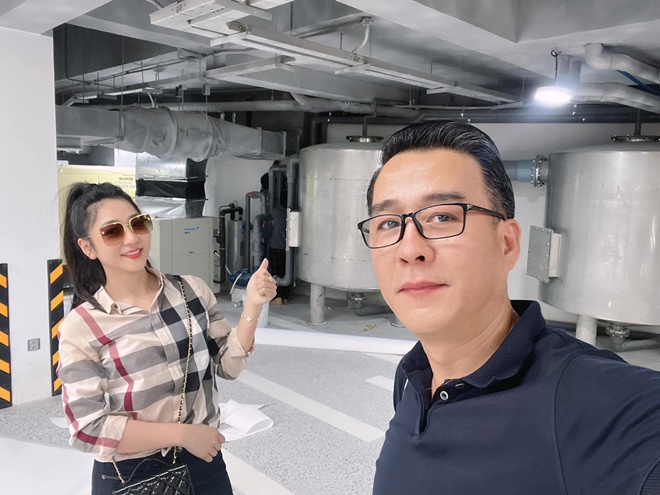 Currently, Thang Ngo has reopened his personal page, and Ha Thanh Xuan is still temporarily locking Facebook and Fanpage.
You are reading the article
Koi fish king and Ha Thanh Xuan visit their father in a coma for half a year, the reason why his mother cried at the wedding

at
Blogtuan.info
– Source:
Eva.vn
– Read the original article
here