Business
Parents burst into tears, calling it 'nightmare'
The United States is facing a formula shortage crisis and many parents are struggling to find milk for their babies, the Guardian reports.
According to Datasembly, a data company, at the beginning of May, at retail stores in the US, 43% of baby formula was out of stock. One mother in the US told the New York Times the situation was "a nightmare".
Another mother in the US told Today she cried when she couldn't find formula for her baby.
Wynter Balthrop, a 26-year-old mother from Gallatin, Tennessee, USA, spends all day looking for formula.
Her 8-month-old daughter, Blakely, drinks Enfamil Nutramigen milk and has taken it down to the last spoonful. Balthrop didn't have many options because baby Blakely was allergic and could only tolerate lactose-free, hypoallergenic formula.
Balthrop and her husband, Tyler, have been to six stores – but the shelves are empty. Finally, they walked back to the car with tears in their eyes.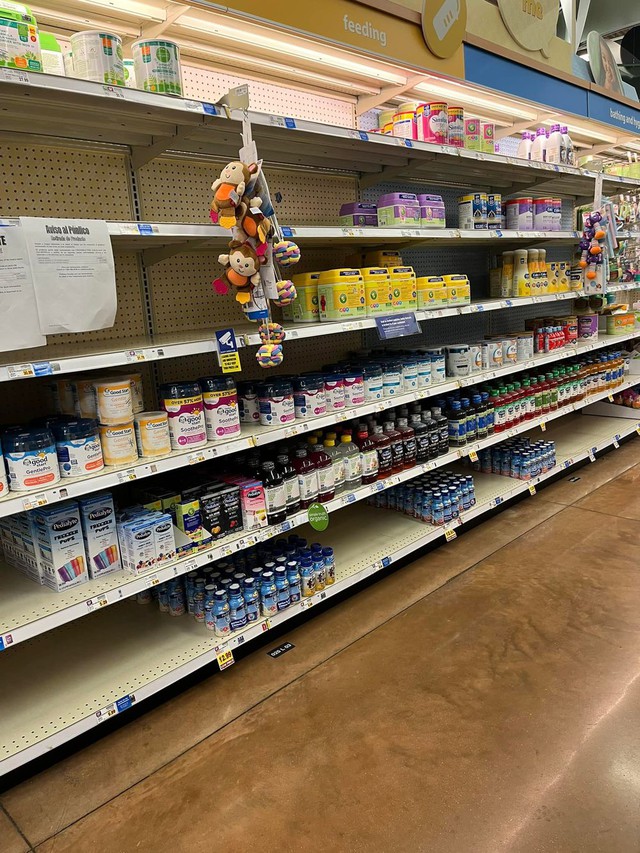 Wynter Balthrop, a 26-year-old mother from Gallatin, Tennessee, USA, posted a photo of a shelf of formula milk on social media.
"We also called surrounding states and cities—we were willing to go about three hours. But they couldn't help us either, they were out of stock," Balthrop told Today.
Eventually, the couple realized they would have to feed Blakely a formula that could upset her stomach. By then, Balthrop was sobbing.
"I can't stay calm. It's not fair that we have to feed our baby something that will upset him," Balthrop said. "Why is it so hard to find formula?"
Why did the formula crisis happen?
In February, Abbott Laboratories, maker of popular baby formulas, closed a manufacturing facility in Sturgis, Michigan, US, after it recalled formula products intended for use in children. for children.
Earlier, an investigation was conducted after four infants fed formula from this establishment became infected with bacteria, two of which died. Abbott says there is no link between Abbott's formula and illness.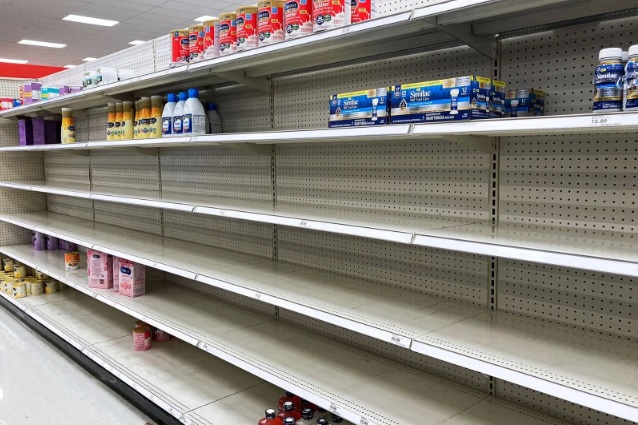 Formula shelves are nearly empty at a Target store in Orlando, U.S., May 8, 2022.
Dr. Christopher Duggan, director of the Center for Nutrition at Children's Hospital Boston, USA, said that infant formula is already affected by supply chain issues related to the COVID-19 pandemic, but the closing the plant in Michigan "really aggravates things".
Who is most affected?
Several US states are facing worsening formula shortages, including Tennessee, Texas and Iowa, where more than 50% of the best-selling formulas are out of stock.
The crisis is hitting poorer families hard. Nearly half of all infant formula in the US is purchased under the Wic program, which helps babies, children and low-income women. Abbott provides formula for about half of the children receiving Wic benefits. As these products disappeared, families scrambled to find alternatives.
In addition, it seems that families of color are more severely affected. According to a 2019 report from the Centers for Disease Control and Prevention, breastfeeding rates are lower among black children than white children. The report found that black women were more likely to live at or below the poverty line and more likely to return to work sooner.
"These women are less likely to have the flexibility of work to be able to pump and express breast milk," says Dr. Ann Kellams, a pediatrician at the University of Virginia and chair of the board of trustees of the Academy of Pediatric Medicine. suckling, USA, said. "They're the ones I'm most worried about right now. They'll be the people who are least likely to find formula."
Parents should do?
Dr. Kellams added: "This is a really difficult situation. Having a baby is inherently difficult, and you can totally use a different formula than you're used to."
However, for babies who have a medical condition and are recommended by their doctor to use separate formula, parents need to talk to their pediatrician or dietitian to make sure the formula transition is safe. and it will be well tolerated, says Dr. Duggan.
If a mother is both formula-feeding and breastfeeding, and their baby is under four months old, there are ways to boost breast milk production, says Dr. Kellams. However, parents should see a lactation consultant.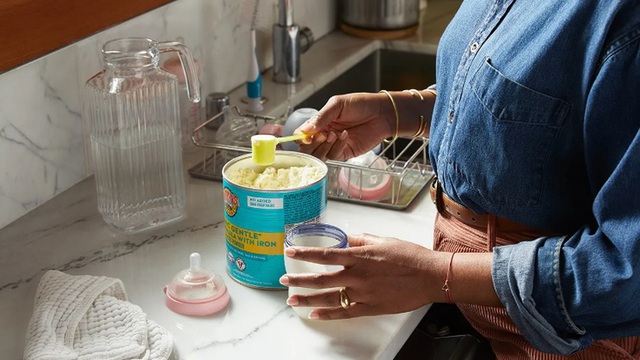 Illustration of mixing formula milk.
In addition, experts also have some notes for parents:
– Do not share formula or breast milk with online acquaintances you do not know or trust.
– Only mix enough formula because if you don't, you can completely add more.
– Do not dilute formula as it may mean your baby is not getting the nutrients he needs.
What is the US government doing to respond to the crisis?
US President Joe Biden has activated the Defense Production Act to boost the supply of baby formula amid a nationwide shortage.
This activation means that the US will speed up production of baby formula and allow flights to transport milk from abroad.
This week, the US Food and Drug Administration (FDA) announced it had reached an agreement with Abbott. Accordingly, the company will take the corrective actions recommended by the FDA, including having an independent expert review operations at Abbott's recently closed facility. This will allow Abbott to reopen the facility soon.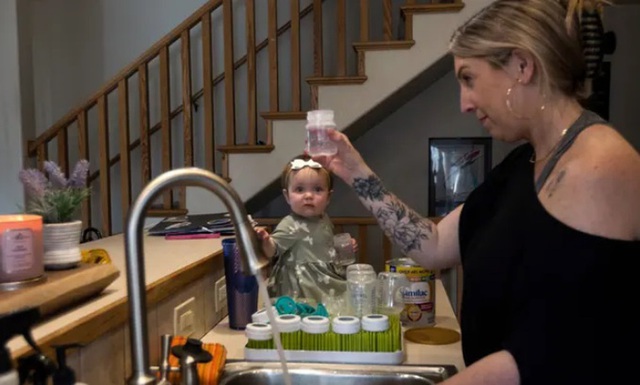 Mother Mollie Wetzel prepares formula for her daughter Olivia, 9 months old, on May 16, 2022 in Victor, Idaho, USA.
In a letter to the US Department of Health and Human Services and the US Department of Agriculture, President Biden directed both agencies to help the Pentagon identify formula milk from abroad that meets the standards. of America. This will be done this week.
The US will then arrange flights to bring the formula to the warehouse and then to retail stores in the US. This will help keep supply up until production can return to normal.
How many baby formula companies are there in the US?
Currently, 90% of the infant formula market in the US is held by four companies – Abbott (accounting for almost half of the market), Mead Johnson Nutrition, Nestlé USA and Perrigo. Only 2% of infant formula is imported, and FDA regulations make it very difficult for new entrants to the market.
Since there are so few companies in the formula market, when a factory closes it creates a domino effect, Dr. Kellams said.
What can be done to prevent the crisis from recurring?
Experts Kellams and Duggan are calling for policy changes to better support breastfeeding mothers.
The US is the only developed country without paid maternity leave. Dr. Duggan said: "It is very difficult to successfully breastfeed and still go back to work. There is a lot that our government and policymakers can do to support breastfeeding families. mother milk".
(Source: Guardian, Healthline, Today)
https://soha.vn/cuoc-khung-hoang-sua-cong-thuc-kho-tin-o-my-cha-me-bat-khoc-goi-day-la-con-ac-mong-20220523113521589. htm
You are reading the article
Parents burst into tears, calling it 'nightmare'

at
Blogtuan.info
– Source:
cafebiz.vn
– Read the original article
here