On May 23, the Dong Nai Provincial Police Investigation Agency said it had completed the conclusion of an additional investigation and transferred the file to the People's Procuracy of the same level to propose prosecution of 74 defendants.
Earn hundreds of billions of dong
Phan Thanh Huu (SN 1957, Director of Phan Le Hoang Anh Trading Co., Ltd.), Nguyen Huu Tu (SN 1957, hometown Vinh Long), Dao Ngoc Vien (SN 1968, Director of Ocean Hai Phong Co., Ltd.) Another 70 defendants were proposed to be prosecuted for the crime of "Smuggling". Regarding the case, Ngo Van Thuy (SN 1964, former Captain of Team 3, Anti-smuggling and Investigation Department of the General Department of Customs) was proposed to be prosecuted for the crime of "Receiving bribes".
The conclusion of the additional investigation showed that in 2019, Huu intended to smuggle gasoline from Singapore to Vietnam, so he exchanged capital contribution with a company director for 4 Nhat Minh ships. Huu knew that Vien was running a company specializing in trading and transporting petroleum and had many relationships with a number of individuals in the authorities, so he discussed contributing capital and smuggling gasoline. Since then, Huu, Vien and 3 others contributed a total of 53.4 billion VND to buy gasoline. The parties agree that profits will be divided according to the ratio Huu 40%, Vien and the rest 60%.
Thanks to Vien's introduction, Huu contacted the owner in Singapore to agree on the price and how to receive the goods. After that, Vien dispatched 2 specialized seagoing ships with a total tonnage of 8,000 tons, parked in the free sea waiting for orders. Upon notification, these ships will enter the Vopak port of Singapore to contact the agent to receive the goods. When the ships finished receiving goods returned to Vietnam's waters, Huu directed the staff to take 3 Nhat Minh ships out to receive fuel and transport them to the Hau River area in the territory of Vinh Long province. Due to the white color of smuggled gasoline, Huu bought pigments and solvents for the staff to bring on the ship to mix into a light yellow color (like domestic gasoline).
Next, gasoline will be delivered to accomplices including Nguyen Huu Tu. Two Khanh Hoa ships will continue to receive goods to bring to Bac Van Phong port, Khanh Hoa province for consumption. From March 2020 to February 2021, Huu and the defendants transported 48 trips, totaling more than 200 million liters of smuggled gasoline, worth nearly VND 2,800 billion. In which, more than 196 million liters have been consumed, hundreds of billions of dongs have been earned, and more than 105 billion dongs for Huu alone.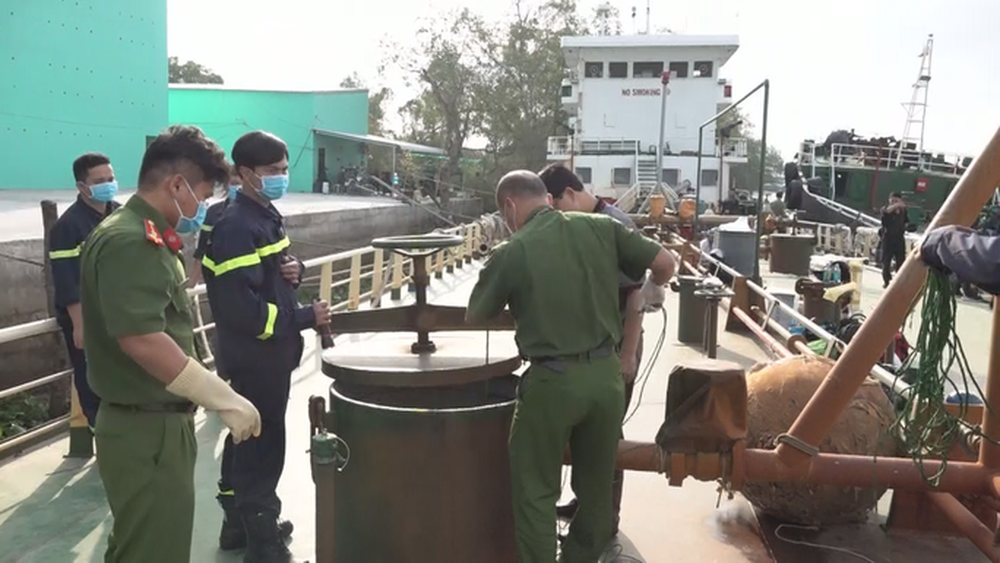 Phan Thanh Huu's petrol tanker was arrested by the police
Clarifying important details
During the investigation, Dong Nai Provincial Police clarified when receiving information that the force of the Anti-Smuggling and Investigation Department, the General Department of Customs was deploying to arrest the ships smuggling gasoline, Tu informed Huu. Here, Huu asked Tu to find all ways to approach, to meet Ngo Van Thuy (at that time the captain of Team 3 of the Anti-Smuggling Investigation Department of the General Department of Customs) to ask for "help".
In order to meet Thuy, Tu asked Nguyen Duc Quyen (customs officer of Team 3) to introduce him. On January 25, 2021, knowing that Thuy was with the delegation going down to Can Tho to deploy the arrest of the Nhat Minh ship, Tu called to ask to meet and was accepted. Tu went with Tran Ngoc Thanh (living as husband and wife with Tu) to meet Thuy at Bien Dong restaurant, Can Tho city. When meeting and having lunch with Thuy, Tu gave Thuy an envelope containing 10,000 USD inside and asked to "facilitate the Nhat Minh ships of Huu to carry gasoline to My Hoa to sell to me", but Thuy did not accept the envelope and replied. Tu: "I don't promise".
Then Thuy invited Tu and Thanh to Lua Nep restaurant to have lunch with staff in Thuy's team. At Lua Nep restaurant, Thuy introduced Tu and her husband who are acquaintances in the real estate business in Can Tho. After this meeting, Tu asked to come to Thuy's house, Thuy agreed and texted Tu Thuy's home address in Phu Nhuan district (HCMC).
Three days later, Tu and Thanh put another ATM card in their account with 100 million dong in an envelope of 10,000 USD and went to Thuy's house to continue asking the question of not taking the Nhat Minh train. At Thuy's house, Tu put the money envelope in the living room drawer and said that the ATM card password is the last 4 digits of his phone. After being led by Thuy to have breakfast and leave, Tu called Huu to inform him that he had given Thuy 10,000 USD, an ATM card with 100 million VND. Then Huu phoned Thuy, Thuy agreed to meet Huu and received 500 million VND.
After receiving money from Huu, Thuy ordered Team 3 officers to return to Ho Chi Minh City, not continuing the plan to arrest the Nhat Minh ship as planned. When returning to Ho Chi Minh City, Thuy did not report the results of the implementation as well as the next proposal on the case of the Nhat Minh train transporting smuggled gasoline.
In total, Ngo Van Thuy (former Captain of Team 3, Anti-smuggling and Investigation Department of the General Department of Customs) received from the accused in the case 10,000 USD, 500 million VND and an ATM card with 100 million VND.
You are reading the article
Proposal to prosecute 74 defendants

at
Blogtuan.info
– Source:
Soha.vn
– Read the original article
here