Business
The value is not great, but it is important to make it yourself
Kwak Ji Hyeon is the one who appeared on SBS's "Master of Life" in Korea in February 2022 as "a master who accumulated 100 million won in 4 years by himself at the age of 24" .
The amount of 100 million won equivalent to 1.83 billion VND is not a small number. Especially when this girl is only 24 years old.
Sharing about this journey, the girl said: "I started my first job at the age of 19 and then took on as many jobs as possible, including running a business. My own Youtube channel. I usually get a monthly income of about 2 million won, which can decrease to about 1.97 million won or increase to 2.3 million won depending on time. Each month, I only use about 8,400 won (equivalent to about 154,000 VND) for food expenses."
When asked why she was putting so much effort into saving money, Kwak Ji Hyeon revealed that it was all due to her poor family background since childhood. "I was fed up with loans since I was a kid and I thought getting a loan would cause a lot of trouble," the 24-year-old said.
Memories of the past make her always yearn to have some money in hand and aim for a better life.
Thanks to the spirit of strictly following the proposed measures, she has about 1.8 billion VND in hand to be able to buy an apartment for herself.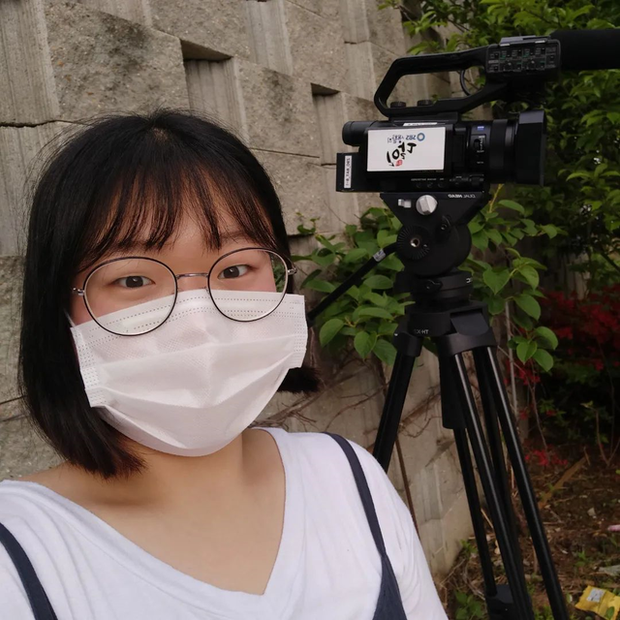 The image of Kwak Ji Hyeon, 24 years old, accumulating 100 million won in 4 years has become a hot topic after appearing on the Korean SBS channel. Photo: IGNV
Sharing with the program, in addition to working hard, saving food costs, Kwak Ji Hyeon also said 4 main methods to increase income and reduce spending.
1. Walk to work, save money on expensive trains
Most people in Korea travel by public transport. Another department has its own car to make it more convenient for journeys to and from work. However, there are also some people trying to save money on commuting, like Kwak Ji Hyeon, who choose to walk. The 24-year-old girl said that she spent 2 hours walking to work every day so as not to have to pay the expensive monthly train.
2. Take advantage of various discount offers
Kwak Ji Hyeon said that she pays special attention to discount forms for new members of all kinds of companies, brands or electronic apps. She revealed that a lot of companies offer relatively high discounts when signing up for new members. Seeing that, Kwak Ji Hyeon will use the services of many different brands in turn until the promotion ends.
Kwak Ji Hyeon confessed that she once bought food with the original price of 8,900 won (about 165,000 VND) at a discount of only 900 won (about 16,500 VND) through these discount codes.
Also, Kwak Ji Hyeon points out that cooking at home is the best way to save money. No matter how tired you feel after work, just thinking about how cheaper it is to cook at home than at the grocery store, you'll be more motivated to do it.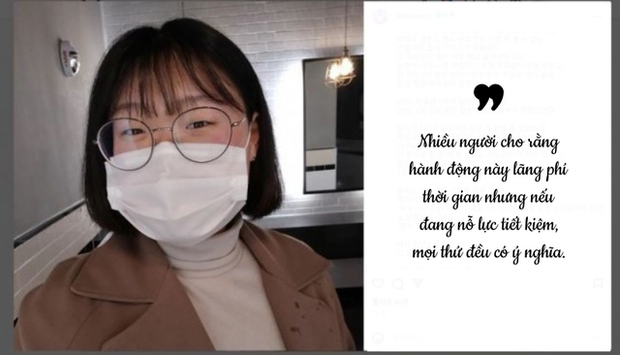 3. Resell attached gifts
Kwak Ji Hyeon pointed out that she rarely has to buy bottled water because she often receives free drinks when answering survey questions or some promotional and marketing activities of brands.
Since she only drinks free tap water, the 24-year-old can sell all of these drinks on apps or websites that support second-hand transactions. Other freebies are also treated the same after leaving just enough for your own needs.
This helps her to take advantage to increase her income, speeding up the speed of saving money.
4. Accumulate points from different stores
Many people may think that spending only 8,400 won (about 154,000 VND) for monthly meals is not feasible, but why can Kwak Ji Hyeon do it?
All because Kwak Ji Hyeon will use different mobile applications and stores to accumulate points when buying foods and cooking ingredients. For example, she would collect instant coffee boxes everywhere, convert to points on the app, and then continue to exchange for ingredients of similar value from that store app.
In addition, she applies many cost-saving methods such as buying and selling second-hand goods, accumulating all kinds of vouchers and discount coupons, participating in events with free trial items, shops. Supermarket discounts…
"Many people think this is a waste of time, but if you're trying to save money, everything makes sense," the 24-year-old shared. "In the end, I didn't achieve what I wanted. Although the value of the apartment is not too great, the important thing is that I made it myself."
After the show was broadcast, Kwak Ji Hyeon's frugal lifestyle became a hot topic that attracted a lot of media and public attention. 4 days ago, she even revealed on her personal Instagram page that a publisher had contacted her asking her to write a book about her savings process and promised to publish it as a book in the near future.
"The publisher's representative said that it can only take 6 months, at most a year to write a book. I am extremely grateful to have received the attention of everyone who has contributed to the book. my own book might come out," Kwak Ji-hyeon said.
The 24-year-old girl shared that this is her first time writing a book and not sure if she can finish it well. She posted a post to ask for references on issues that people want to know.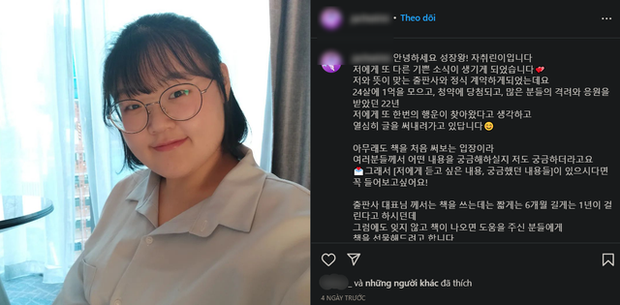 Kwak Ji Hyeon shared her good news on social media.
According to Koreadaily, Business Times / Photo: IGNV
You are reading the article
The value is not great, but it is important to make it yourself

at
Blogtuan.info
– Source:
cafebiz.vn
– Read the original article
here