Công nghệ
The world's most notorious hacker group is on the verge of dissolution
The above information was shared by Yelisey Boguslavskiy, founder of security firm Advanced Intel. In fact, Yelisey Boguslavskiy has long been watching the group's every move hacker notorious Conti.
As revealed, since May 19, Conti's infrastructure has been turned off. The group's Tor administration system, which members use to post news, capture data and conduct blackmail negotiations, has been taken offline. The server of the Rocket service used for internal communication of the group has also been down.
The only thing that still exists on the Internet is the blog Conti News. After Boguslavskiy made the information public, on May 21, this site still posted an article about the attack campaign on Costa Rica that the group was carrying out, along with the captured data.
However, according to security experts, their website is only "formal", while the server storing the data is inaccessible.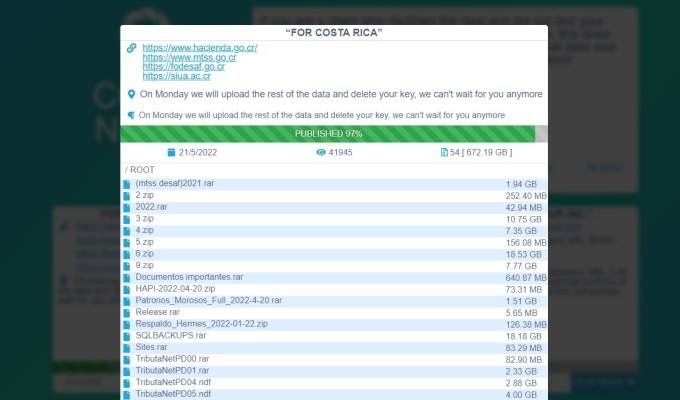 The Conti News blog is still active, but the data is now inaccessible. Photo: Conti News
"Conti's move is surprising news because they are carrying out a campaign to extort tens of millions of dollars on Costa Rica" – according to the report. Bleeping Computer.
However, security experts say that the Conti hacker group may be carrying out a rebranding campaign as well as the method of operation. The attack on the Costa Rican government was a cover for this action. Conti members will be dispersed and participate in other hacker groups' activities. This helps them stay connected when the Conti brand goes out of business.
Dissolution of Conti has long been predicted, due to this group's increasingly reckless activities, becoming the target of law enforcement agencies around the world. The group began operating in 2020, specializing in distributing ransomware targeting companies and organizations through tools such as TrickBot and BazarLoader.
This group gradually became one of the notorious cybercrime gangs, carrying out many large-scale attacks. Conti froze Ireland's IT systems for weeks in 2021. They also hacked into the Irish Health Service Executive and the country's Department of Health.
The US government is announcing a $15 million reward for information about the top members of Conti. This is said to be one of the reasons why Conti had to disband.
"Conti will probably only dissolve in terms of the brand, but then the group can gather and form another organization with a larger scale and level of danger," – Yelisey Boguslavskiy said.
Conti is the hacker group that "declared war" on the popular rival group Anonymous in February but then leaked data by some internal members.
You are reading the article
The world's most notorious hacker group is on the verge of dissolution

at
Blogtuan.info
– Source:
nld.com.vn
– Read the original article
here