Khỏe - Đẹp
Too fat, a 25-year-old man has a disease that "robbed" his father's life
Although he is only 25 years old, D. has had a seniority with type 2 diabetes since 5 years ago. In particular, D.'s father also died of diabetes, which led to complications of kidney failure.
The case of a patient with PHD (25 years old, living in Ho Chi Minh City) who came to the hospital for treatment of type 2 diabetes. The doctor determined that he had diabetes at a very young age due to uncontrolled diabetes. be weighed. Mr. D. is 1.81m tall but weighs 130kg. Mr. D. was diagnosed with diabetes 5 years ago.
According to the doctor, obese people increase the amount of fat in the viscera and under the skin. More fat cells reduce the effect of insulin on postprandial blood sugar control. In addition, the fat surrounding the pancreas also reduces the ability to secrete insulin. These two factors combine to cause the body's blood sugar to rise above normal, leading to diabetes.
Besides, Mr. D.'s disease is also related to family factors. His father also had diabetes, leading to complications of kidney failure requiring dialysis and early death.
For Mr. D.'s case, doctors had to coordinate between the specialties of endocrinology, nutrition and rehabilitation to control blood sugar stably and enter the weight loss route. The goal is to help the person lose about 10% of their body weight within six months, and maintain this weight.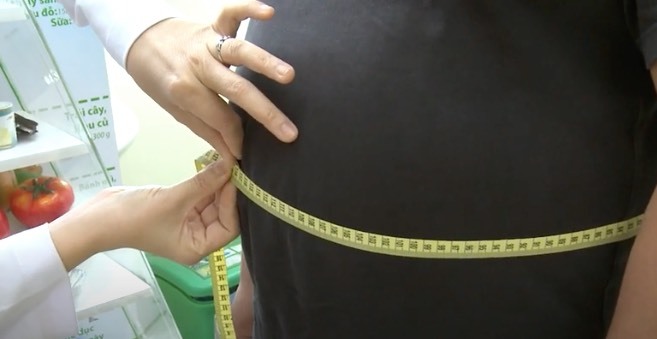 The more obese, the greater the risk of disease.
In another case, Mr. VKK went to the doctor because he was obese. Mr. K. said before that his weight was only 67 – 70 kg. For a time he was stressed and ate a lot, then his weight increased uncontrollably. Initially, he only gained a few kg, but now, K.'s weight is up to 105 kg.
When he was overweight, Mr. K. faced many health problems. Because of being fat, I can't play sports like soccer, badminton. Even climbing the stairs from the 1st floor to the 2nd floor is tiring. In particular, his family members observed that he snored louder. Around 1-2 in the morning, he often wakes up, making his body tired and has no energy to work. Mr. K. came to ask for weight loss advice.
According to Dr. BS. Tran Quang Nam – Head of the Department of Endocrinology, University of Medicine and Pharmacy Hospital, Ho Chi Minh City – diabetes is a common disease and tends to increase rapidly. It is estimated that more than 3.5 million Vietnamese people are suffering from diabetes. The number of people infected with the disease is increasing rapidly and is getting younger and younger.
Many young overweight and obese patients who come to the clinic have high blood sugar. They don't even know they have diabetes.
Doctor Nam said that being overweight and obese causes many health consequences, especially diabetes and blood fat. It is estimated that more than 80% of people with diabetes are overweight or obese.
Meanwhile, the role of fat is that it is an important component for the body to create cells, the function of enzymes.
However, when fat increases abnormally, unhealthy fats are produced that cause dyslipidemia such as overweight, obesity, and diabetes. The nature of people with diabetes causes a disturbance in insulin, which helps in fat metabolism, so it causes a vicious cycle of blood fat – diabetes.
According to Doctor Nam, in the past two decades, the rate of overweight and obesity has increased by 6.7 times compared to before. Along with obesity, diabetes increases. Diabetes goes hand in hand with obesity. Patients with dyslipidemia, hypercholesterolemia, and disturbances in cholesterol composition make patients more likely to have cardiovascular events.
Dr. Nam said that many young patients who came to the clinic because they were overweight and obese were found to have type 2 diabetes. There were many people like Mr. D. whose parents had diabetes.
In women, Dr. Nam noted that if you are obese and have gestational diabetes, your chances of developing diabetes increase even more. Women with polycystic ovaries also have an increased risk of diabetes. Doctor Nam recommends that patients need to have a blood test to find out their blood sugar. Because, in the early stages of diabetes, there are no symptoms. If left unchecked, diabetes can cause many dangerous complications.
Obese people also face a series of other diseases such as cardiovascular disease, infertility, bone and joint problems. Therefore, Dr. Nam recommends that it is best to control his weight. Especially people with belly fat need to exercise more and eat scientifically to lose weight.
Khanh Chi
You are reading the article
Too fat, a 25-year-old man has a disease that "robbed" his father's life

at
Blogtuan.info
– Source:
infonet.vietnamnet.vn
– Read the original article
here