Business
Years of helping Amazon to make a spectacular loss, defeating both Google and Microsoft even as a retailer
CNBC reported that billionaire Jeff Bezos, the founder of the giant retail group Amazon, has just posted a commemorative photo of the cover of BusinessWeek magazine, which was published 16 years ago. The photo shows him at the age of 42 with the words "Amazon's risky bet".
The content of the article then revolved around the doubts of investors and Wall Street analysts about the feasibility of the Amazon Web Services (AWS) cloud platform. Everyone thinks that this plan will sooner or later fail.
"I've been framing this magazine cover since 2006. I want to remind myself that the 'risky bet' that was once criticized by Wall Street was AWS, the platform that helped Amazon generate more than $62 billion in revenue. last year," Jeff Bezos posted on Twitter.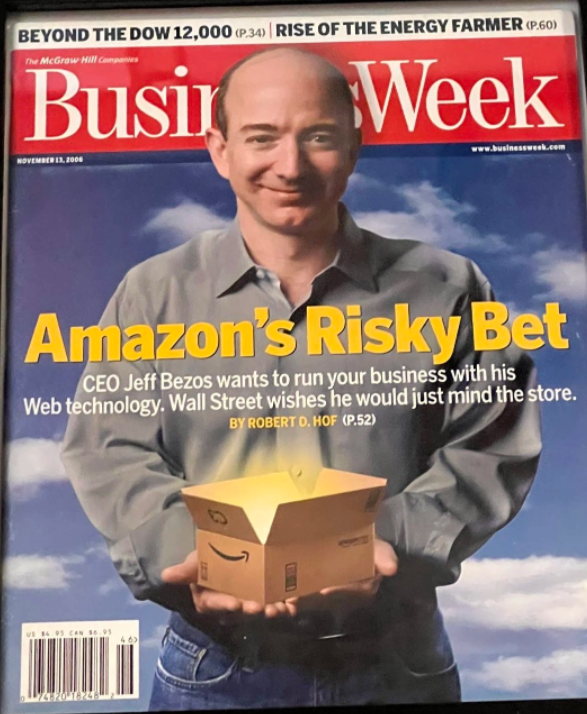 Billionaire Jeff Bezos, founder of retail giant Amazon, posted a commemorative photo of the cover of BusinessWeek magazine
BET OF THE CENTURY
In 2006, Amazon's market capitalization was less than $10 billion. Investors at that time were very confused and completely lost faith in Jeff Bezos. They say he's spending at the wrong time, in the wrong place, and that the 20% drop in Amazon stock hasn't stopped Jeff from pouring money into technology. As CNBC points out, investments in cloud computing have grown by 52% since January 2006.
"It's too far removed from Amazon's retail core. Everyone wonders if Jeff Bezos is losing control," said Bloomberg writer Robert D. Hof.
However, no one expected that, 10 years later, the Amazon was picking sweet fruits. AWS has become the cloud computing platform that powers its ambitions to revolutionize the online marketplace, and plays a key role in driving Amazon's market capitalization to $1.08 trillion.
According to CNBC, AWS revenue last year hit $62.2 billion – a large enough number to "beautify" Amazon's financial statements in 2022. In the first quarter of this year, AWS also brought in 6.52 billion USD in pre-tax profit, while Amazon's business only reached 3.7 billion USD. This means that without AWS, Amazon's profits would be hard to come by.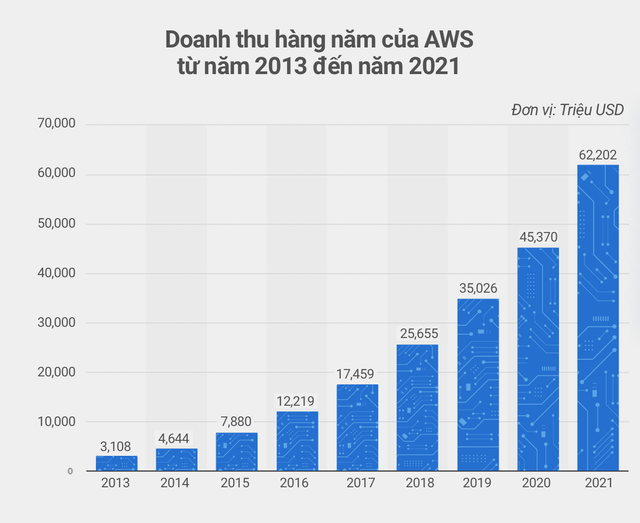 In 2016, Amazon announced that it would not separate the AWS cloud platform from the corporation. "We think customers are still being served very well when AWS is part of Amazon," said AWS CEO Adam Selipsky at the time.
In fact, AWS has invested in dozens of companies over the years, such as Israeli microelectronics company Annapurna Labs in 2015. Other small acquisitions include E8, the startup. hosting startups NVMe-over-Fabrics and CloudEndure, a software development company.
According to Forbes, all of the above successes of AWS have helped Amazon from a retailer to become a platform comparable to Microsoft, Google and a number of other giants. Specifically, in the cloud computing segment, last year, AWS held a 32% market share, far exceeding Microsoft's 19% and Google Cloud's 7%, according to EES Corporation data.
In a short span of time, AWS redefined the entire technology sector by helping startups create hardware and software. It would be difficult for wildly successful companies like Netflix, Apple's App Store, Uber, Airbnb, or dozens of other tech unicorns to reap most of the profits if the AWS cloud service wasn't at the forefront.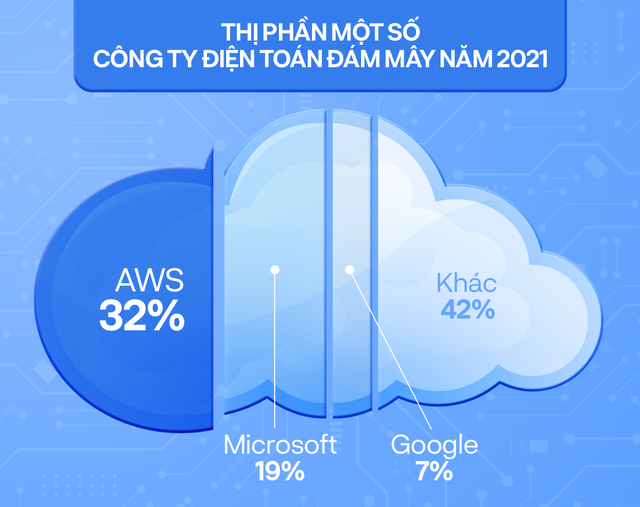 In a blog posted on March 11, Amazon CTO Werner Vogels shared 10 lessons Amazon has learned through building AWS over 10 years. The constant innovation, willingness to absorb new things has made Amazon a great start far ahead of competitors in the same industry as Google, Microsoft, Oracle or IBM.
"We're willing to go dark, obscure paths, just to find something that really works," Forbes quoted billionaire Jeff Bezos as saying.
Of course, the other giants do not let AWS expand alone. Google launched a campaign to promote cloud computing after recruiting VMware founder Diane Greene. IBM spends $1 billion on technology that serves the Bluemix platform, while also replicating AWS features. Oracle, with its databases and applications vital to many businesses, is pushing to convince more customers to use its services. Facebook, the largest social networking site on the planet, is not far behind, creating the Open Computing Project as part of its plan to compete with AWS.
AWS customers, especially those that compete with Amazon, are also starting to take an interest in other computing companies, or at the very least, try to avoid becoming too dependent on AWS alone.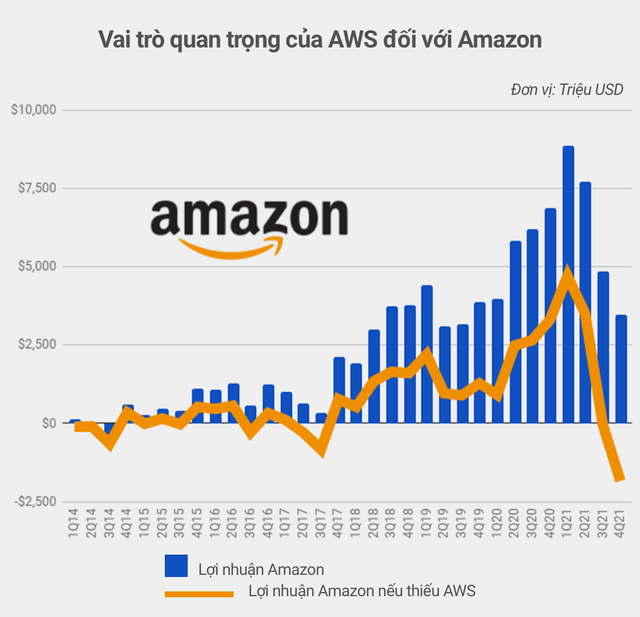 Apple, one of AWS' biggest customers, is a prime example. The giant quickly built its own data centers for iTunes, iCloud, the App Store, and several other services. This has led many experts to predict that Apple may soon leave AWS, according to Morgan Stanley analyst Brian Nowak.
FAILURE IS THE PRICE OF SUCCESS
Even so, if we turn the issue around, Businessweek's analysis 16 years ago is not necessarily without reason. It is true that Amazon has built a reputation after years of betting on emerging technologies, but the retailer has also fallen many times before.
The proof is that in 2014, Amazon lost $ 170 million because of Firephones. By 2019, the company continued to have to close 87 pop-up store chains as well as some delivery services for restaurants. Last year, Amazon also discontinued the production of Dash Buttons – small devices placed around households to make it easy for users to order on Amazon with just one click. This technology fails because customers tend to use other purchasing methods.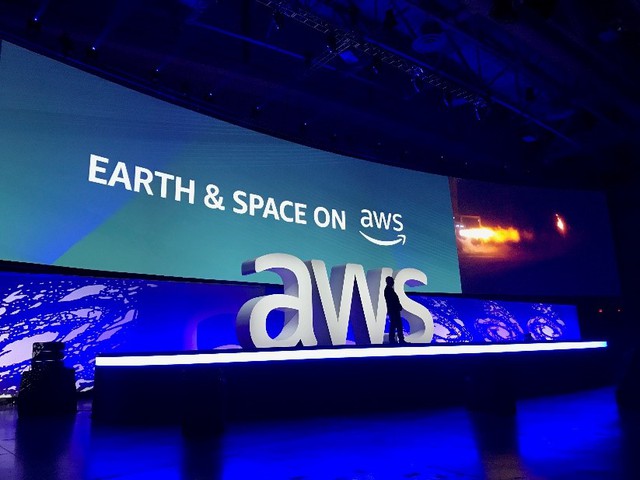 A conference hosted by AWS
Last year, Bloomberg also reported about an unexpected outage of Amazon's cloud computing service that left thousands of Americans without refrigerators, robot vacuums and doorbells. Massive streaming and delivery has been severely impacted, and many people can't even enter Walt Disney's parks.
Users then complained of their frustration, saying they spent a lot of time starting and reinstalling applications and devices before discovering AWS was down.
The incident then made people think about the downside of owning a "smart" home due to having to rely too much on the Internet, and specifically here a company. Thankfully about 9 hours later, AWS said they had resolved the issue.
These failures or incidents of course do not discourage Jeff Bezos. He believes that failure is the price to pay for success.
AWS is in a pivotal position in multi-color computing
"We need a major setback if we are to make changes, even if they are worth several billion dollars. If you don't fail, you're probably not strong enough, "said the billionaire.
According to Forbes, Amazon shows no signs of slowing down the growth of AWS, and said it will continue to further promote cloud computing services. Of course, some initiatives may fail, but for the time being, the company is still holding an important decisive position in the field of cloud computing.
According to: CNBC, Forbes

https://cafebiz.vn/vu-ca-cuoc-the-ky-cua-jeff-bezos-vao-nhung-dam-may-nhieu-nam-giup-amazon-thoat-lo-ngoan-muc-danh- bai-ca-google-microsoft-du-chi-la-hang-ban-le-20220523170718411.chn
Following the Economic Lifestyle
You are reading the article
Years of helping Amazon to make a spectacular loss, defeating both Google and Microsoft even as a retailer

at
Blogtuan.info
– Source:
cafebiz.vn
– Read the original article
here