Life Style
8 most "glamorous" destinations in Tunisia, for those who love archeology, fans of the movie Star Wars
Tunisia, the jewel in North Africa – is well-deserved as an ideal destination for anyone's memorable trip.
Tunisia is the northernmost country in Africa and borders Algeria and Libya. Despite its rudimentary tourist infrastructure, Tunisia is still growing, attracting visitors with its historic capital city, scenic seaside towns, and Star Wars movie filming locations. Iconic.
Most international visitors will begin their trip in the capital, Tunis. Tunis can also be considered as an interesting stop in the journey to destinations in North Africa (such as Morocco and Egypt).
8. Old Medina in Tunis
Tunis is a culturally rich city with fascinating historical sites and a well-preserved old town. Tunis Medina takes visitors back in time as the city has around 700 historical sites. The Medina became a UNESCO World Heritage Site in 1979 and is the most striking picture of North Africa's past.
Spend an afternoon strolling the old town, sightseeing and shopping, or join a guided walking tour for more information on Tunis' origins.
7. Visit the Archaeological Site of Carthage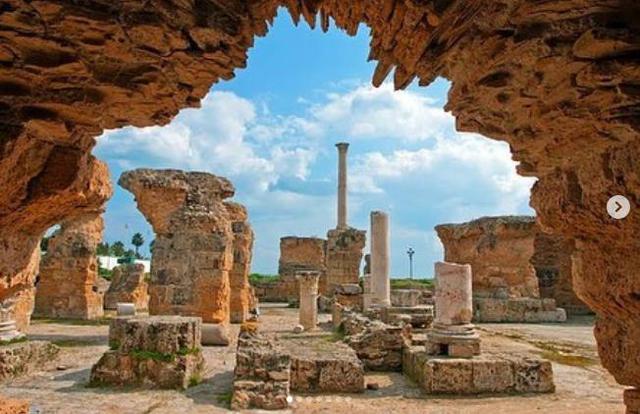 History buffs will enjoy exploring and learning about the ancient ruins of Carthage, a seaside suburb of Tunis. Carthage was created as a hitchhiking site for ships that sailed across the Mediterranean Sea and eventually became an important port. Today, Carthage is an archaeological site with the ruins of ancient theatres, mansions and baths.
6. Pose with Chebika (Star Wars Film Location)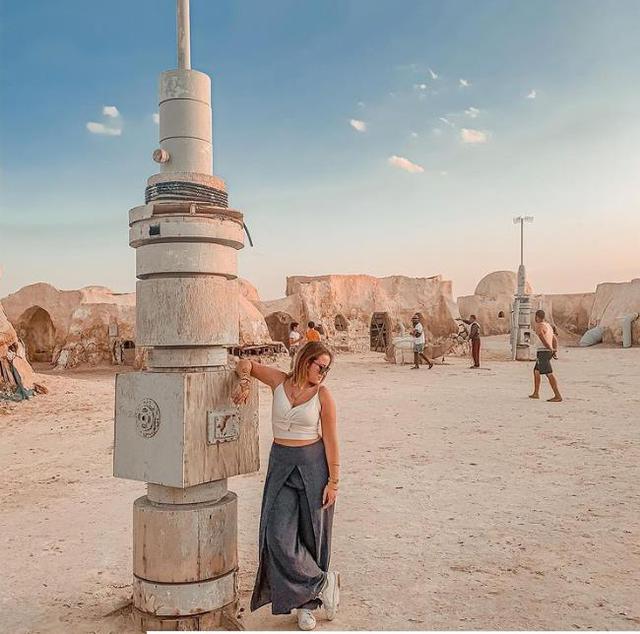 Chebika is a desert oasis in Tunisia, located at the foot of the Djebel el Negueb mountain range. Chebika is a few hours southwest of Tunis, so the best way to reach the oasis is by renting a car or taking a guided tour with transfers from Tunis.
From Chebika, you can also visit Mos Espa, an abandoned town. This is the filming location of Star Wars episodes IV, V and VI. Mos Espa attracts tourists, "following" the popularity of the fantasy series Star Wars so tourists can wear simulated clothes like in the movie, pose, " check-in".
5. View from Sidi Bou Said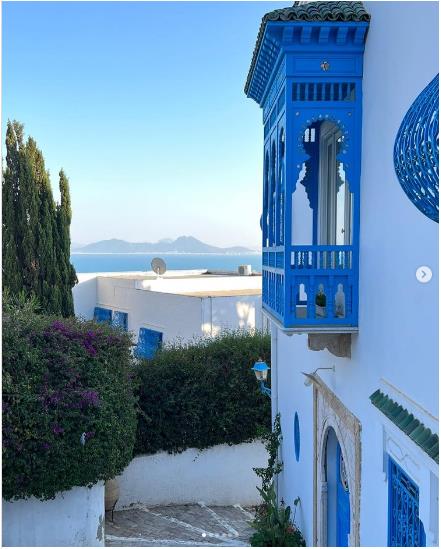 Leave the main city of Tunis and head to the charming seaside town of Sidi Bou Said. Overlooking the Mediterranean Sea, Sidi Bou Said has beautiful blue and white buildings reminiscent of the popular tourist destination Santorini (Greece) with much more affordable accommodation.
The seaside town has plenty of Tunisian art galleries, cafes and restaurants for visitors to enjoy. It's an idyllic vacation spot, perfect to start or end a trip to Tunisia.
4. Explore the Desert Village at Matmata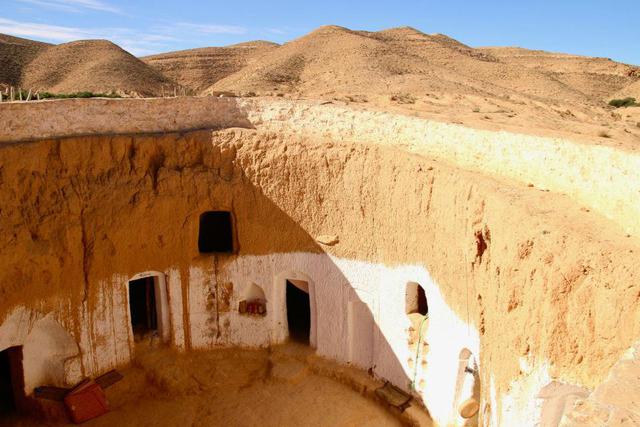 On the overland route from Tunis, try the town of Matmat, in southern Tunisia. Matamata is famous for its unique underground structures that look like holes in the cave walls. These houses are called "troglodyte" buildings with rooms connected by passages. In Matamata, there are about 1200 such houses and are still used by the people here.
3. Relax on the beach in Nabeul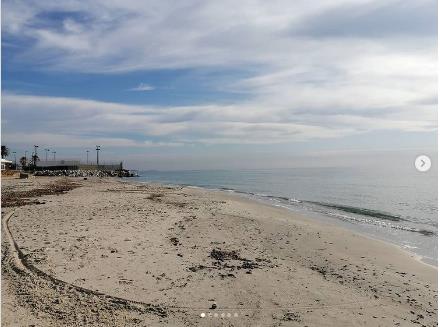 In the northeast of Tunisia is the coastal resort of Nabeul, the perfect place to relax at the end of your trip to Tunisia. Nabeul is located on the Mediterranean Sea, with clear blue waters and sandy beaches where you can relax in the sun.
Besides walking on the beach, visitors to Nabeul will enjoy shopping at the beautiful local markets. In particular, Nabeul is a great place to buy ceramics and flower essences.
2. Visit the ancient ruins of Dougga
In North Tunisia, Dougga was once a Berber settlement. Today, it is an archaeological site and a UNESCO World Heritage Site. The site is said to have been the first capital of the Numidian Kingdom and existed for more than six centuries. The site preserves the ruins of an entire hilltop city, surrounded by picturesque olive groves.
Dougga is a destination that should be in every tourist's itinerary when coming to Tunisia as an important part of the country's history of formation and development.
1. Enjoy your stay on the island of Djerba
Djerba Island is a hidden gem of the Mediterranean and North Africa. The island has beautiful beaches and whitewashed desert homes influenced by Berber, African and Jewish cultures. The island has the oldest synagogue in Tunisia, El Griba, which is an important part of the island's Jewish community. Djerba is an incredible fusion of cultures, offering a unique experience that sets it apart from traveling to the rest of the country.
Visitors can stroll the cobbled streets and shop at Houmt Souk, the main market here. Popular evening activities include smoking shisha in tea rooms in Tunisia and watching live music in local bars or restaurants.
Overview of Tunisia
Capital: Tunis
Population: 11.7 million people (Source: INS 2020)
Acreage: 163,600 km²
Official language: Arabic
Currency: Tunisian Dinar (TND)
Language: Arabic. French is widely spoken everywhere. Italian is usually spoken in the seaside towns and English is spoken in the tourist areas. Most signs are bilingual
International airports: Tunis, Monastir, Djerba, Sfax, Tabarka, Tozeur, Gafsa, Gabès, Enfidha-Hammamet
Weather: Tunisia has a Mediterranean climate characterized by hot, dry summers and mild, wet winters.
(According to The Travel, discovertunisia.com)
https://cafebiz.vn/vien-ngoc-an-cua-bac-phi-8-diem-den-quyen-ru-nhat-tunisia-danh-cho-nhung-ai-yeu-thich-khao-co- fans
You are reading the article
8 most "glamorous" destinations in Tunisia, for those who love archeology, fans of the movie Star Wars

at
Blogtuan.info
– Source:
Kenh14.Vn
– Read the original article
here