Business
Accidentally "treat" early cancer in a colonoscopy
MCU gastrointestinal endoscopy technology is "decoded"
Endoscopy is considered the leading method in the diagnosis of diseases and cancers of the gastrointestinal tract (esophagus, stomach, duodenum and colorectal). Since its inception, this method has undergone many development times to become more and more optimal.
At the breakthrough conference on advanced gastrointestinal endoscopy technology MCU, Doctor CKII Gastroenterology, Excellent Doctor Nguyen Thi Hang – Thu Cuc International General Hospital TCI and Doctor, Master Mai Dinh Minh, Department of Organizational Exploration Capability – Endoscopy Thu Cuc General Hospital TCI explains in detail the development of gastrointestinal endoscopy technologies as well as the differences of each method.
In particular, useful information about high-end MCU endoscopic technology is also clearly shown by TCI not only by visual and vivid images but also by real stories of customers.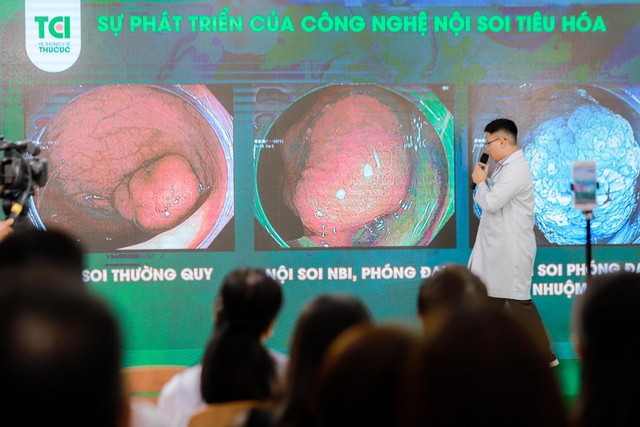 Intuitive and vivid images of the MCU endoscopic method and other methods are clearly shown
Talking about this method, Dr. Minh shared: "MCU endoscopic technology with hundreds of times magnification and the use of specialized dyes, helps doctors clearly observe the boundaries as well as irregular glandular slits. At the same time, when malignancy is suspected, doctors conduct an immediate biopsy and combine endoscopic ultrasound to determine the extent of invasion, thereby treating precancerous or cancerous tumors right away. on that day of colonoscopy".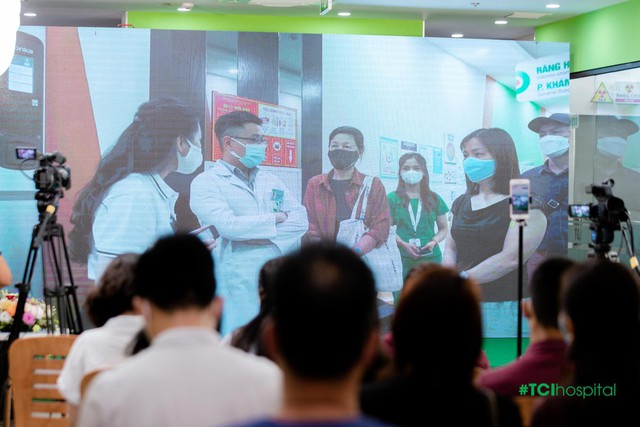 Customers at the seminar visited Thu Cuc TCI's endoscopy room which was broadcast live on the conference screen
In particular, at the seminar, customers also had the opportunity to participate in a "real tour" at the endoscopy room of Thu Cuc TCI. Here is the most intuitive view of painless endoscopic technology at TCI.
Many customers successfully treated dysplasia, early cancer in one endoscopy
The useful information of the Conference attracted the attention of a large number of people. In particular, here stories of "real people" are shared by patients who have been treated at TCI. That is the story of a NVL patient (61 years old – Hung Yen) who removed 9 large polyps in just one day at TCI. Previously, on the same day, the NVL patient was examined at a hospital and was given oral medication and scheduled for a month after surgery. Or the story of NTN (62 years old – Yen Bai) who removed 7 polyps, including a severe dysplastic polyp (pre-cancerous) right in one colonoscopy.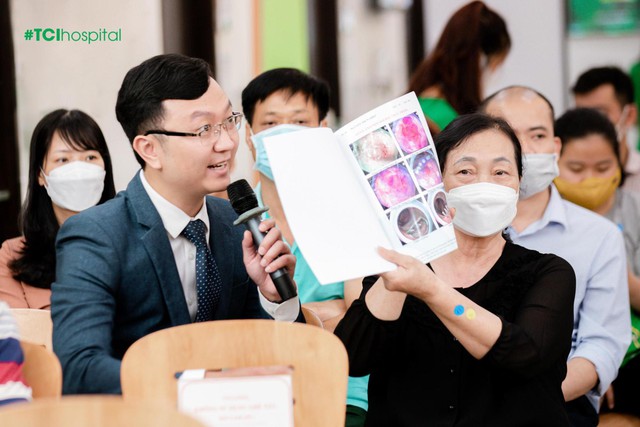 Ms. NTN (62 years old – Yen Bai) shared when TCI doctors removed 7 polyps, including a severe dysplastic polyp in just one colonoscopy.
Besides, the program also received many questions from the live audience at the hall as well as the audience watching online. The questions were all answered by the doctors in detail and in detail.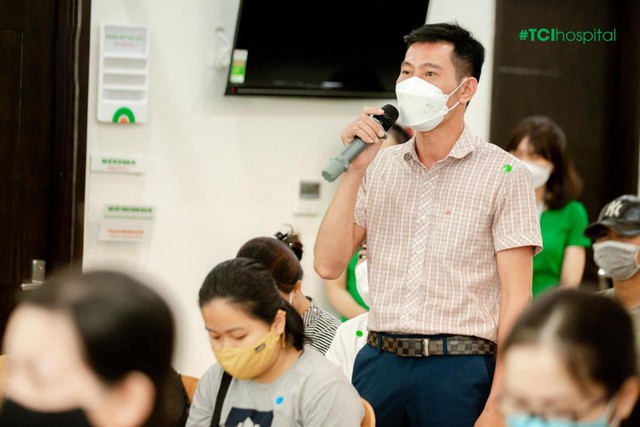 The audience asked questions and were answered thoroughly and satisfactorily by the doctors
As one of the earliest customers to register to attend the seminar, Mr. NVT (40 years old – Hanoi) said: "This is one of the most rewarding programs I have ever participated in. The application of technologies With modern technology like MCU endoscopic technology in medical examination and treatment more than anyone else, our people are the ones who benefit the most.I believe that TCI's updating of the most modern technology in the world will help more people detect and early treatment of the disease.
The MCU gastrointestinal endoscopy is a combination of magnified endoscopy with MCE staining and EUS endoscopic ultrasonography. More specifically, MCU stands for:
M – Magnifying Endoscopic
C – Endoscopic Chromoscopy
U – Ultrasound Endoscopic (Ultrasound Endoscopic).
This method allows to magnify hundreds of times when scanning, helping to limit the loss of lesions. When detecting lesions, it is possible to directly stain with specialized substances to help clarify the surface structure, lesion boundaries and especially to predict the nature of the lesion. In addition, endoscopic ultrasound helps the doctor determine the extent of invasion. Combined with an instant biopsy, the patient will have the results in a few hours instead of a few days like other methods. If the lesion is precancerous or very early cancer, the doctor will remove it right away during laparoscopic surgery without laparotomy thanks to EMR mucosal resection, submucosal dissection. ESD.
According to medical experts, these outstanding breakthroughs in endoscopic technology help patients reduce the number of times they have to undergo endoscopy when early cancer is suspected in the digestive tract.
In addition, in May, TCI is still continuing to offer many incentives for gastrointestinal endoscopy customers with a 35% discount, contact 1900558896 to register for the offer.
https://cafebiz.vn/tinh-co-xu-gon-ung-thu-som-trong-mot-lan-noi-soi-dai-trang-20220524163924609.chn
You are reading the article
Accidentally "treat" early cancer in a colonoscopy

at
Blogtuan.info
– Source:
cafebiz.vn
– Read the original article
here