Business
Closing the apartment for nearly 2 billion VND, this is a 3-year journey for the girl to achieve her dream of buying a house in Hanoi
"My dream is to have a home of my own, so that my children can have a lovely bed. An idle statement, which took me 3 years to make it come true. Now my husband and I are I had a nice little house, full of everything I always wanted.Khanh Linh (26 years old, Hanoi) confided when she finally fulfilled her dream of having her first house in her 20s.
Khanh Linh shared that the apartment she owns has a usable area of ​​74m2, located in an apartment project in Ha Dong district, Hanoi. The purchase price of the apartment is nearly 2 billion VND. The apartment has a pretty basic layout with a living room and a kitchen adjacent to each other, 2 bedrooms, 2 balconies to the east – south, which is always cool and full of sunshine.
Linh has started to accumulate finance quite early, and she also has her own calculations when setting a goal to buy a house in Hanoi. Let's listen to Khanh Linh's journey of owning the first house!
My family started depositing houses from the project warehouse when the new investor opened for sale. Before making a deposit, my husband and I also did a lot of research. Knowing that the investor has a reputation in the profession, enthusiastic advice, so I closed the apartment for 2 billion. Up to now, since 2 years since receiving the red book, the house price has increased by more than 2.6 billion VND.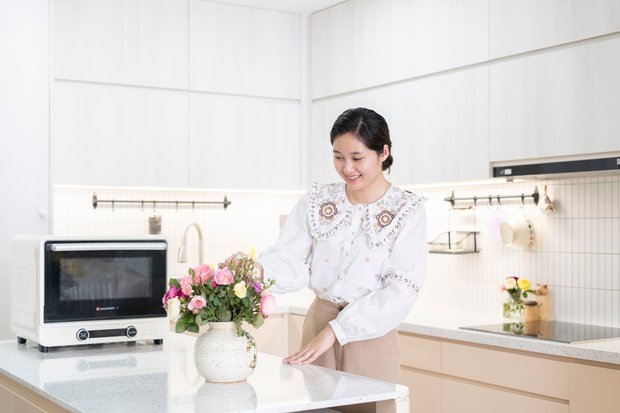 Independence flexible
My house project was built at the end of January 2022, but due to the peak of the epidemic and the time bordering the New Year, it took until early April to complete everything. Now, after every working day, when I come home to look at the kitchen, arrange a flower vase, I want to smile again.
When I came up with the idea of ​​​​designing the house, I considered and calculated a lot so that everything could be reasonable and convenient from the beginning. To the point of going to work, he was criticized because his boss saw that he was not paying attention to work these days.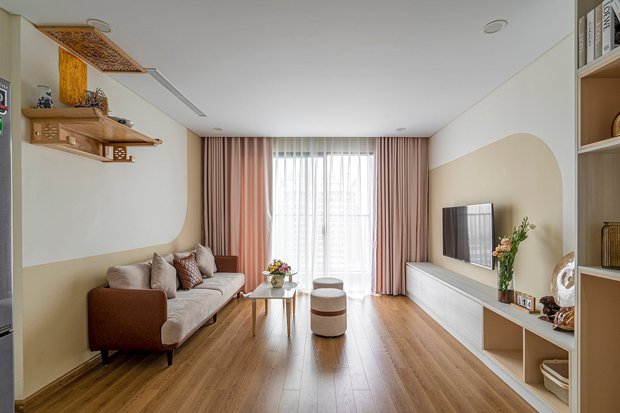 Korean color tones are extremely gentle
I decided to choose a minimalist style with yellow – white tones to make the house look cozy, airy and fresh. The golden color is also not easy to choose when I have to hold the catalog until the 3rd time to decide on the color, and in fact, the color is super pretty, not dull and not dazzling and the Korean tone I expected.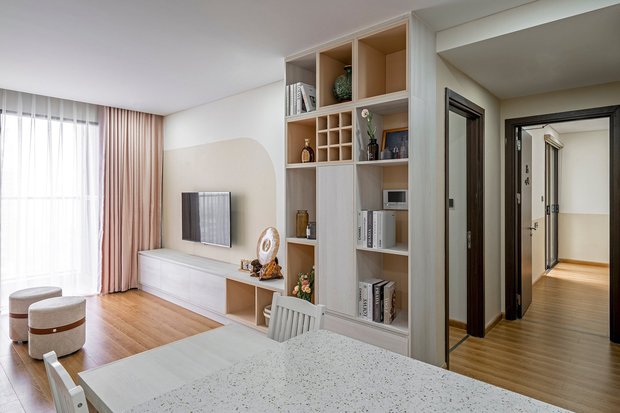 I chose the gap shelf because of the openness to the space. And of course, it will urge you to clean the house because this area cannot be left messy
The entire living room area as well as the family's common living space, the tea table, I make use of the leftover stone of the kitchen table. Buy more legs to attach to a pair of tea tables at a super cheap cost.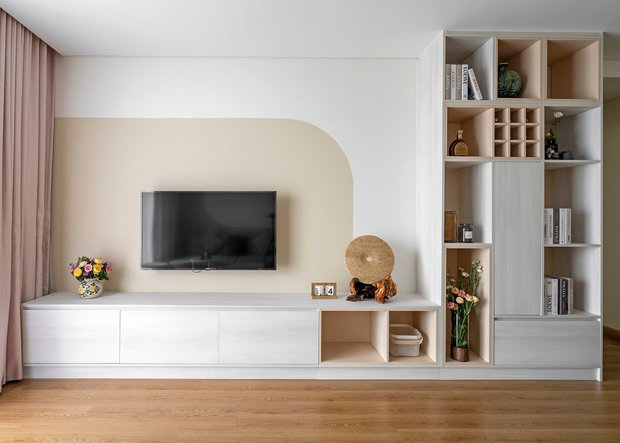 In front of the TV shelf area, the highlight is the yellow wall
If the living room is the area that I choose to be minimalist in both design and color, my kitchen space is more sophisticated. Do not hesitate to say that I am a kitchen addict. So when designing a house, the kitchen is where I spend the most time. Each box, each tool I carefully calculated to create the most reasonable possible, and I was also surprised with the results achieved.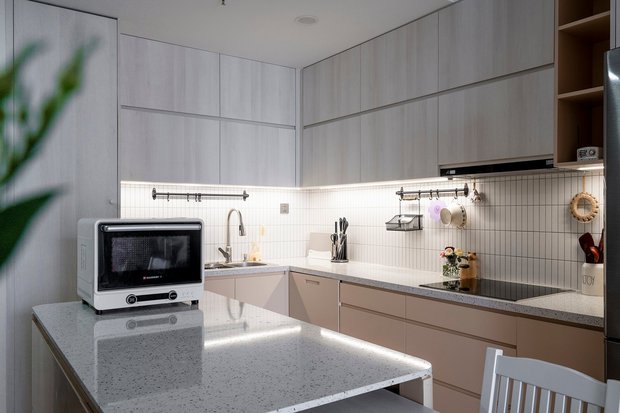 Design a super-large island that will not disappoint the kitchen lover. And because of the small area of ​​the house, I chose a dining table attached with a portable island that can be pulled to suit each purpose, helping to keep the house tidy when not in use.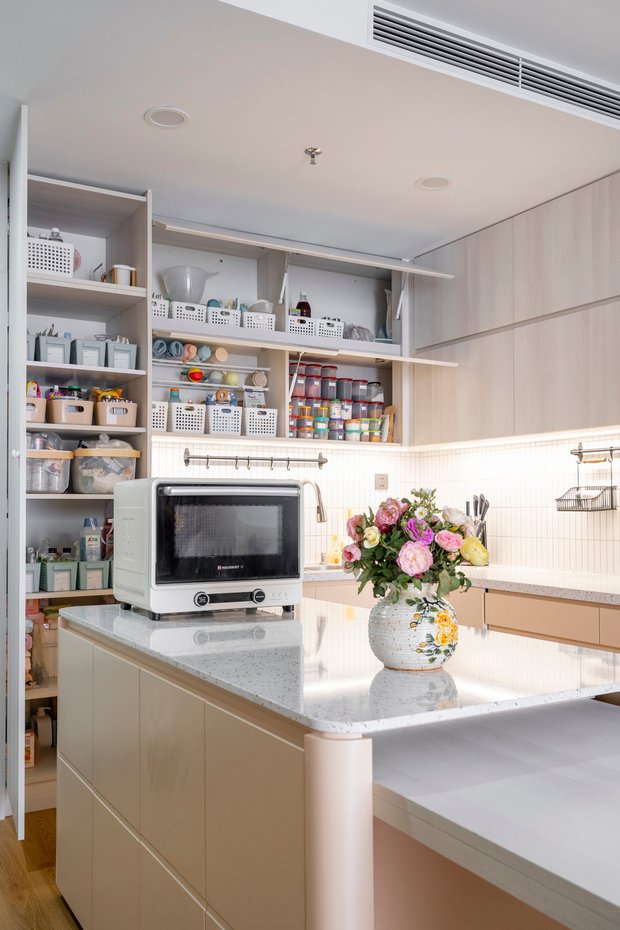 Actually, I'm a pretty perfectionist myself, thinking about buying anything I can use it for a long time or not? And also because I love white so much, most of the kitchen utensils and some of my furniture choose this color.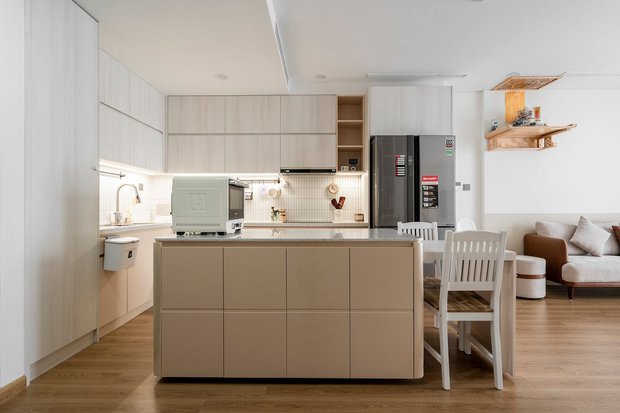 Close-up of the kitchen island with a portable dining table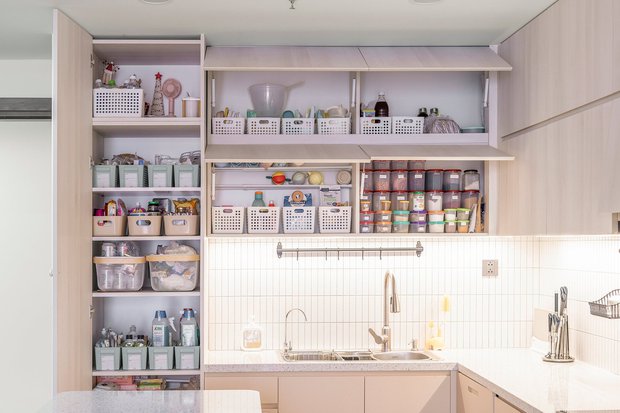 Love to see her every day. The uniformity of shapes and colors makes me feel really stressed
After the kitchen, the bedroom is the place where I put my most attention. Fully functional master bedroom with bed, dressing table, desk, wardrobe and open closet system.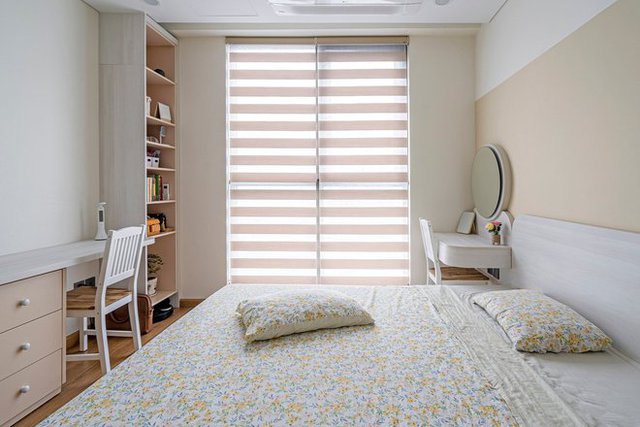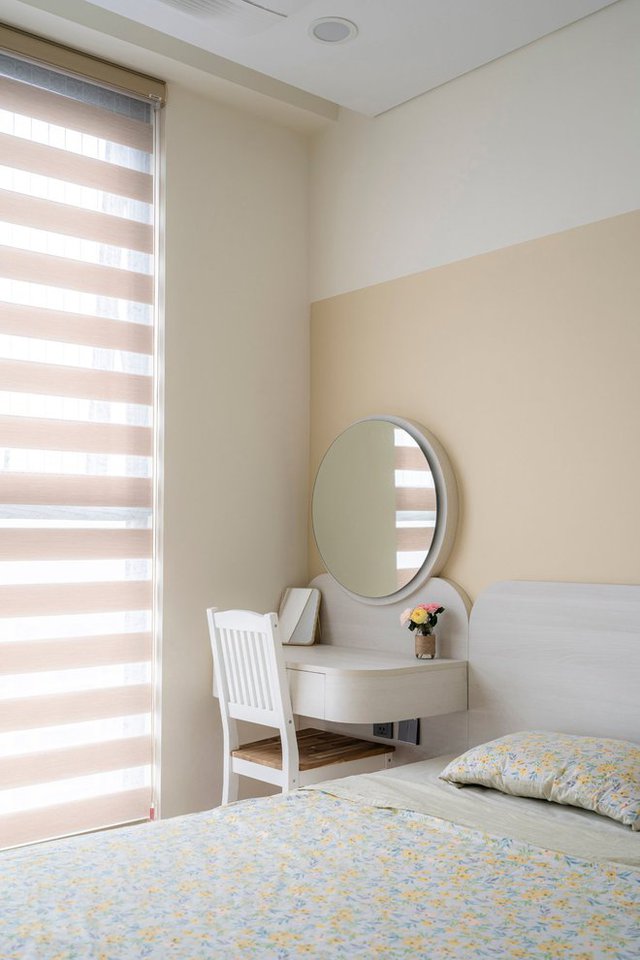 The round chalkboard feels very soft and I fixed it from the first time I designed it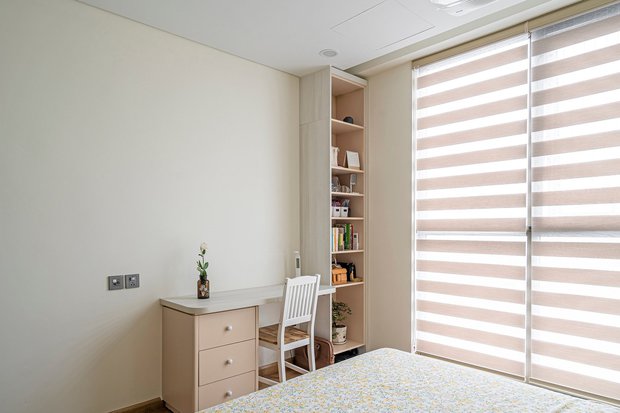 This is where my husband hangs out every night. People don't always bring work home, so I have to work on the idea for my husband's desk to be comfortable and, importantly, beautiful.
And finally, my dream for my baby. When I first started planning a couple to save money to buy a house, I always thought: "I wonder when my baby will have a lovely bed?". That is what motivates us to keep trying. The results I have achieved make me very satisfied.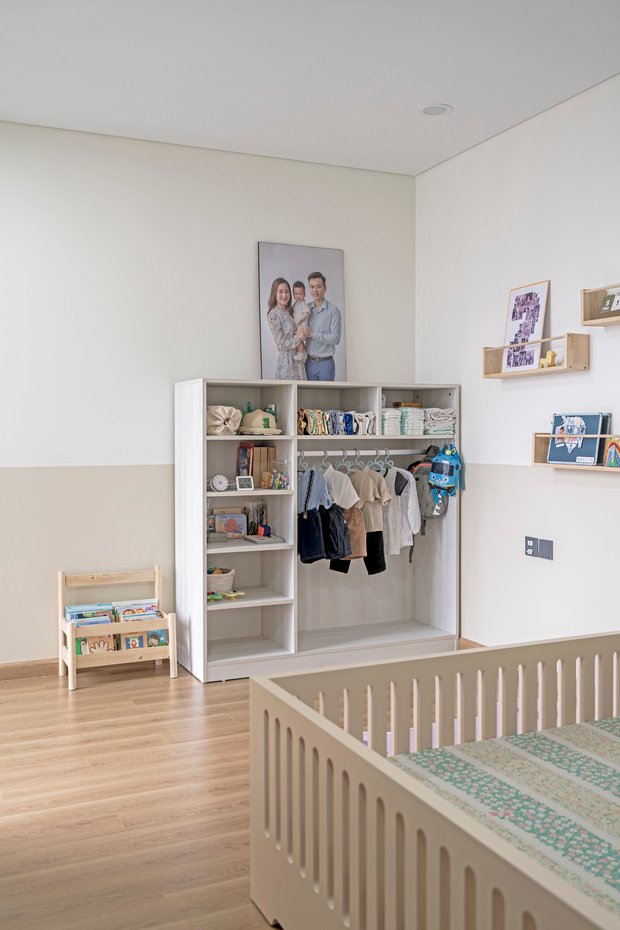 Little boy's room. My baby sleeps separately, all furniture in the room is designed according to Mon so that she learns to be independent and tidy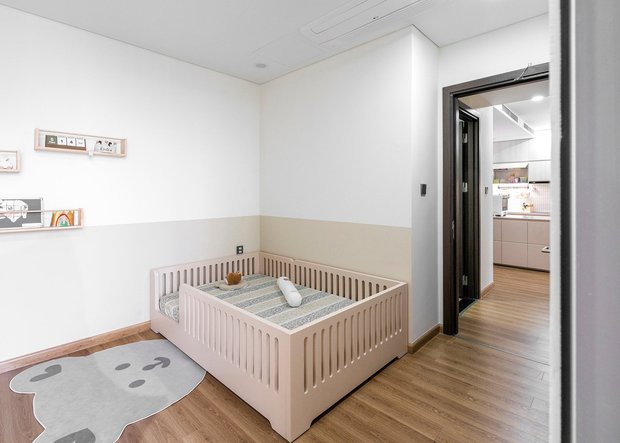 My baby loves this bed, underneath the bed is also a storage system that can store a lot of things
My wife and I started to accumulate before we got married, and so did I. I always have my own reserves and savings on hand. After getting married, the couple set their first goal to rent a house to save money. The revenues will be distributed as reasonably as possible, only spending the most basic expenses, not shopping much, working harder to earn more income. Personally, I find it difficult to manage personal finances, managing expenses at home is even more difficult. So if anyone is confused, I think everyone should take financial management classes to learn how to plan spending and save. These are very important, it will help you to complete your short-term and long-term goals. For me, it took me 3 years to fulfill my biggest dream at the age of 26.
Thank you Khanh Linh for these honest sharing!
Photo: NVCC
https://kenh14.vn/chot-can-ho-gan-2-ty-day-la-hanh-trinh-3-nam-de-co-gai-dat-duoc-uoc-mo-mua-nha- ha-noi-20220521234801798.chn
You are reading the article
Closing the apartment for nearly 2 billion VND, this is a 3-year journey for the girl to achieve her dream of buying a house in Hanoi

at
Blogtuan.info
– Source:
cafebiz.vn
– Read the original article
here