Mr. NVN (47 years old, living in Hanoi) suffered from gastritis for many years but did not receive regular treatment and did not go to the doctor. Six months ago, he felt pain in the epigastrium, bloating, and poor appetite. Mr. N. bought his own medicine, but it didn't go away, his stomach still hurt. When he felt a mass in the epigastrium, he went to Bach Mai Hospital for examination.
Gastritis for many years progressed to malignancy
At the Department of Gastroenterology – Hepatobiliary Surgery of Bach Mai Hospital, after gastroscopy and tests, the patient was diagnosed with "gastrointestinal stromal tumor" (gastric GIST). The tumor is large, at a late stage, so it has invaded the body of the tail of the pancreas. The patient had to undergo a major surgery, removing the entire mass including the entire stomach, pancreatic tail body and spleen. According to the treating doctor, this is a complicated surgery, although the surgery is successful, the disease has a risk of recurrence or gastric metastasis.
Another patient, Mr. NQT (62 years old, living in Son La province) has a history of gastritis for more than 10 years and is not regularly treated. About 4 years ago, Mr. T. felt dull pain in the epigastrium. Thinking he still had gastritis, he bought his own medicine. After taking the drug, the symptoms improved a little but did not go away.
A year later, Mr. T. noticed that his belly was getting bigger, but he thought his belly fat was due to fat accumulation. Recently, Mr. T. had a feeling of fullness and discomfort after eating. His abdomen had a hard mass even when he was hungry, so he went to the doctor.
At Bach Mai Hospital, the doctor determined that the patient had gastric GIST and ordered surgery to remove the tumor. After 3 hours of surgery, doctors removed a giant tumor more than 30 cm in diameter and 5 kg in weight, along with almost the patient's entire stomach.
Previously, Bai Chay Hospital (Quang Ninh province) also received a 72-year-old male patient who had pain in the left lower quadrant about a month before being admitted to the hospital. Pain increases when lying on the side with acid belching, weight loss. The patient underwent abdominal CT scan and detected an abnormal tumor measuring 12 x 9 cm. The patient was diagnosed with gastric GIST invading the pancreas – spleen and required surgical resection of the tumor.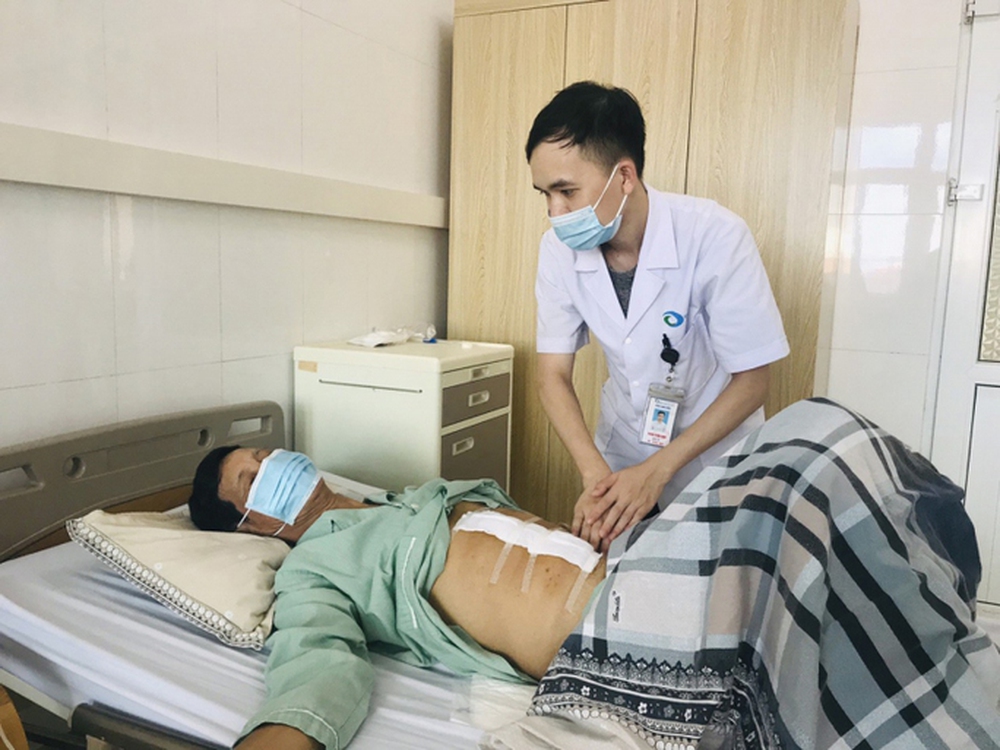 A patient with a stomach tumor is being treated at Bai Chay Hospital. Photo: MAC THAO
People at risk should be screened early
According to Assoc. Prof. Dr. Pham Cam Phuong, Director of the Center for Nuclear Medicine and Oncology (Bach Mai Hospital), gastrointestinal stromal tumors account for 1%-3% of gastric malignancies. The most common tumor site is the stomach, followed by the small intestine and the colon. It usually starts in the lining of the stomach or intestines and tends to grow outside the digestive tract.
Experts say the disease appears with small tumors. Patients often experience symptoms such as abdominal pain and gastrointestinal bleeding, but they can also be asymptomatic and discovered incidentally during physical examination or surgery for other diseases. With large tumor, it can cause symptoms such as bloating, epigastric pain, palpable abdominal tumor, vomiting blood, black stools, anemia, weight loss… Invasive metastases in the abdomen, liver… life-threatening.
Statistics show that gastrointestinal GIST is common in young people and in the stomach, but a few cases can be in the intestines or esophagus. Experts note that gastric GIST has a risk of increasing gradually with tumor size. Tumors smaller than 2 cm have low risk, tumors between 2 and 5 cm have medium risk, and tumors larger than 5 cm have a high risk of developing malignancy. "Detecting tumors as early as possible when the tumor size is small will help patients have the opportunity for less invasive and thorough treatment, without the need for gastrectomy, and in many cases, no need for adjuvant chemotherapy after surgery." – Doctor Phuong noted.
Assoc. Prof-Dr. Pham Van Binh, Deputy Director of National Hospital K, said that with cancers of the digestive tract such as stomach, colorectal, esophagus, early detection always plays a vital role. role in determining the effectiveness of treatment. Therefore, doctors recommend people to go to a gastroenterologist when there are abnormal signs such as: loss of appetite, bloating, unexplained weight loss, flat stools, bloody stools, constipation or diarrhea … Screening for cancer of the gastrointestinal tract (stomach, colorectal) periodically even if the body does not appear the above signs.
In particular, people in high-risk groups such as people over 45 years old; people with unhealthy eating and drinking lifestyles, often smoking and drinking alcohol; people with atrophic gastritis, ulcerative colitis, Crohn's disease… need to be screened more often.
Routine examination every 6 months
GLOBOCAN statistics show that stomach cancer is one of the most common cancers in the world as well as in Vietnam. This is the fourth leading cancer in our country with more than 17,900 people diagnosed and more than 14,600 deaths. However, the rate of detecting stomach cancer at an early stage is not high.
Stomach cancer in the early stages often has no obvious symptoms, patients feel vague epigastric pain, pain can spread to the back with burning sensation, fatigue, loss of appetite. Currently, the screening method is still gastroscopy. People should go to the doctor early when there are abnormal signs, periodically every 6 months.
You are reading the article
Don't let benign disease turn into stomach cancer

at
Blogtuan.info
– Source:
Soha.vn
– Read the original article
here