Du Lịch
Ha Long pearl yogurt, a must-try snack
Famous food in Quang Ninh: Ha Long pearl yogurt
Ha Long pearl yogurt, right from the name, is associated with this charming natural land. Enjoy the original taste of pearl yogurt, the address of Sungroup walking street is a place you should not miss. This is also the brand that started the famous bubble yogurt trend across the country. Currently, this restaurant has more than 260 branches stretching from North to South.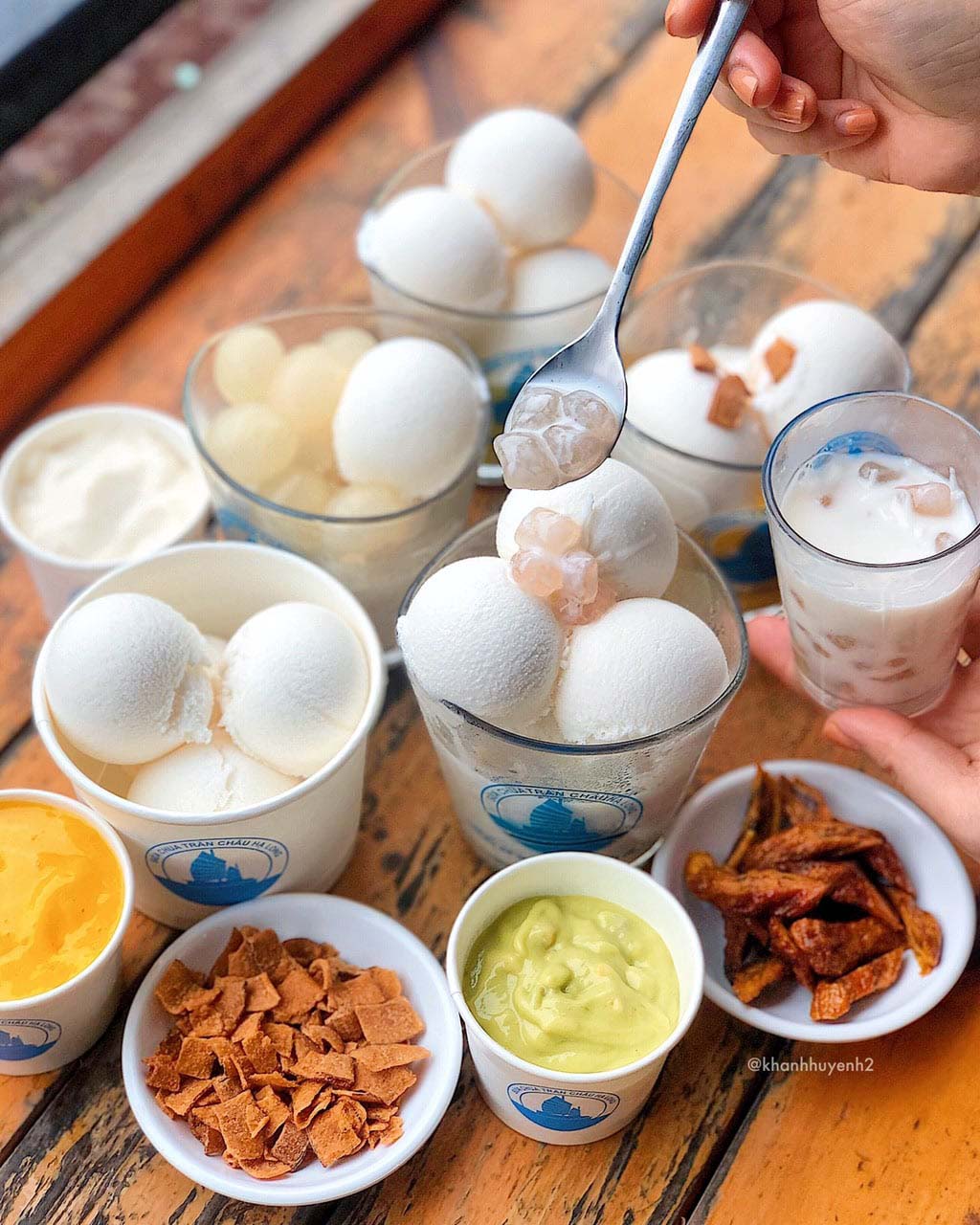 Famous for its typical traditional flavor, sweet and sour taste with smooth, creamy ice cream at the restaurant, anyone who has tasted it once will never forget it. Here you can choose from a variety of toppings, and the must-try dish is the chewy, soft and fragrant white pearls.
In addition, dried bananas, desiccated coconut or grapes, pudding, jelly are also favorite side dishes at the restaurant. If you like freshness, you can also choose fruits for your yogurt box such as kiwi, blueberry, strawberry, mango…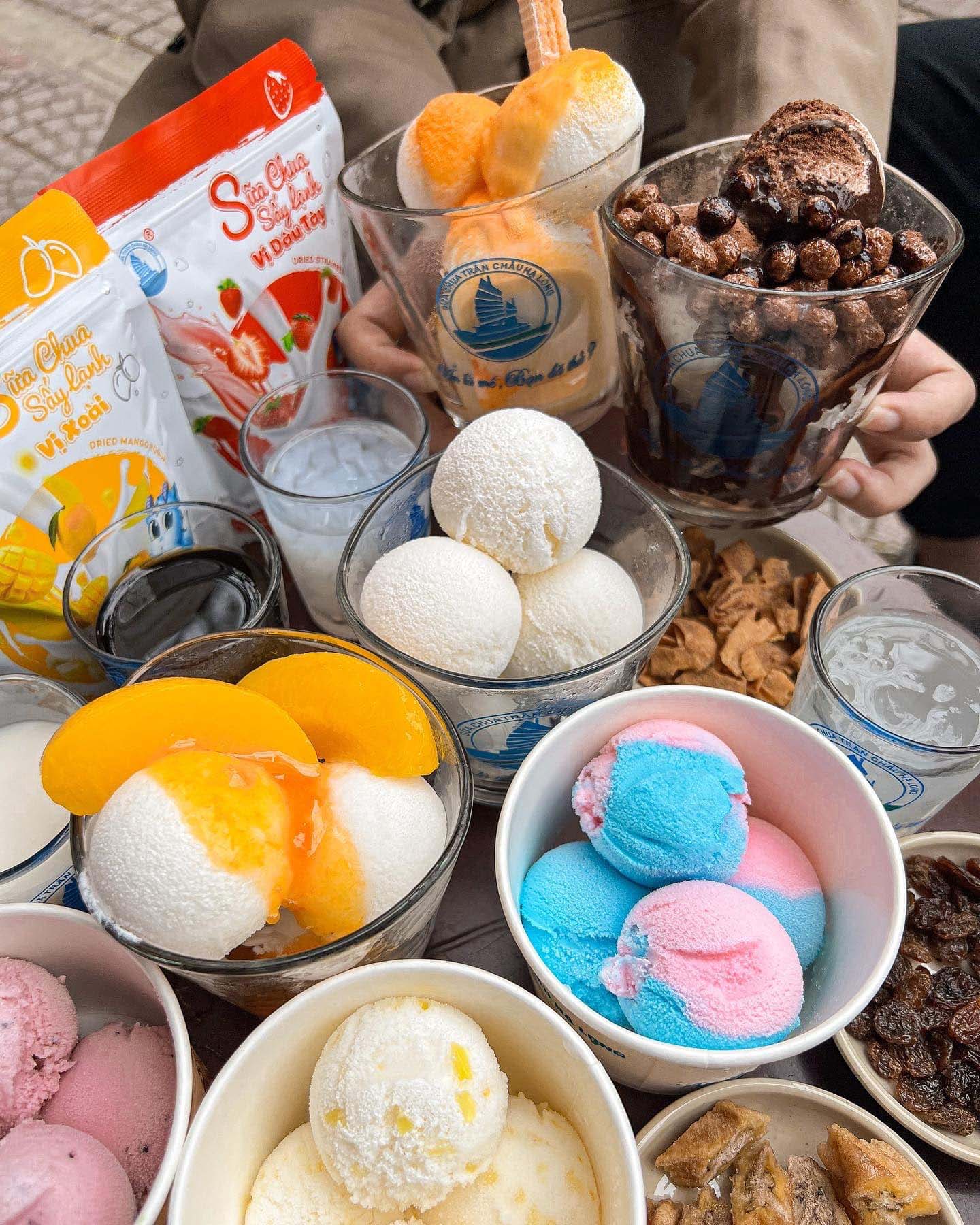 An interesting thing at this Ha Long pearl yogurt shop is the fresh style. They constantly catch the trend and release new dishes that delight visitors. One of my favorites is the rich, aromatic milo yoghurt cream. Or you can also try the rich, salty cheese frosting or the eye-catching rainbow-colored yogurt ice cream.
• Reference price: from 25,000 VND
• Address:
– Apartment C107-108-109, Area C, Sungroup pedestrian street, Bai Chay ward, Ha Long city, Quang Ninh province
– Apartment A1 – 20 MonBay urban area, Hong Hai ward, Hon Gai, Ha Long city, Quang Ninh province
– Apartment SH 18, building C, New Life apartment building, Hoang Quoc Viet street, Cai Dam, Bai Chay ward, Ha Long city, Quang Ninh province
Famous food in Quang Ninh: Tuan Lien pearl yogurt
The most famous name in Ha Long city is the name Tuan Lien pearl yogurt. This is also one of the oldest shops, operating about 5-6 years ago. In the beginning, the shop was just a roadside vendor specializing in serving local people.
Thanks to its quality, which is known by many tourists, Tuan Lien restaurant has been rebuilt with a spacious space. Located right on Tran Quoc Nghien coastal road, the restaurant has an extra plus point thanks to its easy-to-find location and romantic and poetic sea view. Every afternoon watching the sunset, listening to the sound of the waves, sipping each spoon of cool yogurt, isn't it great?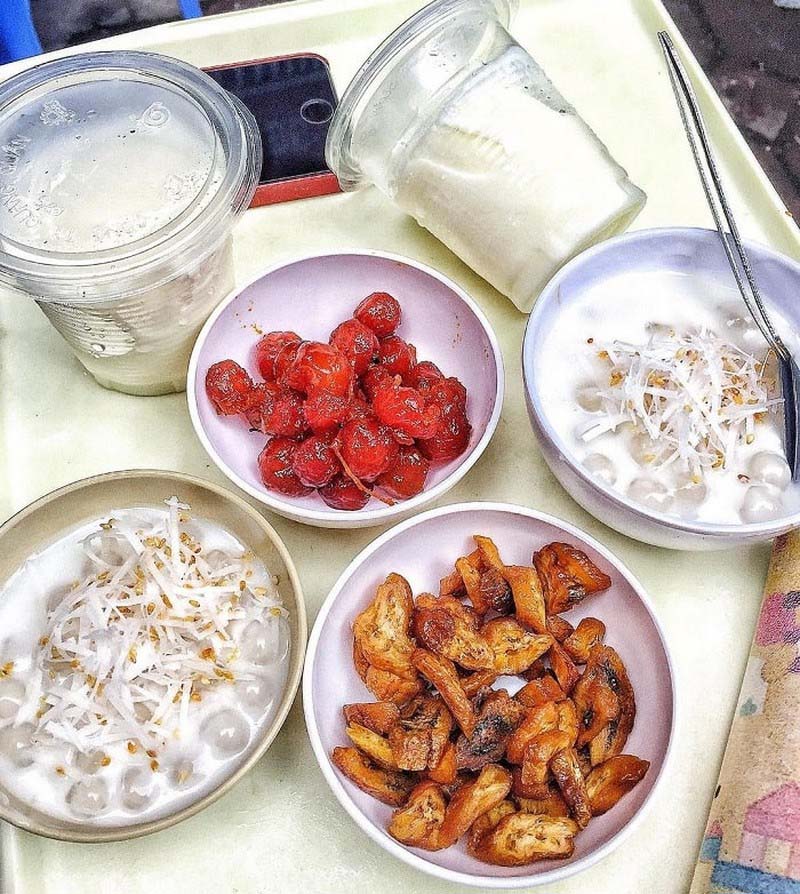 At Tuan Lien shop, you have 2 choices of yogurt: small size and large size. However, their flavors are similar, both are sweet and sour mixed with seductive sweetness. However, if you are not too sweet, this taste may make you not used to it. But when covered with fragrant coconut milk and flexible pearls, you will definitely be able to eat it.
• Reference price: 15,000 – 30,000 VND
• Address: Tran Quoc Nghien, Bach Dang Ward (Hon Gai), City. Ha Long
• Opening hours: 9am – 11pm
Famous food in Quang Ninh: Ba Ha pearl yogurt
If you not only want to find a delicious place to eat but also want a place to listen to the heart story of Ha Long people, do not ignore this address. This is one of the oldest yogurt shops, operating since 1995. Ms. Ha's shop was formerly located near the old Long Tien pagoda, now has been moved to Ha Long square – a convenient address for commuting. .
Ba Ha pearl yogurt has a mild sweet taste, not too sour. A special feature is that the yogurt layer is softened, smooth, and not frozen. Boxes of yogurt are combined with hot pearls and desiccated coconut, acerola, guaranteed to be eaten.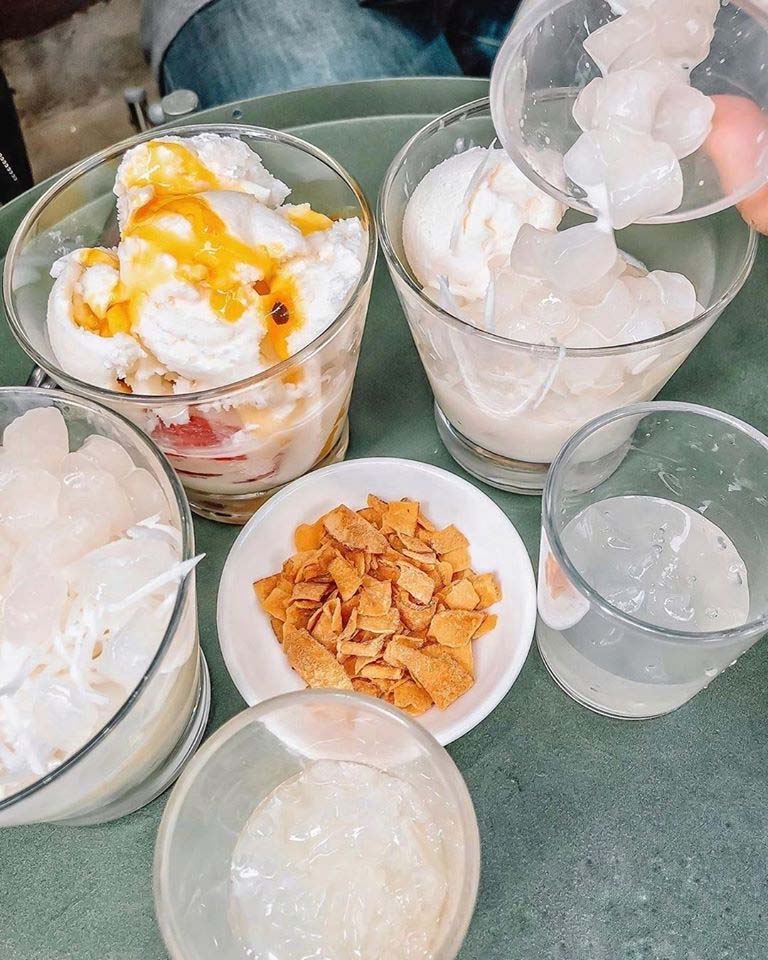 One point that makes Mrs. Ha's own brand is that the broth with pearls is melted sugar, not coconut water like many other shops. The sweetness of sugar creates a very unique feature, bold sweet, bar and attractive. Although it has been many years, the taste of yogurt here is still the same as before. Only about 6,000 VND, you have a jar of soft white yogurt.
• Reference price: 15,000 VND – 25,000 VND
• Address: Ha Long Market Square, City. Ha Long
• Opening hours: 6am – 11pm
Famous food in Quang Ninh: Co Nghi pearl yogurt
A famous Ha Long snack shop that should not be missed is Ms. Nghi's. Since the first days of opening (in 1999), the shop has attracted a lot of people to visit and enjoy. The yoghurt dish here is made by the owner herself – perhaps that's why the distinctive flavor is different.
The sweet and sour taste of the fat cream layer is more and more addicting the more you eat it. Not only that, the pearls are boiled in milk and coconut milk to create plasticity and complex aroma. No need for fancy topping, just these 2 ingredients create the perfect harmony.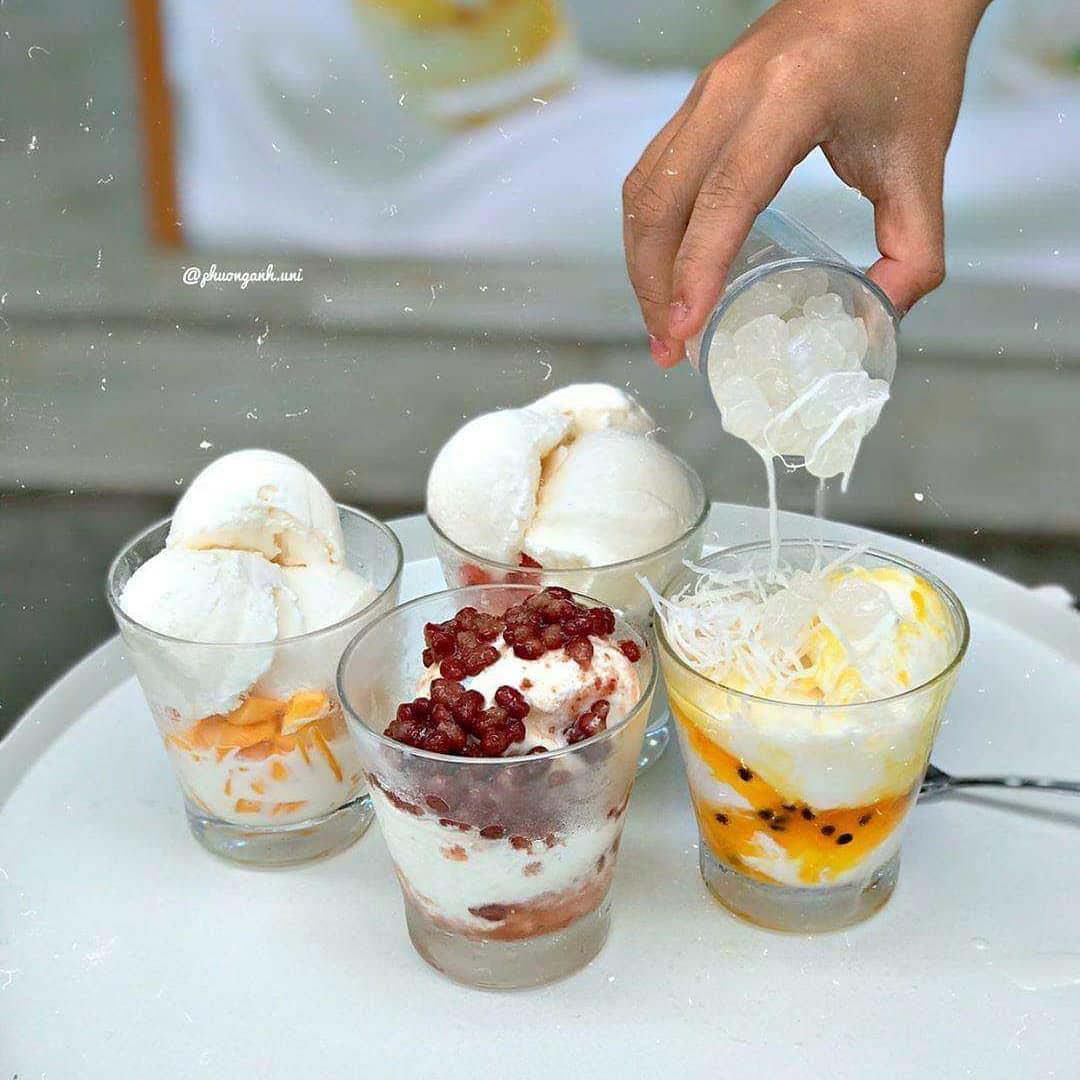 In addition, at the shop, there are also many snacks for you to enjoy with friends such as fried spring rolls, Hong Kong egg cake – a famous dish no less than Ha Long pearl yogurt. Each cake is round, crispy, and filled with spongy foam with an extremely mouth-watering layer of dried coconut.
However, because the restaurant is famous and quite crowded, sometimes you will have to wait for a while. But the airy space and the quality of the food will make you satisfied for that time. If you have the opportunity to visit Ha Long, do not miss this stop!
• Reference price: 15,000 VND – 35,000 VND
• Address: 10 Van Lang (Hon Gai), City. Ha Long
Famous food in Quang Ninh: Co Cuong pearl yogurt
If you ask "teen" Ha Long about a delicious pearl yogurt shop, this is definitely a suggestion that is given a lot. Although not known by many tourists, this is a very trusted address of young people in the coastal city. The reason is also partly because the location of the shop is quite difficult to find, hidden in Ha Lam alley. If you are not a local, it will take some time to get to the right place.
But one thing is for sure when coming here you will not be disappointed is the taste of yogurt. It is no coincidence that Ms. Cuong is always busy with visitors (especially Ha Long people). Here, there is a smooth, medium-sweet yogurt with a naturally fermented sour taste. Comes with it is a super big bowl of pearls, always hot and fragrant with coconut milk. The top of the yogurt jar is also roasted sesame and white coconut, creating more flesh and deliciousness.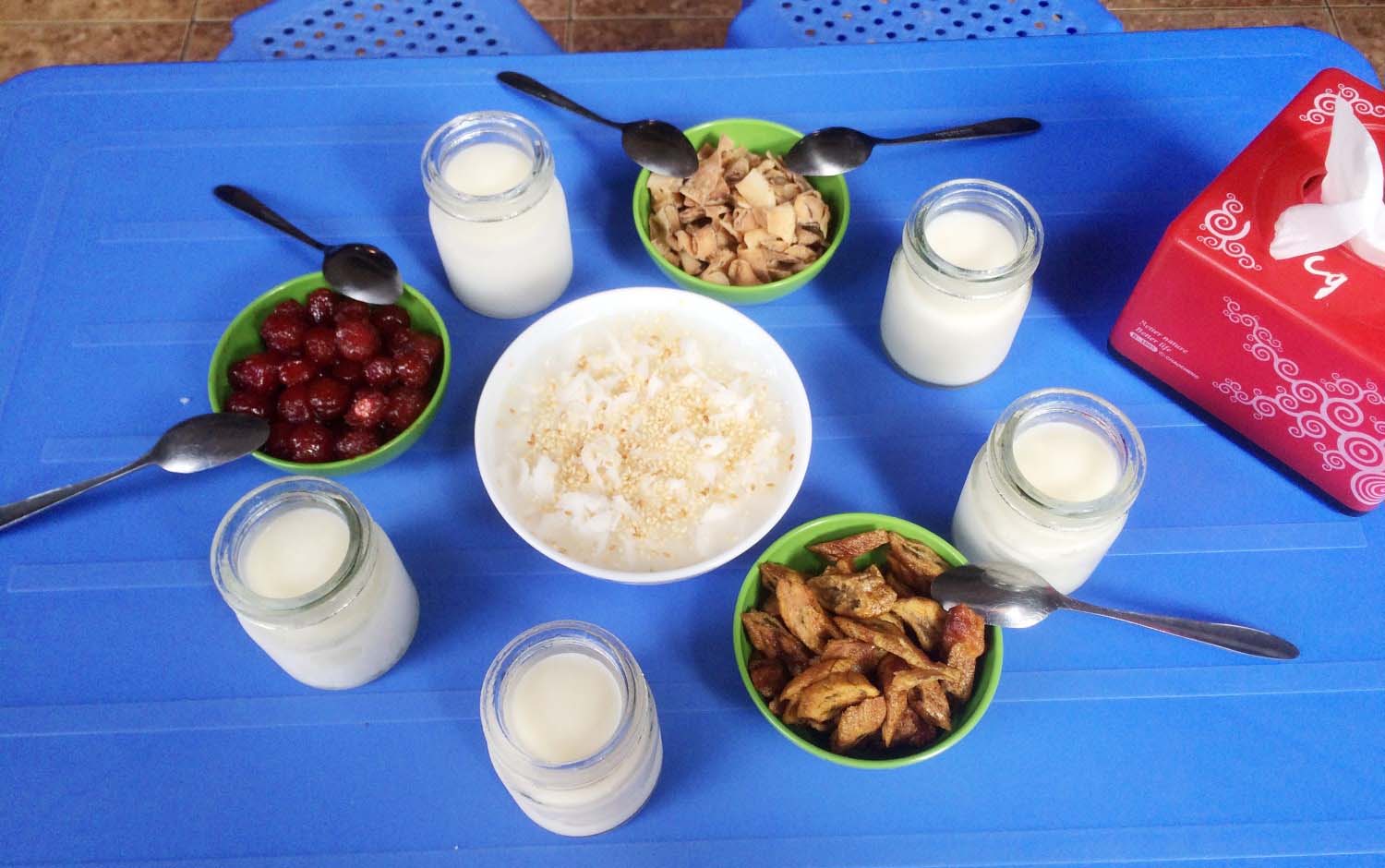 A plus point of the shop is that the owner and staff are super friendly and quick. So you do not need to worry even if you are a tourist visiting here.
• Reference price: From 15,000 VND
• Address: No. 29, Minh Khai street, Ha Lam, Ha Long, Quang Ninh.
Ha Long pearl yoghurt, a simple dish that is memorable. I don't know since when has it become a problem of people going and living in this dear coastal city. A little sour, sweet, fatty, fragrant of each layer of flavors blends, making people have been so absorbed in their enjoyment that they forget the way home.
You are reading the article
Ha Long pearl yogurt, a must-try snack

at
Blogtuan.info
– Source:
danviet.vn
– Read the original article
here