Kinh doanh
World
Hoa Phat researches and invests in Dung Quat 3, bringing the total capacity to 21 million tons/year
At this year's annual shareholder meeting, Mr. Tran Dinh Long, Chairman of the Group Hoa Phat (HoSE: HPG) shared that the steel industry is currently facing many difficulties. "People wait for the business results of the second, third and fourth quarters to see how dire the results are," said Mr. Long.
The comment of the "steel king" comes when many shareholders think that the company is setting goals too cautiously. The annual business plan includes revenue of VND 160,000 billion and profit after tax from VND 25,000 billion to VND 30,000 billion. Thus, this year's business target is to record a growth of nearly 7% in revenue but decrease from 13% to 27.5% in profit.
Mr. Long believes that steel prices are in a downtrend because demand is decreasing and supply remains the same. This is the reason why Hoa Phat's leadership sets prudent goals.
According to Trading Economics, the price of rebar futures in China on May 23 was 4,796 yuan / ton (US$ 716 / ton), down 0.4% compared to the end of last week and the lowest level since February 28. Since May 5, the price of this item has continuously gone down with a decrease of 8.5% compared to today.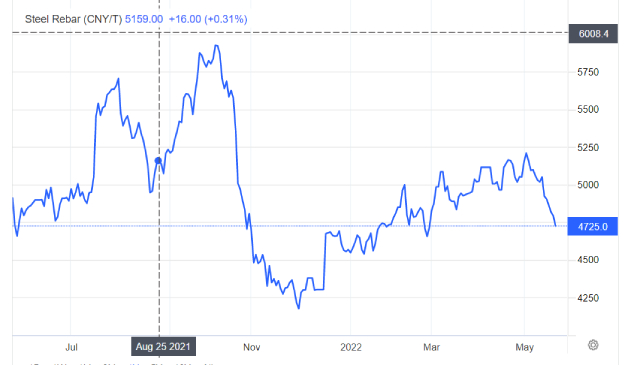 Domestically, many construction steel enterprises continued to reduce product prices from May 17 and this was the second adjustment in a row within a week. Hoa Phat, which accounts for 32.6% of the national construction steel market share in 2021, decreased by VND 800,000/ton for CB240 coil in the northern market, to VND 17.83 million/ton. Also in this area, D10 CB300 steel lowered VND 460,000/ton to VND 18.28 million/ton.
Vietnam-Japan steel dropped the most with 1.01 million dong/ton for CB240 and D10 CB300. After the reduction, the price of the two steels above was 17.81 million dong/ton and 17.91 million dong/ton, respectively.
Mr. Long cited many reasons for the drop in steel prices. Initially, the Russian-Ukrainian war led to a shortage of steel, but the reality was not as expected. More importantly, China's "Zero – Covid" policy makes the steel demand of this market decrease.
This country accounts for more than 60% of consumption, so when implementing a strict blockade policy, demand decreases. Besides, the world's largest economy is the US recession, high inflation will also directly affect steel prices.
While the selling price decreased, the production cost increased. Political tension between Russia and Ukraine makes the price of raw materials increase, for example coke has increased by 100-200 USD/ton and still has an increase.
Currently, the coal price is at 417.3 USD/ton, close to the record level of 430 USD/ton recorded in March. At the current price, coke coal accounts for 40% of the cost of steel production.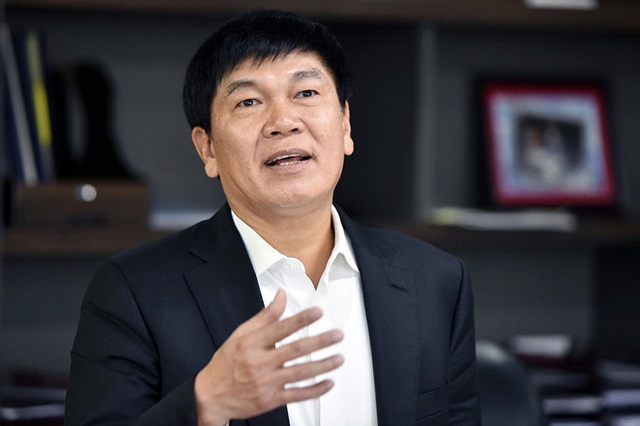 At the congress, Mr. Tran Dinh Long said that "Hoa Phat will not stop moving forward".
Despite the current difficulties, Mr. Tran Dinh Long emphasized that the group's determination is "Hoa Phat will never stop moving forward". According to his share, the enterprise can currently produce 8.5 million tons of steel, ranking first in Vietnam as well as in Southeast Asia, but factories have reached the limit, output can only grow by about 3%.
Therefore, the company built Dung Quat 2 factory with a capacity of 6.5 million tons of HRC (hot-rolled steel coil), bringing the total output to about 14 -15 million tons of steel products. Currently, the project is on track with the schedule when in May, Hoa Phat has signed all major contracts. The total investment capital for the project is about 80,000 billion VND.
After Dung Quat 2, the company is studying to build Dung Quat 3 steel factory with a capacity of 6 million tons/year, maybe not located in Dung Quat. Thus, Hoa Phat's total capacity will increase to 21 million tons, equivalent to Vietnam's current steel consumption demand. Hoa Phat will produce part of HRC here, in addition to U steel, Y steel. The project will be implemented after 2025.
Currently, steel consumption in Vietnam is still relatively low, about 240kg/capita. Mr. Long forecast that this figure could increase to 350-400kg/capita, so the increase in output will not cause oversupply, the problem is whether Hoa Phat has good competition or not.
According to Mr. Nguyen Viet Thang, General Director, Vietnam's HRC demand is about 12 million tons/year, domestic production reaches 11 million tons. Therefore, Hoa Phat's main market is still domestic.
In addition to dominating the domestic market, Mr. Long shared Hoa Phat's vision towards further internationalization, wanting to open factories abroad. The company has invested in buying ore mines purchased in South Australia, is completing procedures with the government, and expects to have the first shipment of ore by the end of the year.
Although the implementation process took a long time, Chairman Hoa Phat assessed that the most successful one was to have entered this difficult market, and planned to buy more mines in Northern Australia. Currently, ore prices account for about 30% of the cost of steel production, so owning these ore mines will help Hoa Phat optimize production costs as well as ensure the supply of raw materials.
You are reading the article
Hoa Phat researches and invests in Dung Quat 3, bringing the total capacity to 21 million tons/year

at
Blogtuan.info
– Source:
Soha.vn
– Read the original article
here