Giải trí
Hoi An is in the top of a beautiful destination for people who love to walk by car – Travel
The trend of green travel is emerging with physical tourism experiences such as walking, climbing, enjoying a holiday close to nature that Hoi An of Vietnam has "taken a shortcut" very early.
More and more people want a car-free vacation, just moving slowly and enjoying space-time. Up to 60% of Americans said they would consider and calculate this factor in their schedule. This trend is increasing strongly and is expected to dominate in the near future.
Photo: Alamy.
Vehicle-free travel is a way to both save money and experience more that can partly save the planet. Many points travel Major cities in the world have officially banned traffic, including Hoi An, romantic Venice,… to be ready to welcome you this summer.
Hoi An, Vietnam
A space just enough to contain all the beauty, Hoi An was originally a trading port of the Thu Bon River in central Vietnam. With more than 1,000 houses built between the 15th and 19th centuries, UNESCO has recognized Hoi An as a World Heritage Site.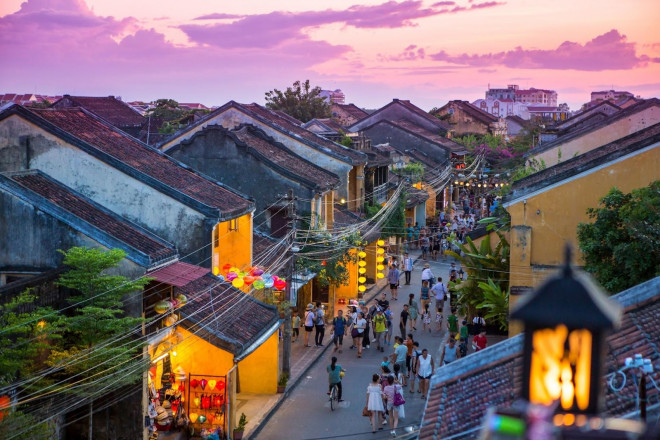 Photo: Matthew Micah Wright/Getty Images.
Hoi An ancient town bans traffic from morning to midnight, leaving a comfortable walking space for visitors. The Covered Bridge here is a work built 400 years ago, becoming one of the most checked-in points in the street; Or you can visit any restaurant to experience the best local cuisine.
Cuisine is not only available at restaurants, but any shop will give you a delicious, affordable meal with typical Hoi An milk coffee and bread. In the evening, brilliant lanterns are lit up all over the neighborhood, wooden boats drift slowly in the river, tourists drift on the road, creating an extremely bustling festival atmosphere that can be found any day of the year.
Tunø, Denmark
An ancient area, inhabited by people since the Stone Age, Denmark's Tunø is small and pretty, easy to explore on foot, by bike or by rickshaw to explore in a day. You can get here on a one-hour ferry ride from Hou, Jutland's Odder coast, and watch for seals and dolphins along the way.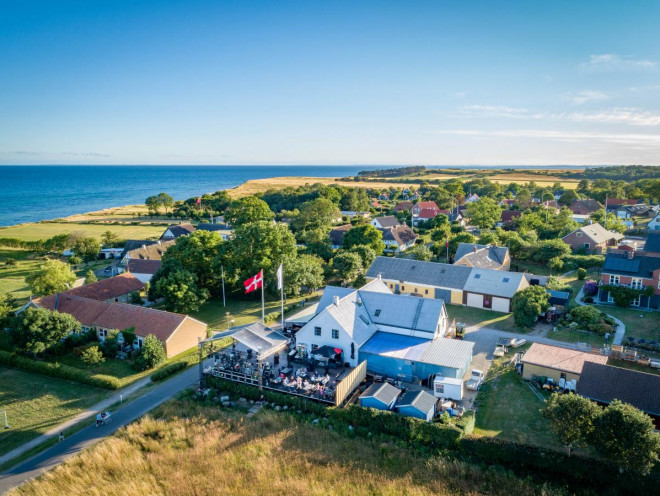 Photo: Visitodder.
Covered by verdant hills jutting out over sandy and rocky beaches, the island attracts hikers and bird enthusiasts alike. For the best views, head to the 14th-century tower of Tunø Cathedral, an unusual combination of chapel and lighthouse surrounded by apple and blackberry trees.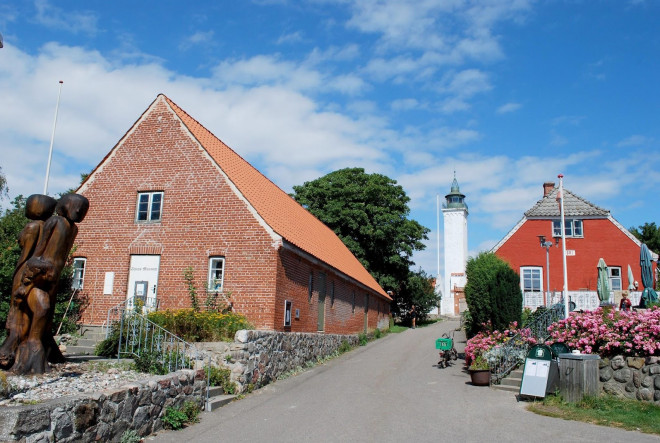 Photo: Erik Christensen.
Tunø has a number of traditional eateries and several small breweries, as well as a dairy shop and a seaside inn, very elegant, cute and most of all affordable.
Mackinac Island, Michigan State, USA
Located on Lake Huron between Michigan's upper and lower peninsulas, Mackinac Island has been a popular vacation spot since the late 19th century. More than 80 percent of the island's large area is Mackinac Island State Park, where it is located. owns nature trails and butterfly sanctuaries.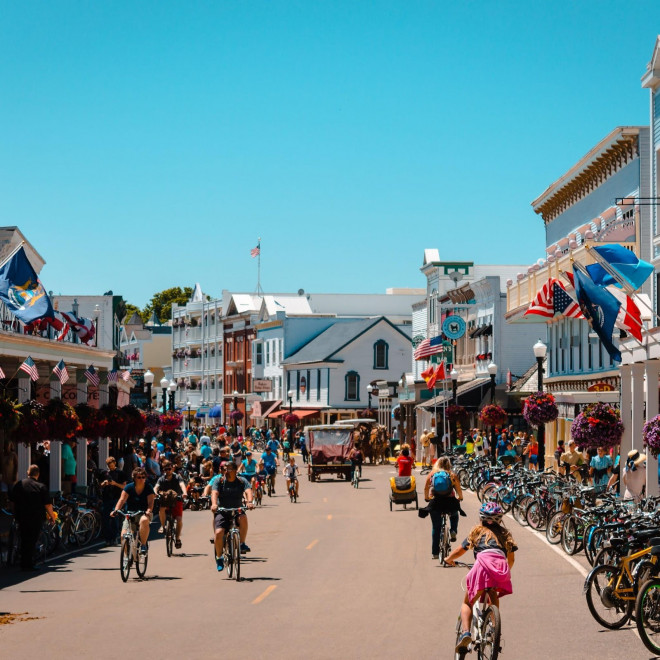 Photo: Michael Deemer/Getty Images.
The ancient buildings in the city center are picturesque, inside there are restaurants, shopping areas, cafes, art exhibitions, meeting the needs of visitors to visit and enjoy. Watercolor Café and Ice House BBQ with its large garden, are one of the places to visit for a meal. More specifically, the island's 7 confectionery companies produce more than 4,500 kg of fudge per day.
Photo: Mackinac Island Tourism Bureau.
If you want to stay in, check out the Grand Hotel built in 1887, which also has the longest front porch in the world. The hotel welcomes guests to walk, cycle, have mini golf, handball field and a small forest in the greenhouse.
Medina of Fez, Morocco
The Medina of Fez is one of the largest motor vehicle-free sub-urban areas on the planet, covering nearly 3 square kilometers, a UNESCO World Heritage Site and best-preserved medieval town. in Morocco.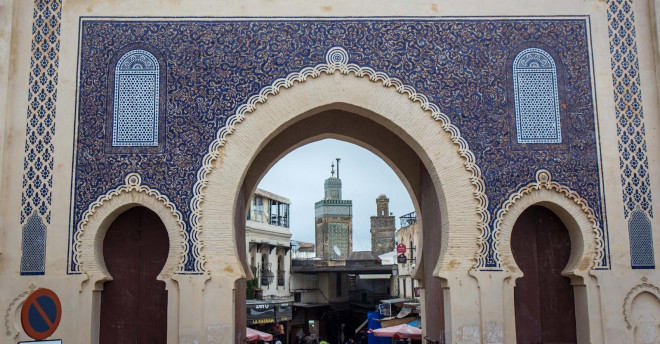 Photo: Michael Turtle/Michael Turtle.
9,400 narrow, winding streets are for pedestrians and donkeys only. In addition to the markets that sell food, spices, lanterns and leather goods, the medina houses centuries-old palaces, mosques, fountains and schools.
Bab Boujloud (blue gate) is the main entrance to the old town. Dar Batha is a palace museum, featuring an excellent collection of artifacts from Morocco itself, especially textiles and embroidery, along with a garden with mosaic courtyards and ancient fountains.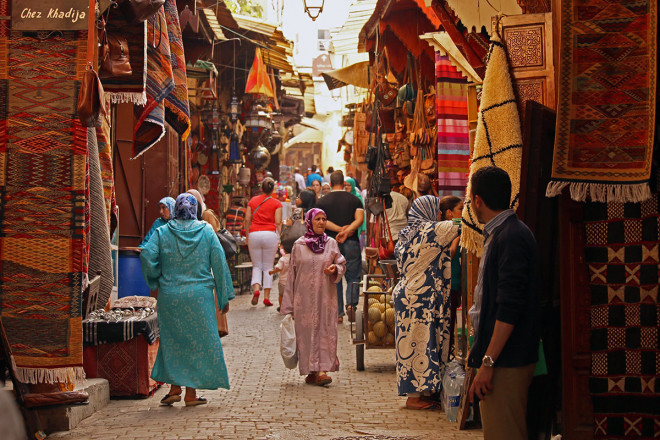 Photo: Wanderingon.
Guests will spend the night in one of the city's historic residences, which have been converted into a boutique hotel. According to religious laws, if you are a non-Muslim you are not allowed to enter the Mosque, but the hundreds of years old libraries of these places are still open to visitors.
Trogir, Croatia
A UNESCO World Heritage Site, the settlement on a small Adriatic island has a history that dates back to Greece, dating back to 323 BC. Therefore, all buildings here have architecture from Roman to Baroque. Located 1 hour west of Split – Croatia's second largest city, you can reach it by bus, taxi or water taxi.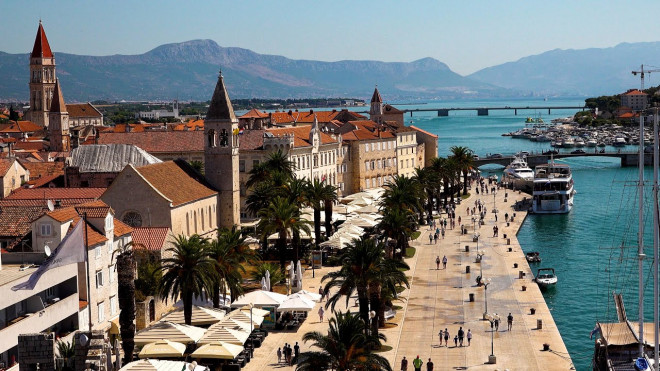 Photo: Amazing Places on Our Planet.
Trogir is still an old, quaint neighborhood today, with cobblestone streets and medieval buildings still intact. The most beautiful can be mentioned is the Church of St. Lawrence is a 13th-century church with a 45-meter-high bell tower, three naves, and a stone gate with intricately carved statues of Adam and Eve.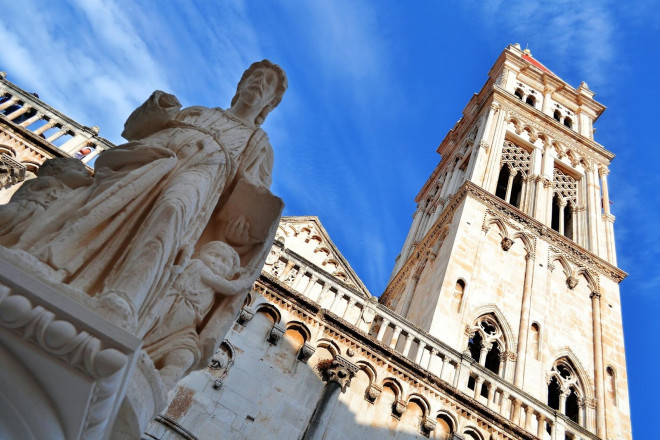 Photo: Itinari.
The riverside promenade is short but vibrant with palm trees, seafood restaurants and cafes. The beaches are amazing, the Adriatic region of Croatia is famous for its sun and wind. In short, you can come here, walk and see everything in just one day.
Porquerolles Island, France
A 10-minute train ride from the Cote d'Azur brings history, culture and nature buffs right to Porquerolles, the most visited of the French Golden Islands. Guests can explore pristine stretches of sand, limestone cliffs and trees right on trails suitable for hiking or biking. 80% of the area forms the Port-Cros National Park.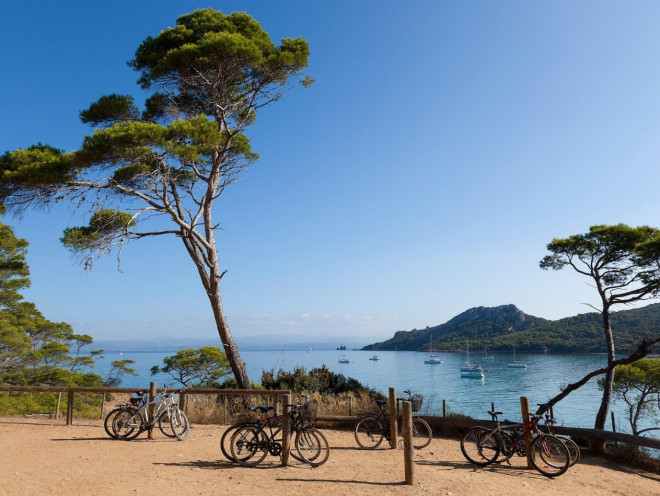 Photo: Camille Moirenc/Getty Images.
Visit gardens and historic fortresses, including the 14th-century Fort Sainte-Agathe. The Villa Carmignac museum sits in the middle of a farm in Provençal, filling 1,950 square feet with works of art. nowadays.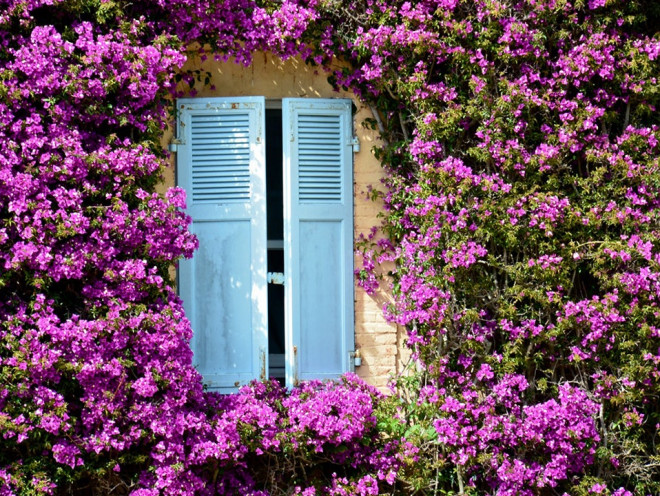 Photo: Camille Moirenc/Getty Images.
The main village was founded in the 19th century, located in the middle of the island and has 22 restaurants and shops. Here, you can dine, choose a resort, book a yacht,… In the summer, thousands of people come here to enjoy the fresh nature, clean air, and no motor vehicles.
You are reading the article
Hoi An is in the top of a beautiful destination for people who love to walk by car – Travel

at
Blogtuan.info
– Source:
24h.com.vn
– Read the original article
here