Business
Phu Hung Dai Phuc – Insurance solutions in the "new normal" era
"Measure and make shoes" for all-round protection needs

"Health is the biggest concern of Vietnamese people after 2 years of the pandemic" – accounting for 44% of the interest in Nielsen research in 2021 and receiving 81% agreement from Q&Me's user survey during Tet 2022.
Concern is not enough, Vietnamese people also actively protect comprehensively, with 38% of users spending on premium insurance packages – among the top in the world, according to Nielsen. However, when participating in life insurance with premium payment every quarter or year, many families face financial barriers, worry about losing their jobs and breaking their income like in the past 2 years, leading to contract interruption and invalidation. insurance.
Many new insurance packages were born, "race" for benefits to adapt to the changing needs of people. Prominent is Phu Hung Dai Phuc insurance, from Phu Hung Life Insurance Joint Stock Company (Phu Hung Life) "measure and build" for immediate protection needs. Instead of paying 10-30 years or a lifetime premium to collect the maximum total premium, Phu Hung Life allows customers to choose to pay short-term premiums while still enjoying long-term protection, reducing anxiety.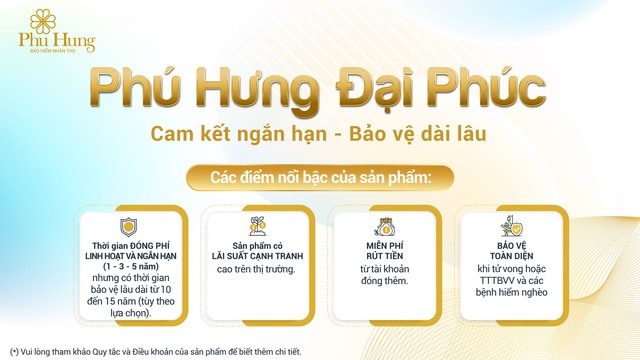 Phu Hung Dai Phuc is a "measurement and tailoring" insurance package for comprehensive protection needs
Customers can use existing idle money, pay a one-time premium or divide it into 3-5 years, to immediately receive a secure financial support cushion for the next 10-15 years. Find out about this product, Mr. Tran Van Dai (55 years old, HCMC) intends to deduct 22 million dong from retirement savings, pay a one-time fee to be protected by Phu Hung Dai Phuc until age 65. Insurance amount over 300 million VND
. According to him, old age loses income, proactively protecting and ensuring life from today will help you keep your head up and sleep well every day to come.
To increase the scope and comprehensive protection benefits, customers can combine 3 additional products: death or injury due to accident, critical illness, and women's critical illness.
More investment opportunities and increase passive income
The year 2021 also sees a boom in investment in the office industry, showing that the demand for opportunities to increase passive income will continue to increase. For those who want to invest but do not have much time and lack of real-world experience, universal life insurance is the safest and most suitable investment channel. Insurance buyers will borrow the strength and experience of fund experts to indirectly invest in the market.
"Reading" the investment needs of the people, many new products have been introduced to the market to help customers have more good investment channels. In particular, Phu Hung Dai Phuc with flexible investment ability, allows customers to put more idle money into the investment account at any time to actively increase income. Phu Hung Life also commits to a competitive interest rate compared to the market with an investment interest rate of 5.6%.
(applicable from May 1, 2022)
Interest rates announced by the Universal Fund at the present time
Not only individuals, corporate customers are also interested in this product. To motivate employees, Mr. Le Tho Hai (43 years old, Hanoi) plans to reward Phu Hung Dai Phuc for 1-2 good employees every quarter, both to reward them and to help retain the next generation of tech workers. -savvy (tech savvy). The financial plan package he is aiming for has an insurance amount of VND 500 million, paying a premium for 3 years, about 14 million each year, which is quite suitable for the company's budget. With this package, employees also receive a 3rd year maintenance bonus of up to 30%* of the basic premium. This is a great bonus and a rare bonus policy on the market today. In addition to the fee that the company pays instead, employees can invest more themselves to make a profit. For example, if you invest 15 million more per year, after 10 years, you will receive 244,586,000 million VND (calculated according to the actual interest of the Universal Life Fund until October 2021) or at least 192 million VND (calculated according to the guaranteed interest rate). ending of Phu Hung Life)
.
As an example, premiums and benefits vary depending on age, gender, occupation, and premium options…
Learn more about Phu Hung Dai Phuc insurance
here
.
In 2013, Phu Hung Life Insurance Joint Stock Company (Phu Hung Life) officially entered the life insurance market with the mission of becoming a reliable companion of every Vietnamese family. With continuous efforts, Phu Hung Life currently has 50 sales offices across the country, ensuring the best companionship, side and support for customers in all regions.
Phu Hung Life – Here For You, For Life! Accompanying you, great development for a lifetime.
Phu Hung Life Insurance Joint Stock Company (Phu Hung Life)
Website: www.phuhunglife.com
Email: [email protected]://cafebiz.vn/phu-hung-dai-phuc-giai-phap-bao-hiem-trong-ky-nguyen-binh-thuong-moi-20220524173030839.chn Sunshine Following Economic Life
You are reading the article
Phu Hung Dai Phuc – Insurance solutions in the "new normal" era

at
Blogtuan.info
– Source:
cafebiz.vn
– Read the original article
here