Recently, according to statistics of the Ministry of Health, there have been thousands of cases of hand, foot and mouth disease across the country. Including one death. The number of hand, foot and mouth disease cases tends to increase mainly in the South and locally in some provinces and cities such as Ho Chi Minh City, Dong Nai, Binh Duong, Soc Trang.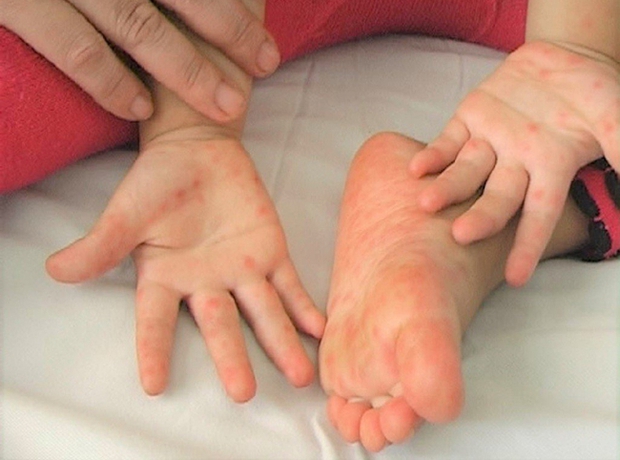 Hand, foot and mouth disease is a year-round disease, transmitted through the gastrointestinal tract. The disease can be found in most provinces and cities. Signs to recognize your child has hand, foot and mouth disease divided into stages. In the early stages, children with hand, foot and mouth disease appear transient mild fever, sore throat, continuous salivation in the mouth, loss of appetite, mild diarrhea, many children have swollen lymph nodes in the neck or under the jaw.
At the onset stage, the child's skin surface begins to appear red spots with a diameter of 2-3mm, concentrated on the palms, feet, around the mouth. They will progress to red, blister-like nodules.
In the full-blown stage (the illness lasts 3-10 days), children appear mouth ulcers, a rash all over the body in the form of vesicles, children are prone to high fever, vomiting, and are at risk of complications related to the disease. nervous, respiratory and cardiovascular systems.
In addition, children with severe hand, foot and mouth disease will be fussy, have a high fever that won't go down, or be startled. At this time, parents need to take them to the hospital urgently. The disease in its early stages can be completely cured at home. However, not everyone knows how to treat at home for children with hand, foot and mouth disease.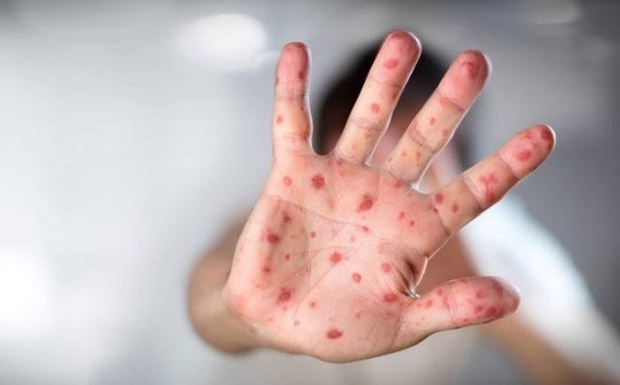 Ask: My child has been crying lately, has a sore mouth, and has many acne spots all over his body. Up to today, the bottom of the foot has turned into a pus-filled, watery pimple. Did you have hand foot mouth disease? How to treat a child with hand, foot and mouth disease at home? Ask your doctor for guidance. Thank you doctor!
Doctor Doan Hai Dang (with 5 years of experience working at Thanh Hoa Children's Hospital) shared through the video below:
Doctor Doan Hai Dang instructs on how to take care of a baby with hand, foot and mouth disease at home
Hello!
Taking care of children with hand, foot and mouth disease at home is not too difficult, so parents do not need to worry too much. Parents still let their children eat and drink normally. Notice the following 5 important points:
– Limit your child's eating sour foods because sour foods can cause pain in the baby's mouth.
– Pay attention to hygiene, wash hands often for children and caregivers.
– Wash your baby normally.
– Caregivers need to wear a mask during the entire contact process. If you can wear a mask for your baby during hand, foot and mouth disease, the better.
– If your child has been to the doctor and has been prescribed oral medication, it is necessary to follow the prescribed medication. In addition, parents can apply silver gum directly at the lesions, the baby will feel more comfortable.
If your child has a lot of mouth pain, he can take pain relievers to help him eat better or can also apply topical pain relievers.
If the child has a lot of itching, itching all over the body, you can take an antihistamine depending on the age to help the baby feel less itchy.
In case your baby shows signs of prolonged high fever, lethargy, lethargy, or startling, this is a sign of complications of hand, foot and mouth disease. Parents do not hesitate, should take your child to the doctor as soon as possible.
Wish the baby get well soon, the whole family is happy!
https://afamily.vn/cham-soc-tre-bi-tay-chan-mieng-tai-nha-5-viec-quan-trong-can-lam-nhat-de-con-nhanh-khoe-20220523124718439. chn
You are reading the article
The 5 most important things to do for your baby to be healthy

at
Blogtuan.info
– Source:
Kenh14.Vn
– Read the original article
here