Đời sống
The case of a son killing a male father in Thai Nguyen: The investigative agency needs to clarify the suspect's cognitive ability
To be able to answer the question of whether Long is criminally responsible or not, it is necessary to have an answer to the question: Does Long have mental illness and his cognitive ability and ability to control his behavior in what level?
Police in Thai Nguyen province are temporarily detaining Nguyen Van Long (38 years old, in Thanh Dinh commune, Dinh Hoa district, Thai Nguyen province) to investigate the act of murder.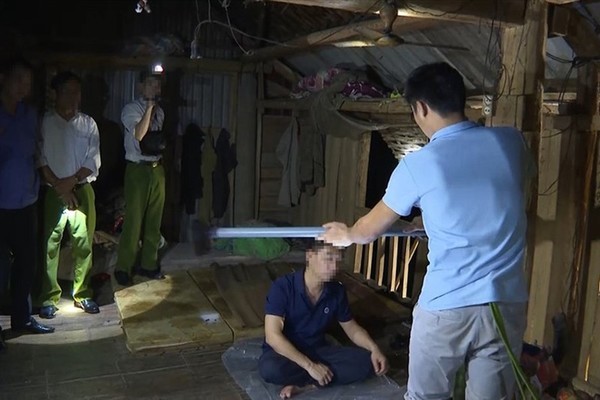 Illustration.
Talk to PV Infonet Regarding the case, lawyer Hoang Tung – Head of the Trung Hoa Criminal Court (Hanoi) said: "According to the provisions of Point dd, Clause 1, Article 123 of the Penal Code 2015 amended and supplemented in 2017, with the act of murder, the victim committed murder. If the main person is his/her father, the offender will be sentenced to between 12 and 20 years of imprisonment, life imprisonment or capital punishment.
According to the classification of crimes specified in Article 9 of this Code, it can be seen that murder is one of the very serious crimes and particularly serious crimes. For acts of intentionally causing injury or causing harm to the health of others, based on the rate of bodily harm of the victim as well as the nature and extent of the act, the offender will be subject to different penalties as prescribed in Article 134, Crime of intentionally causing injury or harm to the health of others, amended and supplemented by the 2015 Penal Code 2015. Specifically, the penalty will be non-custodial reform. , imprisonment for a term or life imprisonment.
Usually, with the act of beating to death and injuring others, it will certainly be prosecuted for investigation and verification, in order to ensure social order and security as well as for the offender to be responsible for the crime. disrespecting the law and their cruel behavior when infringing on the lives and health of others".
"However, in this case, the offender is Nguyen Van Long, who was previously determined by the locality to be mentally ill and received a monthly social allowance in fact. Thus, according to the provisions of Article 21 The state of incapacity for penal liability, in the cases of exclusion of criminal liability of the Penal Code 2015 amended and supplemented in 2017, if Nguyen Van Long commits dangerous acts, If you are dangerous to society while suffering from a mental illness, completely losing the ability to perceive and control behavior, you will not be held criminally responsible.
In fact, not every case committed by a mentally ill person is exempt from criminal liability. According to Article 51 of the 2015 revised and supplemented Penal Code, 2017 provides for mitigating circumstances for penal liability: "A criminal is a person with a disease that has limited ability to perceive or control his or her behavior."
This proves that, if the offender is determined to have a disease that limits his cognitive ability or behavior control ability, he will still be penalized but will enjoy mitigating circumstances. However, they will be treated or minimized for uncontrolled behaviors before being criminally responsible.
To be able to answer the question of whether Nguyen Van Long is criminally responsible or not, it is necessary to have an answer to the question: Whether Nguyen Van Long has a mental illness, but his cognitive ability and ability to control behavior are not enough. What's your level?"
In addition, lawyer Hoang Tung also stated: "Currently, the data of the Ministry of Health on people with mental health-related problems who are not treated at medical facilities but live in the community are not must be a small number. On the one hand, we should have an optimistic view, without discrimination and stigma towards people with mental illness.
However, we must also frankly admit that there are many potential risks to the lives and health of those around us if there are no good management measures for people with mental illness in society.
Most psychiatric patients are treated in the community, but not all patients are cared for and cared for by their families. There are many cases where due to difficulties and deprivation without regular examination and treatment, the disease becomes severe and cannot control behavior.
The current law still shows humanity and humanity when there is no mandatory regulation of isolating people with mental illness from the community when that person has not committed illegal acts. Therefore, each of us needs to raise awareness and responsibility to avoid painful consequences."
From there, lawyer Hoang Tung concluded: "In this matter, family is the first factor that plays a decisive role in the care and management of people with mental illness. When recognizing abnormal psychological and behavioral signs, signs of mental illness, the family should soon take the patient to a medical facility for examination and treatment.
When being discharged from the hospital or receiving treatment at home, family members and patients need to strictly follow the instructions of medical facilities. Authorities at all levels and functional agencies also need to focus and actively grasp the situation of patients in the locality to come up with plans to coordinate management and control of patients in the best way.
The law should also have separate provisions on mandatory isolation for a period of time for people with mental illness in some cases. For example, if the patient is allowed to be treated at home, local authorities, along with medical staff, need to have random checkups and actual observations to assess the progress of their health. mental health of the patient.
If within a certain period of time, while being treated in the community, the patient is found to have acts that threaten to cause danger in the future, it is necessary to quickly bring the patient back to a medical facility for follow-up. monitoring and treatment, avoiding the situation of letting the consequences happen in reality and then thinking about isolating the sick, like that is like the eternal story of "losing cows to build a barn".
At noon on May 25, talking to PV Infonet, Mr. Ma The Thich – Vice Chairman of Thanh Dinh Commune People's Committee said: "According to initial investigation information, before the incident, Long went to buy alcohol to drink, Mr. L because he loved his child, so he intervened but couldn't.
Buying alcohol, Long did not bring it home. Returning to the bridge near his house, Long took off his pants and sat there drinking. Mr. L came to see Long like that, so he put on pants for his son and then dragged him home. When taking Long home, the father and son had a conflict, after which the suspect beat his father to death with a stick.
Neighbors discovered the incident and ran to intervene and was also chased by Long with a stick, fortunately this man ran home and locked the door so he was not injured by Long.
After that, Long continued to hold a stick and dashed out into the street. Meeting the woman, this person told Long to put down the stick. Not only disobeying, Long also used a weapon to smash his finger and break this man's arm.
The incident was reported to the local police by residents. The functional forces arrested Long near the scene of the incident," Thich added.
Mr. Thich also added that on the morning of May 24, Thanh Dinh Commune Police handed over Long to Thai Nguyen Provincial Police. The surviving victim in the incident is being treated at the hospital.
According to Mr. Thich, Long is married and has a daughter who is in secondary school, but the couple has been divorced for a long time. Long's daughter is staying with her mother. After the divorce, Long returned to live with his father. The locality determines that Long is mentally ill and receives a monthly social allowance.
Yen River
You are reading the article
The case of a son killing a male father in Thai Nguyen: The investigative agency needs to clarify the suspect's cognitive ability

at
Blogtuan.info
– Source:
infonet.vietnamnet.vn
– Read the original article
here