Kinh doanh
World
The land 'fever' in Binh Duong has begun to 'cool down', should you invest 4 billion dong in this area?
Mr. Tran Van Thai in Hoang Mai (Hanoi) has nearly 4 billion VND in his hand, he plans to buy a piece of land in the suburbs of Hanoi, but is invited by friends to invest in real estate in Hanoi. Binh Duong When thinking that land in this area has great potential for price appreciation.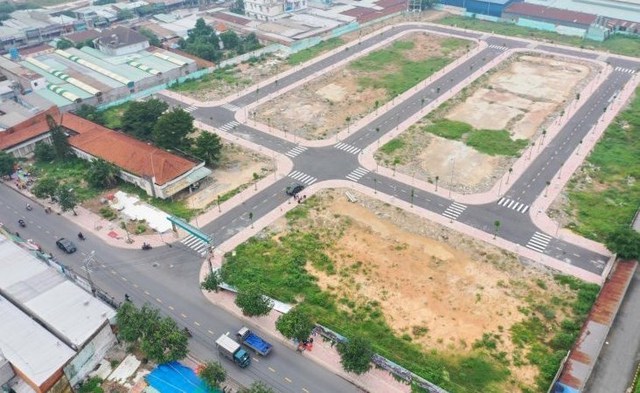 Real estate in Binh Duong will still increase in price, with 4 billion dong should investors invest in Binh Duong? (Illustration)
However, investing in apartments and then renting out or investing in land will have more potential than what Mr. Thai is currently very concerned about. Mr. Thai said, Binh Duong is the industrial "capital" of the whole country. The country is located adjacent to Ho Chi Minh City, through many arterial roads connecting directly to the economic locomotive center of the country.
Binh Duong province also planned, planned and invested in building many inter-regional traffic works to help connect synchronous transport infrastructure between Binh Duong and other provinces in the southern key economic region, serving the development of urban areas. Socio-economic development…
Therefore, real estate in Binh Duong will still have a lot of potential. This is the reason he wants to "pour" the existing capital to invest in Binh Duong.
According to big data from Batdongsan.com.vn, in the first 4 months of 2022, the apartment and townhouse rental segment in Binh Duong recorded increased interest compared to the same period last year. Specifically, the number of apartment rentals increased by 44% and the number of street houses increased by 18%.
Considered the most vibrant province in the satellite region of Ho Chi Minh City, Binh Duong has the highest frequency of immigration in Vietnam, at 200.4% with more than 489,000 immigrants (according to 2019 statistics). . Therefore, Binh Duong has the highest rate of migrants having to rent a house in the country, at 74.5%.
At the beginning of 2022, when society has gradually adapted to the epidemic, Vietnam reopens its economy, tourism, industrial park activities, and production back to normal, Binh Duong witnessed the demand for apartments. from immigrants, workers and professionals rising is also understandable.
Regarding house rental prices in Binh Duong, the mid-end apartment segment ranges from 7 – 10 million/two-bedroom apartment per month, the high-end apartment segment, the monthly rental price is from 11-15 million/two-bedroom apartment. . According to statistics of Batdongsan.com.vn, there are nearly 80 apartment projects in Binh Duong, accounting for 30% of the total number of real estate projects here.
In addition, up to 35% of real estate projects in Binh Duong are urban projects with different types of townhouses and townhouses. Condominiums are popular in Binh Duong, but townhouses and townhouses have not cooled down.
In the context that investment capital tends to shift to production and business, it is not surprising that the demand for street houses to serve these activities increases in Binh Duong.
Data from this unit also shows that the demand for real estate in Binh Duong has shown signs of decline in the first 4 months of 2022. The demand for real estate products in the province decreased by 14% compared to the same period in 2021. In which, the amount of interest in project land and land plots decreased the most, at 18% and 15% respectively.
Explaining this quiet period, experts say that Binh Duong's real estate market is not outside the influence of recent measures to tighten housing management such as banks' continued tightening of credit for real estate loans. real estate, increased control over real estate transactions, many banks raised savings interest rates to attract deposits among the people….
However, the price of land for sale in 3 cities of Binh Duong still increased at a high level. Specifically, in Di An, Thuan An and Thu Dau Mot cities, the average selling price of project land in the first 4 months of 2022 increased by 41%, 21% and 19% respectively compared to the average price in 2021. .
Meanwhile, the number of posts and searches to buy land for projects in Di An decreased by 13% and 15% respectively. These indexes of Thuan An also decreased by 3% and 27%, respectively. Meanwhile, Thu Dau Mot city reduced 16% of the number of posts and 31% of interest in the project land.
According to experts, when investing, it is necessary to pay attention to the areas where the price increase is almost peaking, which should be avoided.
Sharing with PV Infonet, Mr. Nguyen Van Hau, General Director of Asian Holding Real Estate Joint Stock Company said: Before investing in real estate, you must have knowledge about real estate to invest. At the same time, it is also necessary to understand the legal aspects of the investment property.
Along with that, it is necessary to see if the market has any supporting information such as information about highways, bridges connecting areas… Especially, it is necessary to consider the price level in the investment area with high or low price, reasonable price. Reason to invest yet, investment rate compared to your available money. If it is a medium-term investment, about the next 2 years, what is the percentage of the price increase?
You are reading the article
The land 'fever' in Binh Duong has begun to 'cool down', should you invest 4 billion dong in this area?

at
Blogtuan.info
– Source:
Soha.vn
– Read the original article
here