Cư dân mạng
World
The more shy people are, the more determined they are to get together
It was an afternoon when we had the opportunity to return to Di Linh district, Lam Dong province, to hear about the love story between Mr. Dinh Van Canh and his wife, Vo Thi My Phuc (37 years old; hometown of Dien Ban district, Quang Nam province). ).
Surviving an illness
Dinh Van Canh's family lives in village 9, Tan Chau commune, Di Linh district.
Although we made an appointment, when we arrived, we still had to wait at the door for more than 1 hour, because Ms. Phuc still had unfinished lottery tickets and still had to pick up her child who was studying at kindergarten.
Meeting us, Mr. Canh shared: "When I was a baby in Thanh Hoa, I contracted polio fever until I came back to life again. After the sequelae from that illness, my right legs and arms gradually constricted, my voice was not as neat as a normal person's. . My mother told me that I died and came back to life three times. She was afraid that I would die, so she cooked sticky rice to offer to my ancestors and named me Sot, which means to have survived an illness."
According to Mr. Canh, in his hometown Thanh Hoa at that time life was difficult. Then his parents died early, the family was crowded with brothers, so at the age of 16, he had to follow his relatives to wander everywhere selling lottery tickets for a living. Wandering around the southwestern provinces, Ho Chi Minh City, Dong Nai… finally, he chose Lam Dong as a place to settle down. At that time, he turned 30 years old.
After selling lottery tickets for a while in Bao Loc city, in 2014 he moved to rent a room in Tan Chau commune (Di Linh district) to continue selling lottery tickets. Here, he meets Phuc.
"At that time, my wife was helping sell groceries to her sister in Di Linh town. I often go back and forth in a wheelchair to sell lottery tickets in this area, and I don't know since when they have each other's phone numbers. At first, it was to ask back and forth and then sympathize with the situation and love each other when is it not good?" – Canh laughed. Ms. Phuc was born with a disability that lacks a leg, lives with crutches, has low hearing, cannot hear a complete sentence, even sometimes does not hear anything when her health is not good.
The love story of these two children with disabilities gradually became known to the local people. Some people bless them, some people ridicule and tease them. Instead of being sad, according to him, that gave them strong energy to rise up. He was determined to marry Phuc as his wife, even though the families of both sides prevented him. "My own happiness is not brought by anyone, but it is a fierce effort to get. No one lives for me" – Mr. Canh confided.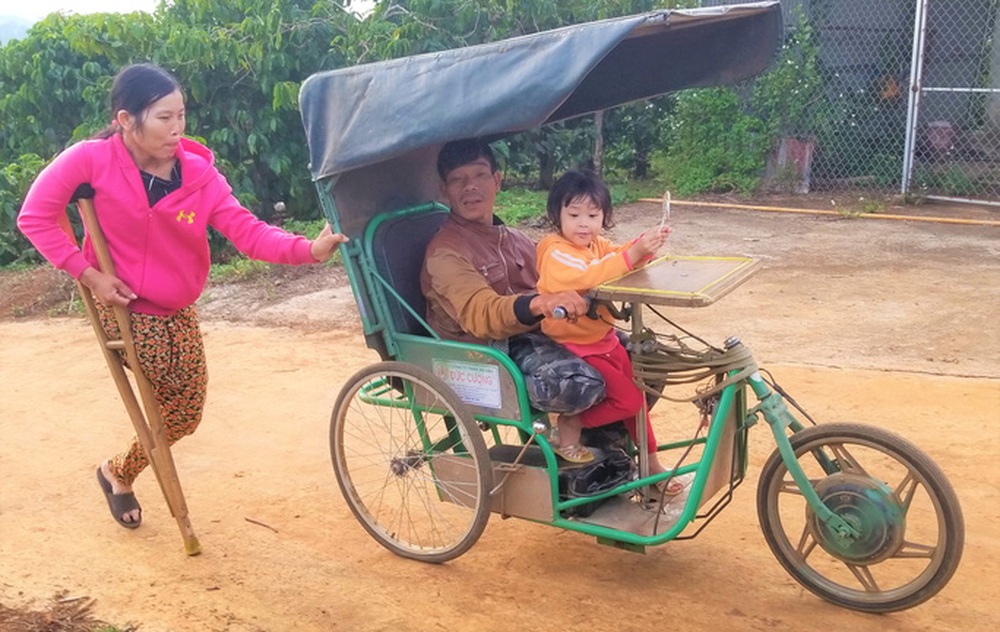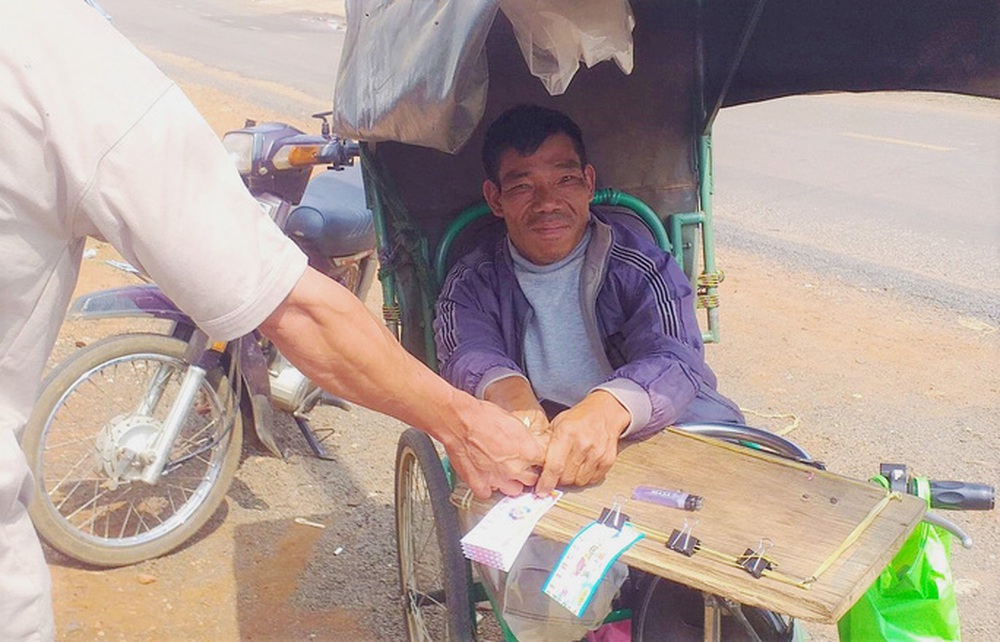 Rain or shine, wife on crutches, husband in wheelchair, roaming everywhere
Walking together
We were talking with Mr. Canh when, just as Ms. Phuc returned to her wheelchair after stopping by to pick up her child, Thien An, who studied at kindergarten. Next, Ms. Phuc said: "My wife and I have worked very hard. To be able to live together and give birth to Thien An is a persistent effort to convince both sides of the family."
"Seeing him every day in a wheelchair passing by my sister's grocery store to sell lottery tickets, it was difficult for me to walk around, so I felt so miserable, so I asked my sister's permission to let me live with him, but she stopped me. , telling him to take care of his body is not done yet, you lost a leg like that, what do you do to live together? Then my mother also spoke to prevent it. But we decided. So we became a couple like now." – Phuc smiled brightly.
Telling more about this fairy-tale love story, Canh remembers that the night of the 30th Giap Ngo New Year (2014) was the most memorable night in his life. "The happiest night that I still think is a dream" – Mr. Canh said that day, the whole neighborhood of the poor wandering for a living was no longer bustling because everyone had packed up to catch the bus. come home for Tet.
"I crouched alone when Phuc came. She came on crutches. The sound of crutches hitting the ground with a slow clatter. I remember as printed. Then Phuc knocked on the door and asked if you were in the house, Mr. Canh, open the door, if you accept, I will stay with you today." – Mr. Canh paused for a moment to suppress his emotions, then continued: "I couldn't say a word. When I opened the door, Phuc was standing there. I knew it but still confused. Phuc was carrying a bag in his hand. The situation was like a dream, appearing at a sacred moment because there was only about 1 hour left until New Year's Eve. At this moment, my heart stopped beating for joy and happiness."
After the night of the 30th New Year of that year, Phuc "cut off" to live with the "crippled" Canh became a hot news throughout the people at Tan Chau junction. Without a wedding like many others, the two disabled couples roam around Di Linh district selling lottery tickets to make a living. After a year of saving some money, the couple took a bus to their hometown to make a tray of rice to worship their ancestors and asked for permission to return to Di Linh to live.
As time passed, Mr. Canh and his wife made the local people respect, no one more mocked and teased because they admired their energy to rise up in life. Rain or shine, the wife is on crutches, the husband is in a wheelchair, wandering around selling all the lottery tickets with the hope of having a small house and children in the future.
"Before, I wanted to have a child to raise. But looking back at the disabled situation like me, how can I have a husband and have children. Then when I decided to live with him, I was afraid that I would suffer as much as people talk about. But when I think about it, I've never been so happy with him that I'm afraid of suffering. So husband and wife comfort each other and pray for mercy." – Ms. Phuc confided.
Like a dream
The dream has come true. Their love story also turned to a happy page. After the time when they returned to live together, there was good news, and then she gave birth to a beautiful daughter. "It's like a dream to have a wife, but I'm still greedy to have a happy child. So god have mercy on you guys" – Mr. Canh laughed happily in happiness.
The little girl with sparkling eyes was named Thien An by Canh and his wife, which means the grace that God bestowed on his family. According to Canh, "God gives me what I wish for, which is boundless happiness. I hope my daughter is well-behaved and doesn't get sick so the whole family doesn't have to worry about hunger anymore."
Since the family of Mr. Canh and Ms. Phuc had a small child, Ms. Phuc's sister loaned Mr. Canh's family 150 million VND with deferred payment without interest to buy a small garden deep in the coffee fields in village 9, Tan Chau commune. . Through Mr. Tran Anh Khoa at the Center for Culture, Information and Sports of Di Linh district, benefactors helped Canh and his wife build a house of about 50 m2, enough to cover the sun and rain.
Farewell to his family in the late afternoon, even though the car had traveled quite a distance, I could still hear the crisp laughter of Thien An's grandson mixed with the song of Mr. Canh's lost sentence echoing through the coffee garden. I silently prayed for this fairy tale love to last forever in laughter.
Although Mr. Canh's family does not have a household registration in the locality, the District People's Committee, the Division of Labor – Invalids and Social Affairs of Di Linh district are always interested in helping his family, guiding him to prepare import documents for Di Linh. to fully enjoy the regimes and policies for people with disabilities according to regulations," said Ms. Tran Thi Hoa, deputy head of the Di Linh district's Department of Labor – Invalids and Social Affairs.
You are reading the article
The more shy people are, the more determined they are to get together

at
Blogtuan.info
– Source:
Soha.vn
– Read the original article
here