Business
The real estate broker guy revealed a series of truths about his profession and the commission rate of nearly 1.5 billion VND/month
Outsiders often have a prejudiced view of real estate brokers, such as "eating" commissions a lot, just doing their best to earn the best, not caring about customers. Besides, this is also a quite noisy profession when the real estate sales themselves also share that the story of "robbing" customers or having to "cut blood" is not uncommon in the profession.
Meet Dang Phuc Nguyen, currently a Sales Director at a real estate company, to hear the story of "making a job" and understand more about real estate sales. Starting as a bachelor with major training in foreign languages, after doing many different jobs, he realized that real estate is a potential "land". Phuc Nguyen shared that this field gives him many opportunities to break through his limits as well as change his life, so he has been with the profession for 5 years now.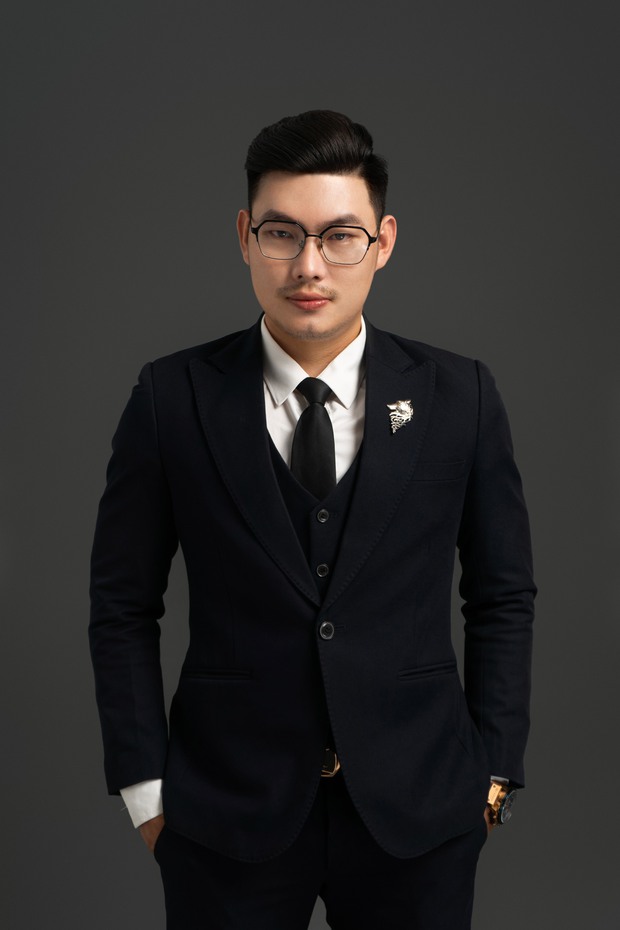 Hello Phuc Nguyen,
What activities does the job of a real estate broker usually include?
The work of real estate sales is also "leisure" (laughs). Honestly, real estate sales requires a lot of work to do: go to the market, distribute leaflets, telesales, email marketing,… These will help you find customers; Financial planning, cash flow for customers to help them balance their finances when buying a real estate product. Besides, sales need to help customers easily visualize the product, analyze the floor, building, view, direction, … of the real estate they are selling.
Just like students, sales also have to memorize information about the investor and the projects they are implementing to best convey the spirit and parameters of the product to customers. Research the market in the area that is selling to have a comparison and an objective view of the projects. Run FB Ads, Google Ads,…; Record video clips to review, analyze projects and products. And of course, real estate brokers must run projects according to the company's KPIs. The fog is there!
According to Phuc Nguyen, what sources do real estate brokers usually earn?
Income from real estate sales will usually come from two main sources: basic salary and commission. The basic salary, depending on the business, will have a different salary depending on the size, orientation and strategy of the company. With sales, this is just enough salary for you to pay for expenses such as gas, car, phone, … so this income is not significant.
Sales people when entering a real estate company, what makes them most interested is the commission when selling products. The more reputable a company that pays high commissions, on time, will attract a large number of employees. The highest personal figure I have ever achieved in a month is nearly 1.5 billion in commission fees.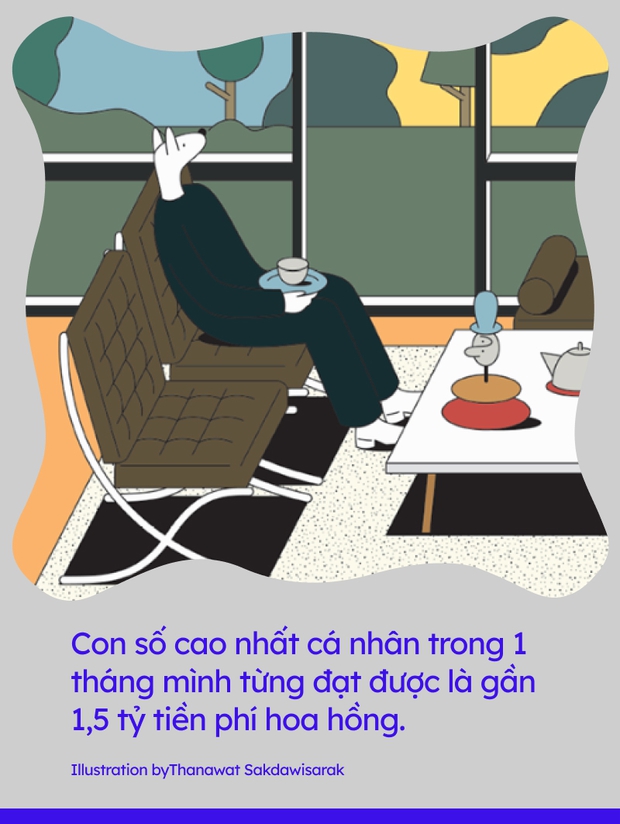 In addition, real estate sales are also investors. Because they clearly understand the value and potential of the projects that they are distributing or they also have certain knowledge about the products to decide to invest. They can identify the market for investment surfing or long-term investment depending on the product line, the final target customer segment. This is also considered a source of income, although not fixed.
Sales of real estate often have to visit customers, are these costs usually paid by sales or the company?
Those costs are usually paid by sales, because sales want to sell and earn income, they must have a certain investment in their relationships as well as customers. In general, this number is large or small depending on who your customers are, how much the product value they intend to buy. As for my company, depending on the value of each deal, each project and product to have a support plan for each specific case.
At times when the real estate market is quite gloomy, will the activity of real estate sales be affected?
In bleak times such as when Covid broke out, I surfed social media sites and saw many friends in the profession switching to selling food and selling online a lot. That shows that Covid also has a certain influence on the activities of real estate sales. Specifically, there are many cases where big deals have been dropped because customers can't go to the actual project, loan applications are delayed, customers are infected with Covid, …
However, that period is considered a "sales filter" period quite clearly when brokers with strong inclinations in the field of technology, livestream, video editing, animated language will stand very firmly. Many of you even sold more houses than before the epidemic.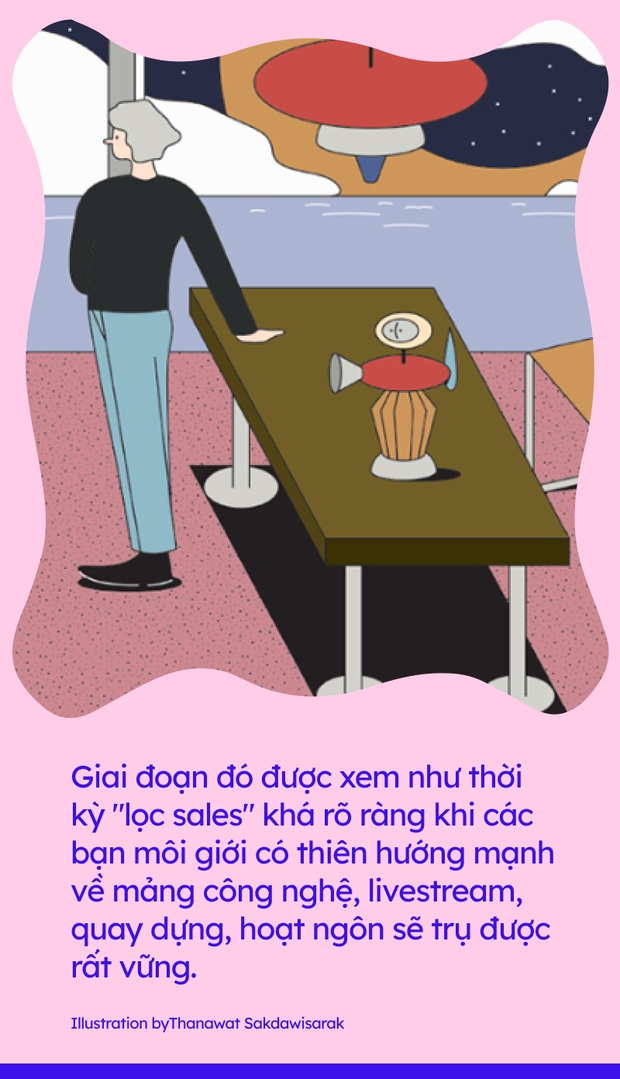 Currently, there are still many prejudices about the real estate brokerage profession, for example, not putting the interests of customers first, "eating" a lot of commissions, or "rolling chickens". What do you think about this issue?
The old real estate brokerage profession still has many prejudices, it also depends a lot on whether the products and sales investors are distributing reputable or not. As for the "job story", there are many different situations, good people and bad people everywhere, not only this field of real estate sales.
In fact, there are also many cases such as "tricking chickens" into creating a virtual market, pushing customers to close a deposit without first working with the bank, or the product is not of real value, causing customers to lose trust. However, there is only a part of it, but not all of it. My point of view is to put prestige first, so I will try not to let such things happen to myself or the employees in the company.
In your opinion, why are there so many "blood-cutting" cases in the field of real estate brokerage?
The "blood cutting" in general is happening in many industries, not only real estate. Personally, I do not have many opinions on this issue because it is quite "sensitive". And the sales people also have a lot of reasons to do this, mainly to "push customers", promote transactions, compete when the same customers,… I have also witnessed many cases like so.
About "cutting blood" myself, I almost do it very limited. Because it will create habits for guests, their income is also affected more or less. Sometimes I will feel that my labor has not been properly paid because the commission is what I deserve. Usually, I will give gratitude gifts to customers on occasions such as holidays, mid-autumn festival, birthdays, … and interact regularly to keep in touch and connect with customers, not "cutting blood".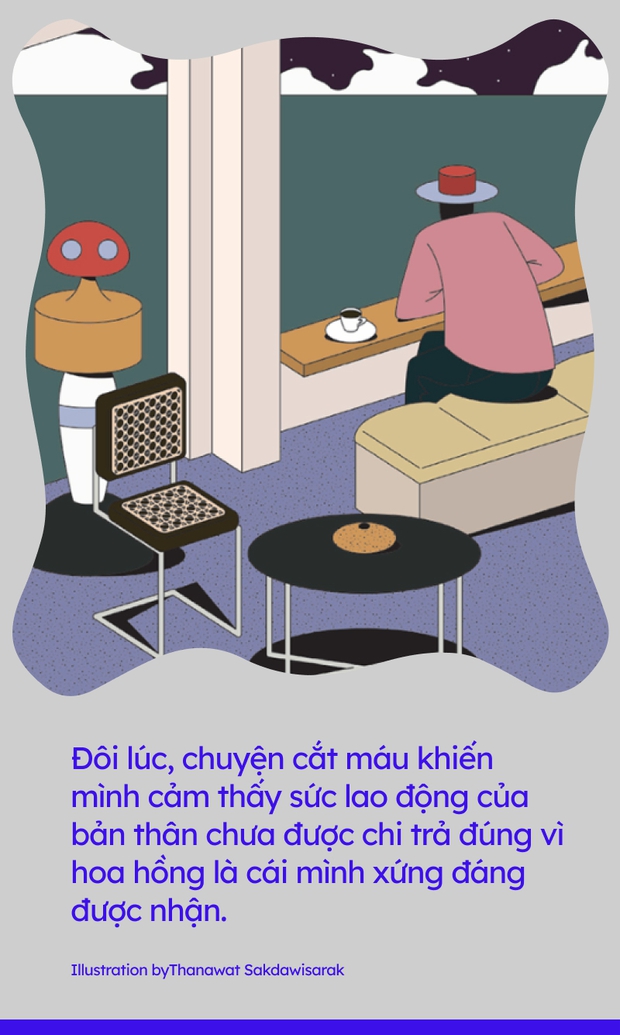 For Phuc Nguyen, what is the most difficult thing in the real estate brokerage industry? Have you ever wanted to quit this job and choose another path, because it's actually quite hard.
The most difficult thing is probably the story of finding customers. Because in a period of time without potential customers to take care of, to work, that feeling is terrible, easy to make me stressed, pressured, doubtful about my own ability, not enough focus, alert. apple and lead to lost fire with craft.
Honestly, at least 3 times I wanted to quit my job, especially at first. Because at those stages, I felt a lot of pressure because there was no customer, no one to guide, I had to swim by myself, and there was no method to work effectively. I still remember feeling very crisis because for the first 6 months in the real estate industry, there were no transactions. I finally got over it, now I think about that time and I'm scared (laughs).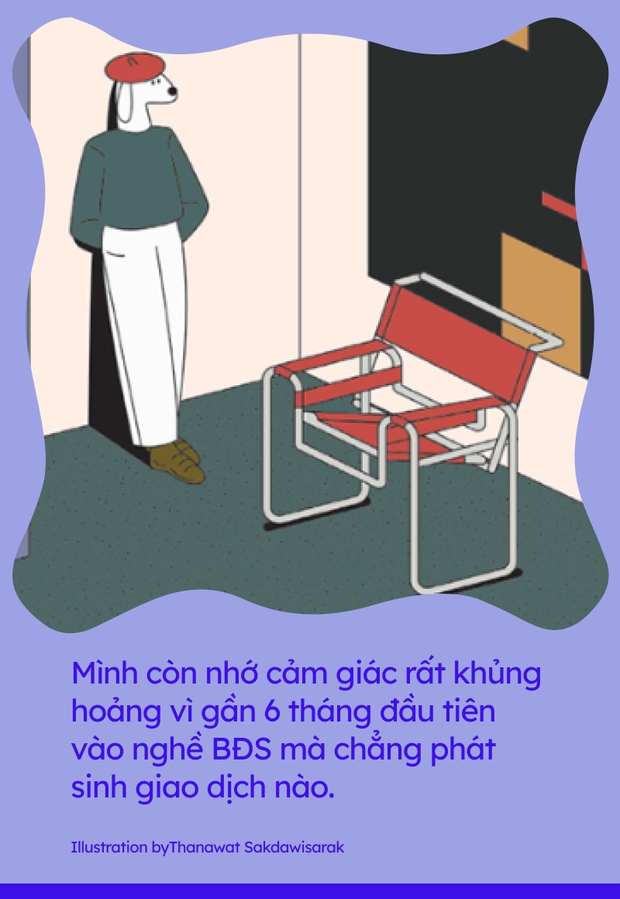 Do you have any advice for people looking to become a real estate agent?
I think that when you have decided to step into the real estate field, you must prepare yourself a very strong mentality, financial plan in case there is no transaction for the first few months. You must be responsible for your own decisions to be motivated to work hard. More importantly, find yourself a "teacher" in the profession to learn and follow.
Thank you Phuc Nguyen for sharing!
https://kenh14.vn/anh-chang-moi-gioi-bds-he-lo-loat-su-that-ve-nghe-va-muc-hoa-hong-gan-15-ty-dong–thang -20220520230708238.chn
You are reading the article
The real estate broker guy revealed a series of truths about his profession and the commission rate of nearly 1.5 billion VND/month

at
Blogtuan.info
– Source:
cafebiz.vn
– Read the original article
here