Giải trí
What should parents pay attention to if they don't want their children to be hospitalized or on ventilators?
The Covid-19 epidemic had just cooled down, then the hand, foot and mouth came again, causing many children to be hospitalized. According to statistics from the Ministry of Health, from the beginning of the year until now, the whole country has recorded more than 5,500 cases of hand, foot and mouth disease. The disease spreads quickly and has the potential to become an epidemic.
Hand, foot and mouth disease, do not ignore!
According to doctors, hand, foot and mouth disease is a disease caused by an intestinal virus, transmitted from person to person through the gastrointestinal tract, when children come into contact with nasopharyngeal secretions, saliva, and fluid from burns. , stool or vomit of an ill child.
The disease usually occurs in kindergarten age, under 5 years old, especially children under 3 years old. Because children under 5 years old are in the "immune gap" period, their immature immune systems are even more susceptible to disease. Moreover, when children go to kindergarten, limited space, crowded places, children sharing toys, etc. will create conditions for the disease to spread quickly.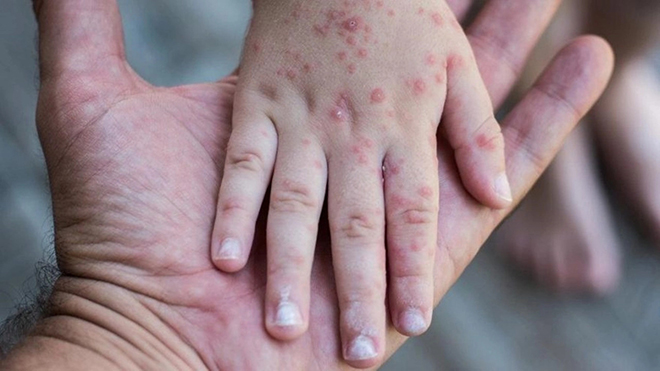 Usually, children with hand, foot and mouth disease have the initial symptoms of mild fever, sore throat, vomiting, and diarrhea. After that, there will appear mouth sores (gum, tongue, throat …), blister-like rash on palms, feet, knees, buttocks… If detected early and treated appropriately, the disease will Remission after 7-10 days. However, if not observed closely, it can be confused with rashes or chickenpox.
In particular, parents need to take their child to the hospital if they detect that their child has one of the following symptoms:
– High fever 39C or fever for more than 2 days
– Vomiting more than 3 times in 1 hour or more than 4 times in 6 hours
– Shortness of breath, rapid breathing, indrawing of the abdomen, cyanosis around the lips, irritability or lethargy
– Startled a lot when sleeping
– A lot of crying, irritability, trouble sleeping or tired, lethargic.
– Sweating, cold hands and feet or purple veins
– Less urine
– Trembling limbs or paralysis
– If the child has a history of convulsions, it is necessary to drink antipyretic at 38C and apply heat
However, in fact, many parents make mistakes in taking care of their children such as applying medicine or applying leaves to their children; Incubate the baby and limit bathing to make the rash go away faster. These things are not true and extremely dangerous, because they can lead to dangerous complications such as encephalitis – meningoencephalitis, myocarditis, acute pulmonary edema leading to death.
So, what should parents do to properly care for children with hand, foot and mouth disease?
Currently, still There is no specific medicine to treat hand, foot and mouth disease, which mainly treat symptoms such as reducing fever, reducing pain caused by ulcers and treating complications if any. Parents need to take the child to the doctor, use a combination of antibiotics and/or fever-reducing medicine under the guidance of the doctor.
At the same time, parents should note the following:
– Clean the mouth and apply medicine to the child's mouth 30 minutes before feeding.
– Isolation when children are sick, limit children to go out to avoid infecting other children because the disease is most contagious in the first week from the time of illness.
– Sanitize the hands of children and caregivers before and after each child care session.
– Wear soft, loose-fitting, sweat-wicking clothing. Change clothes and bathe the baby daily with warm water.
– Give the child liquid food, easy to swallow and easy to digest, such as porridge, soup, milk, divided into several times a day. Avoid sour foods, sour fruits because they will irritate the wound in the mouth.
In particular, when having hand, foot and mouth disease, children are prone to anorexia, leading to malnutrition and physical decline, thereby, putting children at risk of many diseases. Therefore, parents need to pay attention nutritional diversity, combining foods to ensure that they provide enough nutrients, delicious and attractively presented to make children enjoy eating. For children who are "afraid" to eat green vegetables and fruits, mothers can make smoothies, mix fruits with yogurt, vegetable salads, pancakes…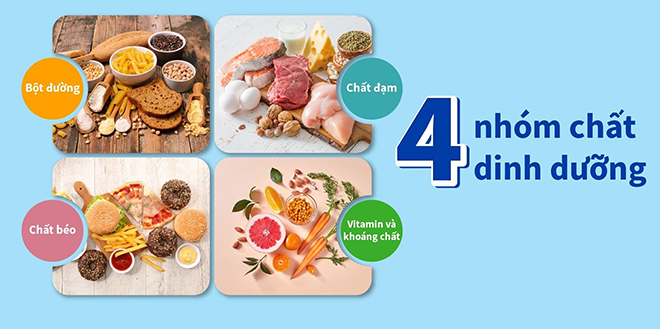 The most important thing that parents need to pay attention to is to increase the child's resistance. Because hand, foot and mouth disease has no treatment or vaccine, only increasing resistance can help children actively build a strong immune barrier. From there, children have the ability to fight off viruses and bacteria that cause disease, protecting them from not only hand, foot and mouth disease, but also other pathogens.
To increase effective resistance for children, experts recommend supplementing with active ingredients Beta-glucan to directly stimulate the child's immune system. This active ingredient is highly appreciated by experts for its role in stimulating immunity, reducing the rate of illness in children and also its safety. FDA (USA) certified Beta- safe for health at all ages, including children.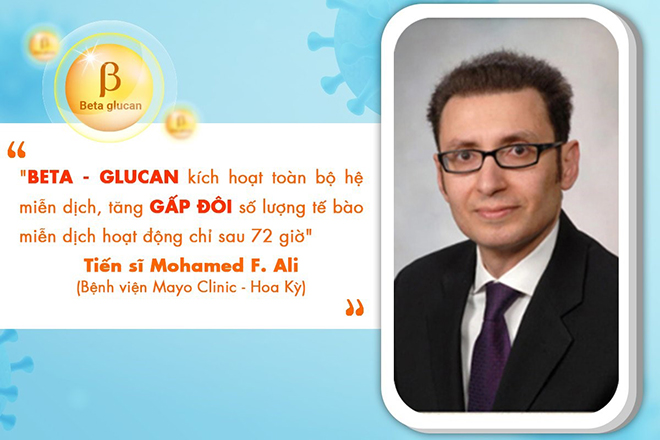 This special active ingredient is present in the product Gadopax Forte with high content, pure quality. Furthermore, the product contains not only Beta-glucan but also vitamin C, vitamin D, zinc, creating a synergistic effect to support optimal immunity. It is thanks to these advantages Gadopax Forte More and more parents choose to support children's resistance.
Besides, parents also need to take measures to prevent hand, foot and mouth disease for mothers. Specifically, frequent hand washing with soap for both children and adults. Practice good food hygiene: eat well, drink well; do not give food to children; Do not let children eat junk food. Regularly clean daily contact surfaces and tools such as toys, doorknobs, table/chairs, floors, etc. Do not let children come into contact with sick or suspected sick people.
Gadopax Forte Helps support outstanding resistance increase thanks to the high content of Beta (1.3/1.6) – High D-Glucan combined with Zinc, Vitamin C and Vitamin D are the leading micronutrients that help stimulate the immune system to work effectively, supporting superior resistance.
Gadopax Forte Support to increase the body's resistance, support to reduce the risk of bacterial and viral diseases, especially for children and adults with poor resistance.
Products are imported directly from Europe, licensed for circulation by the Ministry of Health.
For more information visit: https://gadopax.vn/
Hotline: 1900 58 88 36
Products are imported and distributed exclusively by CTT Vietnam International Pharmaceutical Joint Stock Company.
The product is not a medicine, it is not a substitute for medicine
You are reading the article
What should parents pay attention to if they don't want their children to be hospitalized or on ventilators?

at
Blogtuan.info
– Source:
24h.com.vn
– Read the original article
here