Business
Children who are asked these 6 questions by their parents every day grow up different from other children
Encouraging children to study to achieve good results is always something parents should do, but teaching children to be kind people is equally important.
Kindness and caring are two factors that are highly valued in every society. However, if you ask a child what their parents want them to have, 81% say it is an achievement.
In fact, children who care about others are more likely to achieve success in life.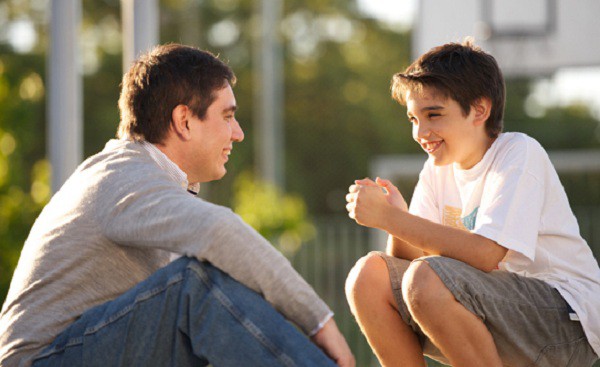 Illustration
A preschool child who was once loved by many people for his kindness, after 30 years, is the one who earns the most money. High school students who helped, collaborated, and shared with friends outperformed in grades and quality tests.
Especially children who always believe in the kindness and kindness of their parents, always respect their parents, often have good academic records, get into good schools and have more successful careers.
If you want to promote kindness or kindness, provide plenty of opportunities for your child to focus on it, starting with changing the everyday questions we ask our children.
1. What's your favorite thing today?
This question helps your child recall the emotions she experienced when she thought about her favorite part of the day.
It will make your child feel happy and have a chance to remember the happy moments of the day.
2. Did you do any good work today?
Maybe your child won't be able to answer right away, or maybe the answer will be very brief. But if we persist in asking our children every day, after a while the children's sharing will be more detailed and specific. Like: "I opened the lunch box to help friend A", or: "I gave friend B some snacks because he forgot to bring it today", or: "Friend C made a mistake on an exercise, I solved it. I like to let her understand."
Not only stopping at the questions, we should also share our experiences when helping others with our children, and at the same time express our views in situations where we cannot help others.
For example, talk to your child about how you regret not being able to stand up for a close friend who was bullied when you were in school. Or the moment when you are playing a team game and you give up and cause your team to fall apart to teach your children about responsibility in the team.
The purpose of these things is not to turn children into good people or to reward them for their good deeds, but to emphasize to them the true values ​​of this life.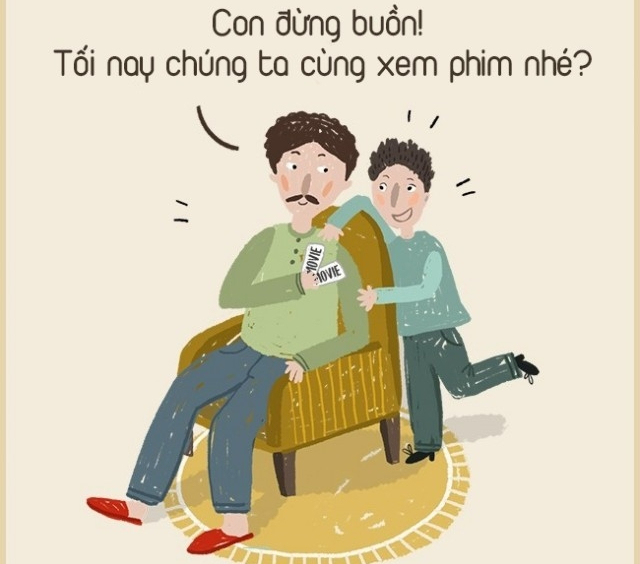 3. Who is the kindest person you know, and why?
Encouraging your child to think about kindness right before bed will form the habit of looking for kindness in everyone.
It will help them realize their potential to be kind people.
4. Do you need your help with anything?
Most of us find it difficult to speak up to ask others for help. A child who doesn't get help with small things won't ask for help in difficult situations.
Take the first small steps. Don't be afraid to ask your child. In fact, asking your kids every day if they need your help creates an opportunity for you to be there for them when they need you most. However, this does not mean that you do everything for your child.
5. What was the worst thing about your child today?
Pinpointing the exact moments that make your child feel bad during the day is something every parent needs to do.
This question will help create a more trusting parent-child relationship, allowing them to express their feelings, even things they don't want to say.
Parents can talk about negative things, like bad choices, irresponsibility, disrespect, because that's part of the reality of life that inevitably happens to their children.
Leading your child through those bad moments will help parents teach their children how to handle similar situations better in the future.
6. What about your friends?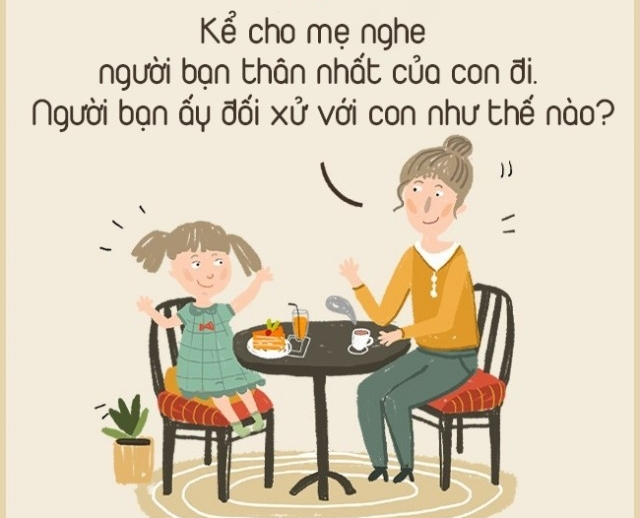 This question can tell you about the state of your child's relationships in the classroom to see if he or she is adapting and integrating well. This will probably be an open-ended question so that parents can ask questions and help their children share more later.
Friends are also a very influential factor in the psychological and behavioral formation of children. Parents should listen to children's little stories at school. It is better for a child to happily tell their parents about their friends than a child who wants to hide and doesn't want to share.
Try not to interrupt the story your child is telling you and only make comments when they ask for it. Don't forget about physical contact like hugging or holding your baby's hand. If you're in a bad mood or you simply don't like hearing your child speak at the moment, tell them that and set up another time when you can fully listen and talk to them.
Many experiments have shown that children who are given the opportunity to be kind instead of forced to be kind are more likely to become extremely generous later in life. And children who receive praise and recognition for doing well are also more likely to continue to help others later.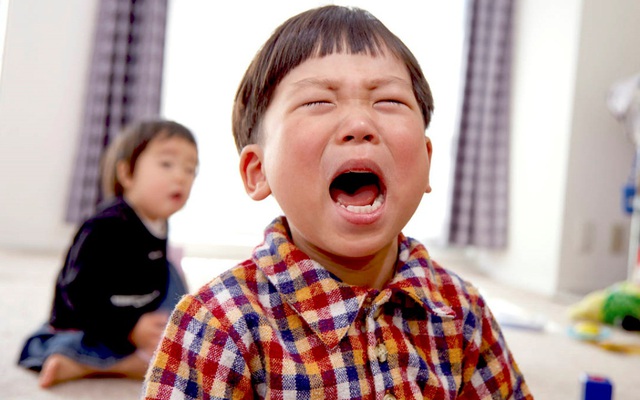 10 behaviors of children parents should pay special attention to, otherwise they will regret it in the future
You are reading the article
Children who are asked these 6 questions by their parents every day grow up different from other children

at
Blogtuan.info
– Source:
cafebiz.vn
– Read the original article
here