Business
"Logistics in Vietnam are extremely inefficient, very bad"
Recently, Mobile World Investment Joint Stock Company held an investor meeting to summarize the first quarter of 2022. At the meeting, Chairman Nguyen Duc Tai shared about how Bach Hoa Xanh operates the delivery segment and his perspective on Vietnam's logistics industry.
According to Mr. Tai, when buying online, you need reliability and fast delivery time. A housewife when she runs out of cooking oil and orders online, she can't wait 3 days for delivery. "We realize this industry is very different from buying a dress, a pair of shoes. Those things can wait 3 days, when it is convenient, they will be delivered, but the items that we do business, people do not accept such delivery conditions.", said the President of Mobile World.
Mobile World is currently building a different online business model, that is online with high accuracy, promises to do whatever. If the customer says that the goods can only be received from 10 am to 12 pm, the goods will be delivered at that time.
Not only that, the Mobile World boss also aims to build a peer-to-peer delivery service, which means 1 delivery 1. For example, if a customer needs 1kg of meat very urgently, within 60 minutes, A delivery worker will pick up the goods to deliver directly to the customer's house, ie 1-1 delivery to ensure speed.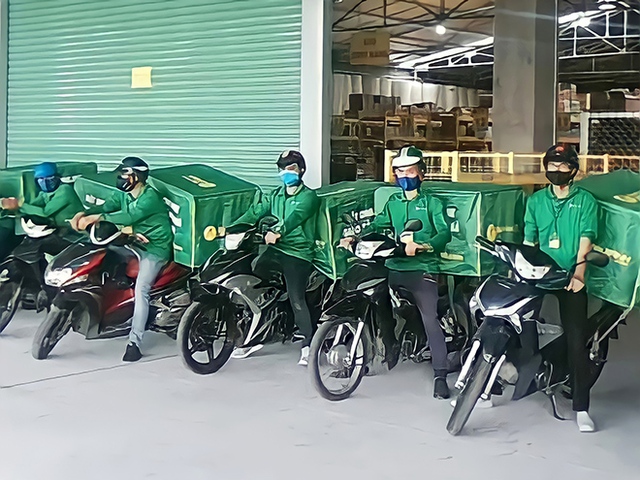 Delivery team of Bach Hoa Xanh
Answering a question about the difference of Bach Hoa Xanh delivery service, Mr. Tai said, the difference lies in the fact that the company does not use third-party delivery services. According to him, the third-party delivery service only works to hold goods and collect orders, then deliver, with the model of sequential delivery, without any commitment on delivery time.
Meanwhile, The Gioi Di Dong has its own subsidiary to manage deliveries for Bach Hoa Xanh. In Ho Chi Minh City, there are 10 warehouses for online delivery. When a customer places an order, the person in a nearby warehouse immediately stands up to take the order. If the customer wants to pick up the goods from 10 am to 12 am the next morning, before that time the preparation of the order has been taken place and completed.
Then there is a team that will go to the warehouse to pick up the goods, and that team is part of the corporation, not a third party. That team takes 10 orders to deliver 1 round and surely in 2 hours they will complete delivery of those 10 orders. 10 warehouses divided into more than 20 districts, each warehouse only serves 2 districts and will reach the required speed.
With this model, Mr. Tai is confident that in the future, the peer-to-peer delivery policy will also be very simple with the model he is building.
Talking about the logistics industry, Mr. Nguyen Duc Tai said: "Logistics is a dream". Mr. Tai's dream is to have someone do good logistics so that his company can hire and only have to focus on buying and selling, because that is the power of retail.
"We've tried it a few times, and we don't know if we should try again next time because there are flares in it. Logistics is logistics, from goods management to transportation of goods from the point of receipt to the point of supermarket. In Vietnam, it's good to say, but no one can do it. I hope some of you can do it fairly methodically.
I know that overseas, they rely on third parties. We have also traveled to Japan and Europe to talk to our industry business partners and indeed they use third party services. The supplier only delivers to the warehouse, which is managed by a third party. That third party receives delivery orders to the shops and they arrange to pick up the goods, deliver the goods, and ensure the time.
It's a dream I hope someone in Vietnam can do, but so far I feel like no one has been able to do it. We had only done a few transport-related services, and after a few months of feeling out of date we gave up. We said to a person in the profession: 'You have been in the profession for ten years, but why do I have to work 2-3 years to go further than you?'. That's what's happening in Vietnam".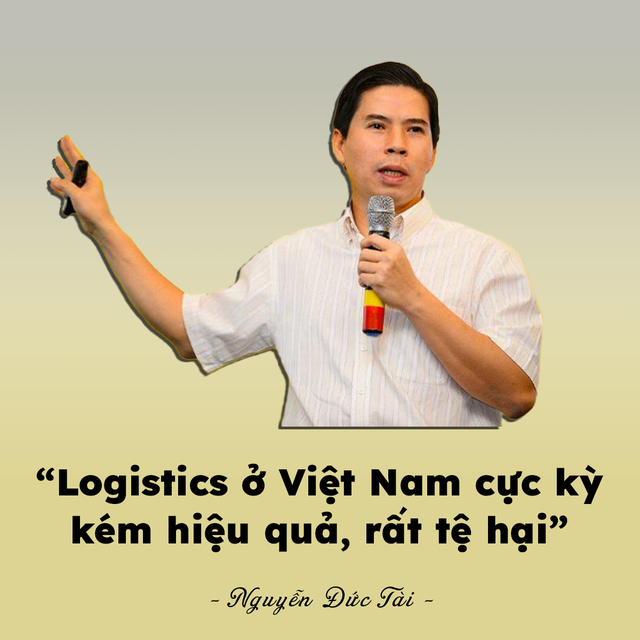 In that context, The Gioi Di Dong is not sure who to outsource to, when the company is not too specialized in logistics, but the things it makes are deeper and more certain than other businesses in the industry. "I don't understand why the market continues to be like that after so many decades", said Mr. Tai.
Mr. Tai affirmed: "Logistics in Vietnam is extremely underdeveloped, extremely inefficient, very bad". This is a great opportunity for overseas businesses that have strength in logistics. "Whoever has the power to build a destination logistics company in Vietnam will surely win. The Mobile World focuses on retail, so it doesn't spend time in that area"Mobile World President concluded.
https://cafebiz.vn/ong-nguyen-duc-tai-logistics-o-viet-nam-cuc-ky-kem-hieu-qua-rat-te-20220525114649745.chn
Following the Economic Lifestyle
You are reading the article
"Logistics in Vietnam are extremely inefficient, very bad"

at
Blogtuan.info
– Source:
cafebiz.vn
– Read the original article
here