Tin
Many people ask for help when they are forced into an unbelievable debt for no reason
Some people who have been victims of thugs and loan sharks have filed a complaint against Mr. T. and his wife "sea" in Thu Duc City, Ho Chi Minh City.
"After reading the article 'Clearly squeezing an unbelievable debt', and seeing that there were cases of threats and high interest loans like us, we dared to write a letter to denounce Mr. T. 'sea'. will soon be voiced by the authorities, regaining justice"Ms. NTD (living in Thanh My Loi Ward, Thu Duc City, HCMC) said.
Running around to earn interest
According to Ms. NTD, in 2016, she borrowed 1.6 billion VND from Mr. T. "sea" with an interest rate of about 30%/month. When loanthe parties only talk orally, do not write down the paper, the interest is notified via text message, 10 days to pay 160 million dong.
At first, Mrs. D. paid interest regularly, so everything went smoothly. Later, due to difficulties, Mrs. D. was late in payment, so her interest was accrued to the principal. By mid-2021, Ms. D. was no longer able to repay the debt, and was constantly threatened by phone calls and text messages.
"I borrowed 1.6 billion VND, so far it is estimated that I have paid interest for Mr. T. 'Sea' couple about 16 billion VND, now I still owe the principal. For many years, I have been running everywhere to get money. paying interest and always living in fear, not knowing who to call for help. Not only threatened, but once Mrs. V (wife of Mr. T. sea) also used a helmet to beat me on the street to keep my face." Mrs. D. said.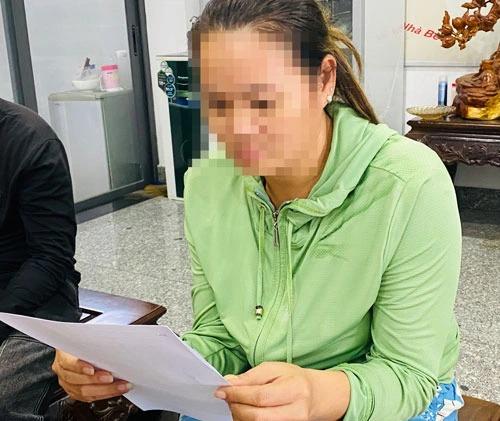 Ms. NTLC presented the case to reporters.
After the newspaper published the article: "Brightly tightening the 'unbelievable' debt with reference to the T. 'sea' of usury activities, Mrs. D. and some people are temporarily no longer threatened. 'Due to being too scared, I don't dared to make a complaint against Mr. T. 'sea'.
Currently, I am not threatened with debt but do not know what will happen in the future? Now, I am ready to testify to provide information that Ms. V sent threatening messages to collect debts with exorbitant interest rates. I hope the police will soon investigate and handle the subjects." Mrs. D. is worried.
Stabbed in the chest
Ms. NTLC (SN 1979, living on Thich Mat The street, Thanh My Loi ward) has a husband who works as a tricycle driver to remove ice for pubs in Thanh My Loi ward.
Before that, there was a conflict between her husband C. and a man named T (his son-in-law T. "sea"), and Mrs. C.'s family was constantly threatened by thugs.
At the climax, on the evening of September 28, 2015, Mrs. V's becgie dog ran into Mrs. C.'s house.
Afraid that the fierce dog would cause harm to her family, Ms. C.'s husband used a stick to chase her out of the house and then came to Mrs. V's house to loudly rebuke her, leading to a quarrel. The next day, 7 strangers with weapons broke into the house to beat Mrs. C.'s husband. Only when someone threatened to report to the police, this group of people left.
However, after that, Ms. C.'s husband was riding a motorbike on the road when a group of people stopped him. Even though he abandoned the car and ran away, he was still chased and beaten by the subjects. At this time, Mrs. C. on the way back from the market fought back to rescue her husband, but was hit by an object with a log, causing her to fall to the ground.
"When I couldn't get up, Mrs. V. stabbed me in the chest with a Thai knife. My husband and everyone took me to the (old) District 2 Hospital for emergency care, due to the serious injury, I had to be transferred to the People's Hospital. 115 continue treatment"Mrs. C. recalled.
According to the diagnosis of People's Hospital 115, Ms. C. was stabbed in the left chest with a Thai knife, causing pleural bleeding. After 15 days of treatment at the hospital, Mrs. C. and her husband just filed a denunciation to the District 2 Police (now the Thu Duc City Police).
The police agency stepped in and took Ms. C. to assess the injury with a rate of less than 10% (according to the announcement of the police officer).
After a period of investigation, the District 2 Police issued a decision not to prosecute the criminal cases of "Deliberately causing injury by exceeding the limit of legitimate defense" and "Intentionally damaging asset".
The reason at that time, Mrs. C. used a shovel to hit Mrs. V., Mrs. V. was ready to hold a knife in her hand, so she stabbed Ms. C.'s chest, causing injury. Disagreeing with the complaint settlement notice from the District 2 Police, Ms. C. recently made a petition to the Thu Duc City Police Chief for help.
"Every time I make a complaint, I'm immediately threatened by thugs, so I'm very scared. I hope the police agency will re-investigate this case to return justice to me. Since stabbing me through the chest, family Mrs. V's family has never visited or supported her with medical expenses."Ms. C. is angry.
According to the Workers
You are reading the article
Many people ask for help when they are forced into an unbelievable debt for no reason

at
Blogtuan.info
– Source:
2sao.vn
– Read the original article
here