Giới trẻ
Parents startled when middle school girl doubted her love for same-sex friends
Startled, surprised, and worried are the common feelings of many parents when they find out that their children are in love with the same sex.
Recently, a 7th grader at Ngo Sy Lien Secondary School (Hoan Kiem, Hanoi) expressed doubt that homosexuality is due to psychological problems that make many people wonder.
"I have a friend and she confided to me that she had feelings for another female friend, she was very confused, she didn't know if she was having a medical problem or not…
I told you if the feeling was real it was because of feelings and not a "psychological problem" but I also wondered if what I was saying was true.", NT A – a student at Ngo Sy Lien Secondary School said.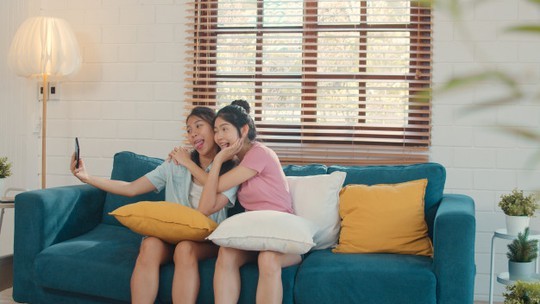 Very few parents admit their children's same-sex love affairs (illustration)
According to Assoc. Prof. Dr. Tran Thanh Nam, Dean of the Faculty of Educational Sciences, University of Education (Hanoi National University), children who have feelings such as love for same-sex or opposite-sex friends deserve respect. important. They should also respect their own feelings instead of fearing that they are pathological or psychological problems.
Regarding same-sex love, in ancient times, when there was no research and careful study, people considered this to be a disease and sought a cure. But now it's a trend, hobbies need to be respected like opposite sex feelings.
"Although I encourage students to appreciate their true feelings, I also think that they should not spend too much time and mind on love and distract from studying, training, playing, etc. my age"Assoc. Prof. Dr. Tran Thanh Nam said.
What to do when you find out your child has same-sex love?
According to psychologists, in the process of raising and caring for children, if parents find out that their children have same-sex love, they should not judge anything about their children first. At the same time, parents seriously seek knowledge and understand this correctly, because only when they understand correctly will there be sympathy and understanding.
In addition to loving children, it is also the responsibility of parents to protect and create a suitable living environment for their children. What's more important is that parents always give their children the feeling that the family is the support behind them, helping them to confidently live as themselves, together with their children to confront the stigmas in the society.
In fact, many parents are often surprised and shocked when they learn that their children have same-sex love, from which there are strong reactions, sometimes pressuring and hurting their children. That is also the normal psychology of parents.
So if it's really for the child, parents should calm down to learn and dialogue with their children in the spirit of respect and love. Parents also need to provide knowledge about gender, guide children in skills of awareness, understanding and self-protection.
In addition, experts say that people with same-sex love also need to have a correct perception of themselves, they need to be exposed to positive environments.
If finding out that their child is in love with a same-sex person, parents should not panic or beat, but should accompany and sympathize with the child. In addition, families and schools should have appropriate sex education methods for children so that they can make the right choices for their behavior.
Hoang Thanh
You are reading the article
Parents startled when middle school girl doubted her love for same-sex friends

at
Blogtuan.info
– Source:
infonet.vietnamnet.vn
– Read the original article
here