Giới trẻ
Students take the science and technology exam: The topic is "sublime" like a doctorate
National science and technology competition for students whose winning topics are researched by high school students on the same level as… Ph.D.
Professionals are also "stunned"
These days, public opinion is buzzing about the project "Isolating, evaluating the ability to target gastric cancer stem cells of the segment containing saponin compounds and preparing products from Ardisia gigantifolia". by students Dao Xuan Minh and Nguyen Le Cuong (Thai Nguyen High School for the Gifted). This project won the first prize of the National Science and Technology Competition and is one of seven projects of Vietnamese students participating in the International Science and Technology Competition (ISEF) 2022. When the results of the competition are available. National Science and Technology exam for the school year 2021 – 2022, the above topic was announced by teacher Truong Thi Thanh, Thai Nguyen High School for the Gifted, guided. However, in the application file to participate in ISEF 2022, the name of the facilitator of this project is Dr. Nguyen Phu Hung, Dean of the Department of Biotechnology, University of Science – Thai Nguyen University.
Another noise raised by the public, Dr. Nguyen Phu Hung is the head of a project very similar to the project carried out by the two students above: "Study on the inhibition of gastric cancer stem cells by Triterpenoid saponins from Ardisia gigantifolia through regulation of the Notch signaling pathway" (funded by the NAFOSTED Foundation). Also at the Faculty of Biotechnology, there is also a master's thesis in applied biology (in 2019) with the same content: "Study on the impact of neem leaf extract on the expression of genes controlling the cell cycle of gastric cancer stem cells" by Nguyen Thi Hai Hong. The fact that the project changed the name of the instructor when participating in ISEF and the fact that in a locality where there are three projects, topics, and theses with the same research content, the public "highlights" more doubts that have been raised. posed many years ago: How many winning projects and topics in the science and technology research competition are actually done by students?
Many years ago, every time the list of first prize winners of this contest was announced, many experts and professionals were "stunned" when they read project names such as: "Research on biochemistry index NT- proBNP in the early diagnosis and prognosis of heart failure in patients with primary hypertension according to the American Heart Association classification", "Synthesis of novel ester derivatives of 3-HYDROXY-1-AZOALKENE and potential evaluation cancer treatment"; "Improving polybia-mpl peptide for application in cancer treatment"…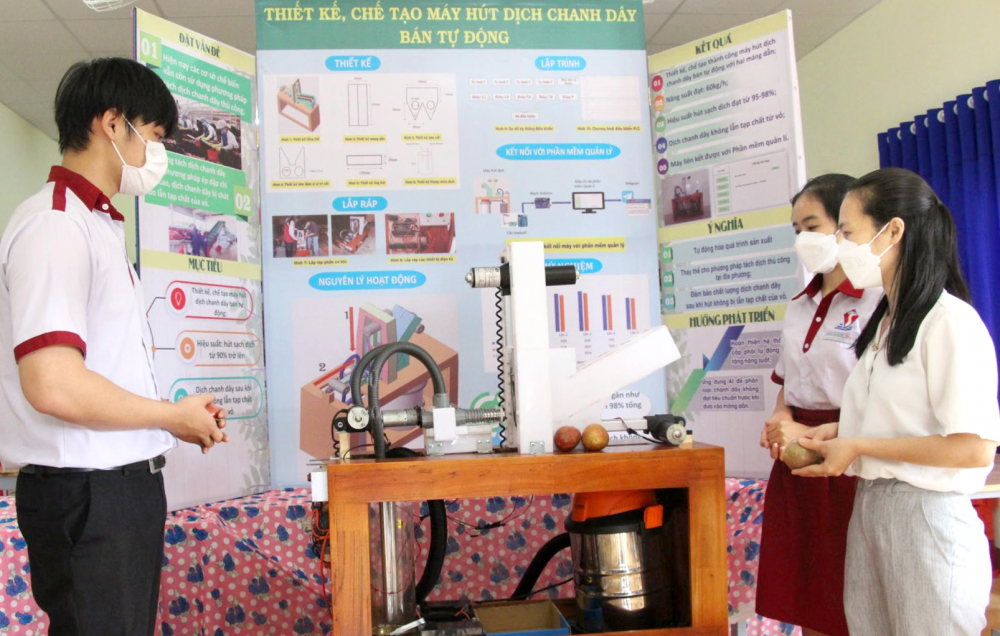 The project "Design and manufacture semi-automatic passion fruit juice extractor" by two students from Dak Lak is one of seven projects of Vietnamese students participating in the 2022 international Science and Technology contest – PHOTO: DONG DU

The project that won the first prize of the National Science and Technology Competition of two students from Thai Nguyen High School for the Gifted is very similar to the research topic of Dr. Nguyen Phu Hung and the master's thesis of Nguyen Thi Hai Hong (screenshot). Thai Nguyen University website image)
Don't let the worm ruin the soup
According to Doctor of Physics Nguyen Thanh Nam (lecturer of the Military Technical Academy), having analyzed and studied heart failure or cancer treatment, researchers must at least understand cardiovascular and oncology like a doctor. doctor. Similarly, Mr. LKQ – who has five years of experience working in chromatography – commented: To operate a high-performance liquid chromatography (HPLC) system fluently, fresh graduates need at least two months. Data processing and methods take even longer. So with awareness, knowledge and time at school, he thinks it's very difficult for high school students to do.
About the project that is causing a lot of noise, QM – a pharmacy student – said that once she was able to participate in a small study at school. In order to participate, M. had to overcome many friends and read a lot of documents. According to M. in order to research drugs, one must study intensively. As a pharmacy student, M. assessed that project was not easy. M. is afraid: "I know high school students are very good today, but it is impossible to understand so well about apothecary". One student (who wished to remain anonymous) shared: "I participated in the competition for two years, but every year, I was defeated by topics of the stature of… doctorate."
To be fair, there are still many projects that are both practical and true to the spirit and age of the children. For example: "Research on preparing herbal preparations to prevent pests of cruciferous vegetables (Brassicaceae) from cinnamyl acetate compounds in cinnamon bark", "Design and manufacture of semi-automatic aspirator of passion fruit juice" , "Safe, efficient and environmentally friendly conical leaf furnace"…
It is Vu Hoang Long – the author of the project that won the first prize at the national level in 2018 – 2019 and the third prize at ISEF 2019 – shared: "I was very surprised at how the ISEF competition was organized – they did not place much emphasis on achievements, Students' projects are close, simple things, not big problems, overwhelming students".
Science and Technology Competition to encourage students to have a passion for research and creativity. But perhaps the achievement disease has caused many individuals, groups and localities to push it further and further away from its original purpose. Adults, also because of the direct admission of students who won the national science and technology prize to university, turn their children's carefree science and technology into a race. Only when the contest no longer has the purpose of reporting achievements, considering emulation or winning tickets directly to the university; then it really belongs to the students, so that they can create, explore and develop their abilities.
According to www.phunuonline.com.vn
You are reading the article
Students take the science and technology exam: The topic is "sublime" like a doctorate

at
Blogtuan.info
– Source:
infonet.vietnamnet.vn
– Read the original article
here