Business
Technology car drivers are about to quit their jobs, goods prices increase when gasoline continuously sets a 'peak'
Many shippers find new jobs when gas prices soar
As noted by PV Tien Phong, the price of gasoline continuously peaked in the past time, causing many people who work as motorbike taxi drivers, shippers in Ho Chi Minh City to shake their heads in disgust, many people have considered quitting their jobs and looking for jobs. other occupations to have a stable source of income.
Waiting for orders at the 23/9 park (District 1, Ho Chi Minh City), Mr. Tran Minh, a Grab driver, said that he has been running a motorbike taxi for more than 5 years, but now has to change to another job because of the price. Gasoline increases causing income to decrease.
"I just drove passengers from Tran Xuan Soan Street (District 7, Ho Chi Minh City) to Bui Thi Xuan (District 1, Ho Chi Minh City) with a distance of more than 5km for both going and returning, after deducting the discount, I only received only about 15,000 VND, that is not including gas money. With my current reduced income, I only have enough money to pay for room and board every month, but I don't have much left over. In the near future, I plan to give up this job completely to switch to online sales with acquaintances, "said Minh.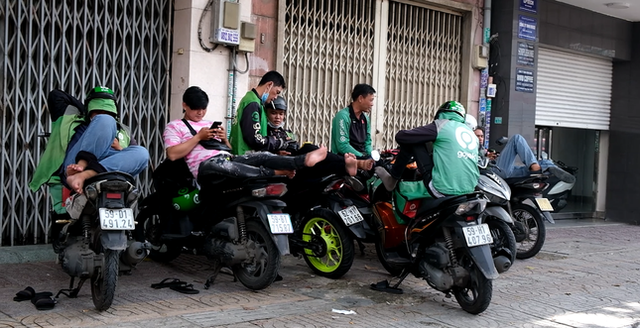 Gasoline prices have increased to a record, many technology car drivers have considered quitting their jobs and looking for other jobs to have a stable income.
In the same situation with Mr. Minh, Mr. Nam (Gojek driver) sadly said: "Normally, I run about 20-25 applications a day, minus all other expenses, the amount I get is about 400,000-450,000 VND, but now Currently, the price of gasoline has exceeded the threshold of 30,000 VND/liter. My average income has halved. In order to have the same income as before, I had to push my working time to 15 hours, instead of 12 hours like before."
According to Mr. Nam, to save money on gas at this time, many technology car drivers now limit running around to make orders or turn off the auto-receiving feature on the app to avoid long trips. .
"The current increase in gasoline prices above 30,000/liter while the discount rate from the company remains unchanged, so my actual income has decreased a lot. In the coming time, if the price of gasoline continues to increase, it will be more difficult for us drivers, I will be forced to switch to another job to have a stable income, "said Mr. Nam.
Commodity prices "dance" according to gas prices
According to a survey by PV Tien Phong at traditional markets such as Nguyen Tri Phuong market (district 10), Ba Chieu market (Binh Thanh district), Binh Thoi market (district 11), … shows that many types of vegetables and foods have increased. mutation.
Small trader Do Nguyet (Nguyen Tri Phuong market, district 10) affirmed that the high price of gasoline led to an increase in freight costs, and the selling price was immediately adjusted. According to Ms. Nguyet, the biggest increase is in Da Lat vegetables such as carrots, potatoes, salads, etc., the farther the items go, the higher the price.
"For example, carrots and potatoes in Da Lat have increased by 5,000 VND/kg and sold for 30,000 VND/kg", Nguyet said.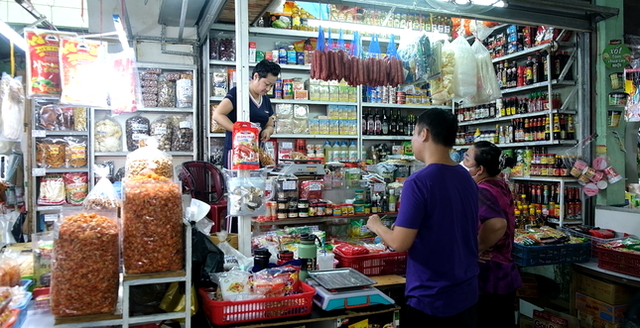 According to many small traders, the price of goods has increased in recent years, making trade in the market also decrease a lot.
Ms. Duc Hue, a small trader at Nguyen Tri Phuong market, also said that the products with the highest price increase in recent years were cooking oil and poultry eggs.
According to Ms. Hue, if before, when the price of gasoline did not have an upward adjustment, a 1-liter bottle of cooking oil was only priced at 45,000 VND, now it is sold for 67,000 VND / liter. Medium-sized chicken eggs are only 28,000 VND/dozen, now she has sold them for 35,000 VND/dozen; duck eggs 38,000 VND/dozen.
"Before, when there was no COVID-19 outbreak, every week I would import more items such as cooking oil, spices, instant noodles, etc. One box of each type, now it takes 2 or 3 weeks to enter. more because the number of visitors reduced by half compared to before. Commodity prices increase, my small traders accept to reduce profits, sometimes there are promotions to retain customers, "said Ms. Hue.
Talking to PV Tien Phong, economic expert Nguyen Hoang Dung – Director of the Institute for Research and Sustainable Development of Ho Chi Minh City said that petrol is an essential commodity and an input for most manufacturing industries. Therefore, when gasoline price increases, it not only directly affects consumers but also negatively affects production and business activities. Mr. Dung said that the tool to control gasoline and oil prices that the state can take into account is to reduce environmental protection tax, excise tax and a number of other taxes and fees at a reasonable level.
You are reading the article
Technology car drivers are about to quit their jobs, goods prices increase when gasoline continuously sets a 'peak'

at
Blogtuan.info
– Source:
cafebiz.vn
– Read the original article
here