Life Style
Tâm sự
The couple is so confused that they want a divorce just because of their different hobbies and jobs
I am 27 years old this year, been married for more than 2 years but I want a divorce. My husband is a gentle man who loves me sincerely and always tries his best to give me a full and happy life. Stepping into my husband's house, at first I found everything was fine, Husband's parent I like me very much, creating conditions for me to have the opportunity to fulfill my duties.
However, after more than half a year of peace, my father-in-law's health declined, so he quit his job and stayed at home. So that's where all the trouble comes from. I'm not lazy daughter-in-lawEvery day, I wake up early to clean the house, cook breakfast for the whole family, and then go to work. In the afternoon, take advantage of running through the market to buy things, cook, wash dishes, clean the kitchen, then take a shower, rest…
No free time, but my father-in-law still noticed a few hairs, a toothpick dropped on the floor, and grumbled, talking about my mother-in-law and hinting at me. My husband often comes home late, so I have to endure unnecessary things from his father-in-law. My mother-in-law also couldn't stand it, using the excuse to take care of her youngest son's young child far away, in fact avoiding my father-in-law.
My father-in-law's health is not good, but every day he is very "innovative", sometimes hanging this, sometimes removing that… Even if the furniture in the house is not pleasing to the eyes, he immediately rearranges it. I wouldn't let my father-in-law do it, so I had to rush in to help. My father-in-law stood pointing and scolding me for not doing what he wanted. I once said, "Dad just let me do it slowly, I can't do it when I get so angry"So my father-in-law got angry and blamed my husband for "doing not know how to teach a wife".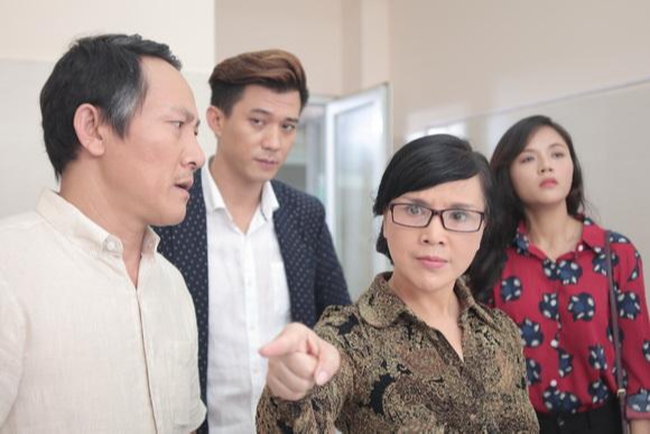 The house has a dining table in the kitchen, but my father-in-law forced me to move out to the courtyard to eat, and when I went to the roof to cool down, I was miserable when carrying food, climbing up and down 5 floors. at the urging of my father-in-law: "Why are you so lazy, you can't eat forever". Every dinner we drink a few cups and then "wine in and out", forcing us to sit and listen to instruction for an hour.
The house has a front yard just enough for a car, but my father-in-law hung all kinds of flower pots, put more ornamental plants. Unfortunately, driving the car broke the potted plant, broke the tree of my father-in-law and was scolded. My father-in-law's orders are no different from orders, to do it immediately and always, without reason, or else he will rush out without asking for help, demanding to leave home.
Every time my father-in-law was angry, my husband, who did not understand the end, blamed me. Even though I explained, he still considered me the cause, with the reason: "Dad liked it right away and always, I know that but I'm still lazy, if my dad left home, my husband and I would have to face our relatives".
I'm very upset, so I have to explain and explain… this makes my husband and I keep arguing all the time, even arguing many times just because of things related to my father-in-law. Every day, I called to urge my mother-in-law to come back, but to no avail.
I feel depressed to the point of depression, been married for more than 2 years, but I have not dared to have children because I am afraid that the unhappy spirit will affect my children. when pregnant. Living in the same house with such a "special" person, what must I do to make my father-in-law understand and sympathize with my role as a bridegroom? Should I force my husband to go out and live alone? If this situation persists, should I get a divorce?
You are reading the article
The couple is so confused that they want a divorce just because of their different hobbies and jobs

at
Blogtuan.info
– Source:
Afamily.vn
– Read the original article
here