In the inn at the foot of Rach Chiec bridge (Thu Duc city, Ho Chi Minh City) there was a woman who spent 3 years living in poverty to find her daughter-in-law because she wanted her grandson to enjoy the rights of a Vietnamese citizen. It was Mrs. Ba – over 60 years old, very agile and vivacious. She is always worried about the "origin" of her 19-year-old grandson.
"There are 3 people in Mrs. Ba's family: her husband and wife and Tu Vinh. She has just moved to this inn for a while. Everyone in the neighborhood loves her family because they respect her way of life as well as taking care of her grandson, even though his parents never say hello," said Sau Dung, a neighbor of Ba's family.
Then, he led us to Ba's motel room. The 20 square meter room is divided into 2 rooms: a bedroom and a living room with all kinds of furniture. Although it is so cramped, it is the residence of 3 adults.
Raise a grandchild with one hand
"In the past, I did enough jobs to make a living and then raised my little guy (ie Vinh – PV) to grow up. 3 years ago, I lived in a house with an aquarium for recreational fishing. It was the happiest time of my life.
The reason I say that is because even though it's hard work, I don't have to soak in the sun, and I don't have to suffer the humiliation like before. At the aquarium, besides cleaning and cooking, I do more cooking for guests, recording the time when guests come in and out… Especially the host treats me very well," said Mrs. Ba.
Ba told about her family's plight.
A few months ago, the owner of the aquarium closed the shop, so he no longer needed to hire someone to stay. Therefore, Mrs. Ba was unemployed and lost her place to live. She had to go out to rent a room to stay and then find a part-time job, earn money to pay for her life as well as medicine for her husband. Currently, she takes care of a babysitter for a family nearby with an income of 50,000 VND/day. And her husband has weak eyesight and has many illnesses, so he enlisted to sell lottery tickets in the hope that people would love them and buy them for support. As for Vinh – her grandson, because he doesn't have a citizen's identity card, he can only apply for a job as a watchmaker with a meager salary.
Referring to Vinh, Mrs. Ba suddenly became sad and shed tears. She said: "Poor him! 19 years old with no ID card or citizen ID with a chip. Wherever he goes to apply for a job, people will refuse him because he has nothing to prove that he is Vinh."
"Why is Vinh over 18 years old without a chip-based citizen identification?", we asked. Mrs. Ba was quick: "His father married his mother and lived there for many years. When he was born, he also made a birth certificate there. He was about 5 years old, his parents divorced. His mother brought him here for me to take care of him and left a birth certificate.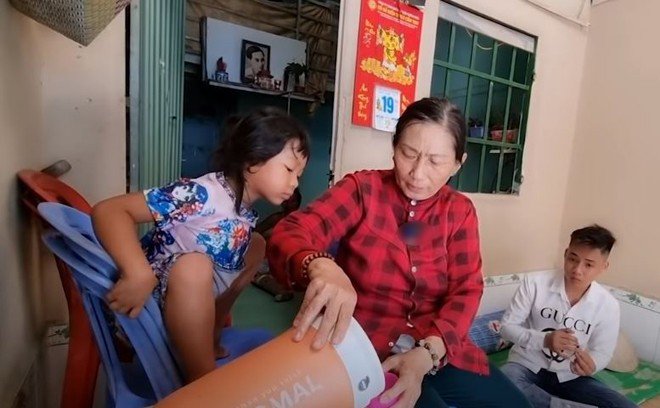 Unemployed, Ms. Ba takes care of neighbors' children with an income of 50,000 VND/day.
I think my daughter-in-law went on a business trip for a few days and then came back but she disappeared. Four years later, he returned to visit the boy and offered to take him away. I disagreed, just told him to visit his son whenever he wanted. As for taking it away, I can't do what you want. So it (- Ba Ba's daughter-in-law) has gone up to now. And his father is also missing, not a word to ask him."
Waiting anxiously for her daughter-in-law to return so her grandson can be a CCCD
That day, Ba did not fully understand the importance of a child growing up to be a citizen. Therefore, she did not pay attention to the matter of transferring Vinh from her mother's family to her grandfather's house. It was not until her grandson reached adulthood that she fell back because she understood that without a hukou, she would not be able to form a citizen's identity.
"At that time, my grandmother and I roamed around at Vinh's maternal address for two days looking for his mother and grandparents. Her mother's house is located in Ward 12 (District 6), but when I got there, the neighbors said they didn't know anyone with that name (?!).
Her mother is in the year of the Tiger (SN 1986), her name on paper is Nguyen Thi Kim Hoang, outside she is called Oanh. It has 2 boys, in which the eldest is named Binh. It's been more than 15 years, so I can only remember this much, the rest don't know anything," said Mrs. Ba.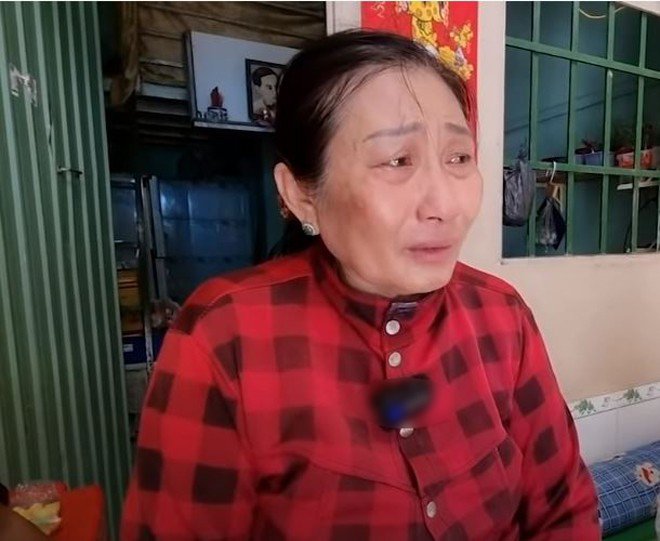 Ba just hopes that before she closes her eyes, she can find her daughter-in-law so that her grandson can be a citizen.
On Vinh's side, he studied until the end of 8th grade and then took a break. Because he does not have a citizenship, he cannot find a job to help his grandparents financially. "When he first dropped out of school, he helped sell rice with his grandmother. Later, I fell ill, and the person was in pain, so I asked to take a break. It also rests.
Then I applied to cut grass for people, then he and his friends found another job. However, after only a few meals for a month and a half, he was dismissed because he did not have identification papers. Now she wants to work as a housemaid, the work is very hard," cried the woman who was six weeks old.
Speaking of wishes, Mrs. Grandma said that now that she is old, she can return to her ancestors at any time. Therefore, she earnestly wished to find a daughter-in-law so that her grandson could have a household registration and enjoy the rights of a citizen.
You are reading the article
The mother-in-law stayed for 3 years to find her missing daughter-in-law because she wanted her 19-year-old grandson to be granted CCCD

at
Blogtuan.info
– Source:
Eva.vn
– Read the original article
here