Khỏe - Đẹp
The truth about weight loss foods, commitment to lose weight in a month
Weight loss is the need of millions of people, especially women, that's why weight loss functional food products such as "mushrooms that grow after the rain" are offered in the market.
Spreading weight loss products
Just search on Google or on Facebook, in a split second you can get millions of results for weight loss, including products that support weight loss.
With word of mouth promising, quick results, for example, "Losing 5 kg in a week", using catchy words like "guaranteed" or "groundbreaking", the products from foreign countries, weight loss foods from the US, from Japan…
Even products that are likened to the "ancestor" of weight loss are also advertised to consumers.
According to Dr. Pham Nguyen Quy – General Internal Medicine Doctor Kyoto Miniren Central Hospital, Japan, for those with a strong desire to lose weight, taking more supplements or functional foods seems like a trendy solution. and wondrous.
Supplements and weight loss foods are advertised to help drinkers curb appetite, fill them up quickly, speed up metabolism, slow down fat production, and prevent the body from absorbing fat from foods. food.
Although most of these claims are not supported/proven by serious scientific research, there are still many good ways for the manufacturers and traders of these products to build sophisticated advertising networks, makes heavenly promises about the effectiveness of a product that you still "believe in".
People who lack medical knowledge can easily believe it because those supplements and functional foods are often packaged in pill, capsule or powder form, saying "taken after eating"… misleading people. thought of as "medicine".
In fact, the "drugs" that promise to help lose weight all contain potential health risks that you can avoid by increasing your knowledge.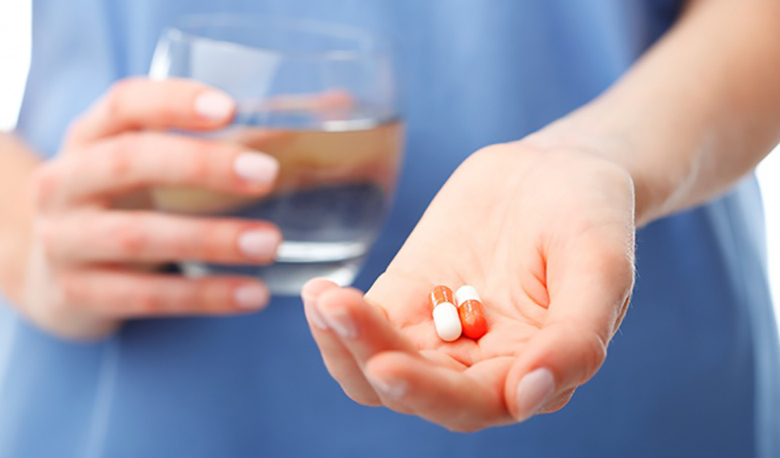 Illustration.
Why are "weight loss pills" dangerous?
Many products such as supplements and supplements are harmless, and some can even be effective at burning fat, boosting metabolism, or creating a feeling of fullness, possibly because of too much medication. . However, it should be noted that there are some common ingredients in weight loss products that have been banned by the FDA (USA) because of harmful side effects such as increased heart rate, increased blood pressure, diarrhea, insomnia, kidney failure, liver damage or agitation.
Those substances are:
Fen-Phen
Fenfluramine, one of two active ingredients in weight loss pills under the brand name Fen-Phen, was recalled in the late 1990s after it was found to be linked to cases of cardiopulmonary injury.
Ephedra
Once widely marketed as a dietary ingredient, the Chinese herb ephedra was banned in 2004 because of evidence that their use could increase the risk of heart attack or stroke. stroke.
Despite suggestions that ephedra could be used in low doses, a 2006 federal appeals court restored the FDA's original ban, highlighting the dangers of ephedra when used as a drug. supplement at any dose.
Hydroxycut
Products containing hydroxycut were banned and recalled in 2009 because of reports of serious adverse reactions, including hepatitis and jaundice. One client died, and another required a liver transplant.
Sibutramine
Sibutramine is a prescription drug sold as Meridia, which was withdrawn from the market in 2010 after a clinical study indicated that the product could increase the risk of heart attack or stroke. According to the US National Institutes of Health, sibutramine was originally seen as a solution for long-term appetite reduction and weight loss.
The manufacturer voluntarily ceased production and withdrew this product from the market. However, there are still a number of supplements/CBS that contain this banned substance.
Most recently, the FDA found that some products marketed as CBS contain fluoxetine, an active ingredient in the treatment of depression. Another product contains triamterene, a powerful diuretic that can have serious side effects.
In addition, when trying to lose weight, you can accidentally abuse supplements because: taking more than the recommended dose, the products are not recommended for people with normal weight or underweight, results Combination of many weight loss stimulants. Combine weight loss pills with laxatives or diuretics.
Overdose can increase the burden on the liver, kidneys and cause organ failure. Overdosing on stimulant products can raise blood pressure to dangerous levels, increasing your risk of having a heart attack or stroke. Taking supplements or supplements that block fat absorption along with laxatives or diuretics can cause diarrhea, dehydration, and electrolyte imbalances.
In Japan, doctors are always cautious with oriental medicines because in some traditional medicines there are active ingredients that cause diarrhea or diuretics.
Also, Dr. Quy said one of the other risks of taking these products over-the-counter is that you can't be sure about the ingredients in the product. Many pharmacists in Japan say that there is no guarantee that each of these "drug-like" tablets/capsules has the exact ingredients and dosages listed on the label.
That's because they are not rigorously tested by government regulatory agencies such as FDA (USA) or PMDA (Japan) and therefore do not guarantee quality and safety. Many manufacturers have been accused of making false claims about their products, or for adding unsafe or even harmful active ingredients themselves.
Since manufacturers may not list "actually prohibited" ingredients on the label, consumers will have no way of knowing they are taking harmful substances. The US FDA and Japan's PMDA have announced an update to the list of harmful weight loss products to warn consumers to stay away, which is thought to be very useful for those who are looking for a "panacea".
In addition, experts also talk about the following signs that help to be cautious about "cheating" products:
– Promises a quick effect, for example: "Losing 5 kg in a week"
Use cool words like "guaranteed" or "breakthrough"
– Products are marketed in foreign languages
– Products are for sale online
– The product is advertised as "with weight loss ingredients" like medicine
For maximum safety, consult the medical professionals responsible for monitoring your health.
The way to lose weight safely is to increase exercise and have a suitable diet. If you depend on functional foods, supplements, you are too lazy to exercise and eat liberally will make all weight loss plans fail.
Khanh Chi
You are reading the article
The truth about weight loss foods, commitment to lose weight in a month

at
Blogtuan.info
– Source:
infonet.vietnamnet.vn
– Read the original article
here