In recent days, on the online market, there is an extremely strange mushroom for sale, with an eye-catching, umbrella-shaped red color. The seller introduced this as a mushroom, a product likened to "red gold" found only in the mountains of Lang Son, Bac Giang, and Bac Kan.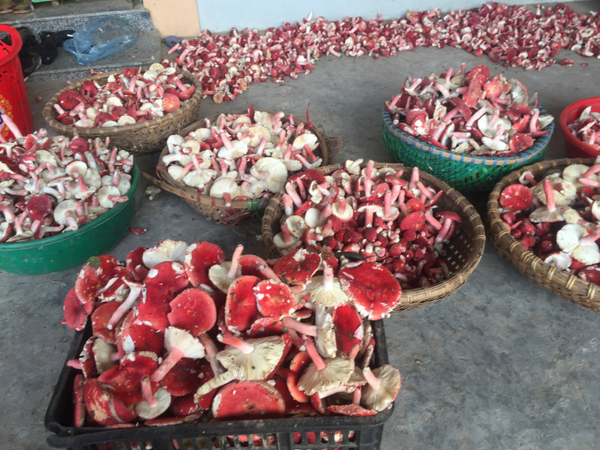 Mushrooms are likened to "red gold", a product that nature bestows
Mr. Vinh Hoan (a resident of Lang Son) said that this fungus often grows under the tree canopy or chestnut tree, but not all trees have mushrooms. Sometimes the same forest, but where there are mushrooms, where are not, so the mushrooms are very rare, the output is small, considered the gold of the forest that nature bestows.
"Normally, shiitake mushrooms grow twice a year, but each time is only about 1 week. Their life cycle only lasts 1-2 days and then rots very quickly. We usually go to pick mushrooms from 2-3 am, carry Flashlights go into the forest to pick mushrooms when they have just grown, umbrella-shaped, not wide open, this is the time when the mushrooms are the most delicious and sold at the best price," Hoan shared.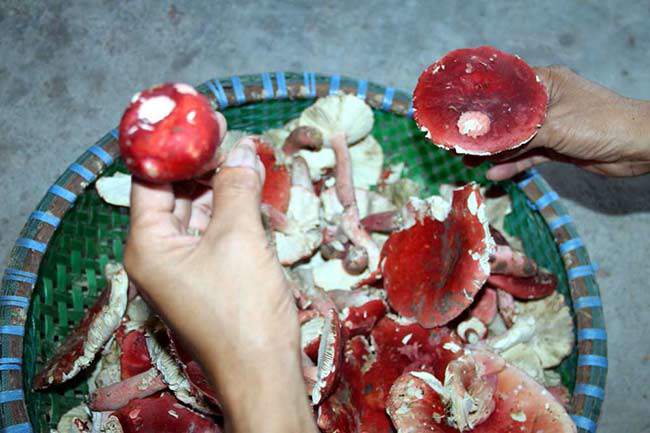 This strange mushroom is sold in the market at a very expensive price
Mr. Hoan added: "For houses with a forest or chestnut forest, each mushroom season has to set up a tent in the middle of the forest to look after the mushrooms, to avoid being stolen. When picking, one must also hold the mushroom body, lift it slightly or rotate it slightly to avoid being stolen. avoid breaking, crushing and losing the chalk on the mushroom cap to sell at a high price.According to the experience of local people, when picking mushrooms, they should not sit but have to bend over, if they sit down, the mushrooms will not grow anymore. the mushroom is growing, if someone can see or touch it, it will slow down."
As a trader buying mushrooms from people around Van Quan district (Lang Son), Ms. Kim Anh shared, the price of fresh mushrooms was purchased by her at the place with an average price of about 200,000 VND/kg. After purchasing, in addition to selling fresh mushrooms, she also dried them and sold them for about 1.5 million VND/kg. On average, every 5-6kg of fresh mushrooms, dried in 6-7 hours will get 1kg of dried mushrooms.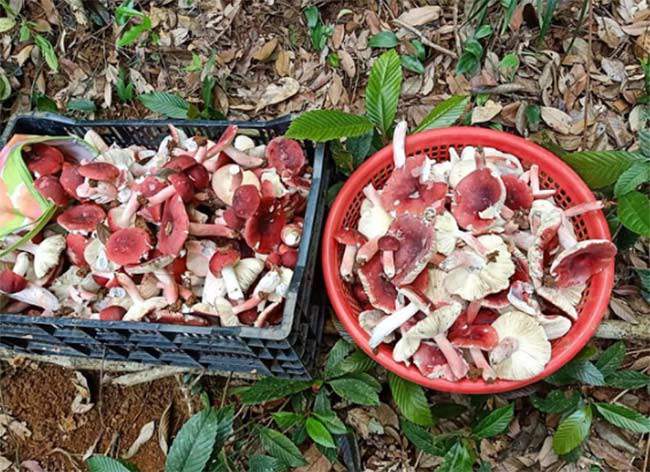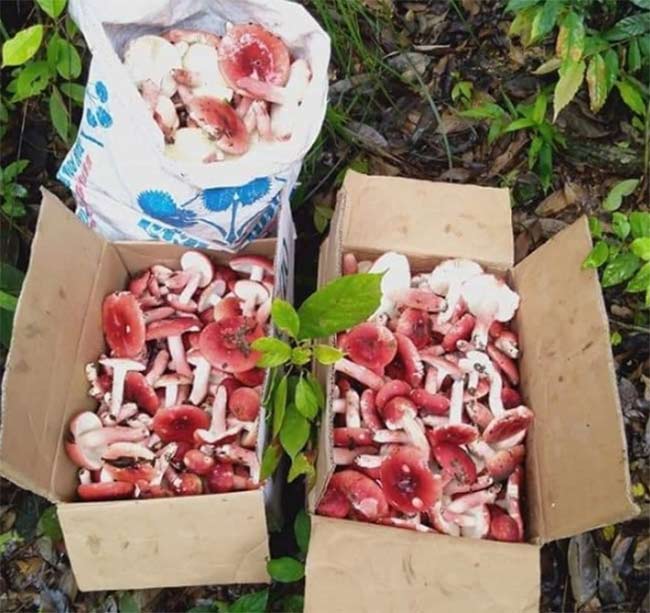 Mushrooms only grow twice a year, once a week
"In the rainy season, to make 1kg of dried mushrooms, you need 7kg of fresh mushrooms, and in the summer you need 6kg of fresh mushrooms. Mushrooms will be brought back to be washed, removed soil, then dried and dried within 1 day. There are times when mushrooms dried for sale for 2 million VND/kg but there are no goods for sale, so many traders buy it.Looking at the surface, many people think this is a poisonous mushroom, but in fact this is a nutritious, a healthy food. The sweet and cool medicinal flavor is sought after by many people," said Kim Anh.
When it rains and the mushroom season is right, if you work hard and pick the right technique, every day people can earn millions from mushrooms. On the market, fresh shiitake mushrooms are sold for up to 350,000 VND/kg, which can be processed into dozens of different dishes such as cooked with buffalo meat, stewed with bones, fried with garlic… After cleaning, put the mushrooms in the pan. Add a little bit of oil, seasoning and seasoning just enough to feel all the flavor of the mushrooms, the sweet and crunchy taste, the lingering lingering feeling that you won't forget. Can be stir-fried with beef, the taste of beef blends with the sweetness and crispiness of mushrooms, making people who eat once will want to eat it again and again.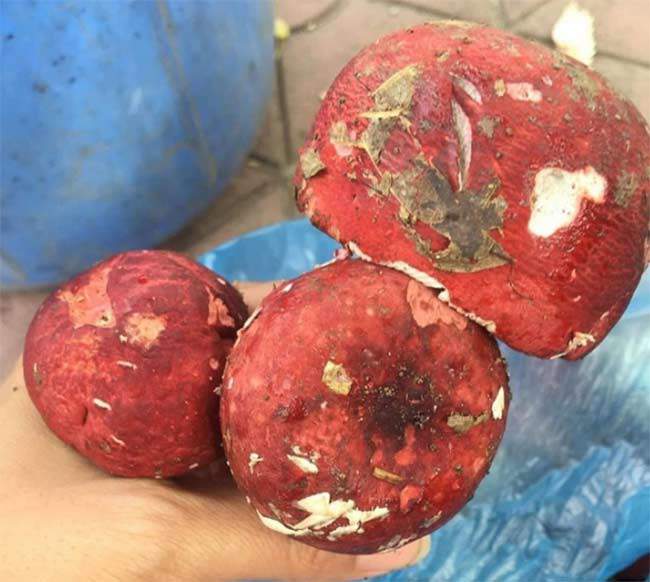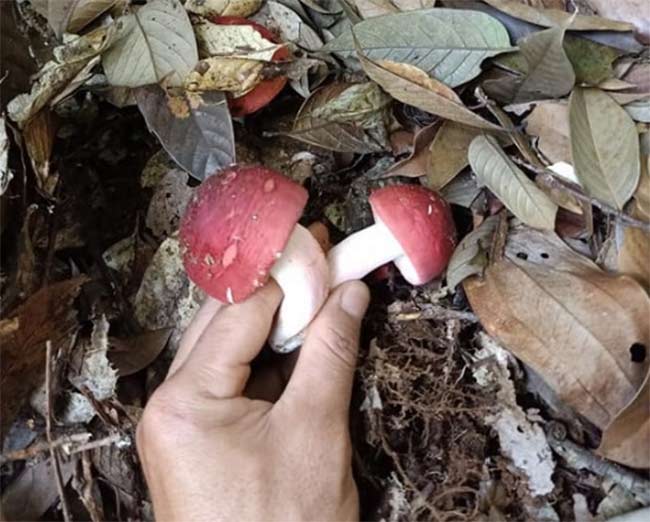 Within a few days the mushrooms rot. People often have to set up tents in the middle of the forest to look after mushrooms and avoid being stolen
Ms. Binh Nguyen (in Luc Nam district, Bac Giang province) said that a few years ago, mushrooms were little known, so the price was still cheap, people went to pick mushrooms to eat, but now the price of mushrooms is very expensive. Most of the time, they try to keep their mouth shut and not dare to eat to sell to traders and restaurants and eateries at high prices. "Every mushroom crop, my family and I invite each other to "hunt" to sell, many provincial customers order, we pack them in ice boxes and then send them to passenger cars. On average, each crop earns 40 million VND", Ms. Binh revealed.
Regarding oriental medicine, according to folk remedies and long-term experience of local people, shiitake mushrooms increase the ability to conceive for women living in cold climates, making it difficult to give birth.
You are reading the article
Wild red mushroom is a rare specialty, extremely expensive, at night people rush to pick it up and sell it at 1.5 million/kg.

at
Blogtuan.info
– Source:
Eva.vn
– Read the original article
here