Business
"Do-Wha-Here?" – Big question but easy to answer when there is e-commerce
The story of balancing work and family of a busy mother-to-be, the story of entering the life of a young student who is still struggling, to the story of a failed start-up due to the epidemic, or the story of a failed business. The business failures of a young couple all meet at one thing in common: they all ask the question, "What do we do next?"
"Do-Zi-Here" – The common question of anyone starting an online business
Ms. Trinh Kieu Tien was formerly a department head of a large bank, her busy job made her work from morning until late at night. Since being pregnant and having a baby, she has been working very hard while taking care of the children and working at the same time.
Faced with the question of what to do to earn an income and have time to take care of her family, Tien decided to try her hand at doing business on e-commerce. However, at first, Ms. Tien still faced many difficulties due to lack of experience in doing business on digital platforms.
"At first, I couldn't compete with other stalls on price, nor did I know how to run ads to attract more traffic for the store. At that time, I was very confused and sad." – Tien recounted.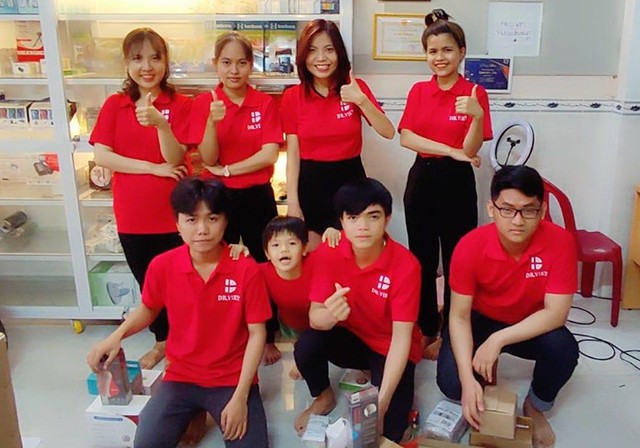 Ms. Kieu Tien (3rd top row from left to right) took a photo with an employee in the small business she manages
Not only Tien, Trong Tin – a bachelor born in 1998, is also facing the big question of life "What to do?". At that time, Tin had 2 options: to return to his hometown to work comfortably or to open a business and have his own business?
Bachelor of Science in Information Technology. In the third year of university, Tin also tried to work in the right industry, but found it not suitable for his interests and passions.
Although his family still urges and wants Tin to choose a job in the right field of study, Tin is determined to prove he can be successful with the path he chooses, which is a business on a digital platform. At first, Tin faced many difficulties, but you still try to follow your passion to achieve desirable results.
Duong Trong Tin from his student days and faced an important choice for his career
In another situation, the path of doing business on e-commerce is not easy for Mr. Pham Van Chinh and his wife. In the initial period of opening the booth, in order to save costs, Chinh alone took care of all the work from finding products, taking photos of products, selling, closing orders and delivering goods. In particular, there are days when Chinh has to drive more than 50 kilometers to handle all the workload.
"Starting a business with little capital, so I determined it would be a lot harder. There were times when there was a lot of difficulty, even though my husband and I didn't want to, we had to give up," – Mr. Chinh confided.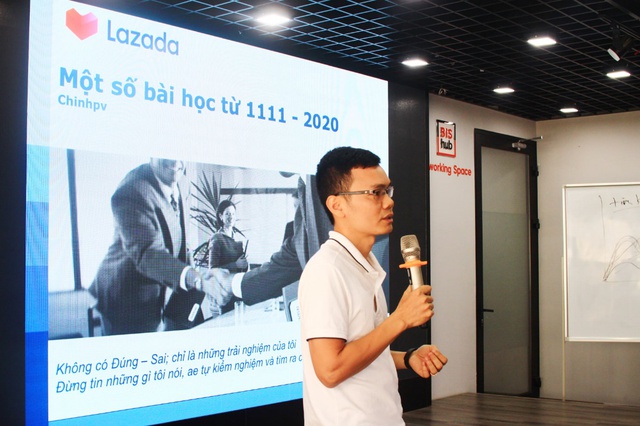 Pham Van Chinh shares about his troubled start-up time
Similarly, "What to do?" This is also the question that Pham Minh Hoang asked himself when he was faced with a big event – the start-up project he had pursued for 3 years had to stop because of Covid-19. At the age of 30, Mr. Hoang, like many others, is under a lot of pressure to have a solid career.
Refusing to sit still, Mr. Hoang was determined to enter a new field – e-commerce. But starting from zero at a time when many of his peers had settled, he was forced to run many times faster than others.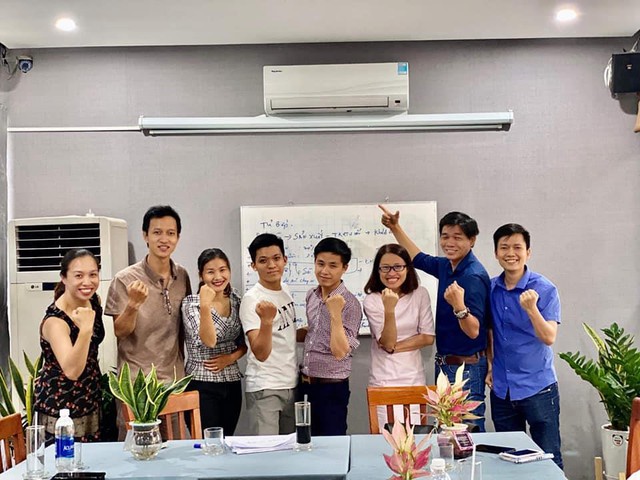 Pham Minh Hoang (first person from right to left) is constantly trying to race against time to build a career for himself.
It can be seen that four people with four different backgrounds have the same question "What to do?" every time trouble comes. And fortunately, they have found the answer for themselves and have a reliable "companion". So who is that "companion"?
Having Lazada, "Do-Zi-Here" is no longer a difficult question!
In March 2021, "Doing-Zi-Here" is no longer a challenge for Ms. Tien, when she joins LazMaster season 3 and is guided with enthusiasm: from setting prices, to running ads, to participating. Promotions. Since then, Ms. Tien started to have the first orders.
Currently, the stall Dr. Her Viet has stable sales of hundreds of millions per month and Ms. Tien has become one of the active members of Lazada Seller Community.
Not only did Ms. Tien achieve success, Trong Tin's booth on Lazada also achieved sales of up to VND 500 million/month after 1 year of operation and Tin is now an Expert of the Lazada Seller Community.
"In the beginning, I couldn't control the costs, the financial flow didn't come in yet, so there was a time when I even had to tell the staff that it was okay, I would have to disband (laughs). But I thought I was still young, so let's go. Thanks to the support and cost control from the Lazada community, I knew where the problem was and put the stall's development on the right track," Tin said.
As for Mr. Chinh, his business journey is "Always-Easy" since accompanying Lazada. He always receives dedicated support and advice from PSCs (support department): "Lazada not only gives trust, but also gives support tools, and sales training programs. Academy. and the NBH community have provided both knowledge and skills, so that we, the staff, and the business continue to grow."
"The harder it is, the more products I can sell and the more motivation the couple will have to work hard for the goals ahead," said Mr. Chinh excitedly.
After 4 years of doing business on Lazada e-commerce platform, tinkering from the first steps, now Mr. Chinh and his wife have owned many large-scale stores, not only achieving the family's goals but also building gifts. Parents have a nice house in the countryside.
As for Mr. Hoang, after starting to work, he found that everything was not as difficult as imagined. After a long time of learning, many tips from Lazada Academy, Mr. Hoang just needs to "Low-Zero-Use". He practiced all the things he learned, such as handling difficult situations in the sales process, how to take care of customers on the best platform, etc.
Currently, the growth rate of his health and beauty store, Fixderma, is 20-30% per month. He himself has become one of the expert sellers actively sharing business experience and know-how in the Lazada NBH community and is the Vice President of Lazada HCMC Seller Club.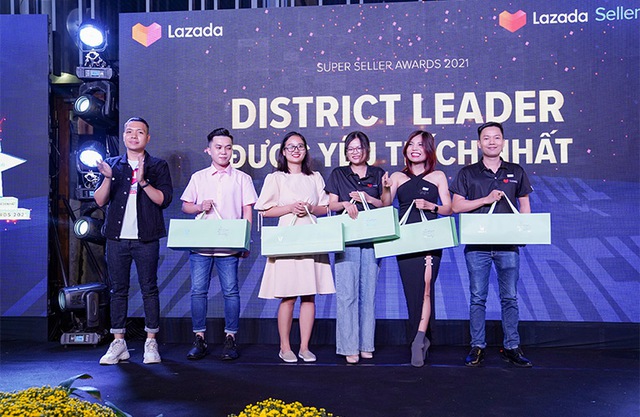 From "wet feet and dry" sellers in the e-commerce world, Mr. Minh Hoang, Ms. Kieu Tien, Mr. Chinh and Mr. Trong Tin have become community leaders and help many people achieve success.
In addition, doing business on Lazada also made Mr. Hoang achieve another success besides income: "I have received many things from Lazada, but the most is the trust, of the seller community. They trust me to hear me share my experience, trust me to help. But I have already received a lot of material value, so I will stop telling it." – Mr. Hoang laughed.
Currently, Lazada Vietnam is holding a contest "Make Zi Go with Lazada" (LazItUp) with a total prize value of up to VND 200 million, organized exclusively for new sellers who register their booth to have a great start. Perfect start with Lazada. The program takes place from April 6 to May 30, 2022, on the occasion of the 10th anniversary of Lazada's journey to support Vietnamese sellers.
In addition, to accompany sellers, brands, partners as well as meet the shopping needs of consumers, Lazada continues to maintain promotions with many major shopping festivals throughout the year. Specifically in the near future, the 6.6 Shopping Festival "Next Summer, Sale to Come" takes place from June 6 to June 10 with millions of products discounted up to 50%, a series of 6 cumulative discount vouchers with the nationwide 0VND freeship program so that users can enjoy shopping next summer, and at the same time, it is an opportunity for sellers to increase sales and optimize profits.
In the future, Lazada promises to contribute more to the development of the e-commerce industry in Vietnam in particular, as well as further promote Vietnam's digital economy in general.
Find out more about the contest at this.
https://cafebiz.vn/lam-zi-day-cau-hoi-lon-nhung-tra-loi-de-khi-co-thuong-mai-dien-tu-20220527210424975.chn
You are reading the article
"Do-Wha-Here?" – Big question but easy to answer when there is e-commerce

at
Blogtuan.info
– Source:
cafebiz.vn
– Read the original article
here