Giải trí
Doan Quoc Dam hugs a pretty girl "suspected to be Huyen Lizzie": The truth is surprising
Behind-the-scenes photos of "Love the sunny day" brought many surprises to the audience.
"Love the sunny day" part 2 with dramatic situations about the marriage of Duc – Khanh, love story of Trang – Duy… received much attention from the audience. With increasingly attractive details, the behind-the-scenes of the film also bring many surprises to viewers.
Doan Quoc Dam hugs a pretty girl tightly
In recent episodes, loving her sister Khanh (Lan Phuong) was harmed by her evil sister-in-law, Trang (Huyen Lizzie) sought to exonerate her. With the plan to find evidence from the memory card on the car of Quyet (Thuong's lover), the quartet Duy (Dinh Tu), Phong (Doan Quoc Dam), Van Van (Ngoc Huyen) and Trang joined hands to act. . Because she met Quyet, Trang had to disguise herself as another person to deceive him, but the result failed, fortunately she was able to escape. Next, Duy called Van Van (Ngoc Huyen) to come and implement a new plan. Van asked Phong to pretend to be a lover arguing in the parking lot with the purpose of attracting attention and approaching Quyet. The performance was successful when Van was given a hitchhiking by Quyet. Despite some problems, Van Van finally got the important memory card.
Doan Quoc Dam hugs a character quite similar to Huyen Lizzie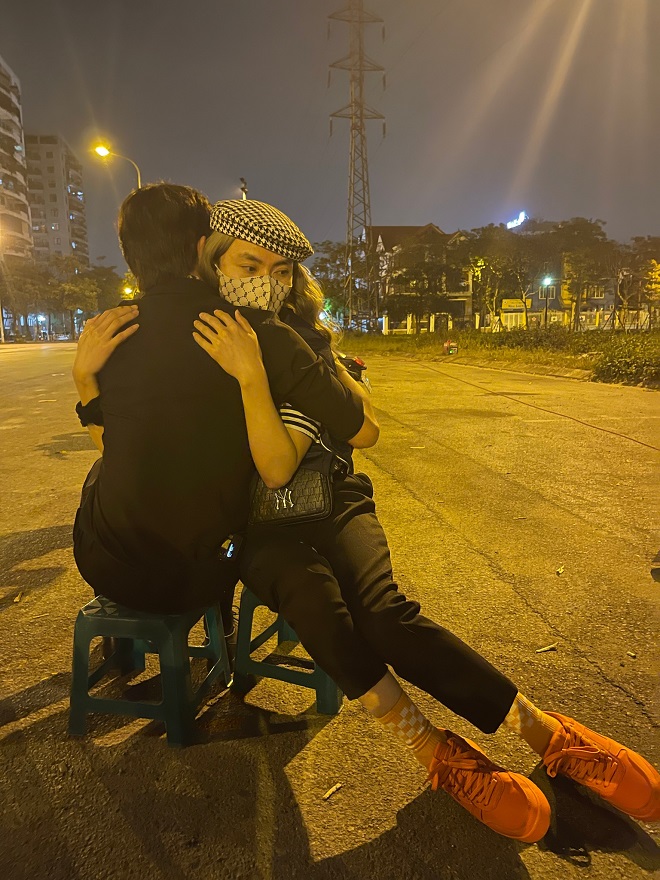 Behind the scenes shows that it is a male employee of the crew
After the episode aired, on his personal Facebook, Doan Quoc Dam shared a behind-the-scenes photo of a long-haired character with a lopsided hat, making many people guess that it was Huyen Lizzie. But when his face was revealed, the audience realized that the person Doan Quoc Dam hugged was a male member of the crew. Huyen Lizzie also had to laugh at the humor of his senior: "Die". Meanwhile, actors Dinh Tu, Quynh Kool, Quang Trong… teased Doan Quoc Dam: "The girlfriend is so pretty", "Fits you", "So pretty", "No wonder why I saw that Trang's back yesterday was a bit big"…
Ngoc Huyen and Doan Quoc Dam dance sexy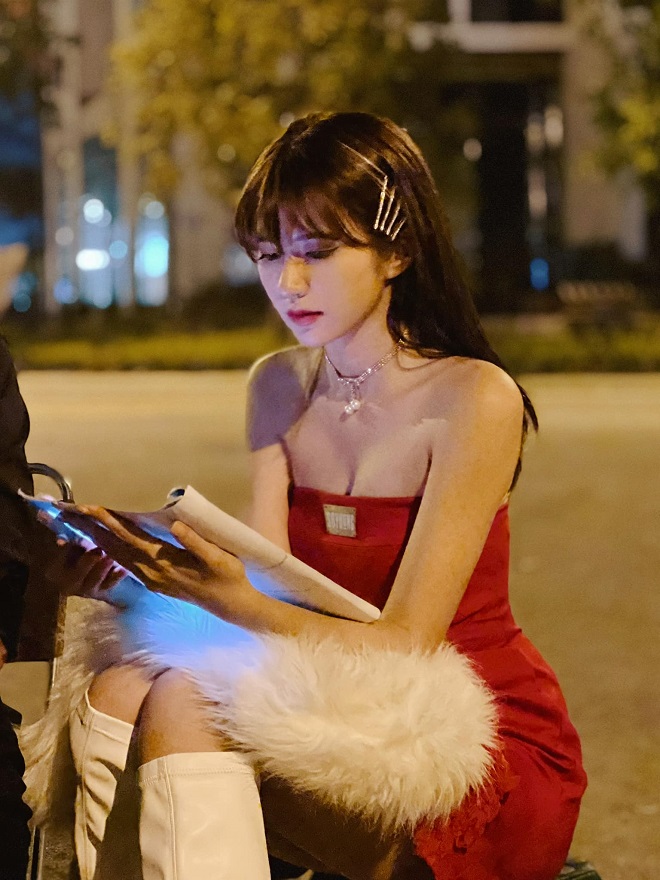 Ngoc Huyen "dresses up" sexy
Co-starring with Doan Quoc Dam in "Coming on a sunny day", Ngoc Huyen also shared a very funny behind-the-scenes story. Specifically, when transforming into a loving couple arguing, Ngoc Huyen wears a red cup dress showing off her sexy body. If in normal scenes, wearing T-shirts and jeans, she easily performs the scene, then when wearing attractive costumes, the beauty born in 1999 constantly stumbles on her dialogue.
Video: Ngoc Huyen and Doan Quoc Dam dance sexy backstage
Not to mention on her personal TikTok page, Ngoc Huyen shared the behind-the-scenes footage of the scene with "boss" Phong in the parking lot, she happily sang and sang, bringing a happy and comfortable atmosphere. In harmony with that atmosphere, Doan Quoc Dam did not hesitate to dance sexy with Ngoc Huyen, surprising everyone: "Boss Phong is so sexy", "This couple is so cute", "Boss Phong dances so hot", "This baby is so pretty, has a lot of energy, smiles brightly, makes others feel extremely comfortable looking at her. "…
Trinh Xuan Hao "can't breathe" because of the hot scene
The scene that made the audience most frustrated in "Love the sunny day" part 2 must mention the scene where Khanh was forced by Manh (Trinh Xuan Hao) in the hotel. If in the movie, this scene only lasted a few minutes, behind the scenes, Lan Phuong and Trinh Xuan Hao had to film very hard.
Actor Trinh Xuan Hao revealed behind the scenes of hot scenes in the hotel
On his personal Facebook page, the actor shared the behind-the-scenes clip with the caption: "The scene was so difficult that the two brothers took all morning to make the most realistic."
The actor praised his co-star Lan Phuong
He added: "It must be said that this is an extremely difficult scene for both actors and crew because it requires honesty but also ensures the culture of the film on national television. We filmed the whole morning and just couldn't breathe.". The male star also praised his co-star Lan Phuong: "Lan Phuong is very professional, her acting is deep and very real. Before performing, we discussed and discussed so that the scene would take place as real and as real as possible."
You are reading the article
Doan Quoc Dam hugs a pretty girl "suspected to be Huyen Lizzie": The truth is surprising

at
Blogtuan.info
– Source:
24h.com.vn
– Read the original article
here