Công nghệ
Elon Musk and Jeff Bezos lost hundreds of billions of dollars in just 5 months
In September 2021, when Tesla CEO Elon Musk surpassed Amazon founder Jeff Bezos to become the richest person in the world, he told Forbes that he had sent a giant 2-digit statue with a car. Silver medal for Jeff Bezos. Nearly eight months later, however, neither of them are in the mood to joke around.
The complicated movements of the US stock market this year have taken away a sizable portion of the value of public companies. With inflation and interest rates rising throughout the first half of 2022, the stock market is facing its worst run in history.
The S&P 500 (an index used to measure the market capitalization of the 500 largest publicly traded companies in the US) just posted a seventh consecutive weekly loss, the longest losing streak since March 2001. Nasdaq also just ended its worst month (April) since October 2008.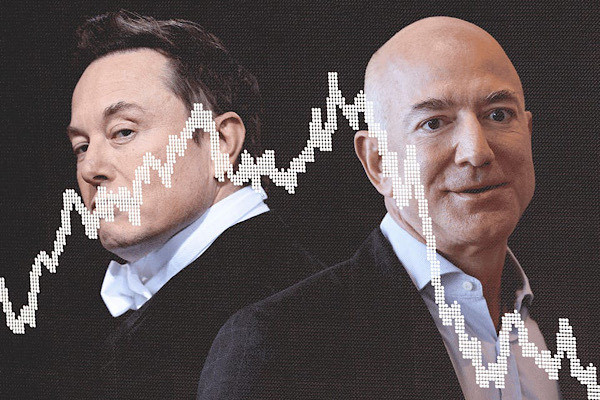 Jeff Bezos lost more than 60 billion USD
According to Forbes estimates, as of May 20, 2022, billionaire Jeff Bezos has a net worth of $133.3 billion, down more than $59.3 billion compared to December 31, 2021. Shares of Amazon fell 35% in that time period, surpassing Nasdaq's 27% decline in technology companies during the same period.
Wedbush analyst Dan Ives said: "Amazon is a company that is more about online services. The pandemic is gradually being pushed back, current consumers tend to shop according to traditional models. In this risky market, Amazon, along with other tech stocks, has come under great pressure."
Jeff Bezos is currently ranked as the third richest person in the world after Bernard Arnault (CEO of LVMH, a giant empire that owns Louis Vuitton, Christian Dior, Givenchy …). Jeff took to Twitter to criticize the Biden administration for inflationing Amazon spending.
Elon Musk lost the most money
Elon Musk, the richest man on the planet also faces difficulties beyond his control. For example, Tesla's production problems in China due to the impact of Covid-19.
On November 4, 2021, Elon Musk's fortune reached a peak of $ 320 billion, now this figure is only $ 207.3 billion, down $ 64.3 billion compared to the end of December 2021, this is the biggest loss of wealth compared to the billionaires in the top 50.
The reason Elon Musk's fortune "evaporated" largely comes from the sharp drop in Tesla shares. Shares of the world's most valuable electric car company have dropped 35% since April 13, the day before Musk announces $44 billion acquisition of Twitter. This is more than double the Nasdaq's 17% loss in the same period.
Tesla investors expressed concern about Musk selling Tesla stock to pay for the Twitter deal and worried that his distraction would hurt the company.
On May 13, Elon Musk announced that the deal to buy Twitter would be shelved until he got an exact number on the number of fake accounts on the platform, leading many to speculate that he was looking for a new account. an exit as tech stocks have fallen since. Tesla investors expressed joy at this news. However, things quickly came to an end when Twitter's board responded in a statement with New York Times on May 17 that will close the transaction and enforce the merger agreement between the company and Musk.
Tesla investors are still wondering how Musk will make enough money to pay for the acquisition. The billionaire pledged not to sell any more Tesla shares, but anything could change.
According to Columbia University law professor John Coffee, Musk could "be forced to sell a lot of Tesla stock, which is his only real asset. That would send Tesla stock plummeting.
Musk could choose to sell stock in the rocket company SpaceX he owns instead of Tesla. However, Forbes estimates that Musk holds a 47 percent stake in SpaceX worth $42.7 billion. Although this is a privately held company, it is much less liquid than Tesla stock.
The road ahead for Elon Musk and Jeff Bezos is sure to be challenging, especially amid rising inflation and a sell-off in tech stocks.
The cult figures who suffered in this decline also included Mark Zuckerberg, CEO of Meta (Facebook's parent company) who lost $54.1 billion. Google co-founder Larry Page lost $29 billion. Microsoft co-founder Bill Gates has lost $21.7 billion since the beginning of 2022.
The total wealth of global billionaires is now up to 12.7 trillion USD, equivalent to 13.9% of the world's GDP, 3 times higher than in 2000. During the pandemic, the average is every 30 hours there is a new billionaire, but as of early 2022 that is no longer the case. The S&P 500 has plummeted nearly 18% so far, while the crypto market has fallen into the doldrums leading to record losses for the world's richest.
Huong Dung (Synthetic)
You are reading the article
Elon Musk and Jeff Bezos lost hundreds of billions of dollars in just 5 months

at
Blogtuan.info
– Source:
vietnamnet.vn
– Read the original article
here