Kinh doanh
World
"Hunting" leaves – an expensive hobby like a bag of Hermes: A few hundred million is not enough, putting effort into it can still lose everything
Bonsai is no longer a strange hobby. In the recent 1-2 years, there is a new trend of playing trees that is being pursued by many people. It's play ornamental leaves in the home.
Ornamental plants are known to be leafy plants with beautiful colors and strange shapes compared to ordinary ornamental plants. However, if you are not a tree expert, you will probably be like me: Indistinguishable and shocked to know the value to own them!
The proof is that when I happened to know that the "normal" potted plant costs nearly 60 million, I "stumbled".
Spending a few tens – hundreds of millions or even billions of dollars to plant trees for entertainment: Luxury pleasures Was it a waste of money or was it worth every penny? Let's find out why people accept to spend a lot of money on these pots!
A few million/leaf, the shipping fee by plane is nearly 2 gold trees
Browsing through groups specializing in ornamental plants, it is easy to see a professional market with many beautiful and beautiful plants with very "Western" names. Most of these trees are grown in North America or beyond, in order to own a tree, people have to accept to spend money to bring it back to Vietnam.
In recent years, propagation and planting in Vietnam has also become easier, causing the price of ornamental leaves to decrease slightly, but still quite high compared to the general level. If there are posts selling seedlings for a few hundred thousand, the market also exists mutant and rare plants with prices in millions, tens of millions per leaf such as Adansonii Giant Albo Variegated, Anthurium Crystallinum Minahasa , Philodendron Cannifolium Variegated…
Despite such an expensive price, ornamental plants are still popular and more and more people are pursuing this hobby.
According to Le Thanh (Hanoi) – the owner of a shop specializing in providing ornamental leaves, shared: "When people stay at home a lot, they have time to look back at their own living space. And since then, the green space with indoor plants has grown more and more. There is supply and demand – ornamental plants also develop rapidly, creating a new money-making channel for many people.
In addition to trading ornamental leaves, Le Thanh is also in charge of decoration, so the main customers are cafes and restaurants. Usually, in order to market his business, Le Thanh actively participates in groups and creates posts to share about the knowledge of taking care of ornamental plants. Thanks to that, even during the economic slowdown, Le Thanh still has a stable number of visitors with high quantity and high prices of ornamental plants.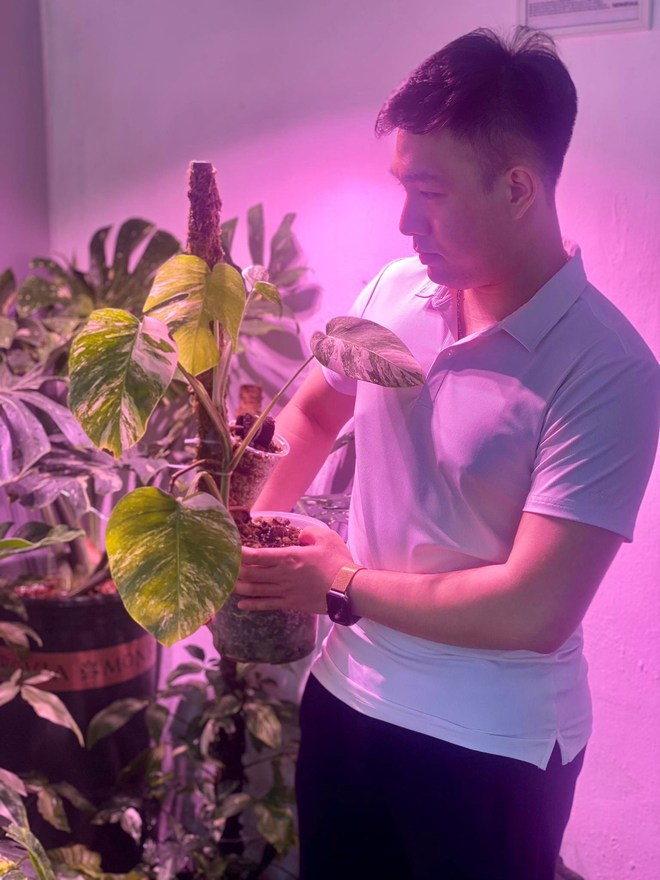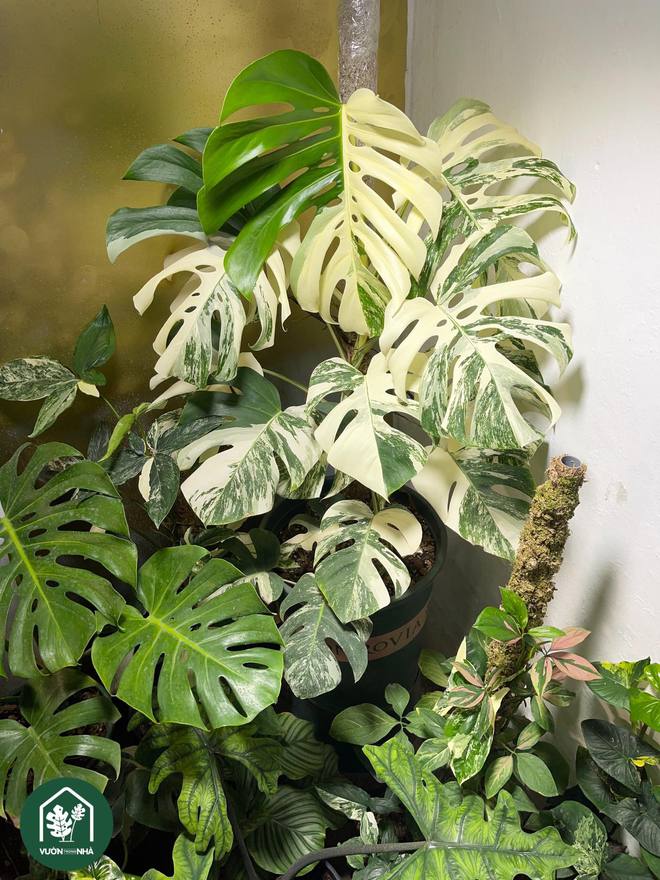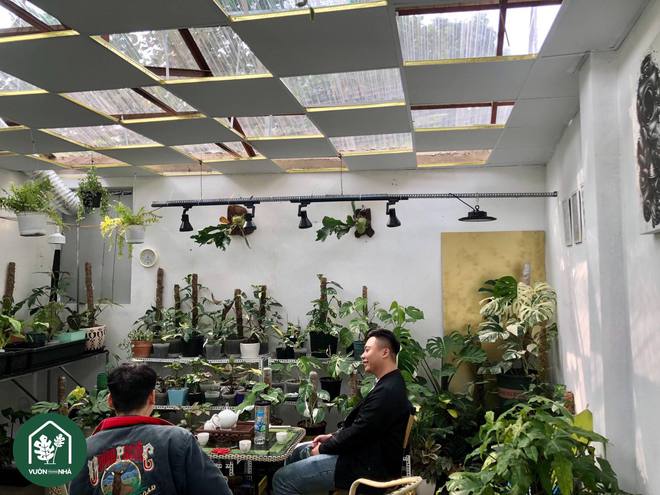 Le Thanh with his business garden
As for Lam – a gardener in the city. In Ho Chi Minh City, to meet the needs of customers Lam often has to trade in trees abroad. Not sure if it can be sold or not, the amount of money he spent buying trees, packing goods and transporting planes to Vietnam can be up to 70-100 million VND each. In addition, sometimes Lam also receives individual orders, buying 1-2 plants and shipping them back for a fee of 6-7 million / time.
His most memorable tree-buying memory is hearing information about a mutant Monstera White Monster being sold for 500 million for 3 leaves in the Philippines. In order not to miss a good deal, the guy had to ask his wife to withdraw his savings and book a flight that day. However, in the end, I came to know that this was just virtual transaction. Although a bit regretful, but in return that trip also helped Lam buy some other trees of equally good quality as well as expand the focal point, which is convenient for business later.
The attraction of this market also affects the whole South (living in Buon Ma Thuot City). Originally a design, Nam decided to turn sideways to trade ornamental leaves after a period of planting and tending because he realized the market potential.
"The price of common ornamental plants will be classified according to the level of rarity and hard to find. Many trees a few years ago it was very rare, the price was very high, but now it has been bred more, the price has decreased. But many people are still willing to spend money to buy it when the price is high, because it is simply beautiful, it is rare, but as a collector, the desire to own it is very high." – Nam confided about why ornamental plants are expensive but still have buyers.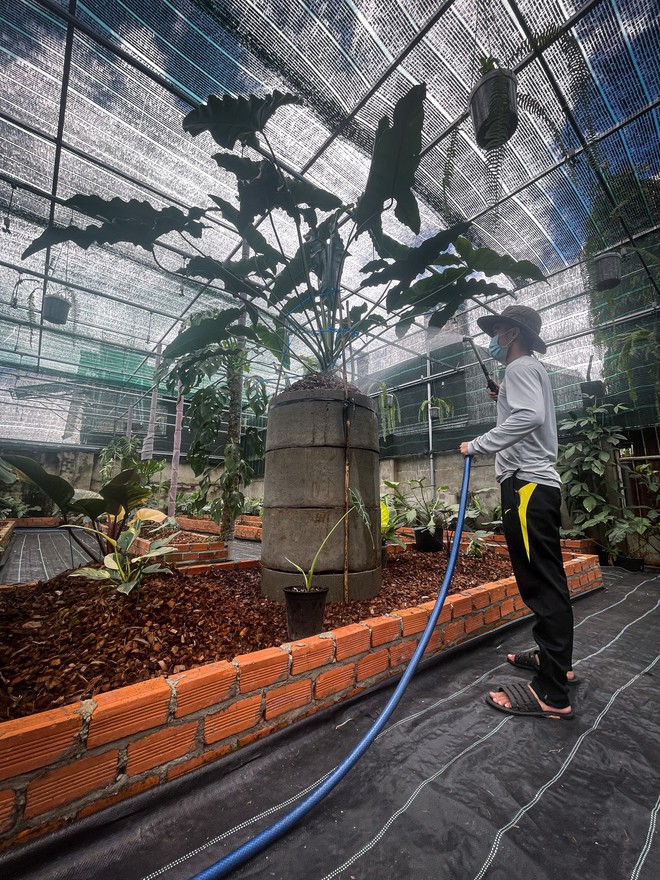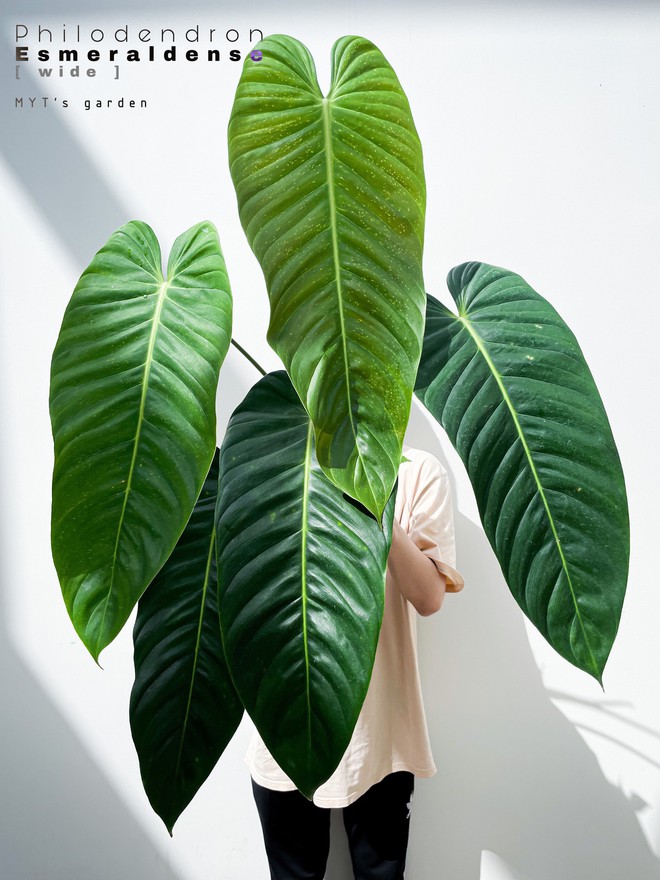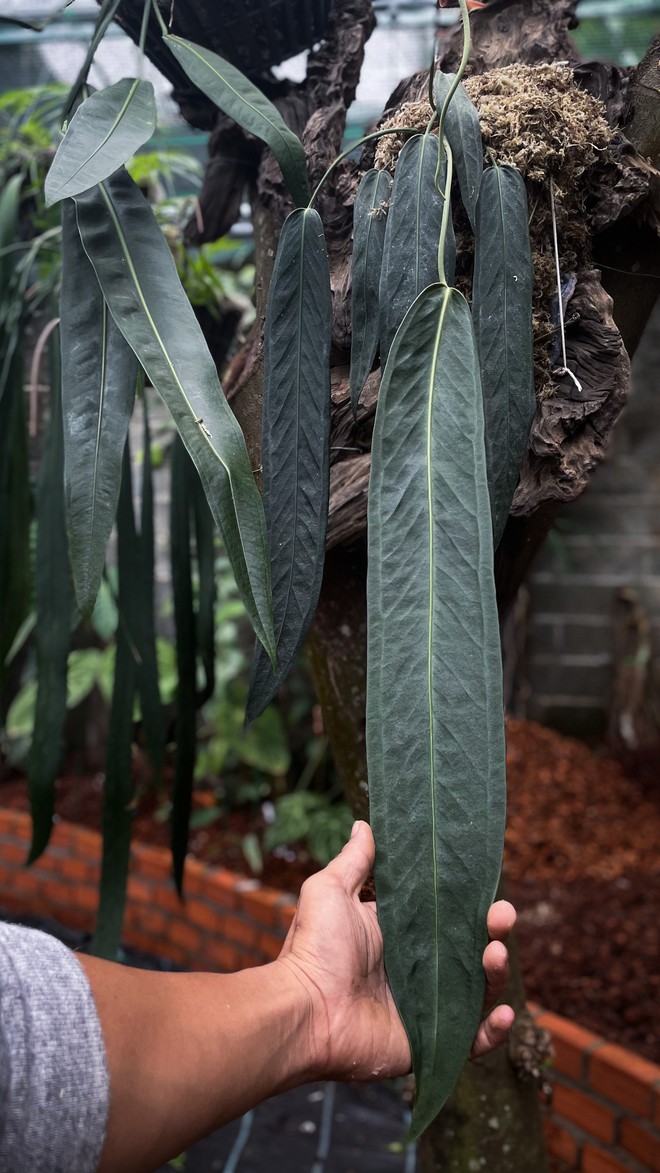 The garden is well cared for with giant foliage plants such as Philodendron Patriciae, Anthurium Wendlingeri… of the South.
Playing ornamental plants is like buying a Hermes bag
Besides the high price, playing ornamental leaves also takes a lot of effort. The proof is that the players often have to hunt and hunt to own the pot they like.
In the early days of playing ornamental plants, the number of trees in Vietnam was still small. Mark Do (living in Ho Chi Minh City) often had to order abroad and wait until the trees were eligible to be shipped back to Vietnam. Male. There was a time when he had to beg all his words and then take an expensive detour from the Philippines to Indonesia and then back to Vietnam to get the pot of Epipremnum Pinnatum Lemon Lime "Neon" he wanted.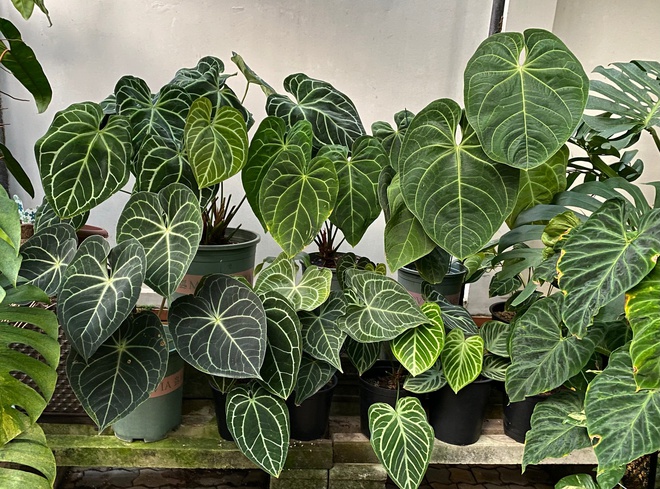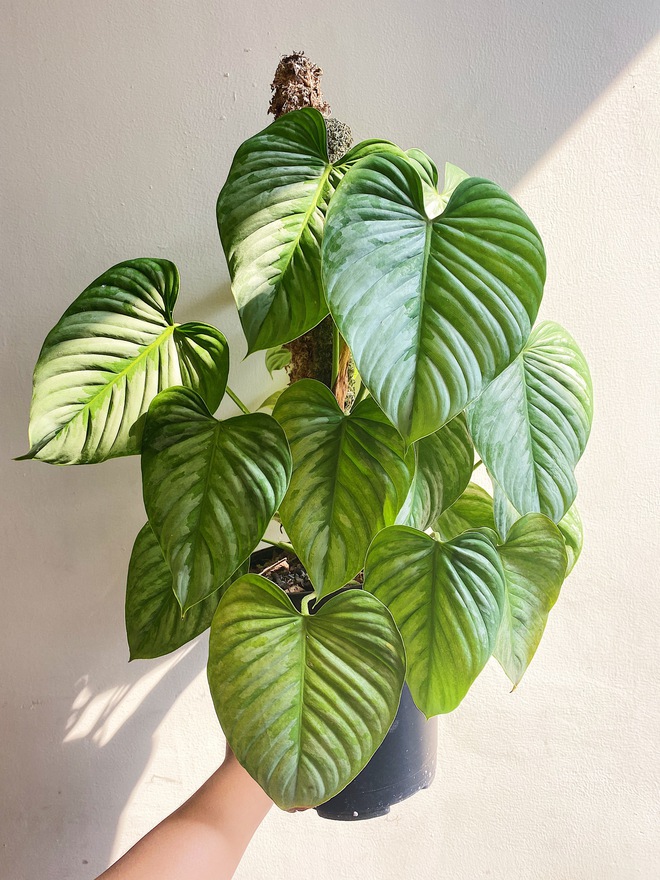 Collection of Anthurium and Philodendron pots with market price from 1.5 to 5 million/leaf by Mark Do
In the same situation as Mark Do, there is also Tuan Anh (HCMC). Spending nearly 100 million to own a satisfactory ornamental garden, Tuan Anh also sweated and hunted trees many times.
"A few hundred million leaves is a normal thing with mutant lines. Like me, I accept to spend a lot of money on mutant leaves because of its uniqueness, beauty and beauty. When I first started playing, trees Ornamental plants in Vietnam are not popular, so sometimes it takes 3-4 months to touch the potted plants that have been purchased and paid for. – Tuan Anh shared.
As for The Trinh (living in Ho Chi Minh City), the amount of money he poured into ornamental plants has reached hundreds of millions. Therefore, he also has many memorable experiences in "hunting" for rare varieties or taking care of his ornamental garden. For example, once, because he was so in love with a rare potted plant that he couldn't buy it in Vietnam, he had to ask a friend in Indonesia to spend 12 hours in the car to buy that pot and send it back to him.
"Playing ornamental plants with me is like buying a Hermes, it's not enough to spend money, but also to spend time and effort to hunt. It's hard work, but the results are unbelievable." – The Trinh shared.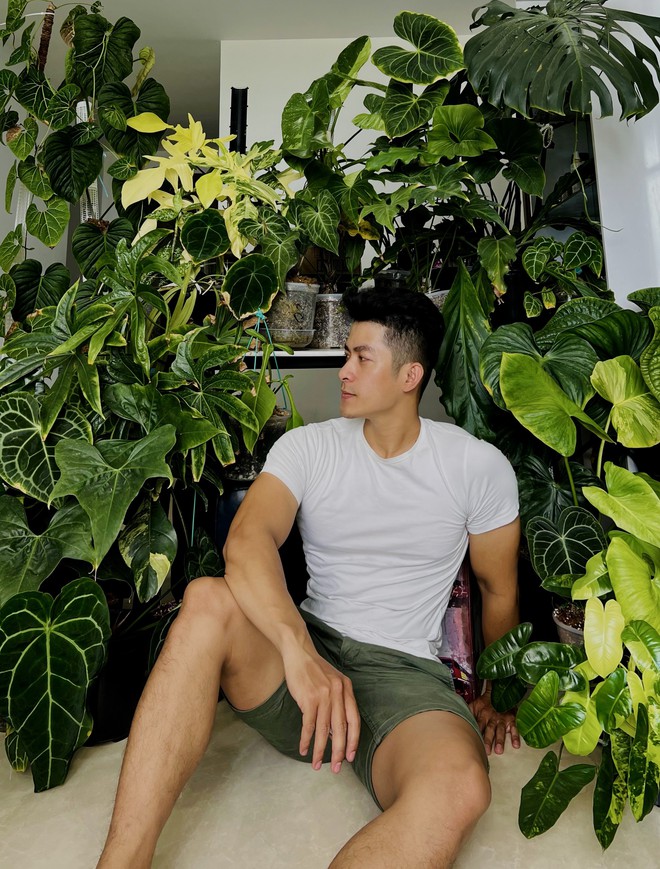 The Trinh with his mini garden of hundreds of millions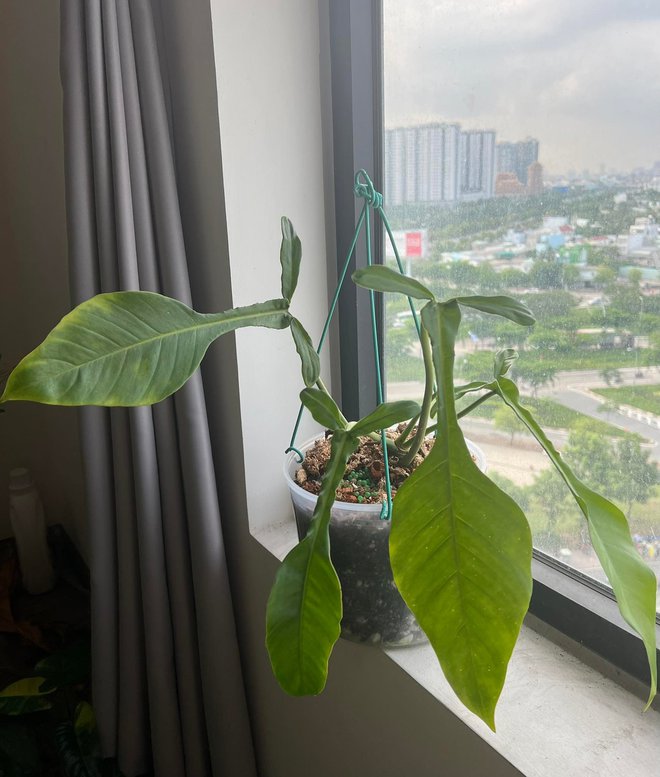 The "Big Ears" Philodendron plant pot used to cost 15 million/leaf, but It took a lot of work for The Trinh to own it.
Hunting trees costs money, hard work, taking care of ornamental plants is also an equally difficult problem.
As plants from many different territories, not all ornamental plants can live well in Vietnam if only watered 1-2 times a day. In order to keep the tree healthy, players have to spend a lot of money on treating diseases for the tree, buying more suitable media for each type, fertilizer, humidifier, photosynthetic lights…
Like Mark Do, despite having experience in growing roses before, he still struggled with his ornamental pots at first. On average, Mark has to spend 2-3 hours a day taking care of the tree. With that kind of skill, Mark still killed a Monstera Deliciosa Thai Constellation Tri-Color (PV: market price of several tens of millions) because of one minute of negligence without carefully checking the fungus. Now, although "advanced", better understand the characteristics of each species and the time to take care of Mark's trees has also been reduced, but the problems of pest control, fertilizing, cutting leaves and pruning still have to be maintained regularly.
As for Tuan Anh, although it took a lot of time to understand the characteristics of each plant to take good care of, he still received "bitter fruit" because of the unpredictability of these plants. The number is that Tuan Anh bought 1 Monstera Albo Halfmoon leaf to propagate, but when he planted the seedlings, the whole tree was white.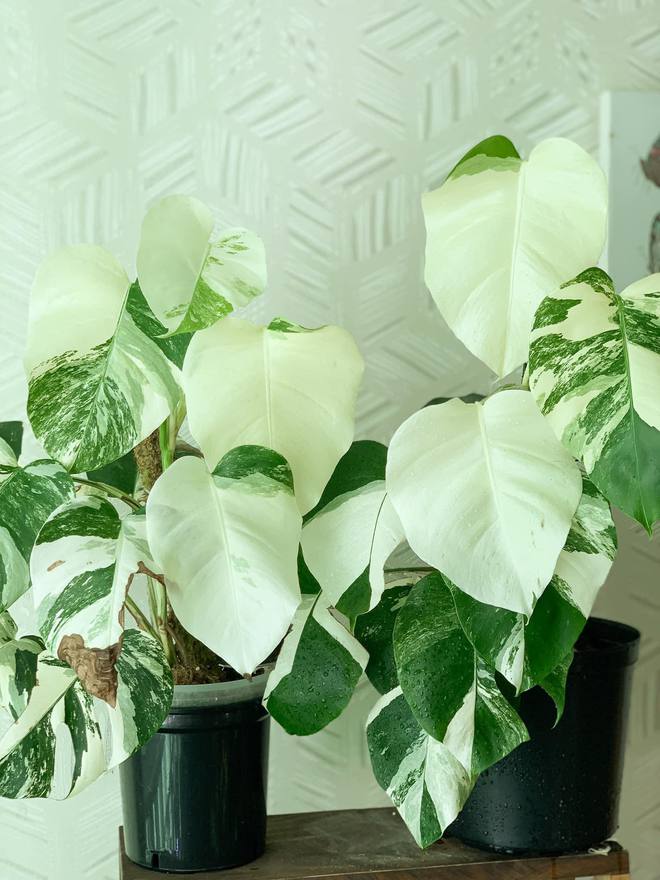 Monstera Borsigiana Albo pot has a market price of 6-7 million/leaf by Tuan Anh
Without struggling in the process of taking care of plants, The Trinh had a life-long lesson when he bought 1 tuber for 100 million to nurse but failed. It sounds like a pity, but The Trinh doesn't care much, he just sees this as a lesson to learn to take better care of another tree in his garden.
***
"I've never felt like wasting money playing with trees instead of buying a house or a car. Most of the money to buy trees comes from a very small part of my income. In return, I find it worth every penny when brings positive energy to my life. After tiring working days, taking care of and looking at trees, all my stress gradually dissipates. I find myself living a light and creative life at work. than a few years ago when I didn't play the tree much." – Mark Do confided in the reason why he is so passionate about it, he spends so much money on ornamental plants.
Like Mark Do shared, if it was only about the value of money, there would certainly not be too many people "joining" in the game, as well as putting so much effort into ornamental plants. Because, this is not a money making channel with too high liquidity or an investment to make money quickly. The value of ornamental leaves to people lies in the fact that it brings a green lifestyle, relieves pressure and stress in the lives of many people – which is something that money is hard to buy.
Photo: NVCC
You are reading the article
"Hunting" leaves – an expensive hobby like a bag of Hermes: A few hundred million is not enough, putting effort into it can still lose everything

at
Blogtuan.info
– Source:
Soha.vn
– Read the original article
here