Life Style
Thế Giới
Looking at the mountain called the 8th natural wonder of the world, thinking that the fairy place that you set foot on is not wanting to return.
When it comes to the West Asian country – Turkey, people often think of the ancient city of Istanbul – which was once the capital of many powerful empires such as Roman, Byzantine and Ottoman.
Such a city rich in history and culture is certainly a tourist attraction. However, Turkey also has many other amazingly beautiful lands – including the "cotton castle" Pamukkale. This is known as the 8th natural wonder of the world!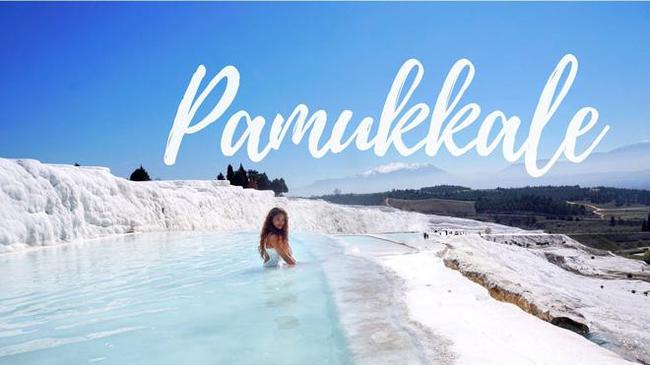 Cotton castle – beautiful natural wonder
If you have the opportunity to visit Turkey, then Pamukkale is a place you should not miss, this is known as one of the most impressive natural wonders of Turkey. In 1988, UNESCO recognized Pamukkale as a World Natural Heritage.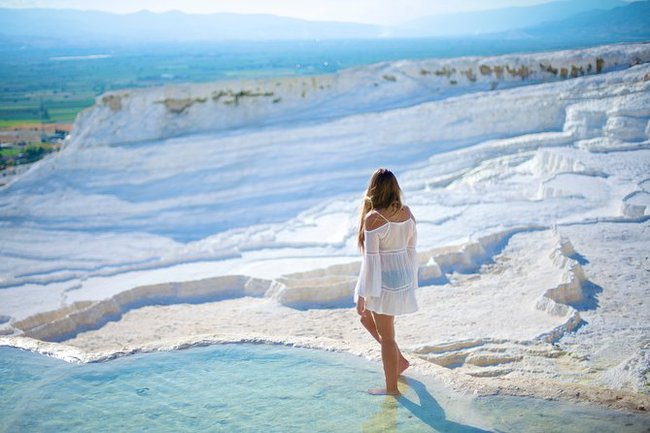 Pamukkale, about 650km from Istanbul, is the Turkish name. Pamukkale in English means "Cotton Castle", which translates as "cotton castle".
Having just heard the name, everyone thinks that this land is the "land" of cotton farming? No, there is no soft white cotton here, but it is always so beautiful and leaves an unforgettable impression on tourists.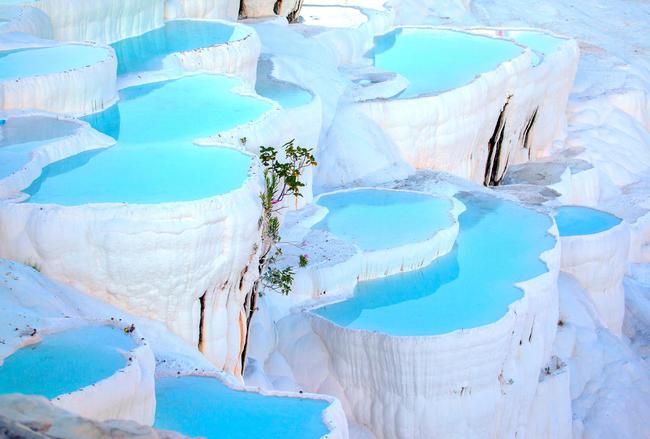 In the middle of a land full of forests and hills, Pamukkale is like a "fairy" wearing a cool, gentle, and strangely flexible white dress. If viewed from above, it is easy to think that there is a white snow mountain stretching 2,700m on a 160m high mountainside.
In essence, Pamukkale is like a natural hill, formed from deposited sediments. Because the water from the hot springs in the ground contains a lot of calcium carbonate that flows through for many years. From there, forming a chain of pure white limestone stalactites, stacked on top of each other, like terraced fields.
Spring water stagnates in between layers of limestone forming small jade green pools. It is important that scientists have proven this water source is extremely good for human health, even has healing effects.
17 hot springs with a temperature of 35 – 100 degrees Celsius have the effect of supporting the treatment of many different diseases such as high blood pressure, heart disease, rheumatism, neurological disorders, digestive diseases, eye diseases, skin diseases and diseases. nutritional disorders. When you come here, you are free to choose the appropriate temperature zone to enjoy.
The Legend of Turkey's Natural Wonders
According to an ancient legend, there was a girl so ugly that no man wanted to marry her. Out of sadness, she threw herself into the lake in Pamukkale to commit suicide but did not die. Even natural mineral water has bestowed her with white, beautiful skin like a princess.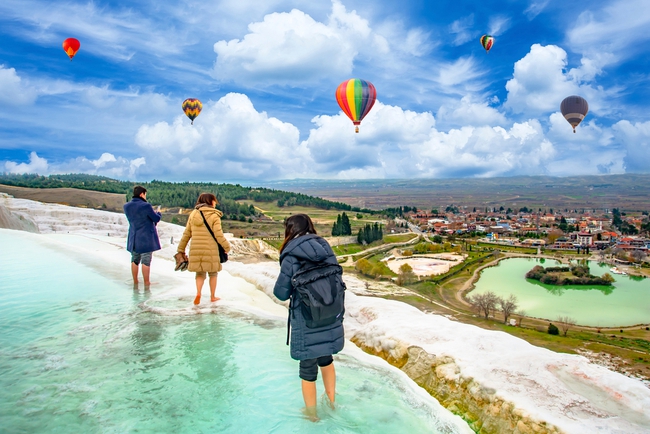 When the lord of Denizli passed by, he fell in love with her and decided to marry her. From then on, people in the area also believe in the beauty power of the lakes in Pamukkale, so they come to take a dip with the desire to have healthy and smooth, white skin.
There is also a story that, about 2000 years ago, during the reign of Attalus, the Kingdom of Pergamon built the city of Hierapolis.
At that time, it was considered a center for health and beauty care. People from all over Anatolia come here to soak in the lakes to dispel fatigue.
Today, this place is still a place that attracts beauty enthusiasts around the world. When coming here, visitors can both soak in the mineral water pool and enjoy the beautiful scenery like paradise.
Source: Synthesis
You are reading the article
Looking at the mountain called the 8th natural wonder of the world, thinking that the fairy place that you set foot on is not wanting to return.

at
Blogtuan.info
– Source:
Kenh14.Vn
– Read the original article
here