Giáo dục
Praise students in the West towards humanity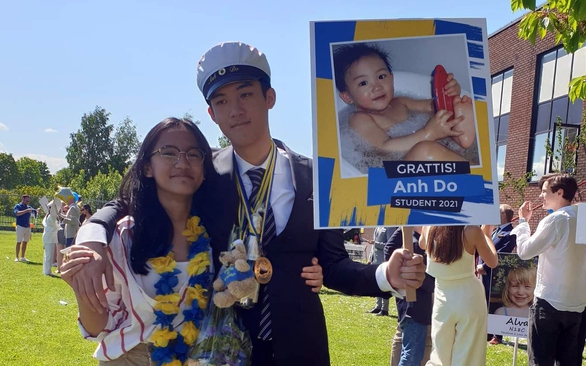 Commendation in Sweden is usually only for students who go above and beyond and radiate positive energy and connect students with each other. In the photo: the joy of graduating from high school of a Vietnamese student in Sweden – Photo: THANH NGO
There is almost no such thing as a reward for excellent students at the school or city level in Sweden. It is not that Swedish schools do not encourage their children's efforts. But anything that provokes competition is seen as incompatible with the spirit of democratic upbringing, all equal and progressive.
The human meaning of reward
My son's elementary school rewards students who make the most progress during the school year. There's only one friend in the whole school. So if you're rewarded in front of the whole school with a beautifully framed certificate of merit, you'll often have gone from weak to average and pretty good.
"Think about it, if I get all A's and then fall down to have a B, I can still get an A at the end of the year. But that's why I'm falling behind. She's gone from all F's, wants to dropped out, refused to go to school, now you have a D, a C, sometimes even an A in crafts. Really, your efforts should be praised much more than my A's, "- said son.
I am touched that the child understands the true value and human meaning of the reward. I'm really happy, really admire my friend's efforts and progress.
When my daughter transferred to a public elementary school, the school had a wall on which framed pictures of the best middle school graduates in the school. I was very curious and wished my picture would be on that wall in 5 years time.
Then, over a summer, the wall honoring the best graduates was replaced with an exhibition of paintings and sculptures by the school's students. I asked the vice-principal why the pictures of the top students were no longer there. She explained to me that the children's paintings and sculptures were nowhere near worthy of being admired by the whole school. If you are a good student, you have graduated from school. Your accomplishments are remarkable, but you've already been commended. Students with art exhibits also need a place to be proud of their work.
Prize "good friend"
Last year, my daughter graduated with the top score in the whole school. Because of COVID-19, the children did not have a graduation ceremony, but the principal entered each class to say goodbye to the children. In front of the whole class, in front of all the teachers and parents, she congratulated the children and was very proud of all of them. She said the children have a good reason to celebrate because the summer of freedom has arrived and because everyone is eligible to leave school and go to high school. She also briefly mentioned that the two students who graduated with the highest scores were in their class. She didn't name any friends, but the whole class burst into applause congratulate each other.
In the class, there was a friend E. who was formally invited by her to receive the Olweus award – a special award for being a good friend. This is a very popular award in Swedish schools if the school participates in the Olweus program against school bullying. The program is named after Dr. Dan Olweus, a professor of psychology in Norway. He is a pioneer in the prevention of school violence and bullying.
The children learn how to become close friends, not to let any of them be lonely, learn to speak up to protect friends and remind each other to become good friends. Children are taught to recognize violence and bullying in school, ways to prevent it and at the same time learn to warn parents and teachers if they detect bullying happening so it can be resolved soon. thoroughly.
In the introduction to why the Olweus award was given to E., the headmistress said: "E. always cares, loves and helps her friends. Where she radiates the warmth of sincere love that I am always devoted to everyone around me, my classmates, the younger students, the security guards and the teachers, and I also don't hesitate to give suggestions to the school to improve the Olweus program. With E.'s initiative, the lonely bench on the schoolyard has been called "the friendship chair." Anyone who comes to sit alone on that chair will immediately be asked by other friends to see if you need one. people to sit with or play with?" My class broke into incessant applause as E. stood up to receive the award.
Now my daughter has entered high school. The school is full of the most "terrible" students in the city. I called my grandmother and happily boasted: "Grandma, I had a great time at school. Although I'm not ridiculously good like my classmates, I'm not bad at school. I was elected to the student council and I play American football every week."
Learn to be kind
Although I do not have a certificate of merit and a transcript to show off my child's achievements on social networks, I am not sad. I want nothing more than for my child to love school and learning. Academic criteria are not the most important thing to evaluate our children. We often expect our children to become humans, not learners, and learning robots. Keep learning to surpass yourself, to improve continuously, to be an inspiration. And most importantly, to become a Kind Person, young people.
To not "inflationary" Bonus
The end of the school year is also the season of rewards. Almost every school, every class is almost 100% praised, leading to "inflation" of rewards and rewards suddenly becoming… normal. Rewarding students properly is a concern of many educators, schools and teachers. Invite teachers, parents, students and readers to share their ideas, perspectives as well as suggestions and solutions for the right reward and motivation for students. Collaborative articles should be sent to email [email protected] The articles used will be judged according to the regulations of the newspaper Youth.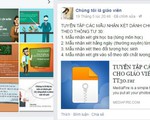 Sadness and reward at the end of the school year
You are reading the article
Praise students in the West towards humanity

at
Blogtuan.info
– Source:
tuoitre.vn
– Read the original article
here