Business
The 28-year-old girl built a million-dollar company from $700
Utari Octavianty and his co-founders built Aruna from the $700 they received for entering a contest. Photo: Utari Octavianty
As a child, Utari Octavianty often felt that she was an inferior child because of where she was born.
Her hometown is Kampung Bahru, a remote fishing village in East Kalimantan, Indonesia. Here, many people are not educated. There is even a popular saying: "If you come from a fishing village, you cannot win."
That's why Octavianty considers himself "lucky" when his parents let him attend a middle school in the city. But she quickly discovered that there was a "gap" between her and her classmates.
"I was bullied because I come from a seaside village… I am not like people who have been well-educated and have no economic difficulties," she shared.
These experiences ignited the fire in Octavianty and sparked life's purpose – telling herself that one day her village would be known not for its poverty but for its potential. .
"At the time, I didn't know how I was going to get there, I just wrote this in my diary."
Currently, this goal is no longer on paper but has become a reality.
Now, at the age of 28, Octavianty is the co-founder of Aruna, an Indonesian seafood e-commerce startup. This startup acts as an end-to-end supply chain aggregator, allowing fishermen to participate in a global network.
To date, the company has raised $65 million in Series A funding. With this amount, Aruna is currently the most Series A crowdfund among Indonesian startups. .
Humble beginnings
Her entrepreneurial journey began in 2015, stemming from a craving for seafood that Octavianty had when she was a senior at a technology university in Bandung city.
"It's not easy to find good seafood. My family serves seafood at home every day, but suddenly, it's very hard to find. I thought to myself, how great it would be if we could buy seafood directly from the fishermen in the coastal villages."
She shared her idea with her classmates, Farid Naufal Aslam and Indraka Fadhlillah. Together they created a website that aims to meet the seafood needs of consumers and connect them with fishermen.
At that time, the 21-year-old girl decided to participate in a contest called "Hackathon Merdeka" to raise capital. To their surprise, the three young men won. But the bigger surprise was the amount of profit Aruna made after the website launched.
"We received requests for 1,000 tonnes of seafood… from restaurants and importers outside of Indonesia who needed a constant supply of seafood."
The trio quickly got to work – using the two MacBooks they won in the hackathon to continue building the website and doing freelance work on website design. Their first significant funding came from another contest with a cash prize of around $700.
Although it's a "very small" amount, Octavianty and her co-founders used it to run a pilot program in the seaport city of Balikpapan, East Kalimantan. They stay with a community of fishermen fishing for a month.
By the end of the show, they had their first deal with a local restaurant in Bandung. That was the moment they realized their ideas were no longer just on paper. "We can really make this happen," says Octavianty.
Find the right investor
Over the years, Aruna has expanded into more fishing villages in Indonesia. As their seafood demand grew, so did the company. But one challenge Octavianty faces is finding the right investors.
"There are many investors in Indonesia, but it is not easy to find investors who understand our business," she said.
"Some investors will be interested because they see the potential for scaling the business. But we were selective… we expect investors to want to invest not because of the company's potential but also because of its impact."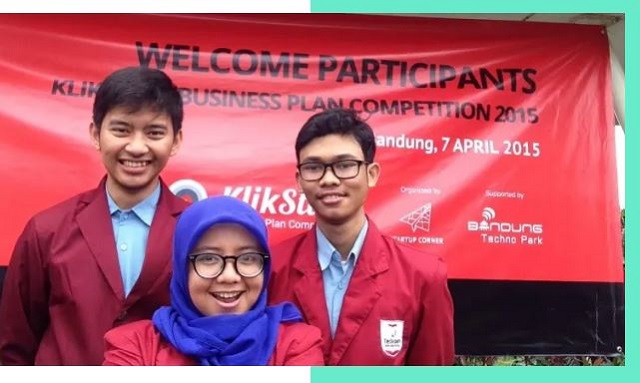 Utari Octavianty and 2 co-founders Farid Naufal Aslam (right), Indraka Fadhlillah (left). Image: Utari Octavianty
Aruna exported 44 million kilograms of seafood to seven countries last year, mostly to the US and China. But Octavianty says its biggest achievement is helping fishermen directly access the market and thereby giving them a fairer and better income.
She added: "We have helped fishermen increase their income 2-3 times higher than before they joined Aruna."
Although Aruna is very strict in selecting investors, it is this approach that makes the company more attractive, Octavanty said. "We are open to investors about the challenges we face, but in return we also expect them to, for example, help us connect or solve a problem."
A sustainable future
Back in January, Aruna announced the next investment of its Series A round of $30 million led by Vertex Ventures Southeast Asia and India. With the new capital, Octavianty is looking to expand into more fishing villages in Indonesia and invest in sustainable fishing practices.
To date, more than 26,000 fishermen across 150 fishing communities in Indonesia have joined Aruna's network. The startup also provides more than 5,000 rural jobs and employs 1,000 coastal women to process seafood.
Octavanty, who also serves as Aruna's Head of Sustainability, said: "Now that we've opened up the market and we have more fishermen on board, we need to be very, very careful. Be careful about fish resources because… Indonesia is overfishing."
That's why Aruna asks all of their fishermen to focus on quality, rather than quantity, catch, and limit catches in marine protected areas. Aruna also advised fishermen not to use fishing gear, such as trawls and bombs, which will harm the natural habitat on the seabed.
Octavanty added: "That recommendation is also an inspirational story in the field. We see a lot of fishing companies in Indonesia that don't care about sustainability."
You are reading the article
The 28-year-old girl built a million-dollar company from $700

at
Blogtuan.info
– Source:
cafebiz.vn
– Read the original article
here