Business
The 9x guy Ha Thanh owns more than 100 trips around Vietnam, draws his own unique FOOT MAP, even "Google sister" must be in awe.
At the age of 21, Khai Trung started his backpacking journey with a trip to Mai Chau town, Hoa Binh province and Moc Chau town, Son La province. Up to now, he has conquered all 63 provinces and cities of Vietnam, with 110 trips big and small.
Alone on a motorbike roaming from the plains to the hills or the remote border, Trung faced many difficulties when facing the long road and the harsh climate of the highlands. However, that helps him grow up and become stronger, not the son of the family.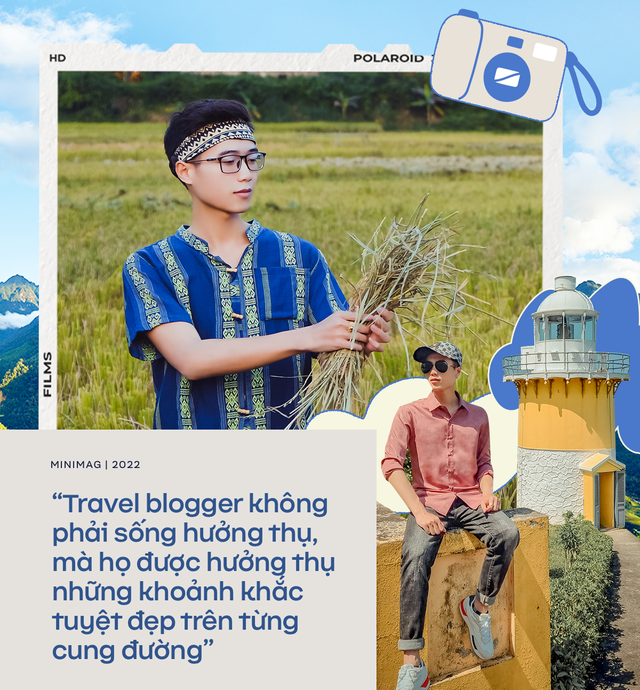 Hello Trung, so far you have made more than 100 trips on the journey to conquer Vietnam. What inspired you to become a travel blogger? Was Trung's first trip special than you imagined?
When I was in high school, when I read a contest on the topic of backpacking, I rekindled my passion to admire the beautiful scenery of my country, but didn't think too much about whether I was a professional travel blogger or not. However, at this time, I am still a student, I do not have my own economy, but I still completely depend on my parents.
It was not until the last year of studying at Hanoi University of Science and Technology that the dream came true. My first trip and also my cheapest trip was to set foot in Moc Chau – Son La in 2 days with 400,000 VND.
Always knowing my parents wouldn't let me go, I had to hide them to go on this trip. After returning home, I dared to tell the story and my parents were surprised. Although they do not agree because they are very worried about the safety of their children, the parents are also very happy that their son has become bolder, more independent, and more solid than the "white powder boy" like everyone else. regular caller.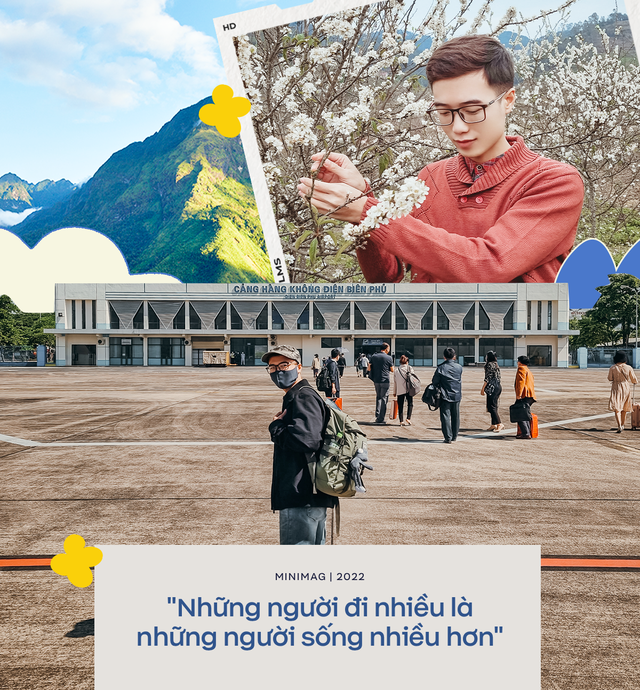 Trung must have experienced many interesting situations. Which trip impressed you the most?
I always believe that the people who travel more are the people who live more. Going through 63 provinces and cities, meeting with many people, but the people of the Northwest have left a special mark on them. I can feel the sincerity, joy and harmony from the eyes and smiles of each person here. Although life is hard, living conditions are still difficult, but they always smile and help others, not trying to lose more. Sometimes just a glance, a smile, a quick handshake on long journeys is enough for me to remember.
In particular, the trip that impressed me the most was in Muong Te (Lai Chau). This is the first time driving through the night. Going from Highway 12 to the tower 15km, the first 14km is a dirt road, bad, narrow, overgrown with grass, passing through the village, wading streams, and then turning around and cornering is dizzy, there are steep, steep sections. climbing the edge of the cliff. At the beginning of the road, he had to go through 2 homemade wooden bridges of people (cost 10 thousand VND), but it was shaking and creaking, his heart wanted to shoot out.
When going deep into the border communes, Ka Lang – Thu Lum, there was a power outage. I have to eat, rest, shower in the dark. The next morning, looking out of the window, I was overwhelmed by the sea of ​​clouds surrounding Thu Lum commune, feeling that all my hard work had paid off.
After going through all the famous roads and places in Vietnam, I started going back to the provinces to experience new and unfamiliar routes that few people go to, maybe discover some beautiful scenery.
On the return trip to Da Bac and Hoa Binh, I drove across the province from Da Bac to Phu Yen, Son La along the provincial route 433, which is expected to be 125km. Because it is a strange road, few people go and when looking on Google Map, it is straight, so I don't think much of it. But that's a mistake, here I advise you not to trust "sister Google" and the cross-province shortcuts are a nightmare!
At 8pm, after nearly 80km, when I reached the border between the two provinces, I met a dead end road. This is the origin of a tributary that flows into the Da River, and is also the natural boundary of the two provinces of Hoa Binh – Son La. Maybe for some reason, only two ends of the dead-end road should be built and left there. I asked for directions to cross the stream, but when I got there, I knew that the stream was too deep for cars to cross, and the other side was dark and foggy. If I tried to run over at this time, it would be a wrong decision, so I had to turn around 80km in the dark to return to town to rest at more than 0am. An amazing and memorable experience.

Just listening to Trung's story is enough to see that backpacking is not simple, if we are not sober and decisive, there are many potential risks in it. From personal experiences, is there any experience that can be summed up for all young people?
Difficult places always have potential dangers, if you are not careful, your health and life will be affected. People need to consider before choosing this form of adventure tourism.
For example, going on off-road roads (trails with rugged, complicated, rough, uneven terrain and lots of sand, gravel, and rocks) you often encounter dangerous slopes, abysses, landslides, etc. flash floods, etc. Or when climbing mountains and forests, you may get lost, encounter wild animals, poisonous snakes, lack of food, drinking water, etc.
So before going to difficult places, you should learn carefully, exercise, equip yourself with the necessary survival skills, learn from the experiences of those who have gone before, avoid going alone, and best of all. should go with experienced people (tour guide, leader, porter).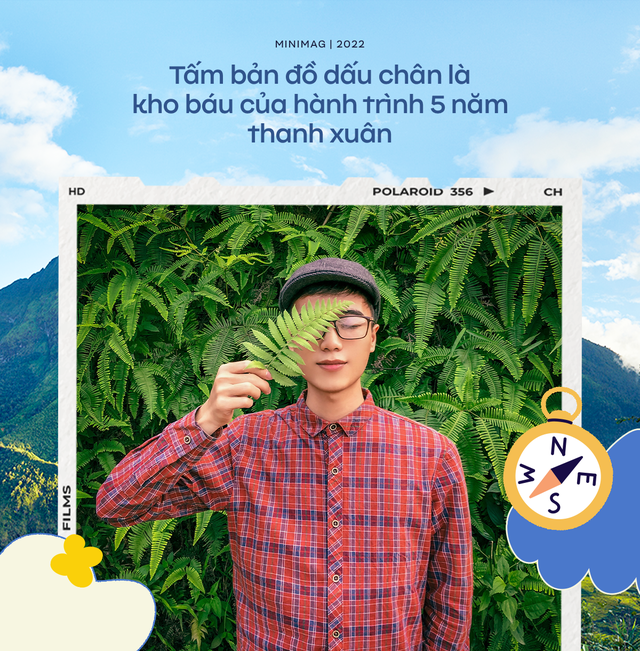 It is known that Trung drew a map of his own imprints, can you share more with readers about this map?
This map is really a treasure for me because in it are the locations, cities, border gates, beaches…where my footprints are. However, I do not want to keep it for myself, but always share it with all young people who have a love of travel and a passion for travel. To look there, you will know how to move, where to go in, where not to.
For example, I have marked the vehicles that you should choose for each road such as motorbikes, cars or airplanes. In particular, the bad roads that I have experienced, you can look at the map to dodge. I'm sure "Google sister" won't get it either.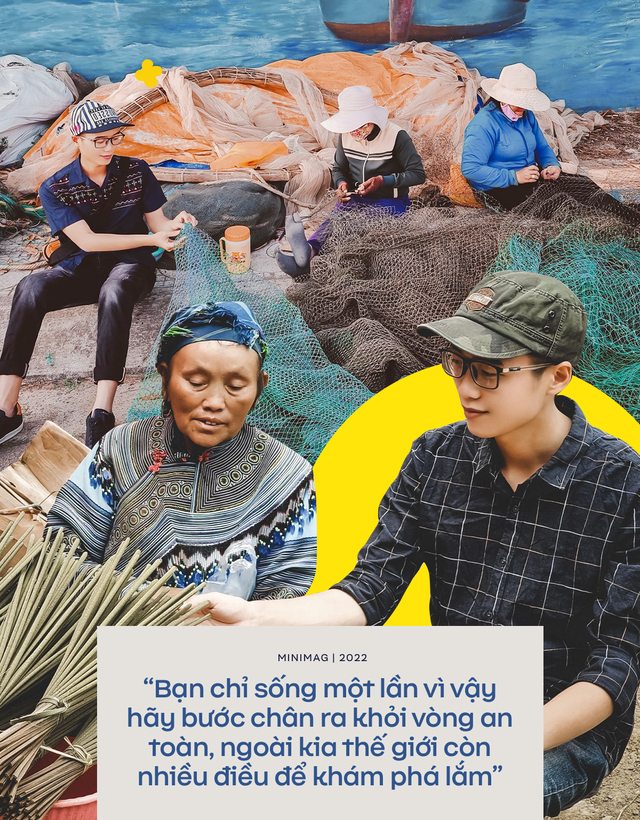 Up to now, travel blogger has been a familiar name. However, it must be affirmed that not everyone understands the work that you are doing. Many people are still prejudiced that, must be rich, must be free, must be people who like "virtual living" to travel. What does Trung think about this?
That's right, because I've been forced by this stereotype before. Many people always think that they must have a lot of money and have a good economy to be able to travel. They even think that young people like Trung who only know how to travel are living a life of enjoyment. However, Trung thinks that just having passion is enough, for example, his trip to Moc Chau is only 400,000 VND, this amount is not large.
Most of my trips are dusty, long-distance motorbike riding continuously from morning to night, sometimes having to go through dangerous roads, rain storms, and sunshine on the way. Thus, we cannot say that travel bloggers are enjoyment, but we enjoy the beautiful moments of the country on every road we go through.
Moreover, despite traveling, my business is still maintained. I have to take care of my own economic resources, so in order to make larger trips, I have to secure work.
Therefore, everything has a solution if you want it. You only live once, so do what you love, step out of your comfort zone, the world is still vast out there, there's still a lot to explore.
Having conquered all 63 provinces of Vietnam, China wants to expand its journey to the world?
Yes, that's what I cherished, but due to the stressful epidemic situation in the past two years, it was difficult to do. Currently, international border gates and routes are gradually reopening, but there are still many barriers in testing procedures, isolation, vaccine passports, etc. Each country sets different regulations for imported tourists. scene.
In the near future, I plan to go to countries near Vietnam such as countries in Southeast Asia to facilitate travel (near, no visa required) and minimize risks. I will go to Singapore, Malaysia and Thailand first, these are developed and safe countries for tourists, which will definitely bring me interesting experiences. Then, when it is easier to clear customs through the road border gates, I plan to ride a motorbike across the border to Laos and Cambodia to explore world-famous monuments such as Angkor Wat, rice fields, etc. jar…
When I have explored all of Southeast Asia, I will continue to strive to go to more distant countries such as China, Japan, Australia, India, Egypt, etc.
Thank you Khai Trung for participating in this conversation, wish your future plans will come true so that you can continue to write bigger maps, have interesting and meaningful stories. in his youth!
https://cafebiz.vn/chang-cong-tu-9x-ha-thanh-so-huu-hon-100-chuyen-di-khap-viet-nam-tu-ve-ban-do-dau-chan- doc-dao-ngay-ca-chi-google-provided-phai-tram-tro-20220527093154268.chn
According to Economic Life
You are reading the article
The 9x guy Ha Thanh owns more than 100 trips around Vietnam, draws his own unique FOOT MAP, even "Google sister" must be in awe.

at
Blogtuan.info
– Source:
cafebiz.vn
– Read the original article
here