Referring to the case of pregnancy and childbirth at the age of "eighteen and twenty", surely everyone is afraid and worried that these mothers lack experience in taking care of themselves and their babies. However, if you look at the cases of pregnancy while in college of the 3 hotgirls below, many people will have to think again. Pregnant when they were still students, they still excellently gave birth to healthy children and completed their studies well. Not only that, but also preserve the beauty and perfect body.
Hotgirl "Newspaper School" was pregnant at the age of 21, now a single mother
My Linh (born in 1997), used to be a student at the Academy of Journalism and Communication. At the end of 2018, she attracted attention when she married the famous hot vlogger Huy Cung while still not completing her university degree.
A year after the wedding, the couple boasted that they had a 4-month-old son. Before that, during My Linh's pregnancy and childbirth, both kept it a secret because they didn't want netizens to discuss and put pressure on. In April 2021, Huy Cung and My Linh announced that they had "go their separate ways", the hotgirl born in 1997 became a single mother.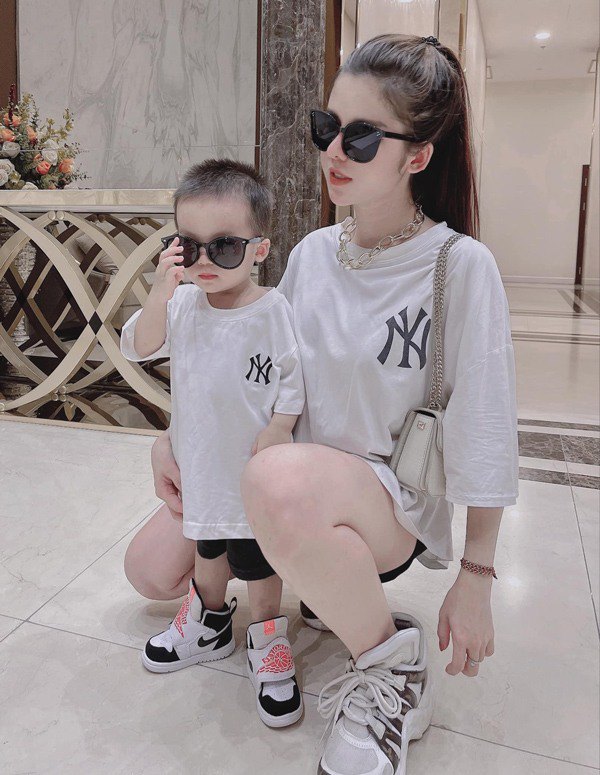 My Linh got married and got pregnant at the age of 21, while still a student.
The love story is not very smooth, but one thing My Linh always makes the sisters admire is the beauty after giving birth, which is more and more beautiful and attractive. During pregnancy, the young mother also gained 21kg, but after giving birth, she quickly lost weight and regained her neat shape. Despite possessing a modest height, but with perfect curves, the mother of one is always impressed with sexy photos posted on social networks.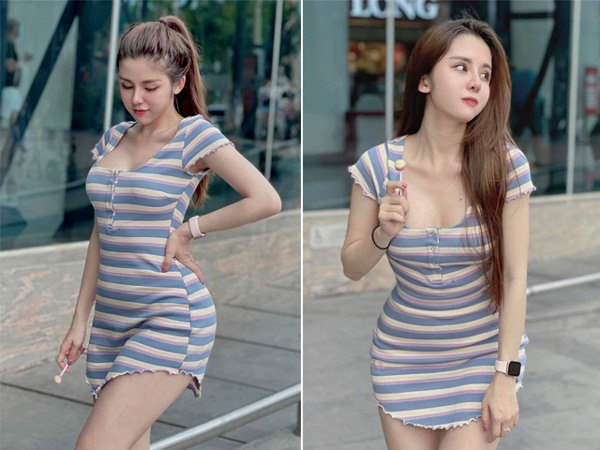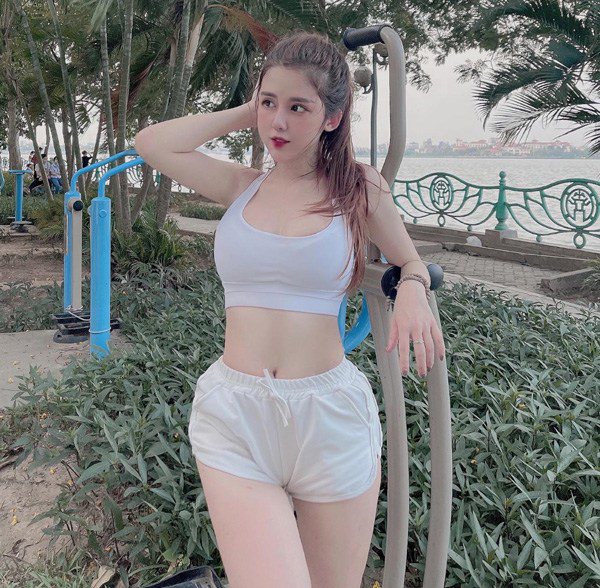 The perfect figure of the mother of one child makes many people admire.
Regarding the face, My Linh used to be entangled in plastic surgery and she also admitted that she used to make nose and press eyelids. However, without careful care, it is difficult for her to keep her white and smooth skin after giving birth as she is now. With a young and beautiful appearance, My Linh is often mistaken for her child's sister when posting pictures of mother and daughter on social networks.
Revealing the secret to losing weight after giving birth, the hotgirl mother once shared: "Having this result of losing weight after giving birth is partly due to my pre-pregnancy body being quite thin and small, and partly because my diet and rest is very scientific."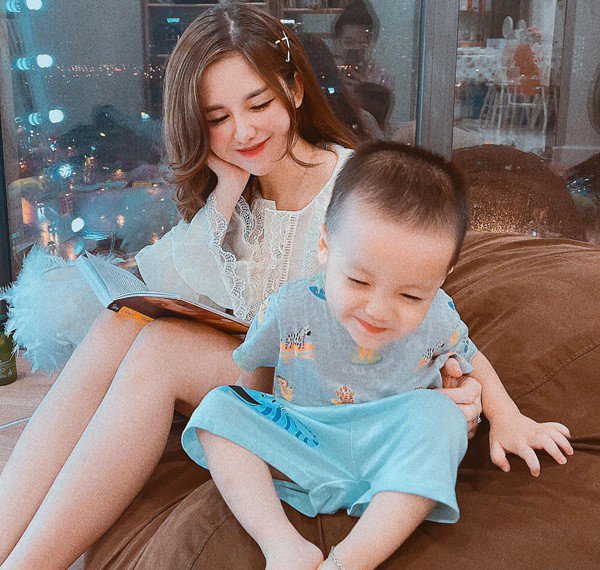 Sometimes My Linh is also mistaken for my sister.
Miss Law School was pregnant while studying and still graduated with Excellent
Do Ha Anh (born in 1997) is a familiar face to TV audiences through her roles in Sensual Boy, House with Many Windows, Programming Heart, Casting with Bones… Not only that, she also is the beauty queen of two contests "The beauty of Trang An 2013" and "Charming Ha Thanh 2013″.
Despite being praised as a hot-girl with a beautiful and pure appearance, moreover, she is a good student and a promising actress, but even at the age of 21, she hasn't even graduated yet. University, Ha Anh suddenly got on the flower car. And after only 3 months of marriage, Ha Anh happily revealed that she was pregnant with her first child while still a student at Hanoi Law University.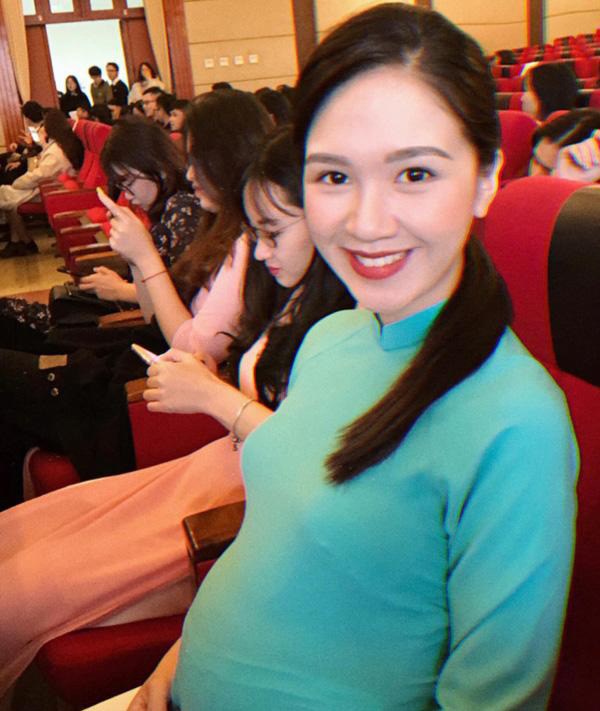 Ha Anh was pregnant with her first child while in her final year of university.
This makes many people think that Ha Anh "married and ran to vote", but she shared:Because of the specifics of my husband's profession, when the couple planned to get married, I had to do a background check before getting married at the end of last year. Then, 3 months before the wedding, the couple planned to have children and actively did not use antibiotics or special drugs. I found out I was pregnant shortly after the wedding."
Even when she was pregnant, Ha Anh also shared with her classmates. The teachers when they met also often asked her and advised her to take care of her health. Hotgirl, born in 1997, confided that she was not afraid to "carry" her pregnant belly to school, even sometimes wearing tight skirts to show her happiness as a mother. Finally, Ha Anh successfully graduated from Hanoi Law University with a good degree after giving birth to her first daughter in early 2019. When her first child was just 1 year old, Ha Anh continued. pregnant and gave birth to her second child last year.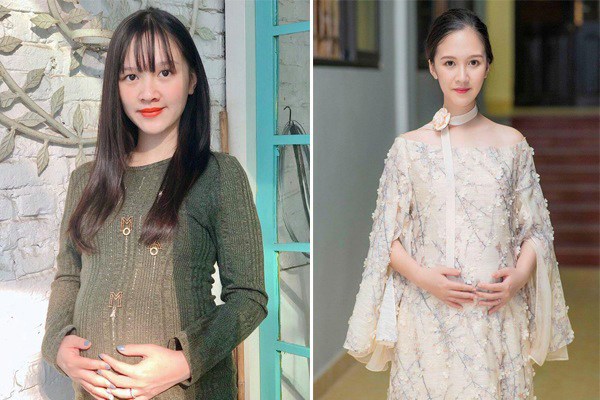 Ha Anh was pregnant while going to school and still graduated with excellent grades.
After giving birth to two children, Ha Anh surprised many people because she still kept her pretty, young and innocent features and slim body. She said that when she goes out without holding her child, she is often mistaken for a student or student still in school.
The actress revealed her point of view about eating after giving birth is not to overeat nor too strict, not to eat things that are not good for the pregnant mother as well as the milk supply. In order not to darken her skin, Ha Anh ate a lot of fruit, in the first month after giving birth, the young mother ate a lot of orange soup, used turmeric ginger wine to apply all over her body to keep her body warm and avoid darkening. When her daughter was strong, she returned to exercise to help her body become stronger and healthier. Ha Anh's two favorite subjects are swimming and yoga.
Revealing about her motivation to always take time to take care of herself, quickly regain her neat shape and youthful spirit, Ha Anh said, the only motivation is that she doesn't want to be too ugly.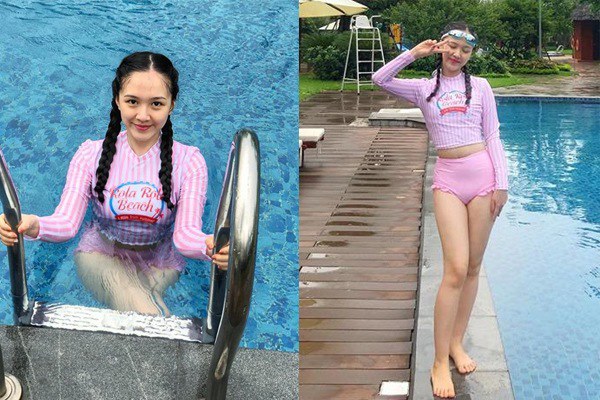 Ha Anh's youthful beauty and neat body after giving birth.
Top 10 Miss Vietnam "carrying pregnant belly" to go to school no one knows
Tran To Nhu (born in 1997) is known to many people with the title of "Lovely Miss" at the Miss Vietnam 2016 pageant. However, after the contest, To Nhu suddenly announced "following her husband to give up. play" at the age of 20. At that time, To Nhu was still a student at the Faculty of Business Administration, National Economics University.
Officially returning to the same house on January 6, 2018, in April 2019, To Nhu announced that she was preparing to give birth and welcome her first child. To Nhu said: "Having a baby was right according to our plans because we both planned that if we were pregnant at that time, it would be right at the time when I would be home to do my thesis."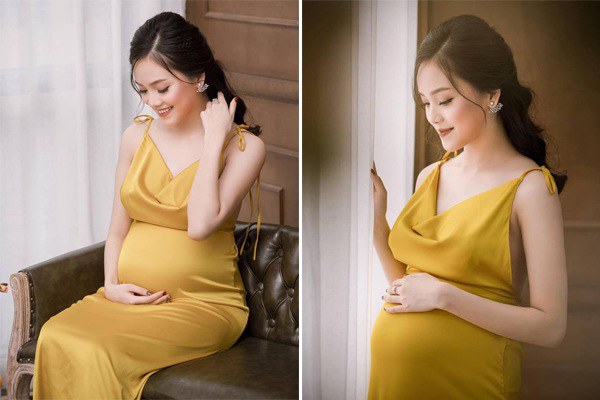 To Nhu when she was pregnant with her first child.
Because she didn't gain much weight during pregnancy, so the whole time To Nhu went to school, no one knew about her teachers and friends at school. When everyone knew, the Miss also began to take a break. To Nhu is lucky to have friends who are very interested in health. Teachers also create more conditions for her to submit documents, sometimes when she is tired, her husband can go to school to submit. In the end, To Nhu completed her studies at school and also gave birth to an extremely beautiful son.
Only 2 months after giving birth, To Nhu lost 11.5kg, the exact amount of weight gained during pregnancy. She surprised many people with her beautiful, slim image as if she had never given birth.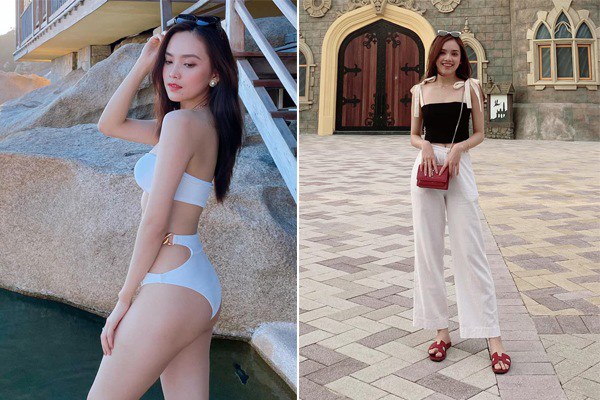 Neat and beautiful figure of a mother of one child.
However, when asked about the secret to getting back in shape soon, To Nhu said that she did not apply any weight loss method other than exclusively breastfeeding. To ensure milk supply for baby Teddy, To Nhu applies a very rich and varied diet with a variety of foods, but pays attention not to eat too much starch, sugar… Supplementing with multivitamins every day and working hard pump milk every 3-4 hours.
Currently, To Nhu is living a full life with her husband and son. She focuses on doing business and has no intention of entering showbiz.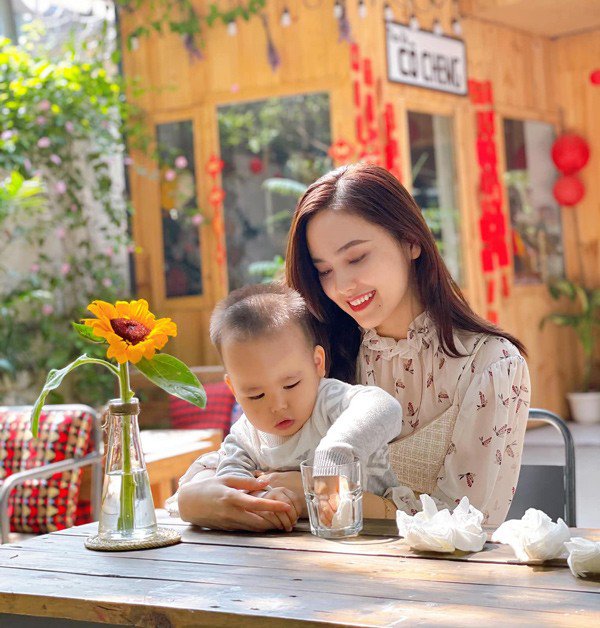 Tran To Nhu and his first son.
You are reading the article
The beauty hugged her pregnant belly to the lecture hall, after giving birth, she became a mother and graduated from university

at
Blogtuan.info
– Source:
Eva.vn
– Read the original article
here