Business
"The car ride 30,000 but the customer pays 100,000. Live like that!"
"How much money do I have to drive, brother. Every time they take a hoe, the garage has already taken one third of it. With a little bit of money left, gasoline, car repair, wear and tear are all consumed. Many customers understand the story. then they even tip me a few thousand dong to encourage. Many people are very rich, go to hoe 25,000-30,000 to give me 50,000 dong, sometimes give a 100,000 dong bill without sending the change back. , they live in luxury".
The above is a confession or rather the expression of a young man driving a technology car that I just went with. Behind this idea is the desire for the customer to send him a tip. He defines the person who gives him a tip as someone who lives in luxury and is open to spending.
Some drivers even do not like customers to use card payment because they pay cash will leave the change, do not ask for change and consider it as a tip. Meanwhile, they assume that customers paying by card will not have the habit of tipping.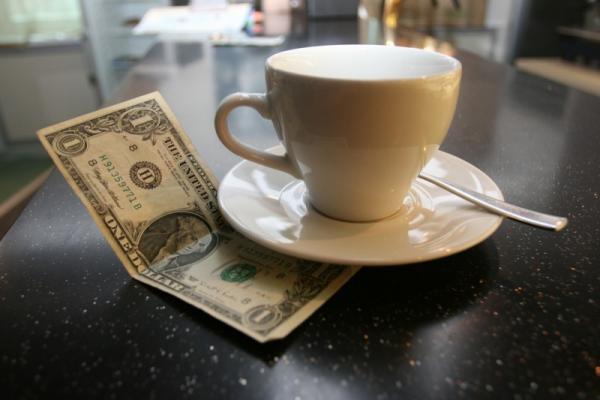 A tip is a small amount of money to send to a waiter if they provide better-than-expected service. Illustration.
For some other service industries such as restaurants, hotels, tourism, tips sometimes become a bigger source of income than the salary of the worker. Many tour guides for foreign guests with a solid salary of only 15 million VND/month but can receive 3 USD tip per day for one guest, while the group can be up to 20-30 people.
"If you do this job, you live on tips, but how much do you earn per day. Those who come to luxury, tip enough to live for a few days. I have super good customers, the tip is equal to several times my salary. There are also acacia customers who don't have any tips. It's sad to go home without a single tip!", a friend who works in travel services confided to me.
Sending tips should but sometimes should not
A tip (or tip) or tip is a payment as a reward from a customer to a waiter when the quality is above expectations. Boa comes from the French word "pourboire".
Usually, the tip is not clearly specified as to how much to spend, but according to the discretion of the customer. Some people think that you should tip 10% of the service bill. There are also people who have other tips.
My teacher is one such case. He used to tip the hotel room cleaners by putting money in an envelope and putting it under the pillow. Room attendants will be easily recognizable. The amount can be 100,000 VND or more if staying in luxury hotels. However, the teacher will not tip if the room is dirty or the service attitude is problematic – This is a pretty clear opinion about the use of tips.
"It may not be much, but tipping will definitely make them happier. Whoever gets a gift isn't happy, right. However, not everyone deserves a gift," said my teacher.
Tipping is a way to show gratitude to the service staff. I once saw a customer send a bellman for 20 USD (about 500,000 VND) at a hotel in India. Looking at the faces of both of them, they exuded joy and happiness because they had satisfied the other's needs.
The tipping culture in Vietnam has not really become a popular lifestyle like some countries. In some restaurants or bars in the country that have a centralized ordering counter, a "Tip Box" will be placed. There is always a certain amount of change available. However, almost no Vietnamese diners put more money in the tip box.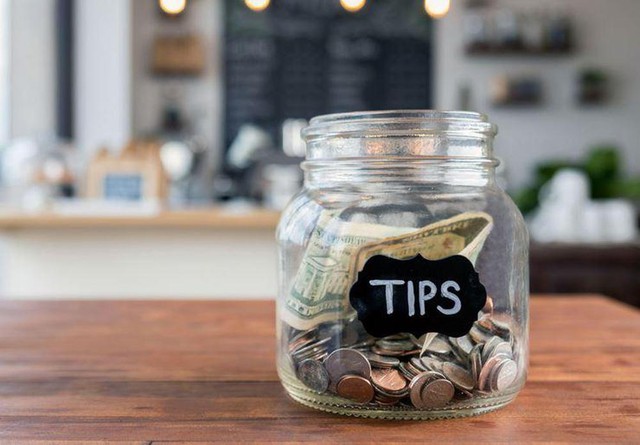 Tipping culture in Vietnam is not really popular. Illustration.
And similarly, when paying at the table, it is rare for customers to leave any change or tip to the staff at the restaurant for serving them. I observed that customers often put all the excess money into their personal wallets. We have almost no such spending habits. Even if you spend an amount of money, it will be thought of as a waste.
At some high-class restaurants and hotels in the country, a fixed service fee of 5-15% of the total consumption value is maintained. If tax is added, the invoice will be different by 20-30% compared to the actual use. This creates conditions for employees to have more income, in case guests "forget" to tip. With the mentality of not being used to tip culture, these establishments may be refused by a number of customers to return.
In some countries, tipping improperly can offend or mislead others. In Italy, for example, tipping is almost absent or not seen and is not requested by any signal (like tip box). I asked the restaurant staff if they know their culture does not accept tips because it is underestimating the employee's income and criticizing the restaurant for not being able to pay them.
https://soha.vn/tam-su-cua-tai-xe-cong-nghe-chuyen-xe-30000-ma-khach-tra-100000-song-the-moi-sang-20220525161432063.htm
You are reading the article
"The car ride 30,000 but the customer pays 100,000. Live like that!"

at
Blogtuan.info
– Source:
cafebiz.vn
– Read the original article
here