Continuing the topic of withdrawal status Social insurance Once, the Lao Dong Newspaper continued to have an article One-time social insurance withdrawal: Respect the right of choice of workers. Like previous articles, we continue to receive hundreds of positive and constructive feedbacks from a large number of readers in all industries and fields around the shortcomings of the current Law on Social Insurance.
Many readers want the National Assembly, Government, ministries, especially the Ministry of Labour, Invalids and Social Affairs (law drafting agency) to pay close attention to this issue in order to find the most appropriate solutions to solve the problem. The Law on Social Insurance really comes to life and is a support for employees.
Reader Tran Duy Linh wrote: "Thanks to the two authors An Chi and An Khanh for consistently posting articles on the state of employees massively withdrawing their social insurance once. I am a reader who has commented once and very much. I want to comment again and again so that the leadership can consider and amend it to suit the aspirations of the majority of people who have participated in social insurance. there are many multidimensional information to make society better.
I suggest that the two authors, if possible, can bring these concerns to their attention and interview the people who directly made the revised law on social insurance, causing frustration such as the 60-year-old female retirement age; 62 years old male; calculation pension… Specifically, the Drafting Board, the specialized ministry submitted to the National Assembly to see what their opinions were, whether they found it unreasonable or not" – this reader earnestly.
Similarly, reader Luong Hung Viet also thinks that the article is very good and current. The current payment and enjoyment of social insurance is not fair, for example, paying 40 years of insurance and receiving a lower pension than 20 years.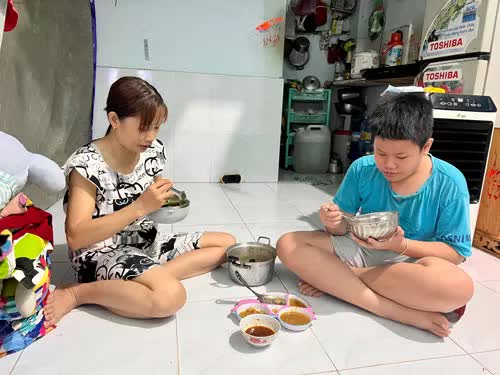 The meager meal of a worker's family staying at the boarding house. PHOTO: HUYNH NHUU
Like many other readers, when referring to the unresolved limitations of the Law on Social Insurance, reader Nguyen Trung was annoyed: "Going to work overtime, broke his mouth and received money to send back to his hometown for his children to go to school, then money to support them. parents are old, both husband and wife's salary is not enough to live on. If you want to buy a motorbike, you have to buy it in installments. The pension is only 45% of the basic salary, how can you live? When you get old, medical costs are still high than the cost of living".
In the same situation, reader Nguyen Thi Hoa expressed: "I am a female, this year 45 years old, have paid social insurance for 24 years, I work at an enterprise, my age and health cannot meet the job requirements of the enterprise, Enterprises also want to be eliminated to recruit younger workers.At 45, I can't apply for a job elsewhere.
We hope that the Ministry of Labour, Invalids and Social Affairs will reconsider the salary age, because if you wait until the age of 60, you can't wait but you can't even withdraw your insurance. I sincerely hope that the National Assembly will soon amend the Law on Social Insurance "- reader Nguyen Thi Hoa wishes.
More realistically, reader Tran Van Tam commented: "Reducing the retirement age to 45 years old, and reducing the insurance payment year to 15 years of continuous payment is an urgent solution to reduce the amount of one-time insurance withdrawal. In businesses Industry, including state-owned enterprises and corporations, now direct workers over the age of 40 have been laid off, while insurance has a rigid stipulation of 62 years of age for retirement.
I think, the drafting agency needs to stick to real life to perfect the law, to give early retirement to young workers who have just graduated from university to work, with both qualifications and working health. With high productivity, the country can develop.
"It is the extremely unreasonable legal constraints of the current law that make it impossible for the elderly to want to retire early while the source of Human Just finished university and have no job, "- said this reader.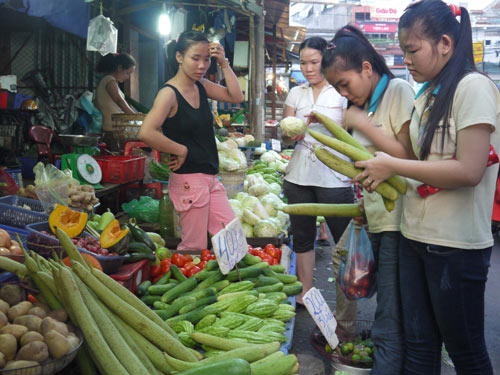 Workers who go to the market only dare to buy vegetables and beans, and live in damp inns. PHOTO: VAN DUAN
From the same point of view, reader Pham Bach said that the biggest concern of employees is that the retirement age is too high. Men will be 62 and will soon be 65, women will be 60. Ordinary workers in the private sector do production work. , eat according to the product, the shift… At that age, no one could stand to pay social insurance or wait for a pension.
"I think the state should create favorable conditions for the non-state sector. For example, if the retirement age is 62, then every 1 year of early retirement, 1% of salary will be deducted. For example, if you want to receive early retirement 5 years, you will deduct 5% of the daily pension. Or if anyone doesn't want to deduct but wants to receive it early, for example, when he is 50 years old, he wants to receive retirement, how much money should he pay in a lump sum to harmonize benefits "- wrote Pham Bach.
An anonymous reader wrote: "In addition to comments on the rate of payment of social insurance contributions, payment period, pension rate…, I think it is necessary to consider the method of managing the social insurance fund in order to have growth to avoid fund failure. ".
Similarly, reader Pham Van Lai said that it is important to adjust the pension scheme appropriately, and at this rate, it is natural to massively withdraw one-time social insurance. According to Binh Duong readers, if paying full 20 years of social insurance, employees are entitled to retire.
"You contribute 20 years, you get exactly 20 years of your contribution, the pension is at least enough to support yourself, but a paradox is that the current salary is 100%, if you live hard, the pension can hardly reach that level, so the number of people withdrawing social insurance on 1st day is a must" – this reader said.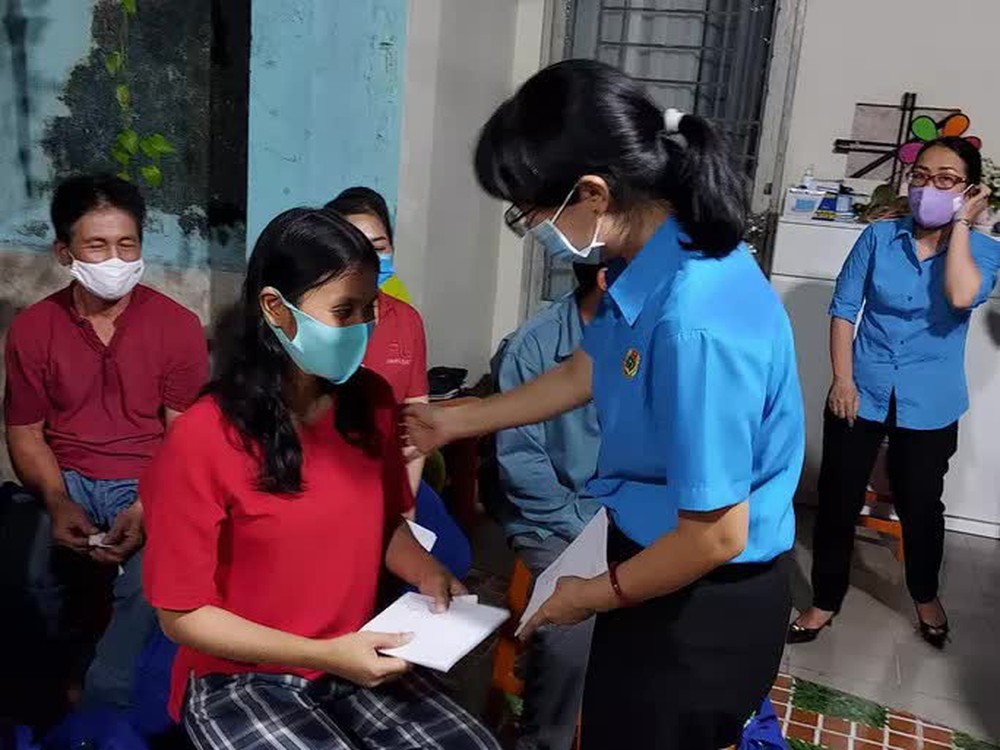 Ms. Tran Thi Dieu Thuy – Chairman of the Ho Chi Minh City Labor Confederation, gave gifts to boarding workers with difficult circumstances. PHOTO: MAI CHI
According to reader Nguyen Huy Hoang, the regulation for men 62, women 60 should be the maximum age, should not set the age to enjoy social insurance, those who pay more enjoy more, those who pay less enjoy less. As for the reader, Pham Duy Bien, he proposes 3 options:
1. Men should retire at 60 years old and women at 60 years old (currently, life expectancy for women is about 10 years higher than that of men, so 62 men is not fair).
2. Let employees choose for themselves: if they are healthy, they can continue to work overtime when they are over 60, if they are weak or run out of work, they can retire at 50 years old with a lower salary.
3. The pension should be calculated fairly for all social insurance holders (currently there are differences between soldiers, police, civil servants and other workers.
A reader who has commented many times said that he still maintains his opinion. Whereby:
1. Regulations on paying social insurance premiums for 20 years will allow you to receive a pension regardless of your age.
2. Number of years of paying social insurance = number of years to receive pension.
3. Employees have the right to choose what age they will receive their pension when they have fully paid 20 years of social insurance as prescribed.
4. The pension level is equal to the salary at the time of retirement, but not on average because at the time of retirement, the salary is not enough to live on.
Drinking cold water and waiting for retirement age?
Social insurance policy makers did not recognize and listen to the opinions and lives of workers, so the situation of workers leaving the social insurance system is increasing.
If only using flowery words and rigid management mechanisms to entice employees to stay in the insurance system without listening to the prompts to correct the law, the consequences of employees leaving the social insurance system are: It is necessary to calculate that when people bring money to pay social insurance, it will be more profitable to send it to the bank to attract them to pay social insurance.
But like now, if you pay 20 years and wait until you are 60 and 62 years old to receive your pension, then stop withdrawing 1.2 hundred million dong once and deposit it in the bank for monthly interest, rather than sitting and drinking water and waiting until you reach retirement age. " – a reader expressed.
You are reading the article
The old wait for retirement, the young lack work

at
Blogtuan.info
– Source:
Soha.vn
– Read the original article
here