Life Style
Star
The truth about Ly Nha Ky and Huong Giang was welcomed by the media in Cannes
"Huong Giang appeared as a princess at Cannes Film Festival 2022″, "Huong Giang is favored by international photography at Cannes", "Ly Nha Ky is hot in international media",… are outstanding information on social networks. In the past few days, we haven't discussed in depth about Ly Nha Ky and Huong Giang coming to the Cannes International Film Festival as or what mission, but it is important for Vietnamese artists to be praised on websites and international media. making every Vbiz fan proud.There is one thing in common that Huong Giang and Ly Nha Ky all simultaneously posted pictures with the same brand logo and announced that they were favored by foreign media.
So, what's the truth behind?
Huong Giang is happy to be "favored", Ly Nha Ky thanked profusely for the attention of the international media?
It is easy to see that in the past few days, from Ly Nha Ky to Huong Giang, they all mentioned "Getty Images" with an attitude of love and excitement because they took photos of them for a lifetime. Before attending the event, Huong Giang expressed concern because she thought it would be difficult to be noticed because she attended the Cannes Film Festival as a guest partner, not on the list of international artists of the organizers. Because the red carpet area of ​​Cannes is only operated by international reporters, the Vietnamese crew can only capture moments at the hotel or outside the event area.
However, on the morning of May 26, Huong Giang released 3 "full HD", genuine and sharp photos with the Getty Images logo attached with the sharing line: "When international reporters don't know who they are, whether they take a picture of me or not, then I don't know where to get a picture when my photo can't get inside the red carpet, but fortunately apart from the main cast image of the movie The Stars At Noon, Getty Images has graciously uploaded 3 photos of Giang on the red carpet, and finally has a pretty picture to send to Giang's dear audience."
In a few clips of the entire red carpet, it can be seen that although Huong Giang stopped for a few seconds to interact, the number of photographers "hunting" her was very small. Not only that, the information of Miss Huong Giang also did not appear in international newspapers about the stars coming to the premiere of The Stars At Noon.
Huong Giang interacts but many photographers do not hold cameras to work on the red carpet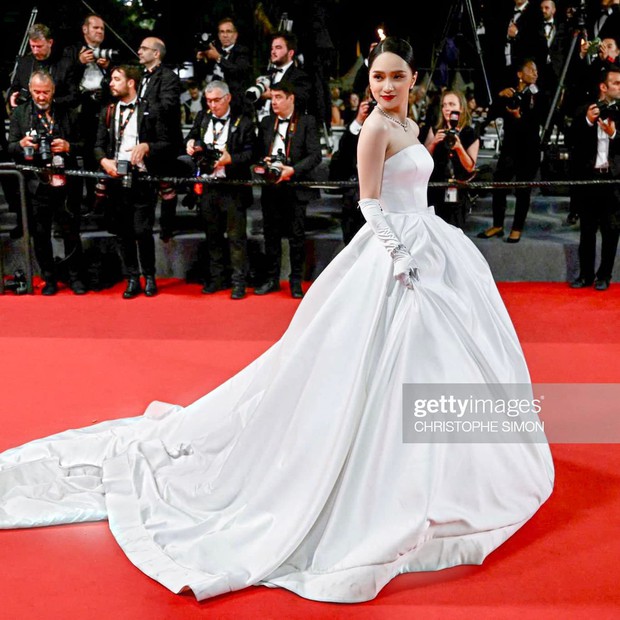 Huong Giang said that because she was favored by Getty Images, she posted 3 photos
Before announcing the cancellation of the rest of the schedule, Ly Nha Ky regularly updated her red carpet photos taken by Getty Images. "Big Diamond Sister" Vbiz also thanked this unit for bringing her image to the international audience while she was "ignored" by Vietnamese netizens: "After 6 seasons of appearing and building In Cannes, Ky is happy to always be a familiar face to photographers because her fashion sense always makes people wait and watch, especially Getty Images has always captured Ky's beautiful moments above. red carpet and convey to international audiences".
So, the question is, is Huong Giang – Ly Nha Ky really interested in the international media, foreign photographers capturing every ecstatic moment on the red carpet?
Ly Nha Ky fully updated the images recorded by Getty Images to show that she was not "ignored" at the Cannes event.
The truth behind the story of Ly Nha Ky and Huong Giang being welcomed by the international media?
In fact, Getty Images (Getty Investments LLC) is a company specializing in images, founded in 1993 by Mark Getty based in Seattle, Washington, USA. Getty is a company specializing in providing images available to businesses and consumers with an archive of more than hundreds of millions of images, data from hundreds and tens of thousands of photographers around the world. Therefore, it can be said that Getty Images is not an official media agency but just a website inclined for commercial purposes.
Because of the huge data volume, good image quality, and diverse and rich camera angles, Getty's images are used by many media agencies, online newspapers, and international forums to illustrate articles. . Many stars such as: Rosé, Krysta, Seulgi (RED VELVET), Mina (TWICE), Ngo Diep Pham, etc. have had controversial appearances when appearing under the lens of the "evil god" Getty Images.

As said, Getty Images is not actually a media or press agency, but simply understood as a company that buys and sells images from photographers in big events. It means that the photographers of Getty Images will work on the principle of capturing all the big stars, event guests,… and uploading it to the website so that anyone who wants to use the image will spend money to buy it.The purchase of photos from Getty Images is also quite simple, cThe cost of images varies according to the resolution selected and the type of permission involved. Simply put, Getty Images is just a place to buy and sell photos, not showing whether the artist has exploded international media or not.
However, with big stars, photographers will "hunt" more enthusiastically because of their high commercial nature. Perhaps for this reason, Anne Hathaway even rotated 180 degrees, but the reporters behind her also continuously shot the camera to capture the moment. So Ly Nha Ky's stylist said the moment Most of the photojournalists behind the actress left the camera to "ignore" because the hidden angle could not capture the photo, which was somewhat unreasonable.
As for Huong Giang, the "transgender queen" doesn't really understand the commercial nature of Getty Images, so she posted a status praising that she was "favored". Because, most of the guests dressed up and standing in front of the inner camera at the red carpet were taken by photographers. Maybe, because Huong Giang's dress is somewhat more prominent than the other guests, so the attention of photojournalists for her is a bit more prominent.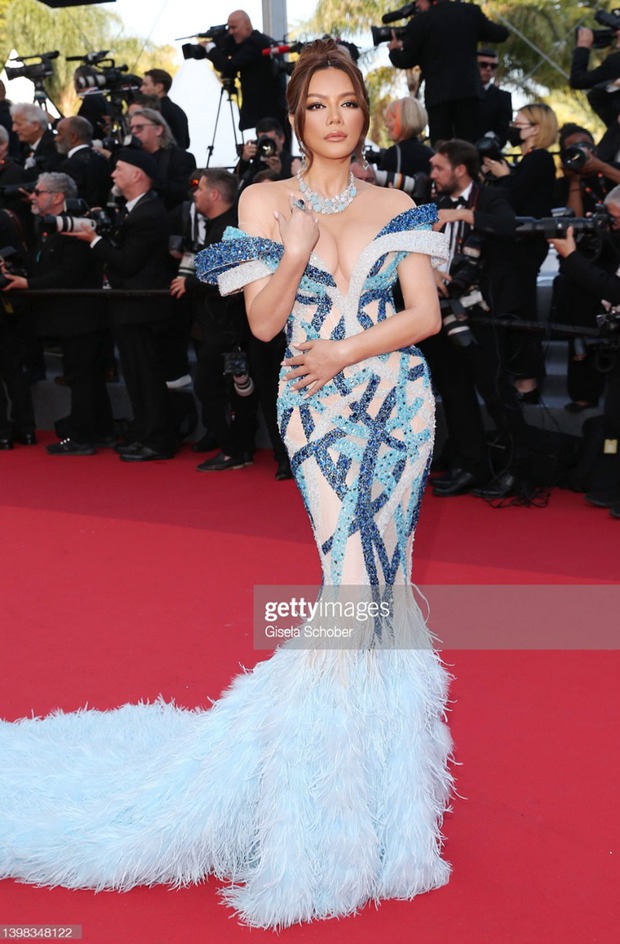 Ly Nha Ky was once controversial because the moment the photographers behind were all turned away
Ending
Ly Nha Ky prepared 43 suitcases, tried on 50 dresses, spent 50 billion VND,… and more to go to France to attend the Cannes Film Festival event. Huong Giang, even though she attended unexpectedly, was also well groomed from the hair, dress, radiant spirit to the beauty of Vietnam… So many things Vietnamese artists showed at the Cannes International Film Festival were enough to explode. domestic media and make the audience proud. The effort of artists and crews to spread the spirit and beauty of Vbiz on the international red carpet is worthy of recognition.
We have to accept the fact that the Vietnamese entertainment industry in general and Vietnamese cinema are not strong and excellent enough for the world to say much. We need to know where we are in order to properly celebrate when we attend the Cannes Film Festival.
Like Huong Giang, the fact that she was afraid that she would be "ignored" because she only appeared as a business partner was a reasonable, safe and smart way, showing that she knew where she was. As for Ly Nha Ky, it must be admitted that her efforts over the past 6 years have partly paid off because the frequency and number of photos of the actress appearing on Getty Images has also been higher than in the first years.
https://kenh14.vn/su-that-phia-sau-nhung-buc-anh-ly-nha-ky-va-huong-giang-duoc-san-don-o-lhp-cannes-2022-20220526133424614. chn
You are reading the article
The truth about Ly Nha Ky and Huong Giang was welcomed by the media in Cannes

at
Blogtuan.info
– Source:
Kenh14.Vn
– Read the original article
here