Millions of employees started working remotely when the pandemic broke out in 2020. But now, many are returning to the office and they are paying more for everything.
Eating, traveling, taking care of children. Gasoline prices and soaring inflation have made it expensive to return to the office. That's ingrained in workers' incomes, especially if wages don't rise with the times.
Here are some of the rising costs of living that make direct work more expensive.

Having lunch and sipping coffee with colleagues is one of the "perks" to look forward to when returning to the office. But people are paying more for this little pleasure.
According to a report by the US Department of Labor in early May, the restaurant food index increased 7.2% compared to last year. Food prices in April rose 9.4% year-on-year in 2021. This was the biggest increase since April 1981, the Bureau of Labor Statistics said.
Office workers see everything increase in price, from morning coffee to lunch salad. In the US, Starbucks has continuously raised prices in October 2021 and early 2022. The company said prices are likely to continue to increase. Salad chain Sweetgreen has increased menu prices by 10% since early 2021, the company said in its most recent earnings report.
Kelly Yau McClay, who lives in Potomac, Maryland, said: "Lunch inflation is 100% real, everything is more expensive. Before, you could have lunch for $7 to $12. Now, you can have lunch for anywhere from $7 to $12. It's hard to get a decent lunch for less than $15."
Yau McClay had just started branding and marketing for a real estate company when the pandemic brought everything to a halt in April 2020. She worked online full time until October 2021.
But for now, she has a combined work schedule. Yau McClay comes to the office 3 days a week. Every day she goes to work like that, she estimates she spends about 30-35 USD on work-related expenses such as lunch, coffee, fast food and parking fees.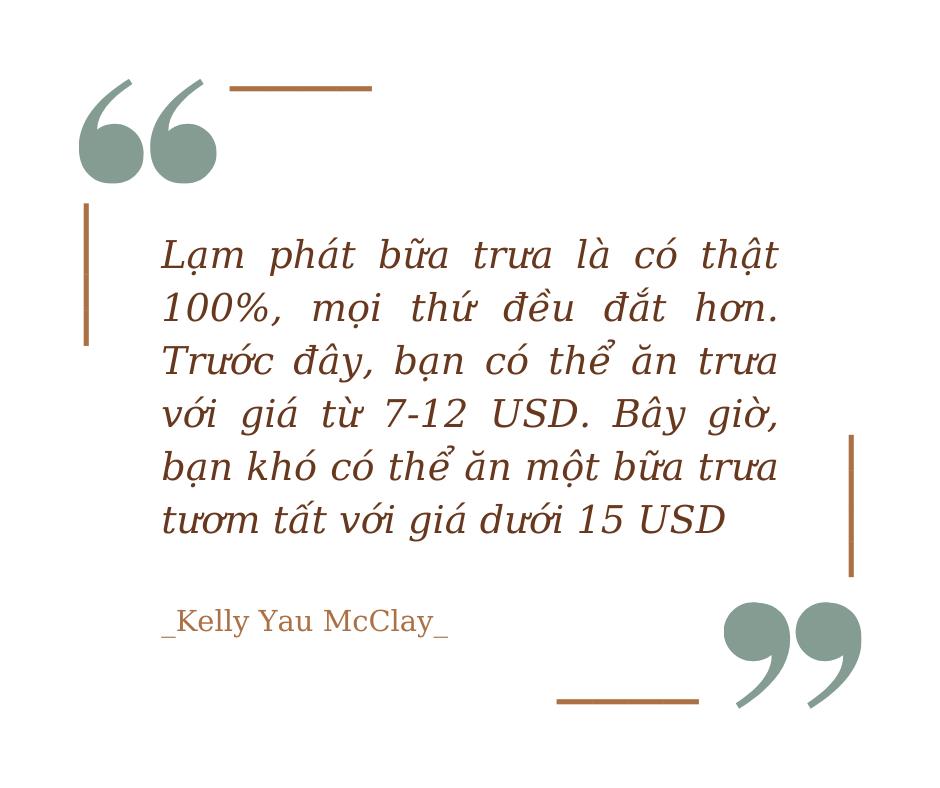 In Canada, owners of restaurants, bars and cafes have been waiting for a long time to reopen. However, office workers may be surprised when they peruse the menus of downtown lunch bars.
That's because lunch bills are growing faster than the inflation rate. Many items purchased for takeout or dinner have also increased sharply, such as sandwiches up 26%, salads up 25%, sandwiches up 20%…
On the other hand, some workers are relieved to return to the office, at least in some ways. Consumers have changed their spending habits during the pandemic. Restaurant expenses are replaced with grocery bills and meals at home.
Sara Hill, who works in insurance in Buffalo, New York, has seen her food spending grow, as she and her four children stay home full-time. "I eat more food because I'm closer to the kitchen… spending on food still goes up because the whole family is at home," she said.
After working remotely full-time during the height of the pandemic, Sara Hill is now coming to the office 2 days a week. Before the pandemic, she spent about 25-30 USD per day for breakfast and lunch. But now, when many restaurants near the office are closed, she often has to bring home food.

Going back to the office also means consuming more energy.
When gasoline prices in the US recently hit a record high, it is very expensive to fill up regularly at this time. According to AAA, the average price for a gallon of regular gas is $4.6. In February 2020, that price was half that of $2.44.
In Orlando, Florida, Mike Tobin upgraded his car to a minivan in August 2020. At the time, he said the cost of filling the tank was about $40, but now it's closer to $75.
Tobin, who works for an electricity distribution company, said the most gas-consuming part of the road is the way to the office. All other needs are close to where he lives.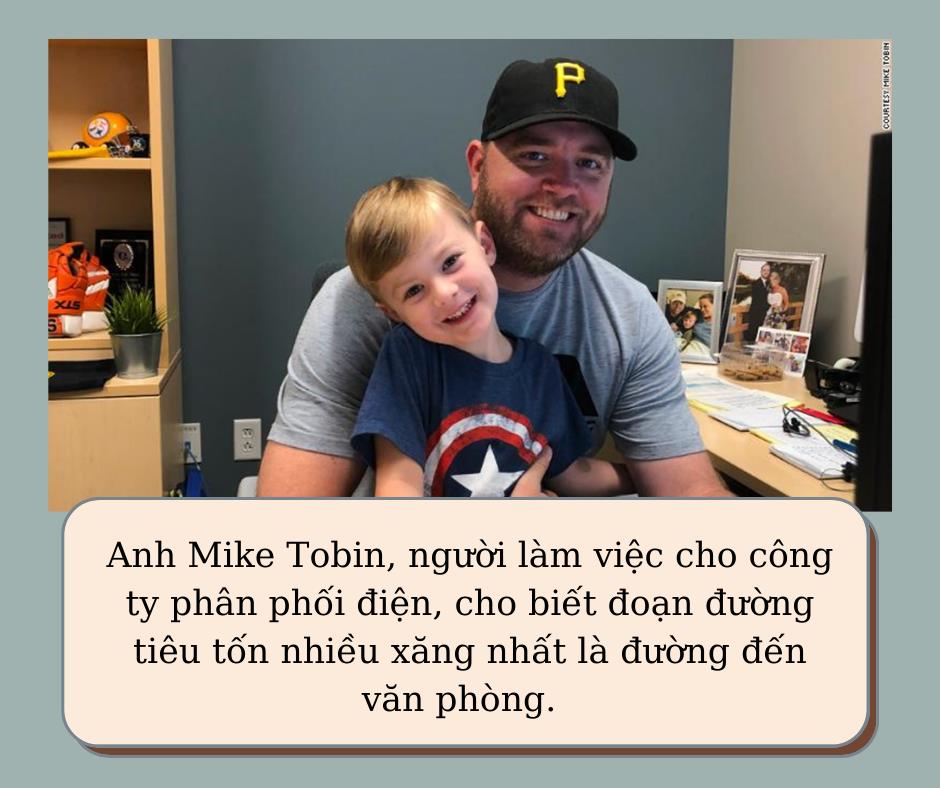 For Sara Hill, high gas prices have forced her to change her schedule to try to use just one tank of gas a week. Her car costs between $110 and $120 a bottle.
"I try to schedule the days when I go to the office. I arrange to do everything I can after work or lunch break, because that's the day she uses the car," says Hill. During the remaining days of working from home, she tries to limit going out as much as possible.
For Yau McClay, any day she goes to work, she has to pay a parking fee. In the past, an hour's parking cost $1, but that price has increased by 50 cents by early 2022. Yau McClay pays $12 in parking fees every day, an increase of $8 from before.
Buying office clothes is also very expensive. Clothing prices in April increased by 5.4% year-on-year.
Yau McClay said things that used to be a regular expenditure such as haircuts, makeup, manicures and new clothes have almost been put on hold for two years. "Now that I'm going to the office, I have to go buy a new makeup set, so I'm spending money on things that I didn't have before," she said. And everything is more expensive than before.

Childcare costs are often one of the biggest expenses parents have to spend. For some, that cost is also getting more expensive.
According to Child Care Aware of America, in 2020, the average annual cost of child care in the United States is $10,174.
In September 2020, Yau McClay sent his 3-year-old daughter to a full-time daycare center for $2,150 a month. She said that although the younger the child, the cheaper the service, but a host of other costs add up.
Every time her child goes to class, the center announces an increase in tuition. Compared to the first time sending children, the cost has not decreased but increased by nearly 200 USD per month.
According to CNN, City News
You are reading the article
When the salary can't keep up with the expensive cost of living

at
Blogtuan.info
– Source:
Afamily.vn
– Read the original article
here