Thế Giới
WORLD NEWS May 27: US warns Ukraine not to attack Russia; Cuba for injection 5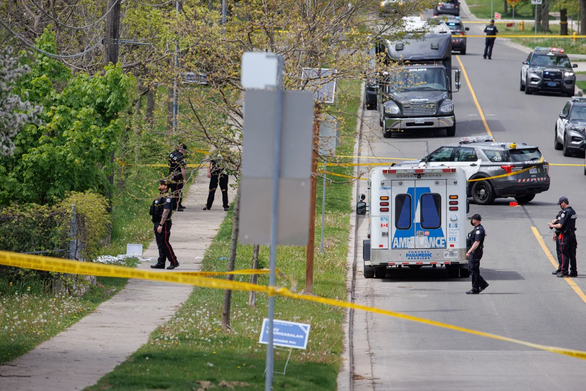 Canadian police set up a protective barrier at the area where the shooting occurred on May 26 – CBC screenshot
* Toronto (Canada) police shot and killed a man with a gun near the city's school district in the afternoon of May 26 (local time). According to Reuters news agency, the suspect in his 20s opened fire on the police, forcing them to kill him.
All 5 schools, including 1 school, only about 130 meters from the scene of the gunfight, have been ordered to block entry, exit, and entry to prevent unforeseen events.
The incident occurred in the context of the shooting at Robb School in Texas (USA) which is still shocking many people both inside and outside the US. Toronto authorities declined to comment on the suspect's motives.
* Survey results of Morning Consult and Politico released on May 26 found that 73% of Americans polled "strongly support" basic background checks for gun buyers and 15% "partially support" this requirement.
Only 4% of respondents said they were "somewhat opposed" to background checks and another 4% were "strongly opposed", while another 5% did not.
* May 26, Japan Notice will easing travel warnings related to the COVID-19 pandemic for 36 countries and territories, including the US, UK, Canada and Hong Kong (China). Japan's Foreign Ministry also downgraded the travel warning for a number of countries, including Thailand, Vietnam, Singapore and Malaysia, from level 2 to level 1 from June 10.
* Reuters exclusive sources revealed The US has begun to warn Ukraine of the consequences if Kiev escalates its attack deep into Russian territory. The US side did not provide a specific list of locations Ukraine should not attack, but issued general warnings about the risk of widespread hostilities.
"We're concerned about escalation but still don't want to put geo-restrictions or tie them too much to what we're offering them," one of the three US officials said, speaking on condition of anonymity.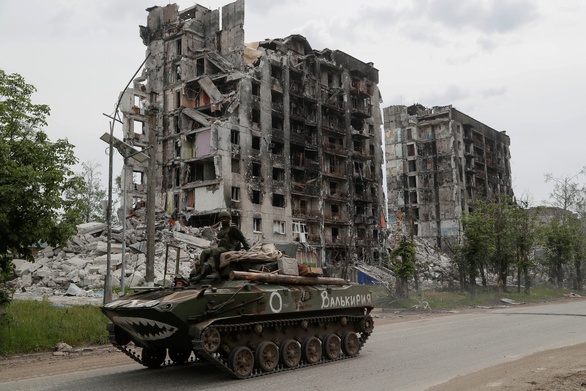 Ukrainian officials continue to call on countries to send more heavy weapons to the country and accuse Russia of planning to occupy the remaining industrial areas in Lugansk in eastern UKraine. In the photo: Armored vehicles of pro-Russian forces in the town of Popasna in the Lugansk region on May 26 – Photo: REUTERS
* On May 26, the World Health Assembly (WHA) adopted a resolution proposed by the United States that argued that the medical emergency in Europe was caused by Russia's military action in Ukraine. out.
The WHA also rejected another resolution that did not address the consequences of Russia's military campaign on regional health security. According to Reuters, the rejected resolution was proposed by Russia and was voted on on the same day of May 26.
Russia's deputy ambassador to UN agencies in Geneva Alexander Alimov called the Western proposal "politicized, one-sided". He stressed that it is not acceptable for countries to seek to manipulate the WHA.
* Also related to voting at multilateral institutions, China and Russia protested against imposing more sanctions on North Korea as proposed by the US in the vote on May 26 (US time) at the United Nations Security Council.
The content of the resolution proposes to ban the export of oil and tobacco to North Korea as well as blacklist the Lazarus hacker group (suspected of having links to Pyongyang). According to Reuters, 13 out of 15 Security Council countries approved the draft resolution.
However, because China and Russia – two permanent members of the Security Council – have used their veto power, the US proposals will not be approved. The move took place in the context of North Korea's test-firing of an intercontinental ballistic missile shortly after US President Joe Biden's visit to Northeast Asia.
* US and Asian stocks continue to show opposites in the trading session on May 26 by local time.
Wall Street's main indexes (US) rose for two consecutive sessions on the news that the US Federal Reserve (FED) might not raise interest rates this summer. Oil prices also rose above $117 per barrel, touching levels not seen since March.
Earlier, Asian markets had a mixed session after Chinese Premier Li Keqiang warned of upcoming economic difficulties, according to AFP.
* Cuba has begun to deploy a second booster dose (fifth dose) COVID-19 prevention for people in high-risk and vulnerable groups in the central province of Villa Clara.
Dr. Mireya Cepero, deputy epidemiology director of Villa Clara province, said the vaccine used was Soberana Plus, researched and developed by Cuba's Finlay Vaccine Institute.
Medical and customs staff, tourism workers and anti-epidemic participants will be vaccinated first, then people over 50 years old and those who completed their first booster dose 5 months ago. .
* Britain will impose a temporary special tax on oil corporations of this country to get money to support people, according to an announcement on May 26 by British Finance Minister Rishi Sunak.
This £15 billion support package includes part of the tax on profits of oil companies that have benefited from the recent increase in petrol and gas prices.
The above solution comes after the UK's annual inflation hit a 40-year high as energy costs rose so quickly that many people's pockets were shrinking.
You are reading the article
WORLD NEWS May 27: US warns Ukraine not to attack Russia; Cuba for injection 5

at
Blogtuan.info
– Source:
tuoitre.vn
– Read the original article
here