Life Style
14 years of languishing "finding children" and the burst of happiness of the infertile couple welcomed the birth of 2 daughters
The story of the 14-year journey from North to South with the desire to have children of husband and wife Hoang Trieu Hoa and Ms. Vu Thanh Mien is no stranger to the people of Quarter 3 of Dong Van Old Quarter.
Like many other couples, after getting married, Ms. Mien and Mr. Hoa also hope to have children quickly so that the couple's relationship will be stronger, so that the elderly in the family can have joy when listening to the children's laughter.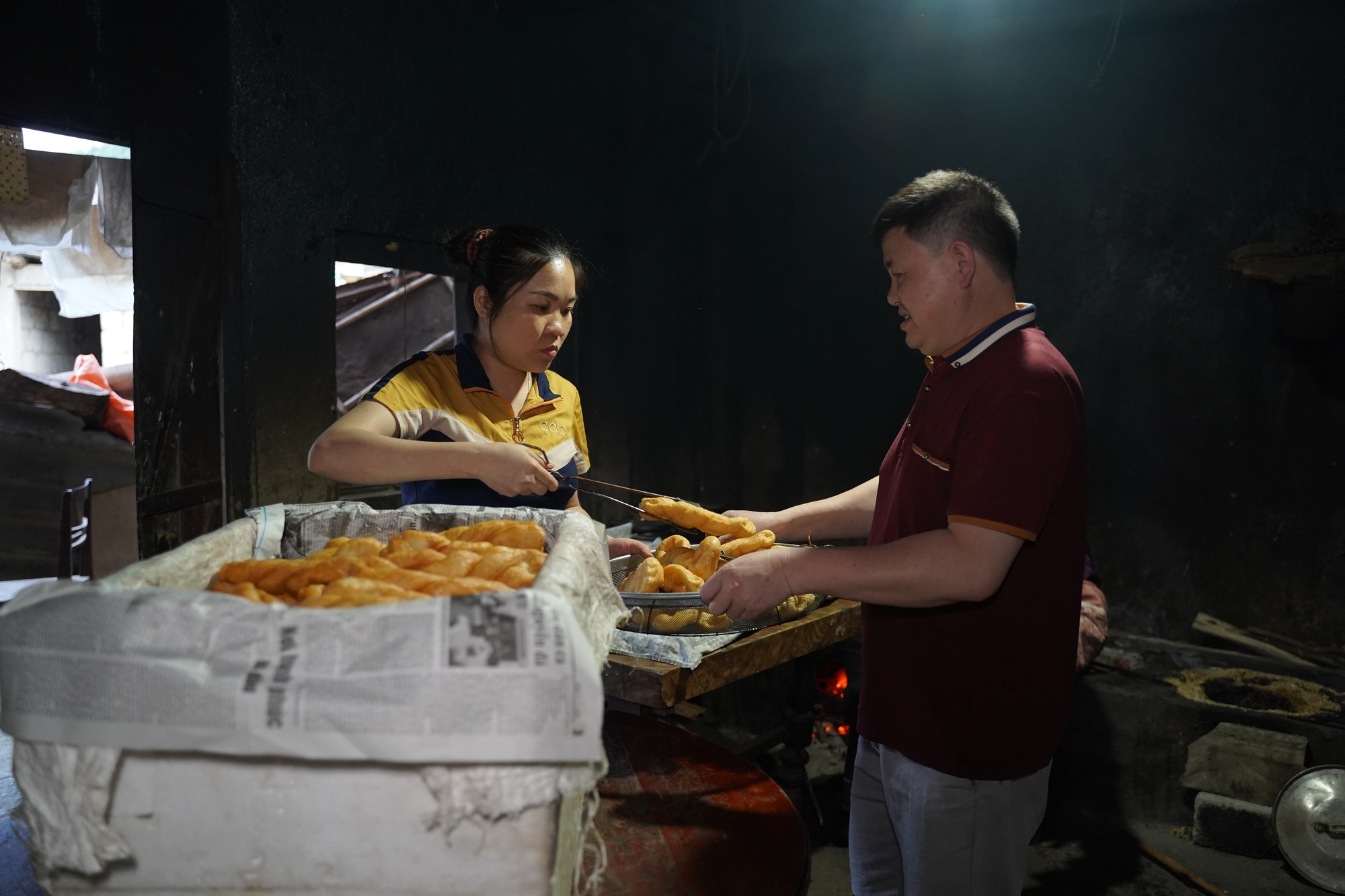 However, that simple happiness did not come easily to you. The old town of Dong Van (Ha Giang) is bustling, but the simple house of Mr. Hoa and Mien's family has been quiet for 14 years. It was only when two babies, Hoang Bao Ngoc and Hoang Bao Anh, were born, that the house was filled with joy and happiness.
For 14 years, the couple had to wipe their tears back and forth north-south to treat illness, "find children". And now, when looking at her two daughters sleeping soundly, Mien has tears in her eyes and says: "The result of 14 years of efforts to the last minute. When there are only 2 embryos left, when all hope is only a glimmer, happiness will bloom again".
She knew him during a business trip to Dong Van. Seeing that he is a secondary school teacher – in the same profession as me, he is gentle and simple, so she admires him. The first 2 years after marriage, Mien did not think much about the delay in children. After one miscarriage, it is even harder for her to get pregnant again. At this time, when she went to the doctor, she was diagnosed with infertility with "sick husband disease". They also went to many doctors, medicine everywhere, everyone told them what to do.
"From my house to Hanoi hospital more than 500km. Every afternoon coming home from work, the couple took a bus to Ha Giang city, then took a sleeper bus to Hanoi. It lasted for 14 years. The doctor told me. I had low ovarian reserve, cervical polyp, blocked fallopian tubes. Then I had endometriosis. The doctor said it was almost impossible for me to get pregnant. I was devastated.Mien confided.
When she learned that the main cause was her own, Mien was both in pain and in despair. It is said that motherhood is a woman's sacred vocation, but things are getting further and further out of her reach. As a preschool teacher, daily contact with many young children makes her desire to have children more intense. There were times when she thought she wanted to collapse because she went to work to hug her children and play with them, but when she came home at night, there were only two lonely couples.
Anh Hoa was not shocked, nor did he show any disappointment when he heard that his wife had difficulty giving birth. Instead, what he does is hug his wife in his arms, comfort and encourage that this is only the beginning of the journey that they are about to overcome.
She said: "Once, when I went to eat at a friend's house, they scolded me, "You're the only son, then leave your wife and get another wife, it's because of her, it's not because of you." But he replied: "You can't leave your wife. you guys? The husband and wife are together, not the shirt." I also went to the court twice to ask him to sign, but he always tore it. He encouraged me to keep trying, if not, then ask for a child."
Never once had a disagreement, not once did the husband's family blame the bride. The kindness and sincerity of his family members gave her strength to "fight".
Not afraid of hardships going south to north, every time she fails, she loves her husband more. Every time she wanted to give up, he was the one to encourage her to keep going.
In 2016, accidentally read information about the Hanoi Hospital for Male Studies and Infertility, they continued to pack up to enter a new journey, deciding to perform In vitro fertilization (IVF).
During 6 years of treatment here, 3 times of egg retrieval, 2 times of fertilization, 3 times of embryo transfer, the miracle has finally come.
"Every time I have an embryo transfer, I buy a lot of things, but this time I have a different mentality like the previous times, too many times I get used to being disappointed, so I wear exactly 3 clothes. When I tried it, my beta concentration was low, I hope to have 1 baby. But the result is really broken. I showed the medical record to my husband, but he couldn't believe his eyes. The couple hugged each other and cried in the middle of the hospital."Mien tearfully shared.
Referring to Ms. Mien's case, BSCKI Pham Van Huong (Head of Medical Examination Department, Hanoi Hospital of Andrology and Infertility) could not hide his emotions. He said, at an age that is not too young, with many accompanying diseases, Mien's pregnancy is really not easy.
At that time, Doctor Huong and his colleagues decided to collect eggs for Mien. After 2 attempts to stimulate eggs and collect eggs, Mien only collected 5 eggs.
After insemination and embryo, Ms. Mien was appointed by the doctor to transfer embryos and she had beta for the first time. The pregnancy was thought to have been smooth, who expected her to have a stillbirth, to abort the pregnancy at 12 weeks.
In 2020, Mien and her husband returned to the hospital to continue their journey to find their child. Receiving the application, Dr. Huong found it more difficult because the patient was old, had a history of stillbirth, and many diseases in the uterus… But the patient still wanted to find a child, Dr. Huong. again change ovarian stimulation regimen and perform egg collection.
This time was more fortunate, with just one click, Mien was able to poke 7 eggs. That makes Dr. Huong feel much more optimistic because the embryo will be created immediately, not for freezing.
At this embryo transfer, everything seemed to be favorable, who knew that she had an ectopic pregnancy, so she had more medical history. At this point, many people will think about giving up and stopping, but she still wants to once again perform the divine motherhood.
"In principle, when receiving a file with a history of endometriosis and having a lot of pain, doctors must first treat endometriosis and relieve pain first. So Mien was instructed She planned to have treatment 3 months before the embryo transfer. After that, she successfully transferred the embryos, got pregnant and couldn't keep it. If it didn't work at the beginning, it would have been different. But in her case, it was really unfortunate. teasingly, every time on the way to think that it is favorable, there is news that the pregnancy will die soon. Each time the patient has an abortion, the patient suffers both physically and mentally. As a doctor like us, we are also haunted and tormented. "shared by Dr. Huong.
However, in Mien, there is something for the doctors treating at the Hanoi Hospital of Menopause and Infertility to be motivated to continue the treatment. It is a burning desire and determination to be pregnant, to be a mother. This makes Dr. Huong have a certain belief that this woman will be rewarded for her expectations.
And then finally, thanks to the patient's persistence and the perseverance of the doctors, Mien was also pregnant and gave birth to 2 healthy children at 32 weeks.
Pregnant and giving birth to a healthy baby – it is not only the joy and happiness of herself and her family, but also the boundless happiness of the doctors and nurses who have directly monitored and treated her at Southern Hospital. School and Infertility Hanoi.
However, after receiving the good news after 14 years of waiting and constantly making efforts, the beautiful ending still did not come to you at that time. Mien again entered the difficult period when alone in Hanoi during 9 months of pregnancy.
Once a person who closely followed and tried her best during her pregnancy, MSc Hoang Van Khanh (specialist in obstetrics and gynecology, Hanoi Hospital for Male Studies and Infertility) said, this is a patient who has had 2 times of egg retrieval and embryo transfer many times without success. That not only makes the patient sad, but as a doctor who supports and manages the patient's pregnancy, he also feels uneasy. Dr. Khanh always tells himself that he must try until the last hope. Fortunately, in the last 2 embryo transfer, Mien successfully kept the pregnancy and received 2 healthy and lovely babies. "Actually, at that time, I was very happy for the patient." – Doctor Khanh still cannot hide his emotion when recalling.
Referring to the treatment process for Ms. Mien, Doctor Khanh shared, besides the joy of successfully conceiving, there were worries because Mien's pregnancy had many problems. First, Mien has endometriosis, poor elasticity, high risk of miscarriage or premature birth. Second, during pregnancy, the patient has many problems such as threatened miscarriage, gestational diabetes, so doctors have to consult specialists to coordinate and support treatment.
Another difficulty is that Ms. Mien had to perform cervical stitches twice during her pregnancy. At that time, after 20 weeks of pregnancy, Mien had to undergo both endocrine therapy for gestational diabetes, and treatment for a low cervix and a risk of preterm birth as well as miscarriage. After reviewing the situation, the doctor advised and assigned her an immediate emergency because at this time the cervix was very short, to ensure the safety of the fetus.
When asked why not performed cervical stitch earlier, Dr. Khanh said: "Ms. Mien has an enlarged cervix… After many treatments, her uterus is no longer the same as that of a normal sister, so when to take stitches, you must consider it. If you decide to stitch the cervix for a person with such a medical history, it is really difficult and the effect is not high. It can even be counterproductive."
Thinking that was a sigh of relief, suddenly 2 weeks later, Mien had massive bleeding. The reason is because the position of the suture leg is inflamed, the patient has to stay in one place and change the gauze continuously. Stitching the cervical spine was difficult. Now it is much more difficult to reposition from the bleeding leg to suture. Worried that the patient would lose a lot of blood, Dr. Khanh decided to stitch the entire leg. Fortunately, after the stitching was completed, everything went smoothly.
From week 28 to week 30, Mien appeared many contractions. This was completely within the doctors' predictions. Just like that, her in and out of the hospital was like a daily routine, causing Dr. Khanh and other medical staff in the hospital to feel pity for the woman's plight in difficult mountainous areas.
"I just ran to the hospital and shouted from the entrance, even the security guard remembers my face, and the doctors just need to see the ball to help me"could not hide her emotions, Mien recounted.
She also said that, even though she was pregnant with no one beside her, she brought all the faith and hope of the whole family. He still has to work, his parents-in-law are also old, every week he tries to make a few batches of cakes to sell at the fair to earn extra income to support his daughter-in-law.
At 32 weeks, Mien gave birth prematurely, and Mr. Hoa was able to come down with his wife a few days earlier. Reminded of the moment when two daughters were born crying, I don't know how to describe it. Because there are happiness that cannot be expressed in words. The older baby weighs only 1.6kg, the second baby is 1.4kg, so she feels even more sorry for him.
After waiting for many years to welcome her children to this world, the children had to stay in an incubator, Mien had Covid-19 and did not see the second baby girl had to return to her hometown to isolate.
A mother's heart aches when she misses her child, longing for the day when she can fully embrace her children.
"I miss my baby so much, I get angry with milk, I just pump milk and cry thinking about how my baby is now, if I can eat or not. Just like that, I lost 7kg"Mien is still full of emotions when she remembers those difficult days.
But then all passed, the house was full of laughter, even the neighbors were busy in and out asking for a chat. That spring, flowers bloomed again on the Dong Van rock plateau…
There are times when looking back, Mien thoughtfully smiles: "I thought that at my age, people had money to buy land to build a house and buy a car, but I was left empty-handed". Despite being financially and spiritually supported by her parents-in-law and brother-in-law, Mien and Hoa are currently still borrowing from the bank because the 15 years of infertility treatment is quite expensive.
However, in return, their family had "2 gold nuggets" – invaluable assets that sometimes outside of efforts still need a little luck to get.
https://afamily.vn/14-nam-mon-moi-tim-con-va-hanh-phuc-vo-oa-cua-cap-vo-chong-hiem-muon-don-2-con-gai- chao-doi-20220523130052028.chn
You are reading the article
14 years of languishing "finding children" and the burst of happiness of the infertile couple welcomed the birth of 2 daughters

at
Blogtuan.info
– Source:
Afamily.vn
– Read the original article
here